Tired of having movie night? Why not kick things off with a raging karaoke singalong? Whether it's family night or you've got friends and neighbors coming by, nothing is more fun than trying to outdo one another by singing your favorite hit songs.
It doesn't matter if you don't have your own karaoke machine. If you have a smart TV, I can help you set it up with your favorite karaoke apps. It's so easy too that you'll wish you'd only known about this sooner.
But now you know. And the next holiday gathering you have can be amazing when you turn your smart TV into a karaoke machine.
If you just follow me below, I'll show you how to put your plan into action. Warm-up your vocal cords, and let's go!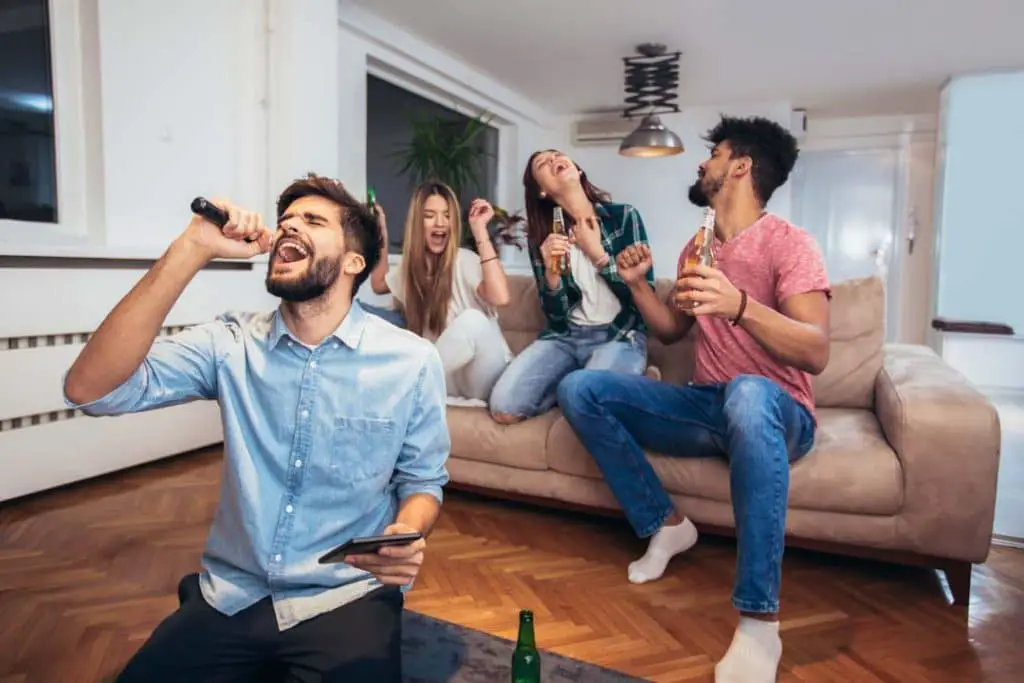 How to Setup Karaoke on Your TV
I know there are some great karaoke apps out there. StarMaker, Karaoke, and The Voice Sing are just a few of them (I will get into more details about these below). But once you have them, how do you get them to work on your TV?
Some apps will work by downloading directly to your smart TV; however, that's not always the case. It depends on the model of your TV and the compatibility of the app you choose.
If the app you want to use for karaoke on your smart TV won't download directly, never fear. I'll show you some options below to get you singing a new tune very soon!
1- Connecting Your Smart Device With Your TV for Karaoke
Let's say you have a karaoke app you love, but it's not compatible for use with your TV. You've tried downloading it and nada. No sweat! I have 2 easy steps to follow that will take care of that!
If you haven't yet already, download the karaoke app, you'd like to use on your favorite smart device. It could be your smartphone, a tablet, laptop, or even a desktop PC.
Connect that smart device to your TV.
Of course, these steps come with a little more detail to them, but that's essentially it. Let's say you're using a tablet or smartphone as your chosen device.
You'll want to use wireless mirroring. Each of your devices needs to be connected to the same Wi-Fi network source.
Once you assure that, go to your TV settings, turn on screen mirroring, then go to your device's settings and do the same thing. Tada! It's time to disco!
Now, if you're doing this with a laptop or PC, you can also do the same Wi-Fi trick I just mentioned or go with an HDMI cable. That's really all there is to it! Oh, yeah, and you'll need a mic or 2 as well.
An additional speaker wouldn't hurt for sound quality though if you've got a home theater setup, you'll be golden.
Wait, but what about YouTube?
Oh, yes! Don't let me forget that! Who doesn't love it?
You can use the YouTube in your TV through your Wi-Fi on your phone if you have a smart TV.
But if your TV isn't smart, you can use Chromecast, Android TV, Roku, Google TV, PS3 and PS4, Xbox 360 and Xbox One, Wii U, Blu-Ray DVD Player, cable box, or the YouTube app on your smart TV.
Not sure what's happening here? If your TV can connect to the Wi-Fi and YouTube is already installed, then it's a smart TV.
You won't need Chromecast or any other device to take you there. Just click and go!
If not though, then it's not a smart TV. That's when I'd tell you to think about getting Chromecast.
Step-by-step instructions on how to pair your mobile device with a smart TV
First up, connect your smart TV with the same Wi-Fi network you've got your mobile device linked up, whether it's your phone, computer, or tablet.
Install and/or update the YouTube app that's on your smart TV.
Open the app! Now you'll see an option to 'Pair.'
Grab the mobile device you'd like to pair up to the smart TV. While on that device, head to www.youtube.com/pair. On your TV screen, meanwhile, you'll be presented with a code. Enter that code from the TV here on your device.
After entering that code, you'll see 'Link with TV Code." Choose to enter the TV code. Now you'll enter the code from the website onto your smart TV. Then go to the YouTube app on your device, click on the cast icon, and choose your paired TV.
See how easy that is? Once you do this, I assure you that you can browse all the YouTube videos you want and watch them right on your TV.
You can add them to your TV queue to view non-stop, which is ideal for karaoke. Look for the songs or artists you like best, and as you search, make sure you put 'karaoke' with it.
For example, if you love Britney Spears, type 'Britney Spears karaoke' and you'll get the karaoke versions of your favorite Britney Spears songs.
Try it with genres too like '80s karaoke' and be surprised at the karaoke gems you'll find!
2- Using Just Your TV for Karaoke
There are some karaoke apps that allow you to just download right to your TV, but other equipment is needed to fully enjoy turning your smart TV into a karaoke machine.
You'll need mics for sure, and you may need an additional speaker. If you already have a home theater set up, that won't be a problem. All you have to do is connect the mic!
3- Using a Karaoke Machine
Do you have a karaoke machine you've been waiting to put to good use? The best way to set up karaoke on your smart TV is with a karaoke machine.
Each one will have different connection options, so it really depends on the model of TV you have and your karaoke machine.
Usually, it's a very simple process. You can look for the best karaoke speakers and karaoke mixers too. If you're handy with these things, it really won't take much time at all.
And if you're not all that tech-savvy, not to worry, there are plenty of karaoke machines that are very simple to work and designed for the average consumer's use.
Of course, if you don't want to go to all that trouble, all you need to do is download the best karaoke apps for use with your smart TV, and you can kick off karaoke night in a matter of minutes.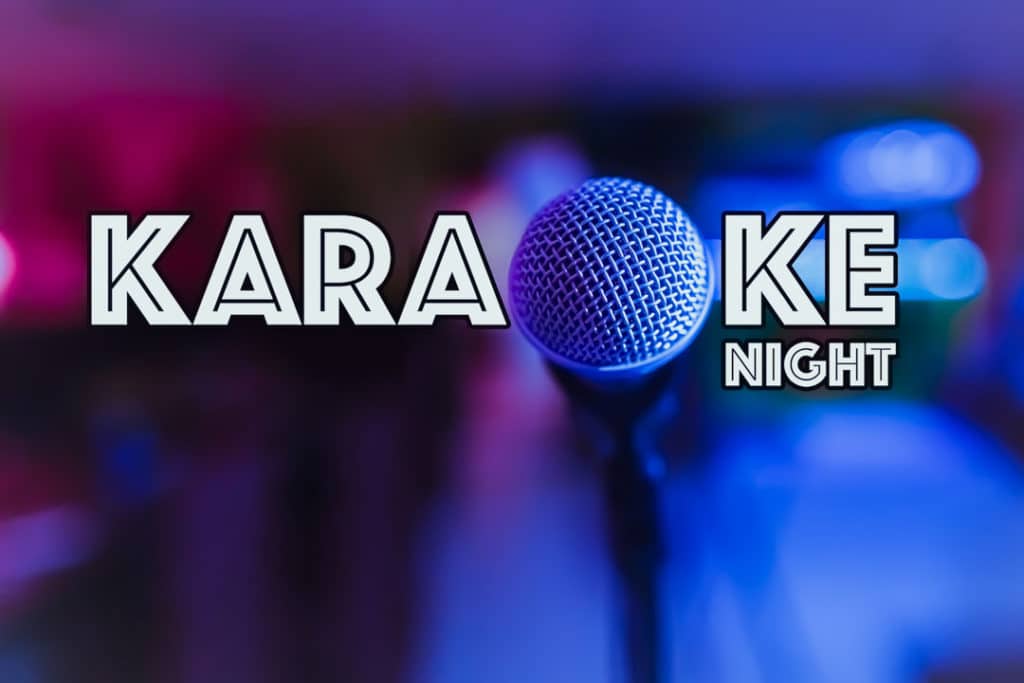 8 Best Karaoke Apps for Smart TV
Wondering which apps for karaoke will be best for use with your smart TV? Here are some of my personal favorites.
1- Karaoke
Who doesn't like free? Karaoke features free songs and great features in any language. Record your stunning performances, add special reverb and echo effects, and even share it with the world.
It works on both Apple and Android. If you don't want to spend more money, this is the app to get for karaoke on your smart TV.
2- StarMaker
Another free option is StarMaker. You can collaborate with friends by recording and then editing songs with a bunch of special effects.
Thousands of songs are available to choose from, and the library is updated daily, so that new song that's become an earworm for you will likely be on there too!
This app is also compatible with Apple and Android.
3- Karaoke Free
What's that? You want ANOTHER free karaoke app? You got it! Karaoke Free is just waiting for you with a great range of songs.
Record your voice, add reverb and echo, or simply just sing and enjoy yourself. Both Apple and Android compatible, there's no end to the free fun with Karaoke Free.
4- The Voice Sing
Are you a huge fan of the TV show "The Voice?" With The Voice Sing, you have millions of songs at your fingertips that you can sing all on your own or perform with others from all over the world.
There are options for recording, adding sound effects, and even adding video effects too.
A basic free version exists, but if you really want to enjoy it to the max, get the weekly subscription, which costs less than a large cup of coffee from a certain big-name coffeehouse.
Oh, and you can use it on Apple or Android.
5- Karaoke Anywhere
A little more expensive, you can buy each song from a selection of over 40,000 or import your own MP3 files.
While downloading the app is free, and you can play a small selection of songs for free, it won't impress like the upgraded Club membership.
Just under $10 a month gives you full access for your Apple or Android device.
It's a worthy investment if you're really big into music and want to karaoke at home all the time.
6- KaraFun
With "fun" in the name, how can you not love KaraFun? This app for Apple and Android has a few paid subscription plans.
There are over 33,000 songs and videos with an option for downloading songs when you're offline, so you can keep the party rocking even when you're not connected.
These plans are worth the money, too, since you can customize the tempo and key of any song, add backup or lead vocals, and more. It's like being in a studio!
7- Smule
By far, one of the biggest karaoke song libraries out there is with Smule. It has a free version though the paid ones for your Apple or Android give you much more access.
With excellent mic effects, video filters, and autotune, you'll have the best of everything, and never will you sound out of key!
8- The Karaoke Channel
Made for Samsung smart TV, this requires that you have a Samsung brand. It gives you thousands of the best HD quality karaoke songs and videos connected by streaming.
It's just under $60 per year, which works out to about $5 per month. You should absolutely take advantage of the free trial before you buy to see if it's something that's worth it for you.
For some of you, it will most definitely be, but for others, you may find one of these other options is better.
Conclusion
You can turn your TV into a karaoke machine. While it's better to have a smart TV, it can still be done with other TVs. Probably not really old ones, but I'm thinking ones made in the last decade at the very least.
All it takes is using the pairing and mirroring settings on your devices and TV. Once you link them up, all you need is a microphone.
Sure, you could blindly sing along in front of your TV but get that mic, and you'll really have fun with karaoke night at home!