Do you love singing in the car, the shower, or even in the supermarket when they play a song you love? Setting up karaoke at home can be just as easy as getting the best karaoke speakers.
Whether you're bored and want to pass the time making videos of your songs or you have friends and family come by, karaoke is a great form of entertainment for everyone.
Connect it to your favorite music source and let the party start! The 10 best karaoke speakers that I've reviewed below will make you want to get up and sing!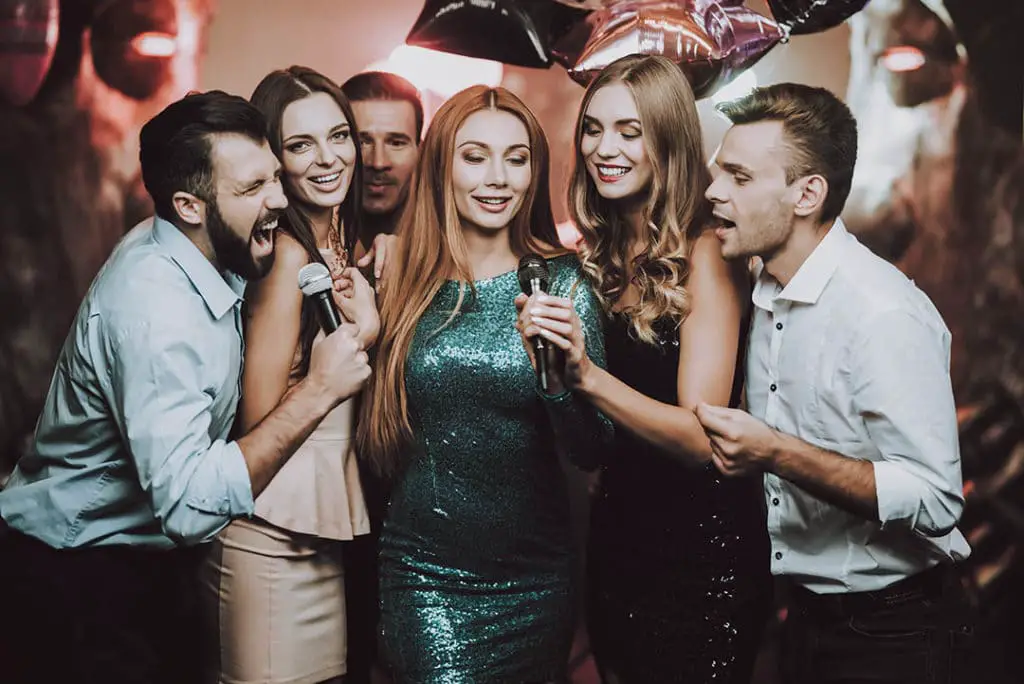 The 10 Best Karaoke Speakers
I've included 10 different options for the best karaoke speakers. One of these setups is bound to be a match for you.
There are so many possibilities to entertain yourself and guests in your home or take the party along with you just about anywhere, even for a professional party or event. Read on to choose the best karaoke speakers for you!
Let's find out more about each one: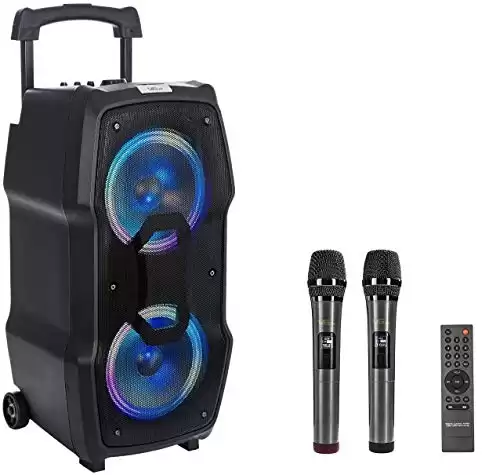 VeGue Bluetooth Karaoke Machine
Wireless PA System
500 Watts Peak Power
Dual 8" Subwoofers
Crisp Sound, Strong Bass, and Balanced EQ Even at Very High Volumes
2 UHF Wireless Mics
Beautiful LED Lights That Change According to Your Karaoke Track's Rythm!
Long-Range Bluetooth 5.0 Connection
AUX, TF Card, USB, Guitar, and 1/4-Inch Microphone Inputs
Get it on Amazon
Ok, if you're a party animal, I definitely recommend this option by VeGue. It's a multi-function karaoke PA system machine that is just perfect for karaoke lovers.
If you love having friends over, you want this one. It's simple to use, and there's no complicated setup involved!
You're going to love it because you'll have fun without spending hours fiddling with cables, until your guests get bored.
You get incredible, crisp full HD stereo sound through a tweeter and dual 8-inch subwoofers for strong base, balanced audio, and no distortions even when you turn the volume to eleven.
It's a really well-loved brand that gets it right, allowing hours of karaoke through a long-lasting, rechargeable battery that will keep the party going anywhere from 6 to 10 hours.
It allows you to connect to any Bluetooth device, from smartphones, to tablets, and even laptops, via the stable, long-range Bluetooth 5.0 connection, and if that's not enough, you can use the AUX for your smartphone.
The top features a TF Card slot, AUX in and output, Guitar inputs, as well as all the controls you need to flip through your favorite karaoke tracks.
The nobs on the top panel allow you to finetune the bass, treble, and echo to your liking, while the large dial enables precise volume control, and the crisp display shows the mode as well as battery level, for complete peace of mind.
There's also a remote control to change tracks adjust the volume, as well as change the EQ, and even record your karaoke session.
If that's not enough, you get a USB port as input or to charge up your devices when they start running low, because chances are, your phone battery will be depleted before this karaoke speaker runs out of juice!
You'll also get 2 wireless UHF mics with a range of up to 100 ft, so no more cables! Unless you want to, in which case, you can use the 1/4-inch mic inputs.
Plus, the speaker lights up to the music with bright, colorful LED lights, that change with the rhythm. Unlike most models, the LEDs are pure quality and will definitely turn heads at your next karaoke party.
My only complaint here is that the mics run on batteries, which aren't included, so just make sure to have some ready. I use these rechargeable batteries and they last for ages!
| | |
| --- | --- |
| Pros: | Cons: |
| Excellent sound and build quality | The included mics require batteries |
| Ideal for Christmas parties, karaoke, or events |   |
| Long-range Bluetooth connection |   |
| Ready in seconds |   |
| USB as input and to charge your devices |   |
| Doubles as a guitar amplifier, karaoke speaker, and PA system |   |
| LED lights sync with your music or karaoke track |   |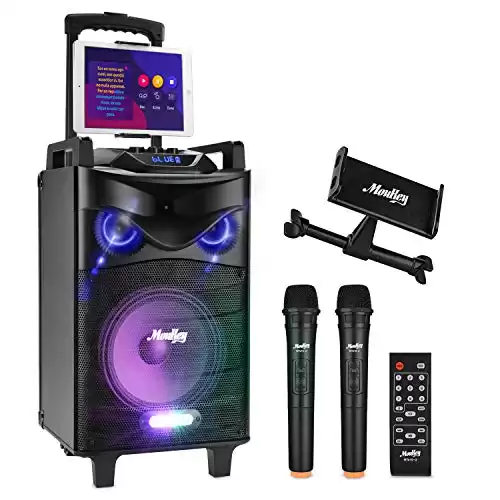 There is much to say about this Moukey Karaoke Machine! For both home or professional use, it's probably best to invest in if you're going to be putting on shows or running events on a regular basis.
Band practice is another prime moment for this complete portable PA system that gives you a 10-inch subwoofer and 3-inch tweeters to give you a full range of sound.
It's got built-in wireless with 4 modes to let you karaoke, play music, play FM radio, and use it as a PA system.
While powerful, it does great with noise reduction to give you loud yet clear sound.
Fun LED lights change color to the beat of the music while the rechargeable battery keeps you powered up, though I must admit not as long as other systems at about 2 to 3 hours when you're blasting the volume.
I love the stand for your phone or tablet, so you can see the lyrics to your favorite songs with ease. Additionally, you can stream audio, use a micro SD or flash USB.
It's a great system with great sound though the mics need batteries (they don't include them), and they have the potential for feedback if you get too close.
| | |
| --- | --- |
| Pros: | Cons: |
| Great for multiple uses | Mics need batteries and aren't included |
| Clear and loud sound | Some feedback on mics when too close |
| LED lights that change to the beat | Battery doesn't last as long as other systems |
| Stand to hold up phone or tablet |   |
| Stream, use micro SD, or USB flash |   |
| Remote control |   |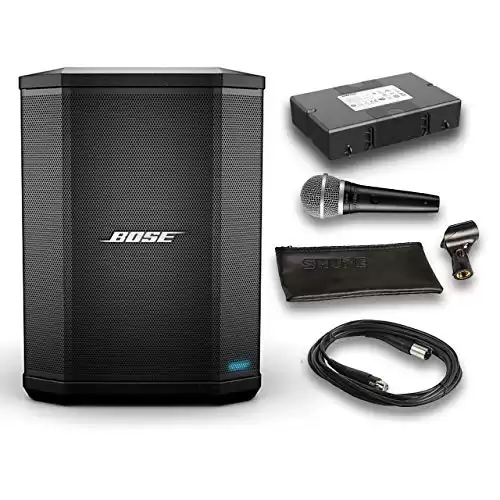 I'll admit it…I love Bose. You get some of the best quality with this brand, period. Though the price tag is really steep, you get a bunch of goodies in this bundle.
There's the S1 Pro Bluetooth Speaker itself, which is LOUD. There's also a battery, 15-foot XLR audio cable, and a Shure PGA48 mic.
With this package, the wireless Bluetooth pairs for mic or musical instruments plus there are built-in sensors to tailor your experience for optimal sound in just about any position.
Play time is assured for up to 11 hours through the rechargeable battery, and the auto EQ adjust the tone for you so you will always have good sound.
Setup is a breeze, and it plays loud enough to really make an impact, though depending on who's around, you may need to turn it down.
The neighbors could really complain about this one, so be sure to invite them over for the fun!
| | |
| --- | --- |
| Pros: | Cons: |
| Includes speaker, mic, and XLR cable | A bit expensive |
| Built-in sensors create optimal sound | Can be a little too loud for some |
| Plays up to 11 hours on one charge |   |
| Easy setup |   |
| Auto EQ for perfect sound every time |   |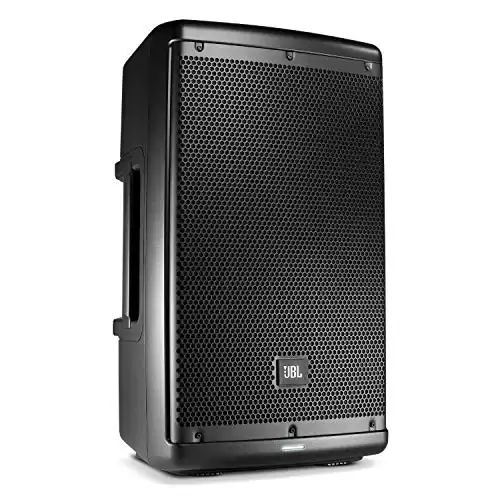 For another one to take on the road, JBL offers this Bluetooth integrated karaoke system that gives you some of the best sounds around.
Easy to carry in the handsome case, you get a 10-inch woofer, JBL's own waveguide technology, amp, DSP controlled by Bluetooth, 5-way EQ, dual combo XLR, and multiple ways to set it all up.
This system is really loud, perfect for an outdoor party. Indoors might make your head wobble a bit if you crank it up too much.
With the 10-inch speakers, the price is incredibly good, though you can upgrade the kit to larger speakers, which bumps up the cost.
Still a great deal no matter how you slice it though beware that low volumes mean no low or bass sounds.
There's also a slight feedback situation when you don't plug each speaker into its own power source.
| | |
| --- | --- |
| Pros: | Cons: |
| Built-in amp | Each speaker needs a separate power source |
| Great volume | Can be prone to feedback |
| Ruggedly portable | Low volumes result in weak lows or bass |
| Awesome price |   |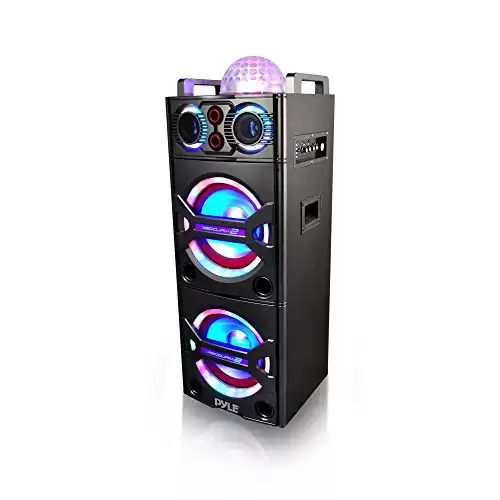 Get ready to get loud with the Sound Around! This wireless karaoke PA system gives you Bluetooth connectivity with a dual 10-inch subwoofer, dual 3-inch tweeter, and a full range of surround sound and impressive bass. Did I mention it's Bluetooth compatible?
Yeah, I did. But this one is a great option for wireless audio streaming and works with pretty much anything.
Use it indoors or outdoors and enjoy the 6 inputs to connect the way you want.
Flashing DJ lights make this the party speaker to own plus the lights and disco setup truly turn any night into a party.
As a fully portable system, it is absolutely sweet with an active speaker tower, wireless handheld mic, and the connection cables you need.
Connect it to a fog machine to really party down and throw the best party in town. This is one loud system, one that had the police popping by at my friend Rick's house to ask him to turn it down.
If too loud is a drawback, I guess that would be it though the price is a bit steep but worth it if you're going to make good use of this portable party machine.
| | |
| --- | --- |
| Pros: | Cons: |
| Wireless karaoke and PA system | A bit pricey |
| Bluetooth compatible | May be a bit loud for some, but you can always adjust the volume |
| Indoor or outdoor use |   |
| Fun flashing DJ lights |   |
| Big loud sound |   |
| Easy to transport and setup |   |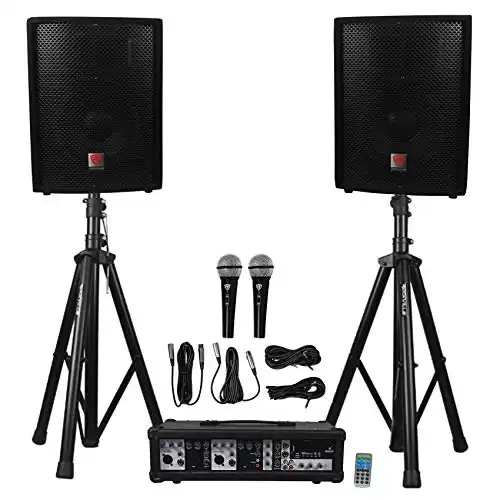 I realize that some of you want something more pro for a setup, so, for you, I recommend the Rockville Package PA System.
This is a complete setup that comes with everything you need, and I do mean everything.
It's portable too, so if you're like my friend Danny and you run your own DJ and karaoke show, this one is for you. It's what he takes on his gigs every time.
What's in it? You get a PA system that has a 4-channel powered mixer, 2 collapsible speaker stands, 2 speakers, 2 mics, mixer and amp, and all with Bluetooth connections. It's very sweet.
Interestingly, the price is incredible for what you get. The mixer allows separate control for sound effects; there are 8 channels, 48 v power for the mics, and an equalizer that won't let you down.
The one downfall it does seem to have as per Danny is that the cords to connect the mixer to the speakers are just a bit too short.
He bought longer cords to rectify that but says he wouldn't change anything else. Even in large rooms, it works like a dream.
| | |
| --- | --- |
| Pros: | Cons: |
| Complete pro DJ system that has it all | Not wireless |
| Bluetooth compatible | Some of the cords are a little short |
| Great low price |   |
| Speaker stands easy to setup and takedown |   |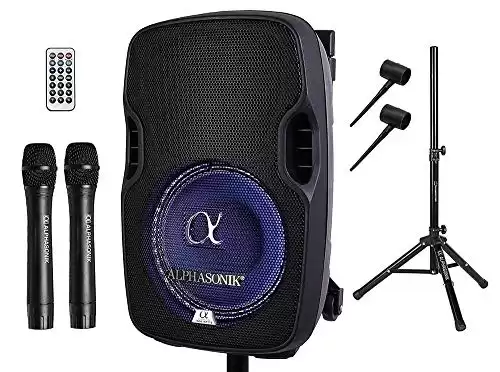 You'll really enjoy being the life of the party with the Alphasonik. As a very compact and portable platform for DJs and PA system services, it features a built-in rechargeable battery to bring the party indoors or outdoors.
Charge lasts a long time, and you can go cord-free for quite some time. The high output gives clear vocals and allows for crispness with highs.
Wireless Bluetooth capabilities abound where you can hook up to any digital device, SD card, or USB link. It even has an aux input!
You get a clear LCD screen with easy display and plenty of ways to find joy in song together. The mics have built-in dual antennas for solid transmission, and the holders ensure no one gets drunk and leaves them under the couch for the next decade.
With a fun echo function, LED strobe light that flickers to the beat, and smooth-rolling wheels, it's easy to roll into good times with this setup.
However, audiophiles will likely be less impressed. Still, it's a great system at a great price.
| | |
| --- | --- |
| Pros: | Cons: |
| Fantastic system | Not impressive for audiophiles |
| Bluetooth compatible |   |
| Indoor or outdoor use |   |
| Strobe lights |   |
| Echo function |   |
| Easy to transport and setup |   |
| Mic holders for wireless mics |   |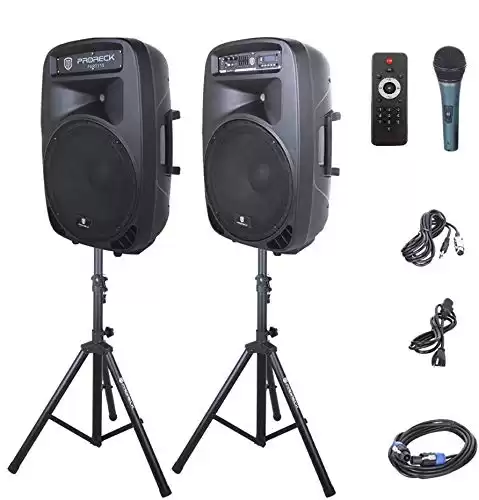 Now here's a system that truly packs the party along for anywhere. The Propeck Party 15, as I'll call it for short, has everything you need to connect the way you want.
You've got Bluetooth, FM radio, SD card, and USB drive options, and you can pair this in seconds with pretty much any device out there.
A handy remote means you can kick back and switch to another song, change volume, and do whatever you want. You'll already be the life of the party, but with this one, it's a game-changer.
What's it come with? Oh, just 9 pieces that make life more fun. There's a passive speaker, active speaker, wired mic, remote control, 30-feet of speakon cable, power cable, 2 speaker stands, and a cable for your mic too.
With a built-in EQ, 15-inch woofer, and digital LCD, life just gets better and better. One really cool thing is that the speakers feature built-in LED lights so you can coordinate your show. And really, taking it anywhere is easy with the side handles and wheels that allow you to roll it where you need it.
It's loud, it's fun, and it has a great price for so much stuff. The speaker housings do feel cheap, and light and the bass is a bit lacking, but other than that, great stuff here for your setup for sure!
| | |
| --- | --- |
| Pros: | Cons: |
| Really loud sound | Light speaker housing |
| Includes 9 pieces | Not a lot of bass |
| Great price | Setup takes a bit more time |
| Cool LED lights on speakers |   |
| Easy to connect to any device |   |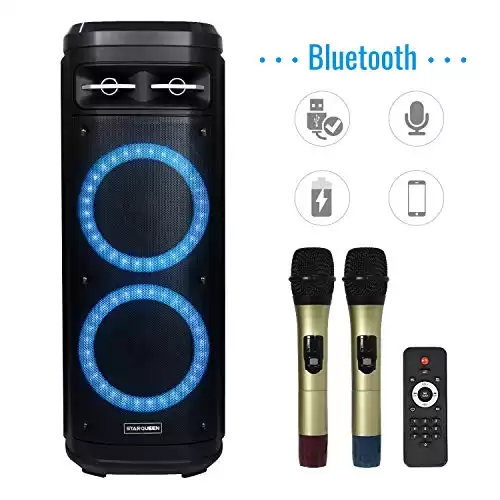 Another most excellent option I'd recommend for at-home or portable party fun is this one by STARQUEEN.
If you have no tech capability, it is an absolute must-have, for it's so simple to operate even children can do it.
It comes with Bluetooth functioning, and all you have to do is put it to "Blue" and then connect it to your phone by looking for "STARQUEEN."
See what I mean? Really basic stuff. But the sound is anything but basic.
There's a mic priority button to sing with the songs, a top panel to adjust the speaker, colorful lights that make it fun, and a built-in rechargeable battery to give you over 6 hours of music and karaoke fun.
The dual 6.5-inch woofer and 3-inch tweeter make your voice amplified perfectly.
Powerful stereo sound plus a passive subwoofer make low bass frequencies sound great. It is a little pricey for a machine you'll play with for fun in your home, but if you love entertaining, the cost will be worth it.
| | |
| --- | --- |
| Pros: | Cons: |
| Very easy to setup and use | A little on the pricey side |
| Ideal for home or personal use |   |
| Bluetooth compatible with any device |   |
| Colorful LED lights |   |
| Great sound capabilities |   |
| Good with low frequencies |   |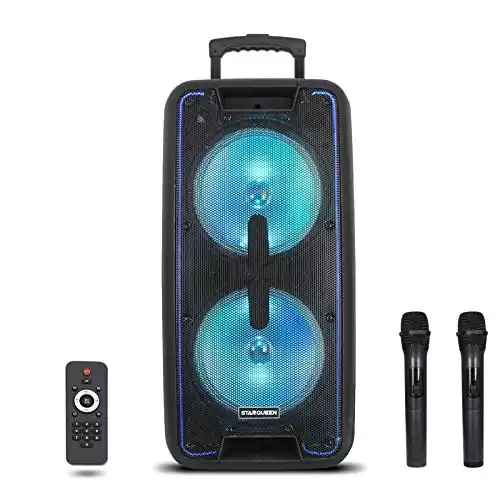 I recommended a different STARQUEEN option above, though this Portable Karaoke Speaker by STARQUEEN is also an excellent contender, especially for on the go.
It has dual 10-inch woofers that provide perfect amplification for FM radio, song streaming, and more, all with Bluetooth compatibility or USB and TF cards.
Easy to connect, setup, and get going with just about any input, it lasts a long time on the rechargeable battery. Play it 4 to 5 hours nonstop, and at the loudest, it will go.
You can also charge your phone with the USB port while a DC socket allows you to connect an additional battery.
It comes with 2 UHF wireless mics, each with a reliable signal. You can even add an additional wired mic to the one mic in a hookup.
LED lights change to the rhythm and get the party going. I love the simplicity of this party machine. While it might not be ideal for a pro, the price is on point, and you can really take it anywhere.
| | |
| --- | --- |
| Pros: | Cons: |
| Highly portable | Not the best choice for pro setups, compared to the above choices |
| Bluetooth compatible |   |
| Fun and easy to use |   |
| LED lights pulse with the beat |   |
| Includes 2 wireless mics   |   |
| Additional wired mic input |   |
| Long-lasting battery power |   |
Conclusion
If you love entertaining, investing in one of the more souped-up karaoke speaker systems might be better for you.
But if you simply love to trot out a portable option that sets up in seconds whenever you and your family or roommates get a little tipsy, a simple option will do.
Each of these systems has its benefits, and while price may be a driving factor in your decision, don't forget about how you plan to use it.
It may be worth your while to spend a little more to have something more substantial.
Plus, you can always use it in your home theater setup when you're not entertaining guests to have an even more vivid surround experience on your home movie nights.