Anyone who loves to sing in the shower or while driving will appreciate the benefits that karaoke mixers provide.
This technology mixes sound from multiple audio inputs, including instruments, microphones, and e-music, to create a unique singing opportunity.
Karaoke machines of the past would play sings with the vocalist muted to create this fun chance to sing. This equipment takes the idea to a new level, creating something similar to what a disc jockey would mix with professional equipment.
The modern karaoke mixers can alter the sharpness, volume, treble, bass, and more to help everyone unleash their inner superstar.
You don't need to visit a karaoke booth in your city to enjoy this experience. When you buy one of the best karaoke mixers available today, you can sing your heart out at home whenever you want!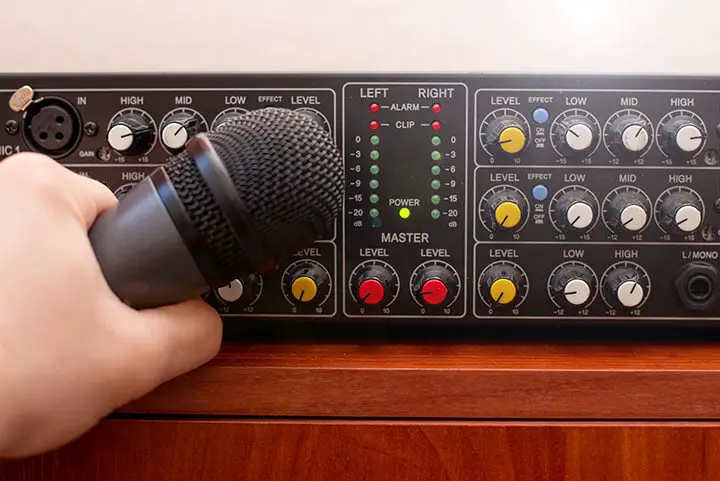 10 Best Karaoke Mixers
Although a karaoke mixer might seem imposing, this equipment is similar to what one would use as a soundboard.
Think of it as a scaled-down version of you'd see an audio team using at a concert. Your inputs go into the mixer, creating sound manipulation opportunities to create the perfect mix for your karaoke performance.
These are the best karaoke mixers available today:
Do you want to include special effects with your karaoke get-togethers? This ten-channel mixer provides SPX digital effects featuring studio-grade amps to provide natural sounds, smooth highs, and better balance than you'll find on equipment that costs five times more than this product.
The 3-band EQ, along with the high-pass filters, maximize the controls you have over your vocal input.
It lets you get rid of the unwanted background noise your mics sometimes pick up when singing, creating a cleaner mix that's perfect for karaoke, recording, live streaming, and other forms of distribution.
Each compressor on the 10-input stereo mixer features one-knob controls for fast adjustments. You can pick up drums, guitar, and other instruments without worrying about blowing up the amp in the process.
The mixer does get a bit hot with use, which is expected and not a deal breaker.
If you're ready for a fun, high-quality karaoke experience, the Yamaha MG10XU lets you sing away while providing an unbelievable mastering option at a very low price for your home studio or next karaoke party.
Here are the specs for the Yamaha MG10XU:
Input Channels: 4x Mono, 3x Stereo
Output Channels: 2x Stereo, 1x Monitor, 1x FX, 1x Headphone
HPF: 80 Hz, 12 dB Oct
Equalizer: +/- 15 dB for bass, mid-range, and treble
Frequency Response: 20 Hz to 48 kHz
Anyone who loves karaoke is going to appreciate the straightforward nature of this system. It provides you with wireless microphones using UHF cordless technology to let you sing with a separate track playing.
The design is specifically put together to limit interference and feedback so that clear vocals get picked up each time.
You'll receive up to 260 feet of support with this system, ensuring that you can sing anywhere with the help of supportive audio equipment.
Your investment comes with a 1-year manufacturer assurance of use, a power adaptor, audio cable for your board, and a fixed-frequency design.
Since it is a fixed-frequency system, only one mixer can be used at a time. You also need to keep it away from Bluetooth systems to limit interference.
The sound coming from the mic system is impressive. It isn't quite concert-quality, but you'll notice an improvement from the entry-level microphones that come with most karaoke systems. It's directional enough to reduce most noise pickups.
If you already have the amplifier for karaoke, get this 4-channel mixer with microphones from Phenyx to complete your system.
This karaoke mixer makes an immediately positive impression. Although it's a little heavy compared to other models, you can pair it with your audio system to create clean, bright sounds without much mixing experience.
It can run all-day at normal volume levels, stays cool during extended sessions, and gives you the features you want.
It provides an 11-step digital key control to ensure you can achieve the correct mix each time. A voice-cancel function is available for your karaoke, but it only works on multiplex tracks.
You'll receive three microphone inputs with individual controls that include balance and bass. It even lets you manage the volume on each one or through the master to minimize feedback risks.
The cooling fan is quiet, although it can get picked up in the background if you're trying to record your performance. Here are the specs to consider with this unit.
Audio Output: 380W + 380W at 8 ohms
Input Sensitivity: 15 mV
Frequency Band: 25 Hz to 20 kHz
Electricity Consumption: 650W
Weight: 38 pounds
Feature Controls: Echo, Depth, Bass, Balance, and Treble
You'll find that the Hisonic MA-3800K karaoke mixer is a solid amplifier that provides clear highs, a robust bass, and balanced mid-tones. With its affordable price, it is worth a look for any home entertainment system!
Since this unit is a mixer only, you'll need to connect it to an amplifier or receiver to use it for karaoke needs.
It does come with an SD card receptacle, USB drive, and recording features to maximize your singing performance with the right setup.
The Bluetooth connectivity is one of the strongest in this category if you prefer a streaming karaoke experience.
You receive the high-end audio mixing and mastering features that aren't typical at this price point, delivering a vibrant sound that you can enhance and optimize through the process controls to give your vocals a spacious, professional quality.
The digital key controls found on the IDOLMain IP-2900 lets you adjust the key to the music so that you can match your vocal range better.
When using the HDMI connection, the images are what you'd expect from this mixer.
Recording with this unit can be a little tricky. The owner's manual is simplistic, which means you'll need some audio management experience to create the results you want.
Three microphone inputs are available, with individual tone and volume control to enhance your experience.
Here are some additional specs to consider:
Bass Control: +/- 15 dB (100 Hz)
Mid-Range Control: +/- 15 dB (1 kHz)
Treble Control: +/- 15 dB (10 kHz)
Line Output Max: 4V
Input Impedance: 47K
Input Sensitivity: 150 mV
Frequency Response: 20 Hz to 20 kHz
If you're ready to take your mixing work to the next level, the IDOLMain IP-2900 karaoke mixer can produce results. It's worth the investment!
This karaoke player provides a built-in professional mixer that creates a more impressive, equalized sound when singing.
Although the different learning functions require a bit of a learning curve, it doesn't take long to learn what the equipment can do. That educational process is all part of the fun!
It would be helpful if this karaoke player had more USB space, mainly since it uses the FAT32 format.
The counter to that design issue is the CD+G to MP3+G conversion, DVD capture, and digital recording features that you receive with the equipment.
You can record any audio, including voiceovers, when using this Marin Ranger karaoke player. It doesn't require a disc to play to produce an MP3+G with your vocals.
There's a song list creator to use with the jukebox function for this mixer. It cans the entire drive to create a file with song information and numbers.
Once you have that information, you can input the number to play the song you want. This list is even printable from your computer.
Here are the specs you need to know about with this professional mixer.
Multimedia Player Supports: CDG, CD-R, CD-RW, DVD, DVD-R, DVD-RW, MP3, and VCD
Microphone Inputs: Two 0.25-inch front-panel
Audio Outputs: Optical and Coaxial
USB Reader Compatibility: AVI, DAT, DVD, MPG, JPG, MP3, VCD, WMA
Weight: 12 pounds
Do you want an affordable mixer that comes with the microphones and connections needed for a fun singing experience? Give the Marin Ranger HDDVD950PRO karaoke player a try today. You won't be disappointed!
The versatility of this professional karaoke mixer is what makes it stand out as a worthy entertainment investment.
It is easy to use for a first-time enthusiast while offering advanced controls that audio experts will enjoy using to create the perfect custom mix.
It comes with three microphone inputs with its standard configuration, ensuring everyone can sing along with a favorite song.
You can control the delay from this audio, use a digital echo feature, or take advantage of the individualized volume controls
Setting up the VocoPro DA-2808VE Karaoke Mixer is a simple process. The optical input box works with your smart TV connection to have everything running in minutes.
Once you start singing to your favorite song, the texture and sibilance of the vocals can get adjusted to whatever is necessary to create an outstanding performance. You are always in complete control, especially with the integrated vocal enhancer.
Here are the specs to review with this karaoke mixer.
Frequency Response: 20 Hz to 20 kHz +/- 3 dB
Bass Tone Control (Mic): +/- 3 dB at 100 Hz
Treble Tone Control (Mic): +/- 8 dB at 10 kHz
Microphone Audio Input: 2.5 MV / 10 Kohms
Aux Audio Input: 50 MV / 50 Kohms
Echo Delay Time: 100 to 200 mSec
If you want one of the best portable karaoke mixers so that the party can go with you anywhere, consider the VocoPro DA-2808VE today. It provides straightforward fun for everyone.
Although this karaoke mixer doesn't come with an optical output or speaker on/off switch, you'll find the available audio quality to be fantastic with this particular model.
It comes with built-in USB and SD readers to play your favorite MP3 songs, offering authentic sounds with the assistance of the subwoofer.
These are the specs you can expect with this Martin Roland karaoke mixer.
2x RCA audio inputs and 1 video input.
3 video outputs.
Audio output: 750W + 750W at 4 ohms.
Frequency band is 20 Hz to 20 kHz.
Four 0.25-inch microphone inputs in front, with three more at the back.
Individual echo depth control.
Individual volume controls for bass, mid-range, and treble.
Not many of today's best karaoke mixers let you incorporate seven microphone inputs for singing with one song.
You cannot plug an instrument into this equipment (it would damage the amp), but you could play one through the mic.
This step lets you modify the tone in the same way that the vocals can get adjusted.
If you like the idea of streaming music through Bluetooth while singing karaoke, you'll want to buy the Martin Roland MA3000KII 750W digital mixing amplifier.
You'll have numerous adjustments to make with each performance, and a 30-day money-back guarantee ensures your satisfaction.
The Bluetooth function on this digital mixing amplifier ensures that you can send and receive from any mobile device.
If you have a fun karaoke app on your iPhone that you'd like to use for your party or solo singing experience, this setup can make that happen.
You'll receive two HDMI inputs and a single HDMI output as part of the setup. You can use these, an optical input, or a coaxial cable to connect the mixer to your smart TV to have unlimited karaoke streaming via YouTube.
It also comes with a built-in MP3 player to offer more customization.
If you prefer to listen to your favorite songs instead, the built-in USB flash drive makes it possible.
The manufacturer equipped this mixer with a DSP and BBE ultra-high processor, ensuring you can hear the vibrant details of all vocal and music frequencies.
It's one of the few models in this category that comes close to concert-quality sound. These specs help to reinforce the quality of what to expect during your home performance.
Max Power Output: 850W + 850W at 8 ohms
Audio Inputs: 4 (AUX, Bluetooth, DVD, USB)
HDMI Inputs: 2
Microphone Inputs: 3 front and 2 rear 0.25-inch inputs
Voltage: 115/230V for worldwide compatibility
Power Consumption: 1300W
Music Input Sensitivity: < 20 mV
Mic EQ Characteristics: +/- 10 dB (10 kHz); +/- 10 dB (100 Hz)
Are you thinking about becoming a DJ or KJ? Is it time to take your singing seriously? If so, the best karaoke mixer for your needs is the Singtronic KA-1000DSP digital mixing amplifier.
This karaoke mixer provides a foundation for fine-tuning your music to the needs of different singers.
You have full control over the low and mid-range to balance out the muddiness that tends to develop for most performers.
Its design lets you manage each microphone (or instrument) separately to ensure each channel maximizes each song's potential.
You'll receive a guitar input with volume control with this karaoke mixer. The design includes four A/V inputs, 2 HDMI inputs, and a single HDMI output to let you manage the performance.
A master volume control is separate from your microphone adjustments to ensure the vocalist isn't over- or underwhelmed by the backing track.
The amplifier setup for this karaoke mixer is impressive.
Peak Power Output: 3000W + 3000W
RMS Power Output: 550W + 550W at 4 ohms or 350W + 350W at 8 ohms
Input Impedance: 47K ohms
Input Sensitivity: 150 mV
Bass Control: 15 dB +/- (100 Hz)
Mid-Range Control: 15 dB +/- (1 kHz)
Four banana plug-speaker connectors, a subwoofer XLR, and EQ connection read works with the LED spectrum equalizer to ensure your preferred style is displayed.
At the same time, you maximize the audio coming from the performance.
You'll want to take advantage of the built-in MP3 player module. The equipment comes with a fully functional remote control to manage the audio playback.
You can even record the performance via USB to enjoy later.
If you want a professional karaoke experience, the IDOLmain 6000W professional mixing power amplifier is the best investment you can make today.
You receive a two-band music equalizer with this professional equipment, offering bass and treble support to ensure a proper balance.
You can take the left and right inputs to produce one solid sound, especially with the included echo effect controls for the microphone.
It isn't as complex to use as some of the more powerful models in this category, but the simplicity it offers is what makes it an attractive investment.
You'll receive PC remote control capability with this karaoke mixer. It comes with a system that intelligently selects the audio input to create priority selections.
A total of five microphone inputs, three additional audio inputs, and a single audio output are part of the design.
A dedicated wireless microphone connection input is included in two groups.
You can adjust the volume of each separately, although the individual performers or instruments do not receive the same consideration. The group volume controls also apply to the subwoofer, music, and echo feature.
Here's what you can expect with the amplifier setup.
Peak Power Output: 800W
RMS Power Output: 600W at 4 ohms or 400W at 8 ohms
Input Impedance: Not Listed
Input Sensitivity: 250 mV
Bass Control: 12 dB +/- (100 Hz)
Mid-Range Control: 12 dB +/- (1 kHz)
If you want an affordable karaoke mixer that can potentially outperform some of the premium models in this category, the Better Music Builder DX-213 is an incredible deal that deserves a closer look.
A Final Thought About the Best Karaoke Mixers
We often think of karaoke as being a social event. You might attend a party, stop by a bar, or have fun at a local booth creating a mix.
This technology lets you bring that experience to your daily routine. When the best karaoke mixer is in your home, you can have fun singing with all of your friends – or when no one else is around!
Choose the model from this list that makes sense for your needs and budget.
Once you start making your first mix, you'll discover how addicting karaoke can be at any time of day.