Recording and mixing brass instruments at home can be a lot of fun. The trumpet can peel off a high melody, provide low tones for a bass line, or create a jazzy feel through structure or improv.
Few instruments carry sound as well as a trumpet. It offers a loud, piercing quality that demands the attention of the listener.
Attacking the notes can increase the chances of cracked tones when broadcasting or recording a trumpet. Because it is such a demanding instrument, it helps to play the most complicated or demanding sections first to ensure a positive outcome occurs.
What to Consider before Ordering a Microphone for Recording a Trumpet
Recording brass instruments can be challenging because you need to capture the room sound. Most setups place the microphone at the bell directly. Although the player should stand in front of the mic to play, the pickups should get rotated 40 degrees off-axis to avoid overplaying the vibrations that come from the trumpet.
This setup ensures the audience hears less air noise coming out of the instrument while playing. If you are in a small recording space, a condenser or ribbon microphone may be helpful.
■ Common Types of Trumpets
You can find two standard trumpet designs available for use today: the B-flat and the C instruments. These terms are a reference to the transposition of what gets played.
If you want to play music at a concert pitch, the C trumpet is your best option. Some instruments come with a sliding tube that enables you to switch between the two notes.
Other members of this brass family include the bugle and the cornet. The first option differs because it doesn't have any valves. In contrast, the latter has a conical bore instead of the cylindrical shape of the trumpet.
■ What Is the Range of a Trumpet?
A trumpet's range depends on the construction of the instrument. The standard B-flat model can typically reach all of the notes between the written F6 and F-sharp 6 when using loud dynamics.
The F3 is a performable note for some trumpets when using the tuning slide on the instrument.
Some four-valve piccolo trumpets can access an additional major third range below the treble staff, reaching a D-flat 3.
That means the frequency range of the typical trumpet extends from about 185 Hz to over 1,000 Hz. Overtones and harmonics can extend significantly above and below those readings.
■ Trumpet Tonal Characteristics to Consider
Trumpets produce a tone that is bright, metallic, and somewhat pitchy. It can get dark in the lower register, providing brilliant and intense notes that encourage the listener to pay attention to the sound.
Most trumpets project well between G3 and G5 on the treble scale.
Playing a C trumpet produces tones that have more soberness to them, remaining reserved without compromising on the brightness. The B-flat instrument produces a balanced sound with a softer presence.
■ Microphone Choice and Placement
The best microphones for trumpets record or broadcast the instrument's trademark sound without it being overly piercing. You get the dynamic tones and brilliant melodies while hearing a richness that can only come from brass.
Since a trumpet can produce over 130 decibels during dynamic play, sound reduction may be necessary for some compositions. It is a best practice to place the microphone off-center to reduce the chance of an overload occurring.
Several microphone options enable a positive outcome. Three primary selections are available from which to choose.
▪️ Large Diaphragm Condenser Microphones
These microphones provide a one-inch diameter or more significant to capture the low-end sounds with boosts in the mid-range. It creates a well-rounded tone when there isn't a lot of exaggeration placed in the condensing features.
▪️ Ribbon Microphones
This option is the gold standard for recording trumpets. It offers a darker top end, smoother mid-range, and a better lower gain output. You'll get a lot on the back end without disrupting the upper scale.
Ribbon microphones require gentle handling and storage because of their design. It can be challenging to manage this equipment, but the sound benefits it provides are worth the effort.
▪️ Dynamic Microphones
These microphones are the workhorses of the recording industry. They are remarkably sturdy, getting dropped on stage or hit with drumsticks is common.
What makes them useful for the trumpet is their lack of sensitivity.
This design makes them versatile. Since dynamic microphones tend to be the cheapest ones available, you won't feel lousy stocking up on them for your musical work.
Their unidirectional pattern (cardioid) cancels out any sound coming from behind the trumpet.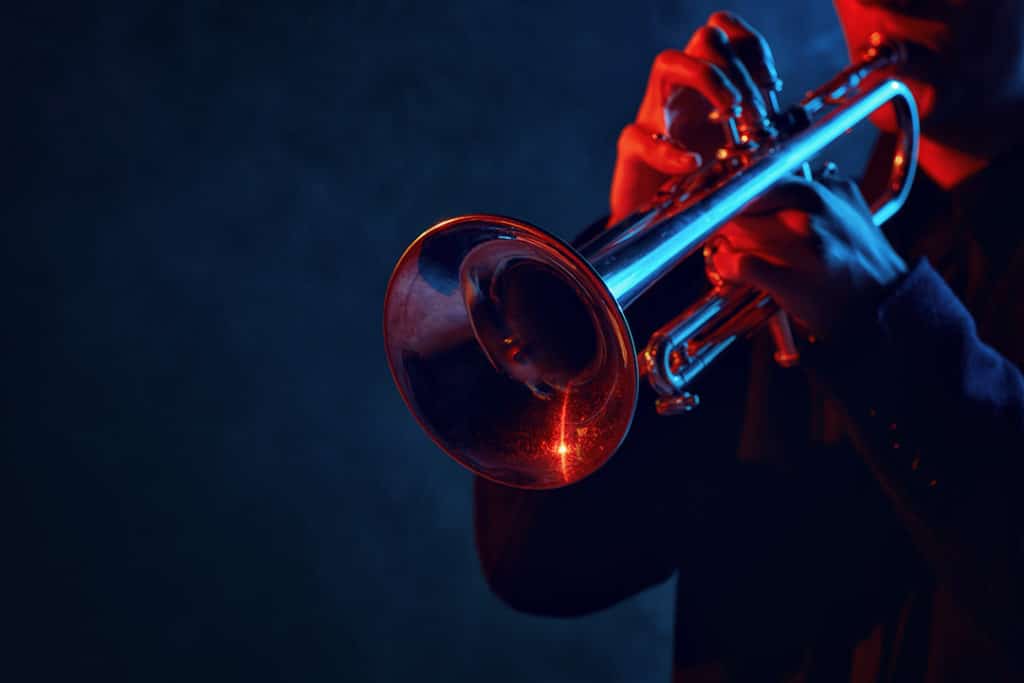 8 Best Microphones for Trumpets
The best microphones for trumpets provide you with exceptional versatility. You can hook them into your sound booth for a live mix or record at a home or professional studio. Either way, the authentic tones you receive work to warm the soul.
Here's a list of the 8 best microphones for trumpets:
The issue that some trumpet players face when trying to record is a lack of vibrational pickup. You end up getting more air noise and breathing in the final track, reducing the impact of the melody in the composition.
There can be onstage performance issues with some microphones that make it challenging for trumpeters to be heard.
If you need to move at all, a static mic installation will not benefit your performance.
When you choose this microphone setup, you get a clip-on product that offers the benefits of condensing while keeping to the traditional cardioid design.
A gooseneck extension comes with this microphone for added placement versatility. That means you get to grab the audio from the sweet spot every single time.
No external mounting hardware is necessary for the Shure BETA 98 H/C trumpet microphone.
Although it requires +48V phantom power to operate, you'll find that it meets the unique demands of the trumpet without much effort.
The MXL R77 is a professional-grade ribbon microphone that handles your trumpet recording needs with stunning realism.
The smooth transient response you'll get with each recording is competitive with the results you can achieve with equipment priced ten times higher than this item.
You'll want to immediately take advantage of the Figure 8 polar pattern to ensure sound discretion and side rejection.
The sweet spot has a broader pickup pattern than competitive products, giving you the upper-range sensitivity needed for an authentic brass performance. You'll be impressed by the clarity levels you receive with each recording.
It uses an aluminum ribbon transducer that uses the natural bidirectional pickup pattern of the design.
You'll get the sounds from the front and back with equal sensitivity, producing a robust low end while offering a full mid-range.
You may need a preamplifier with plenty of gain to match the output of a condenser microphone, but that investment is worth the effort.
The placement of the manufacturer logo indicates the front of the microphone. You can discover more about this incredible trumpet microphone by clicking on the image or the above button.
You'll notice the technically advanced diaphragm with specific tensioning immediately with Audio-Technica's AT4040 microphone.
It offers naturally smooth sonic characteristics that authentically replicate what you can produce on the trumpet.
The externally polarized design allows the condenser to have low noise, high SPL capabilities, and a dynamic range to support virtually any performance.
Each component is machined with precision, featuring an acoustic element baffle that offers enhanced stability and sensitivity.
Since the circuitry in the AT4040 comes without a transformer while achieving a symmetrical design, you receive an incredible transient response.
The clean output signals ensure that any sound effects or additional instruments compliment the composition.
It comes with the shock mount in the box, along with a carrying case and dust cover. The manufacturer protects your investment with a limited five-year warranty.
It captures all of your natural sounds in the environment, but it also creates improved filtering to reduce that influence.
The Electro-Voice RE20 cardioid microphone gives you the professional quality you expect without a significant price tag. You'll receive the traditional sound of FM radio when recording on this device.
It features controlled and smooth outcomes that produce lots of character. It's the perfect solution for anyone wanting to add the trumpet to a composition.
The variable-D design with the internal pop filter provides heavy-duty work to create consistent sounds.
Use the shock mount to reduce vibration and feedback while taking advantage of the hum-bucking coil and steel case to create exceptional guards against unwanted noise.
This microphone debuted in 1968. If you have ever listened to the radio, you've likely heard what this product can achieve.
It minimizes tonal shifts, allows for some movement during recording, and removes the shocking metallic pitch of the trumpet to allow for warm and beautiful sounds.
The primary reason to grab the Electro-Voice RE320 microphone for your trumpet right now is to start recording music. It updates the famous sounds produced from previous generations with its dual personality frequency response.
You get to create a specifically-tailored EQ or choose the flat response.
It's one of the few microphones that gives a lot of extra punch to the trumpet without the experiencing sounding artificial or overwhelming. The two response curves combine with this feature to offer a pleasing, natural tone.
An integrating hum-bucking coil works to keep the buzz down while playing, especially when compared to other dynamic microphones.
It minimizes the off-axis tonal shifts that happen with a missed note without penalizing you for positional mistakes.
It is a virtually noiseless performance that sounds like you got everything right on the first take.
One switch position ensures your trumpet, voice, and additional instruments receive a pleasant tone in a live setting.
It's perfect for religious venues, commercial sound, podcasts, and broadcast needs outside of recording applications.
You're going to enjoy the high SPL capabilities of Royer Labs' R-121 large-element ribbon microphone.
It contains zero active internal electronics, ensuring that you receive a distortion-free recording of your trumpet up to its maximum SPL rating.
Overloads are going to be a thing of the past!
The ribbon element with this microphone doesn't get impacted by humidity or heat. You can record in almost any conditions without worrying about how the environment affects the tone picked up by the equipment.
Get as close as you want to the mic with your trumpet because the sounds are going to stay consistent and beautiful.
There is no high-frequency phase distortion with this microphone. When you complement that feature with the low residual noise that gets grabbed during a recording, you'll discover some incredible benefits waiting to get used.
The Royer R-121 is easily one of the best microphones produced in the 21st century. It was first released in 1998, and it has offered natural sound with warmth ever since.
It's one of the few products of its type that gets backed by a lifetime warranty.
The Neumann U87 is the perfect combination of traditional technology meeting modern manufacturing methods.
It was first introduced in 1967, gaining instant recognition for its engineering and production capabilities.
By the 1970s, it was the go-to mic for studio recording, and no other product has been able to dethrone that status.
It works beautifully for recording the trumpet with its audio fidelity and reliability. You'll receive three selectable polar patterns, a switchable filter, and more to give you a wide range of potential techniques to use.
Although the cost is significant, the sound benefits you receive with this upgrade make it worth the investment.
You won't find a better recording instrument for a trumpet when you want to lay down some tracks in your home studio.
The Sennheiser MD 421 II microphone is one of the most popular in the world because of its affordable versatility.
It provides all musicians with excellent sound qualities that adapt to changing and diverse broadcasting applications or recording conditions.
The cardioid pattern on this microphone ensures that trumpets receive fantastic feedback rejection, ensuring live recording accuracy. You get 5 bass roll-off settings that control your proximity effect.
This design ensures that you can have a microphone close together without experiencing feedback, unnatural bass increases, or distorted responses.
It comes with a composite glass housing with a stainless-steel basket to ensure a rugged performance. This microphone works as well on stage as it does in the studio with its refined audio capabilities.
The reduced sensitivity to humidity and dust ensures that the tubes deliver accurate low-end responses every time.
In Conclusion
Playing the trumpet can be a challenge for unfamiliar musicians. It requires a specific level of stamina that requires several years to master.
Even when you can reach the maximum range of this instrument, the strength it takes to create complicated melodies can quickly wear you.
The best microphones for trumpets understand these challenges. They work to help you adapt to each issue to create a warm, wholesome sound.
Any of them could be useful with your current setup. Whether you play onstage, record at home, or need something new for your studio, these proven options can help you to embrace your creativity.