As the world continues dealing with the 2019 dilemma, we're all looking for ways to have fun in a "normal" way.
If you're used to hanging out with friends at a karaoke bar, you've had a year or more away from the fun times you remember.
It's time to turn the page by thinking about some at-home ways to have a similar experience.
That's where the Siglos Karaoke Player/Recorder 2 software can help. It enables most karaoke machine functions from your home computer so that you can have a fun time singing.
You can add a microphone or sing through your system's mic to replicate the experience you've always enjoyed.
This review looks at how well the software functions and how it accomplishes the goals that the brand's marketing team promotes.
Siglos Karaoke Player Recorder 2 Software Review
The Siglos Karaoke Player Recorder 2 software turns almost any computer into a fun karaoke machine. It comes with recording features that let you hear yourself singing while providing video files you can save for sharing later.
If you decide to take advantage of the recording feature with the Siglos Karaoke Player/Recorder, you can add different music effects with the software's included audio processor.
This function provides reverb while letting you mix the singing with your music to create custom results.
Once you're finished with the editing work, the structure enables you to save the completed work to your system.
You can only take advantage of this software if you're using a Windows computer.
If you have an iMac, Mac Mini, or MacBook, you can use emulation software to run the Siglos Karaoke Player/Recorder if you purchase the appropriate licenses.
If you're unsure of how well this system could work for your singing needs at home, the Siglos Karaoke Player/Recorder does come with a free evaluation.
Features of the Siglos Karaoke Player Recorder 2
When you invest in the Siglos Karaoke Player/Recorder, you'll receive the following features with the software package.
| | |
| --- | --- |
| File Playback Options: | You can use CD+G, ZIP, BIN, MIDI, MCG, KMA, or MP3+G files with this product. It comes with image enhancement for CD+G to improve the overall visual aesthetics and user experience. |
| YouTube Search: | Users have the option to search and play karaoke videos already uploaded to YouTube for a local sing-along. You can create playlists with the software that contains online content or download them to your computer to play them later. |
| Key Control: | It is possible to modify a song's key with this software to match the singer's voice better. You can adjust the pitch up to six full notes (12 semitones) in either direction to support your natural range. The helium effect that makes instruments or people sound like chipmunks won't happen. |
| Speed Control: | The software can speed up or slow down so that you can sing in whatever way feels natural for your favorite songs. The software offers options that let you cut the speed by 50% or double the original tempo. |
| Live Video: | You can use a live camera background, incorporate self-made videos, or include your own image background with the player-recorder software. |
| Playlist Management: | Users can group their favorite songs into multiple playlists so that it is easier to find their preferred titles. This feature makes it much faster to switch between different karaoke experiences for new singers. |
| Full-Screen Mode: | The software provides a full-screen experience to simulate what it would be like to perform on a karaoke stage. It even delivers a dual-monitor feature so that you can manage one and play off of the other. |
| Recordings: | Singers can record themselves while belting out their favorite titles and listen to the playback after they are finished. You can adjust the recording levels mid-performance and choose to listen to yourself in real-time. |
The Siglos Karaoke Player/Recorder software works with most CD or DVD players. If you have a burner, you can save the performances to disc for safekeeping.
You even have the option to use the standard skin for the karaoke software or use a "dark mode" design that is a little easier on the eyes.
The one issue with this feature is that the record and play commands are in different locations, making the transition between the two visual options a little disconcerting.
System Requirements for the Siglos Karaoke Player Recorder 2 Software
The Siglos Karaoke Player/Recorder works best when using a Windows 10-equipped device. It will also work with Windows 8.1, Windows 8, or Windows 7.
Your computer must have a minimum of 2 GB RAM for it to operate correctly.
You can operate the software on Mac systems with a Windows emulator. The functionality of the player-recorder might not be the same as it would be when using it on a more traditional setup.
If you want to play a CD+G disc for your karaoke experience, the computer drive must be capable of extracting subcodes.
Although most modern ones provide this feature, the software isn't guaranteed to work on all devices.
Anyone unsure of their system requirements should consider using the free trial version to see if the software functions correctly. If it does, you'll know that you can use this karaoke experience.
If you have a computer that doesn't come with a disc drive, you might be able to use a portable external product instead.
Best Equipment Options to Use with the Siglos Software
Although the Siglos Karaoke Player/Recorder 2 software accepts inputs from your stock drives, microphones, and other equipment, a few small upgrades can turn an average singing experience into the time of your life!
After evaluating the software's overall performance and features, the following system add-ons are highly recommended to ensure the best possible experience.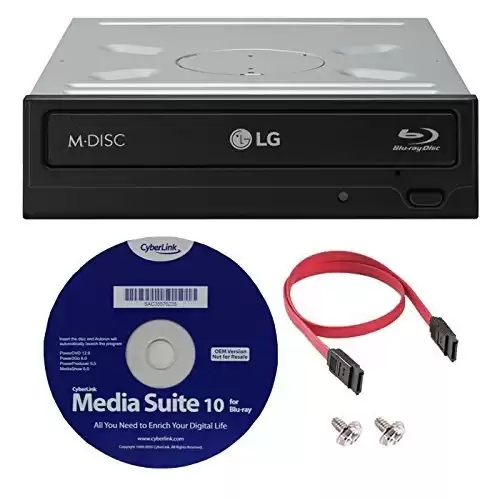 ■ Best DVD Drive for Modern Computers
The problem with most external CD+G or DVD drives today is that they aren't Windows 10 compatible. If you have an Apple device, you'll run into even further problems if you want to read a disc for your karaoke experience.
That's why you're better off upgrading your current computer with a new internal drive. Most desktops provide expansion slots that let you connect this equipment with minimal effort.
The LG WH16NS40 16X Blu-ray CD-DVD drive is an internal writer that offers a serial ATA interface. It's Windows 10-compatible, allowing virtually any computer to become a karaoke machine.
You'll appreciate the silent play tech that automatically controls the reading speeds for each disc to reduce noise when singing.
You'll need to have data interpretation software to work with your drive for the videos to play as intended. The same need applies to writing files you've recorded and modified.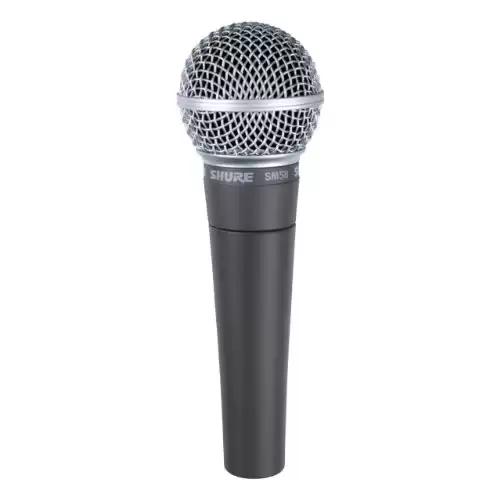 Shure SM58-CN
Cardioid Dynamic Vocal Microphone
Polar Patter: Unidirectional
XLR Connector
25' XLR-to-XLR Cable Included
Break Resistant
Get it on Amazon
■ Best Karaoke Microphone for Computers
Although you'll need an XLR to USB connector to use it, the Shure SM58-CN Cardioid microphone delivers a dynamic vocal experience.
It uses an omnidirectional design to pick up authentic sounds whenever you start singing.
The singing comes through clearly when you want to record and mix your favorite songs while using the karaoke software. It rejects off-axis sounds beautifully so that only the best tones come through for the melody.
The microphone is durable enough to stand up to having young kids using it. It also comes with a break-resistant adapter if you prefer to use a stand.
After all of that, the best feature is the built-in filter that reduces popping sounds, breathing, and wind noise.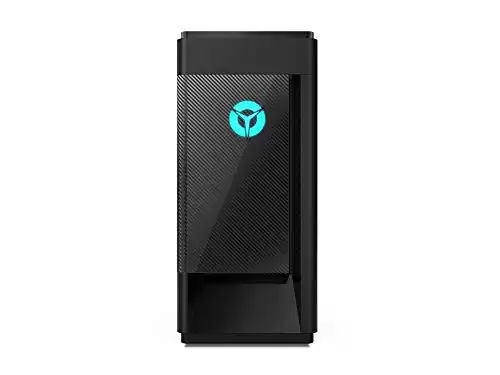 CUK Legion T5
Intel Core i9-10900F Ten Core Processor (20MB Cache, 2.8GHz-5.2GHz) 65W
64GB RAM DDR4 2933MHz
512GB NVMe SSD
2TB HDD
NVIDIA GeForce RTX 3080 10GB
750W PSU
Windows 10 Home
Get it on Amazon
■ Best Computer for Using the Siglos Karaoke Software
The CUK Legion T5 from Lenovo is a computer that can handle all of your needs. It delivers 64 GB RAM, an Intel® i9 processor, and the NVIDIA GeForce RTX 3080 10 GB card for maximum graphics capabilities.
The system comes equipped with a 750W Gold PSU power supply and a USB mouse and keyboard included in the box.
You'll receive a 3-year warranty with your purchase. It is fast, powerful, and silent, ensuring that your singing comes through every time.
Its powerful CPU and GPU combo also come in handy when gaming, you could technically max out the settings on any game and still have a buttery smooth experience at a very high refresh rate!
But you could also go for the slightly less powerful version which is just as capable at handling your karaoke party needs for half the price.
Are You Ready to Start Some Singing?
You can purchase the Siglos Karaoke Player/Recorder 2 software for $49. This charge is in addition to any hardware or equipment requirements you might need to buy to maximize its features.
Our impression of the software is that it lives up to its reputation. The most joy comes from singing your favorite songs in the comfort of your home. You can gather the family, go through a playlist, and share a lot of laughs!
It can also serve as the foundation for a fun outdoor party or a socially distanced indoor gathering.
Although the recording feature isn't for everyone, it delivers a consistent experience that lets you experiment with some sound editing principles.
I'd highly recommend purchasing a dedicated microphone for your singing if you decide to download the Siglos Karaoke Player/Recorder software.
Some people might benefit from a new internal drive or an upgraded computer to maximize their fun.
If you love to sing, you'll appreciate what the Siglos Karaoke Player/Recorder 2 software brings to you and your family. It's worth the investment!