You have a Sonos soundbar to create an impressive audio experience at home.
You have a projector that allows you to watch movies, live TV, and presentations at sizes a modern television cannot provide at the same price.
Now, you need to combine these technologies to have an incredible home theater experience. If your equipment has compatible ports, it's a straightforward process to connect the two.
Some limitations may exist on some projectors, which is why knowing how to connect your Sonos soundbar appropriately can maximize your sound experience.
How to Connect a Sonos Soundbar to a Projector
You must use an HDMI matrix hub to connect a Sonos soundbar to a projector. Without this equipment, you'll have no direct audio because projectors are display-only equipment. Splitting your source material between the projector and your speaker gives you a home theater experience.
The HDMI out goes from your cable or satellite box, a console, or a Blu-ray player to your television with a direct connection.
This setup lets you change the source material for your video without altering your audio configuration.
When you connect your Sonos Playbase, Playbar, Arc, or Beam to your television, you send the TV's audio transmission to your speakers.
That's why it handles multiple video sources without requiring you to switch between the internal speakers and your Sonos system.
It's a little different when using a projector. Unlike a TV with audio and video capabilities, most models only display the latter option. That means any routed sound to the device will not play, even though the visual signal displays.
You must split the audio to your speakers using different equipment because of this design. That's why it is essential to have an HDMI matrix hub supporting your home entertainment system.
It may also be called an HDMI switcher. This equipment usually supports 4-8 connections to serve as the "television" in your standard setup without a projector.
All of the inputs, including your TV, route to this box instead. Once you connect your Sonos soundbar, the audio transmits to the speaker while you change between them.
Once you have the setup completed correctly, you could watch your TV or the projector using the same soundbar.
How the Sonos Soundbar Works with an HDMI Matrix
Although some cheap HDMI matrix boxes don't come with a digital optical output, most of them feature this connection. Even some of today's smart TVs require this solution to provide high-quality audio across multiple displays.
Before purchasing an HDMI matrix to work with your projector and Sonos Soundbar, verify that it has this connection. It might be called an S/PDIF or TOSLINK connection.
It doesn't matter if you own the Playbar, Playbase, Arc, or Beam when connecting your Sonos Soundbar to a projector.
Each model shares an optical audio input. This feature links to the matrix switch in a straightforward way to match the video content you see.
Sonos uses a digital audio connection that transmits Dolby 5.1 audio data. This design ensures that the soundbar continues providing a surround sound experience in your home theater or entertainment room with your sub and One SL speakers.
What HDMI Matrix Do I Need for My System?
HDMI is the interface type that carries your audio, video, and data content between devices. When you connect a cable or satellite box to your TV with this cable, you receive sound and pictures in high-definition.
If your services and equipment have 4K capabilities, you'll receive this result with your connections.
When you shop for a high-definition multimedia interface matrix, you'll see several designs offered.
Knowing what to expect from this equipment ensures that you equip the correct one to your home theater or entertainment system.
The design is essentially the same for each model. As you'll see in the table below, the differences involve the available input and assignable output numbers.
When shopping for an HDMI matrix, you'll discover that the technology uses five primary connector types.
These items are designated as A-E, corresponding with the various versions that were released over the years.
You'll need to review the equipment you have to understand what HDMI version you require.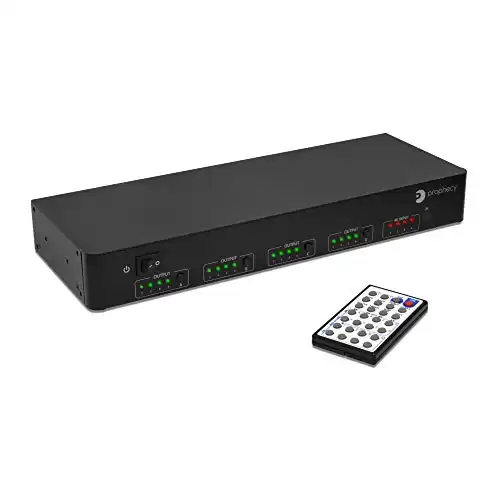 Older HDMI matrix boxes may only support HDMI 1.4. Some models go back to HDMI 1.1 or 1.2.
The equipment you purchase today should be listed as supporting HDMI 2.0. If you buy something else, you won't get the maximum video or audio capabilities from your home entertainment system.
Here is a review of what each HDMI version offers.
1. HDMI 1.1
This version offers support for DVD audio. It does not provide any other capabilities.
2. HDMI 1.2
The introduction of this version added audio support for personal computers and the CE industry. It allows for direct stream digital, RGB color space, and low-voltage display sources.
3. HDMI 1.3
Upgrading to this version increased the single-link capacity to 10.2 Gbps for high-definition support.
It was the first option for 16-bit color depths, doubling the capacity of the previous specification. That means one billion colors could get displayed on a screen.
New miniature connectors became available with this version, allowing portable devices to record and transmit HD video.
HDMI 1.3 became the first to support lossless audio formats, incorporate automatic audio synching, and support for high-bandwidth compressed or uncompressed digital sounds.
If you want to connect a Sonos soundbar to a projector, you must use an HDMI matrix at v1.3 or above.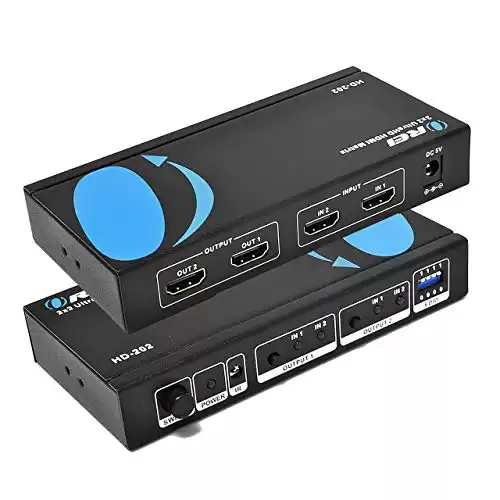 4. HDMI 1.4
This version added a data channel to the HDMI connection. It allowed for the first bi-directional communication with this technology at high speeds. It sends and receives data through a 100 MB per sec Ethernet connection.
HDMI 1.4 provides support for common three-dimensional resolutions and formats. This technology enables dual-stream capabilities up to 1080p.
It is also the first version that provides 4K resolution support for compatible devices and transmissions.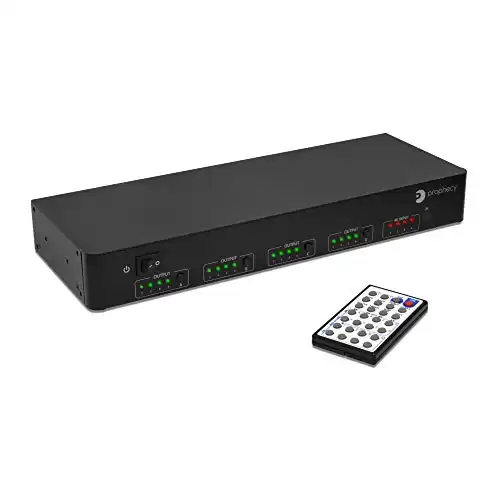 5. HDMI 2.0
If you have a UHD projector to use with your Sonos soundbar, you must use an HDMI matrix with this technology.
It increases the maximum per-channel throughout to 6 Gbits per second, carrying 4K resolution at 60 fps.
It supports chroma subsampling, expanded three-dimensional capabilities, and up to 1536 kHz audio, such as 7.1 channels at 192 kHz. Each connection supports four audio streams.
HDMI 2.0 was first released in April 2015, adding support for HDR at that time.
Sonos Soundbar Comparison: Arc vs. Playbar vs. Playbase vs. Beam
Starting in 2020, Sonos offers four soundbars for audio support when you install a high-quality sound system in your home.
The Sonos Arc will eventually replace the Playbar and Playbase in the product lineup. That means now is the perfect time to consider what you want.
When comparing the Arc with the Playbar or Playbase, the most significant difference is the inclusion of Dolby Atmos surround sound. You won't get that on the older models.
If affordability is your primary need, the Sonos Beam is your best option. It provides the same multi-room and streaming features, including HDMI connections and voice controls.
Since Sonos announced in May 2020 that older models wouldn't receive software updates, selecting a Playbar or Playbase doesn't make sense on the surface. When you dig into the company's S2 software plans, soundbar owners aren't affected.
What Sonos soundbar will work the best with your projector?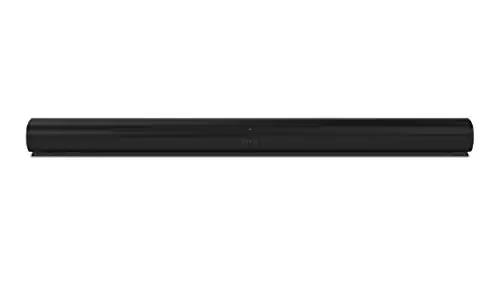 Sonos Arc
Excellent sound quality
3D sound thanks to Dolby Atomos
Sonos app and Apple AirPlay 2 control
Amazon Alexa built-in
Get it on Amazon
■ Why Choose the Sonos Arc?
Arc is the soundbar of choice for those with more massive television sets and displays. It's more expansive than the typical 49-inch TV, making it a suitable choice for any projector.
You can't position the speaker on its side or front. The Sonos Arc maintains its positioning regardless of your installation needs, although you can order a custom wall mount for an extra cost. It will automatically adjust its frequency response for you.
It accepts voice commands readily, offers a touch-sensitive control button, and context-sensitive panels for volume controls.
All of the other soundbars stop at Dolby Digital 5.1. If you're ready for an upgrade, Atmos surround sound is your best option.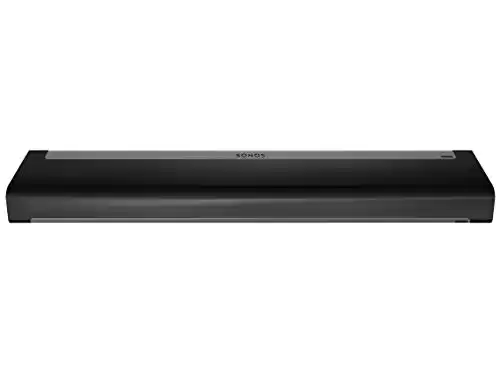 Sonos Playbar
Wall mountable
Optical audio input
Apple AirPlay 2
Controlled through the Sonos app
Blends in perfectly underneath your TV
9 drivers
Get it on Amazon
■ Why Choose the Sonos Playbar?
The Sonos Playbar provides a vintage, angular design that might feel outdated with some entertainment systems. The width is equal to a 43-inch television, making it suitable for most installations.
What's interesting about this speaker is that the wall-mounting package is cheaper than what it is if you buy the Sonos Beam.
The built-in repeater ensures that your commands get through to the projector or your television.
The drivers fire upwards to create a massive sound delivery, but the lack of directness could be an issue for spaces with tall ceilings.
Stand the Playbar on its edge to get the best sounds. That means you may need to adjust your projector accordingly to keep it out of the picture.
It doesn't come with voice controls like Beam and Arc offer, but it does get all of the basics right at a fair price.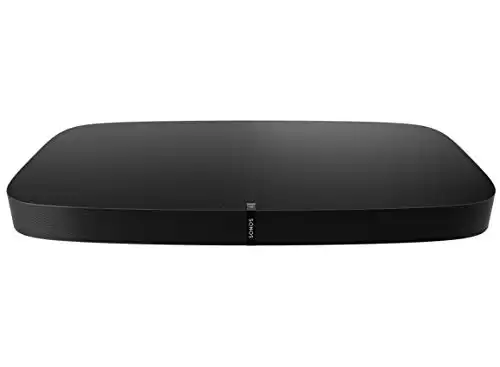 ■ Why Choose the Sonos Playbase?
Playbase doesn't come with a wall-mounting option. It's not a true speaker bar, which means it supports the TV or projector more than being an independent unit.
This product might be the most structurally sound one in the lineup. Although it puts function over form, you'll still enjoy the sound quality that comes from this unit.
It's crucial to remember that Playbase is the oldest of the four Sonos soundbars offered nowadays. While the others have capacitive touch controls, you'll be stuck pushing buttons on this unit.
Even with its age, Playbase comes with all of the features that you'd expect with modern Sonos products. It works with almost every music streaming service, connects to multi-room installations, and lets you include a sub for extra bass.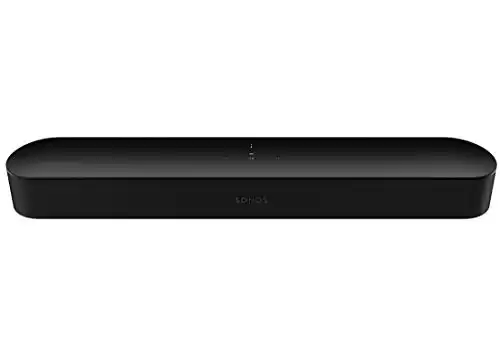 ■ Why Choose the Sonos Beam?
Beam is the smallest soundbar in the Sonos collection. It only measures 65 centimeters wide, making it almost half of the size of the Sonos Arc. It also weighs much less, making it a suitable choice for a wall-mount installation.
It's small and light with pleasant aesthetics, letting you get plenty of benefits for your investment. The minimalist styling might not work for everyone, but you won't need to compromise on the sound you receive.
You won't get the same projection with this Sonos model. It also doesn't cost as much. This affordable choice is an excellent place to start when you want to upgrade from an entry-level product from a rival brand.
What Sonos Soundbar Should I Choose?
If you want only the best, the Sonos Arc is the clear favorite. Dolby Atmos surround sound is a game-changer for a home theater system with a projector.
When your selection is between the Playbase and Playbar, your choice is based on current needs.
If you have a wall-mount TV and projector combination, the Playbar makes more sense. When everything is on a stand, and you project to a wall in the same room, the Playbase is a better solution.
The one issue you may notice with the Playbase is some treble spoiling. When you go with the Playbar, the awkward positioning and mounting could be problematic for some systems.
Beam has fewer capabilities, but it offers exceptional performance for its price. It is also much easier to find space for it when setting up a home entertainment system in a confined area.
All of the Sonos soundbars deserve a 5-star rating for their performance. You can set up any of them with your projector to create many new memories with family and friends.
Troubleshooting Issues with a Sonos Soundbar and Projector
When everything routes through a central hub, a split signal can sometimes produce latency in the audio or video.
Most people never experience synchronization issues. Latency is rare when using an HDMI matrix hub. If it does happen, the problem is usually with the incoming signal instead of something being wrong with your entertainment center.
If you do experience latency, which happens when the words you hear don't match the actors' mouth movements on the TV or projector, these steps can help you solve the problem if your audio is ahead of your video.
Open the Sonos companion app for your soundbar using your iOS or Android device.
Navigate to the Settings tab and find the System option.
Choose the room where you are experiencing the audio being ahead of the video.
Select the "Advanced Audio" option, followed by your "TV Dialog Settings."
You'll receive on-screen prompts to toggle the audio latency.
Even rarer are the times when the video you see is ahead of the audio. These steps can help you to solve that issue.
Reset your device to refresh the onboard digital processors.
Update your projector, television, or display to ensure it's running the current firmware version.
Review the latency settings on your equipment. Your owner's manual will let you know what the factory standards are for your situation.
If you are still having trouble with latency issues, the Sonos Community Forum is an excellent place for solutions. You can also contact the company's customer service department by dialing toll-free 1 (800) 680-2345.
What Could You Do with a Projector and a Sonos Soundbar?
If you have a home theater, the combination of a projector and a Sonos soundbar creates an incredible viewing experience.
Even if you use the Playbar, Playbase, Arc, or Beam alone with the projector, your soundscape will be fantastic!
It gets even better when you pair the soundbar with a sub and a couple of additional speakers. You can use the Sonos Boost, if needed, to ensure that your network performs as it should to deliver a premium-quality sound.
Although it takes a little extra work and equipment to make this connection possible, the investment is worthwhile. Your movie night at home will rival anything that your local theater could provide!