If you have a Bluetooth speaker that you want to connect to a projector, you're probably wondering, can you connect a Bluetooth speaker to a projector?
You can use Bluetooth speakers and headphones if the projector has Bluetooth capability. However, this feature is not standard on every projector, and if your specific model doesn't have it built-in, you can either use a Bluetooth adapter or connect the speakers indirectly to the projector.
When buying a projector to connect to a Bluetooth speaker, you will want to make sure it supports Bluetooth audio before buying it.
That can be easy to do if you know what to look for. Connecting a Bluetooth speaker to a projector is easy, and instructions on how to do it follow further below.
There are additional options for working with a projector that doesn't have Bluetooth connectivity too. Keep reading, and all your questions about how to make this crucial connection will be answered!
Do all projectors have Bluetooth built-in?
No, not all projectors have Bluetooth built into them, though there are enough models out there that you can work with.
The predominant problem I've found is that most projectors with Bluetooth connectivity tend to be the cheaper portable versions.
These are certainly effective in certain circumstances where you have Bluetooth built right in to deal with the sound along with screen mirroring for the video.
It's an ideal setup when you want to stream and watch videos on your phone when you're out and about.
There are cheaper options and more expensive ones in the portable projector realm, but if your goal is to create a rockin' home theater system, portability isn't really a concern for you.
Luckily, there are projectors made for larger home theater sets ups that do have Bluetooth. One such option is the LG HF85LA Ultra Short Throw Laser Projector.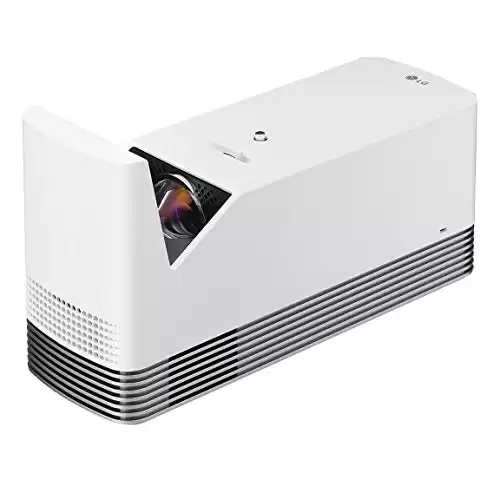 LG HF85LA Projector
Up to 120 Inch Projection
FHD Resolution (1920 x 1080)
Ultra Short Throw Laser
Bluetooth, USB, Dual HDMI Connectivity
1500 lumen
Image Contrast Ratio: 150000:1
20,000 hour lamp life
LG Smart TV Compatible
Wall Mountable
Get it on Amazon
It can handle your audio, delivering a superb performance that makes the steep price worth it.
It can also help cut costs on wiring setups, which you need to think about when carving out a home theater space you'll want to enjoy for years to come.
In the event your projector doesn't have Bluetooth built right in, you're not out of luck. You can add it to your projector and many other devices as well.
I'll get to that shortly, but first, you should check out your current projector or the one you're eyeing on buying to see if it can make that connection.
How to check if your projector can connect to Bluetooth speakers
Let's say you just bought a projector and are gearing up to set things up. Is it able to connect to your Bluetooth speakers? The easiest thing I recommend doing is to look at the manual that came with your projector.
You'll want to look at the tech specs. Listed there, you should find information about Bluetooth compatibility, if it exists on your model.
You should also read up on the information regarding your audio hardware from input to output ports that it comes equipped with.
A telltale sign that things are a go is that Bluetooth logo. You may even spot that first on your projector.
But if you don't see the logo, go to the manual. It will tell you everything you need to know about your projector.
How to Connect a Bluetooth Speaker to a Projector in 4 Easy Steps
Hooray! It's there! After you confirm in the manual for your projector that Bluetooth has been built into it, you can do your little happy dance.
I suggest you keep it brief because you still have to get going on that setup.
Fortunately, if you've ever connected any other device of yours to a Bluetooth speaker like your smartphone, tablet, or laptop, this won't be too complicated.
The menus and controls for your projector will be different and take some getting used to, but I think we've all been there trying to feel our way through something new until it becomes almost instinctual.
Again, I recommend that user manual be kept right by your side. It will always have information and directions on how to use your particular brand of projector and may even come with detailed screenshots that make it virtually foolproof in following every step to success.
If you've somehow misplaced your manual, the internet age is a fantastic time to be alive, for you can always look it up online.
Here are 4 easy steps to connect your Bluetooth speakers or headphones to a projector
On your projector, navigate to the Bluetooth settings.
Your product manual will tell you exactly what to push and where to find them.
Once you're there, you'll want to turn on Bluetooth.
This will activate the capabilities. Hooray! Now it's active! Before you start celebrating again…
Select the Bluetooth speakers you want to connect your projector to.
If you have Bluetooth headphones, you'll likely see those appear in this area too. Now turn back to your speakers.
Make sure your speakers are in pairing mode.
Usually, this means you'll hold the power button down for several seconds. Other times, there is a devoted Bluetooth switch with the little Bluetooth logo next to it.
You'll know you've got it right when your speakers are in pairing mode because from that point on, you should be able to choose them from the menu on the projector.
That should do it. I have found that in rare instances, this may not work right away. If this happens to you, go through your projector's instructions once more, and make sure you didn't miss anything.
If you can confirm you've followed everything as you should have, there's one more thing to do.
Check your other devices you've connected to those Bluetooth speakers and manually undo the connection to them.
I'd say, 9 times out of 10, that should solve the problem, and you should be fully connected.
Once you have achieved connection, go ahead and test the sound waves. Listen to how it sounds. If the audio quality is good, you're all set and ready to live your best life with your Bluetooth speakers connected to your projector.
If you find they're too quiet or you get that tin-can sound, it may indicate your speakers could use an upgrade, but in most cases, Bluetooth speakers have really come a long way and should be ready to rock.
What to do if your projector doesn't have Bluetooth capability?
Ok, so I know some of you are still sitting there with a sad face because your projector doesn't have Bluetooth built-in.
You've looked on the projector for that happy little logo, and you've torn through the manual, and it says nothing about Bluetooth. But that small oversight doesn't mean you can't use a wireless Bluetooth speaker.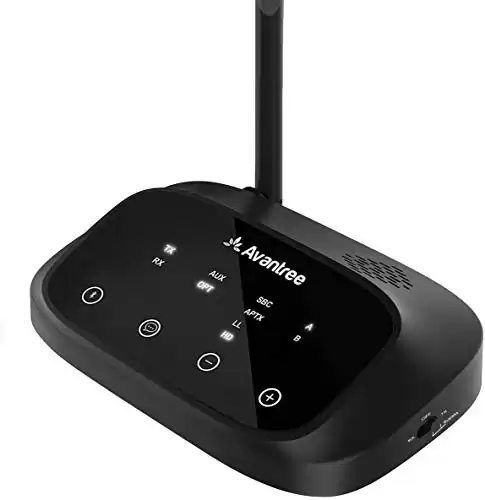 Thanks to adapters, you can work right around this problem. Avantree's aptX HD Bluetooth 5.0 Transmitter and Receiver (Amazon link) can connect to your projector's audio or optical output.
It will convert the audio signal to Bluetooth for you. On the downside, something like this might not be ready to handle 7.1 Dolby Atmos, but you'll get both left and right signals from the speakers and be able to connect via Bluetooth.
So, yes, you can make this happen, but it can be a bit of a pain. For one, there's no screen or other controls that can help you make this connection, so it becomes more complex.
It's not impossible, but I do advise heavy patience and being ready to read through those instruction booklets to get it set up.
Basically, you will have to set the transmitter into pairing mode. Then you'll have to do the same with the speaker. It should work when you do this, getting them to automatically pair up.
After they're connected, this setup will work just as effectively as if Bluetooth had been built-in in the first place.
Sometimes an open port on your projector will need to be connected via USB to the transmitter, but you can make it work.
Adapters are your friend in crafting this solution, and all Bluetooth transmitters available today can receive in their transmit mode.
For projectors, it's the TX mode. Choosing devices means paying attention to the connection types.
Sometimes it's a regular 3.5 mm jack or RCA and the differing cables. On the higher end options, you usually have optical audio input and outputs.
In short, if you haven't yet bought your projector and you want it to connect to Bluetooth, make sure that feature is included.
If not, be ready to make the connections yourself by buying adapters and cables that can sync things up and make your system go.
Alternatives to pairing Bluetooth Speakers with a Projector
Now I'll get into other ways to make Bluetooth speakers connect with a projector. You can look at other sources of audio and video like a wireless streaming stick, video game console, or even a laptop.
Without Bluetooth built into your projector, you can use the transmitter, and it will suffice, but you might be saved through the audio/video source you're trying to use if it has built-in Bluetooth.
Check your computer. You've likely got an HDMI signal coming from it, which means you can use the Bluetooth from your computer to directly connect with those Bluetooth speakers.
And the best news is that you may get a better sound, plus you may want your computer to play nice with that speaker setup when you're not connected to your projector.
This can happen with any HDMI source to. There are HDMI audio extractors that can send the audio source to any Bluetooth transmitter for the video streaming box instead of the projector itself.
I know that sounds a bit tedious since that's 2 more things to connect, but it has the advantage of allowing you to reset and get in there should anything go awry.
If you're handy with tech and connections, this will be a breeze, but for a simplified approach to connecting your Bluetooth speaker to a projector, the most obvious answer is to buy one that has it built in to get connected in seconds.
Other alternatives might be a little less complicated when trying to connect external speakers to your video device to pair with the projector to make that audio quality really shine. Here are some of my ideas on that.
– For laptops
Laptops or even other video devices equipped with a 3.5mm audio output like a headphone port can be used to connect the speakers and pair up.
– For DVD or Blu-ray players
Either of these devices can connect the speakers or your soundbar to the audio out ports.
Those are the red and white ones. You can also use the optical audio out ports on your video device. With BluRay, you may have 2 HDMI ports that you can connect the external speakers and projector to.
-For Miracast
You can use Miracast to display the video from things like your smartphone, tablet, or laptop. Use a 3.5mm audio cable, or you can pair the speakers for Bluetooth with your video device.
– For streaming devices
When you connect any streaming device to your HDMI port on your projector, you can pair wireless Bluetooth speakers to it.
The same is true with a soundbar if you have one, which you should… they make home theater spectacular, the best one I've seen and heard is the Sonos Arc soundbar.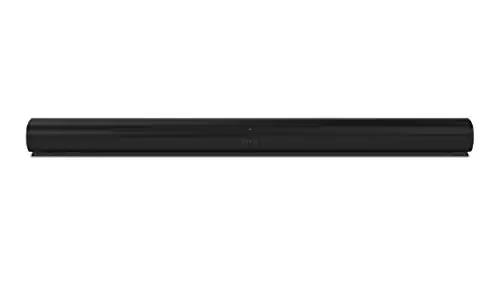 Sonos Arc
Excellent sound quality
3D sound thanks to Dolby Atomos
Sonos app and Apple AirPlay 2 control
Amazon Alexa built-in
Get it on Amazon
One last tip…connect your video source to an audio system. Then you can connect the projector to the video's out port from the audio system. Of course, this only works if it's available, but if it is, you're golden.
Conclusion
Yes, you can connect a Bluetooth speaker to a projector, but the easiest way to do so is to buy one with built-in Bluetooth compatibility.
As you can see from the details above, you can make it work even without that built-in feature, but life becomes sublimely easier when you do.
If you're just starting to set up your home theater, you should shop for a projector that makes it easier anyway. Bluetooth is in just about every device now and can make for seamless connections to anything.
But if you already have your projector without it, you now will know how to get it up and running with precision pairing to enjoy the most of your audio and video connections at home.