The always-adventurous Apple AirPods are designed to be water and sweat resistant. But what would happen if you actually got into water with them? More specifically, what if you hopped into the shower with them still in, singing to your favorite song?
Can You Wear AirPods in the Shower?
AirPods are not designed to be used in running water or for submersion under water. They are not waterproof, only water-resistant, which means you should not put them in the washing machine. They will be destroyed by your dryer as well as a sauna or steam room too.
That's a big, fat "NO" that I'm giving you about wearing your AirPods in the shower. In fact, it might help to read my post, are AirPods water and sweatproof?
Unless you want to kill your Apple AirPods, you shouldn't wear them in watery environments. That goes for swimming, showers, saunas, and if you get caught in the rain. Sometimes, they might not be ideal for those that tend to sweat heavily while exercising.
Apple does make it look convincing with all those ads of people working out while wearing AirPods. But the mechanics may tell us a different story.
Consumer electronics, in particular, are designed to stop working in wet conditions. This is due to moisture or water coming through the casing and causing a short circuit.
Keeping water out means you have to block holes, but if you look at your little AirPods there, they are covered with holes since they are essentially tiny, wearable speakers.
There are ways to create a seal over headphones to help them be more resistant to water penetrating to working components inside.
AirPods are rated with an IPX4 rating for water resistance, so they are resistant to water splashes. This is the most common rating for electronics to be labeled as sweat resistant. Notice "resistant" as the operative word here. It does not mean it is impervious to sweat.
On top of that, Apple has stated that this resistance does wear off over time. So, the longer you own these babies, the less likely they will be to withstand light splashes of water like when it starts raining while you're out for a run or sweat.
Apple's own support page even states:
"Sweat and water resistance are not permanent conditions, and resistance might decrease as a result of normal wear."
It goes on to say that AirPods are sweat resistant. Reading the fine print helps, but if you love your AirPods, then keep them from getting wet. They're not safe from any kind of moisture in the long run.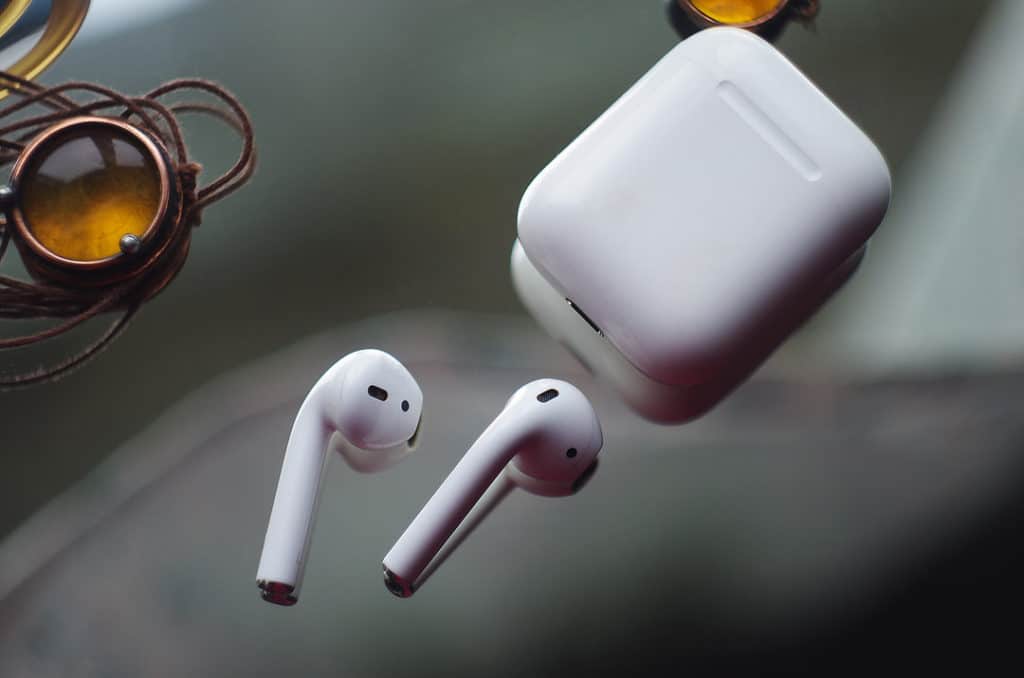 What Is Your AirPods IPX Rating?
Rated for sweat and water resistance for exercise and non-water sports, AirPods underwent rigorous lab-controlled testing and were rated with an IPX4 in accordance with the IEC standard 60529. Resistance to water and sweat are not permanent, and the protection can decrease with normal wear and tear.
Again, as I mentioned before, this simply means that in testing, they found if you endured a light splash of water or were only a little bit sweaty, your AirPods should survive.
Water resistance and sweat resistance are not equal to being waterproof or sweatproof. Being "proof" means you can submerge it into wet conditions without trauma. Try that with your AirPods, and you'll be buying new AirPods.
What Exactly Is an IPX Rating?
IPX indicates the level of protection your device has in terms of water. It corresponds to a number from 0 to 8 with 0 indicating no water protection and 8 being fully waterproof and able to submerge into water at a depth no greater than 9 feet.
This IPX rating means 'Ingress Protection' which is a standard. Sometimes known as simply IP, it is commanded by the International Electrotechnical Commission (IEC), which sets the standards for all sorts of electronics for everything from batteries and smartphones to solar panels and toaster ovens.
When you see the IP rating, it is created from 3 different ratings. Technically, the IPXXX, each of the X's stands for something else. The first one is for dust measured from 0 to 6
Now water molecules are smaller than dust, which is why the water resistance is measured separately. And if you see something is water-resistant, it might not be dust resistant. It very well might be, but these things cost money, and they may have skipped out on having it measured for dust resistance.
In short, AirPods were only measured for water resistance with that IPX4 rating.
That's the second X, which goes from 0 to 9 on the scale to inform commercial parties and regular consumers about the susceptibility of water intrusion and damage to the unit.
Wondering what these weird indicators mean on your gadgets? Here's a rundown:
IPXX means the water resistance wasn't measured
IPX0 offers no protection from water or even light moisture
IPX1 gives you protection against vertical water (like rain) for 10 minutes though is probably only ideal for very light rain
IPX2 can protect from water coming at a 15-degree angle for as long as 10 minutes, better for that crazy slanting rain
IPX3 protects from sprays of water with angle differential of 60 degrees but only for 5 minutes and at a limited pressure (50-150kPa)
IPX4 guards from splashes of water at any angle or direction and is the most common, also garnering the sweat-resistant rating
IPX5 can protect your gadgets from a jet stream of water at any angle up to 15 minutes
IPX6 offers protection from strong water jets at any angle for a minimum of 3 minutes
IPX7 means you'll have no damage if you drop your electronics into water 3 feet deep for 30 minutes for fully waterproof coverage
IPX8 is also fully waterproof though it can be submerged deeper and without time constraint
IPX9K this is the ultimate in waterproof protection and protects against pressure and high temperatures
IPX9K is something you don't see in typical consumer speakers. But you get the idea.
That final X in your IP ratings is optional. It isn't often used, but when it is, it refers to another type of protection. C protects from tools, D for wires, F is oil resistant, H is for high voltage, M is moving during water test while S is standing still, and W refers to weather conditions during the testing.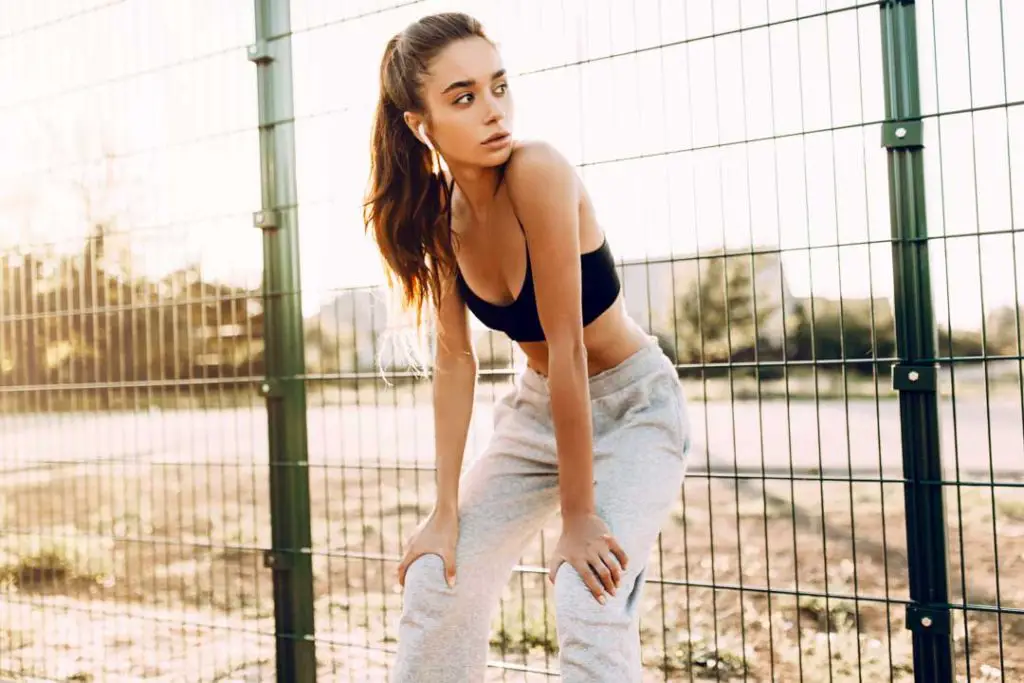 Can AirPods Electrocute You?
You can be electrocuted by your AirPods, but it would be extremely rare to die from it. The cause is from static building in the headphones from rubbing into the electric conducting material. Even when not deadly, avoid being electrocuted by your AirPods by keeping them out of water.
The static can shock you like static electricity. Just as when you touch a door handle or the dry air in winter can cause you to get shocked on everything, you can have these same things happen to you with your AirPods.
Another thing that could happen, and this would be even rarer with your AirPods if they're new and haven't been overexposed to water, is AC power discharge.
It's very dangerous and results in a zap. Ideally, when you charge your AirPods, you're using the official Apple charger that comes with it. Using cheap chargers can only result in dangerous voltages that could harm you later on.
I talk about this in greater detail in my post, can headphones shock you? Check it out!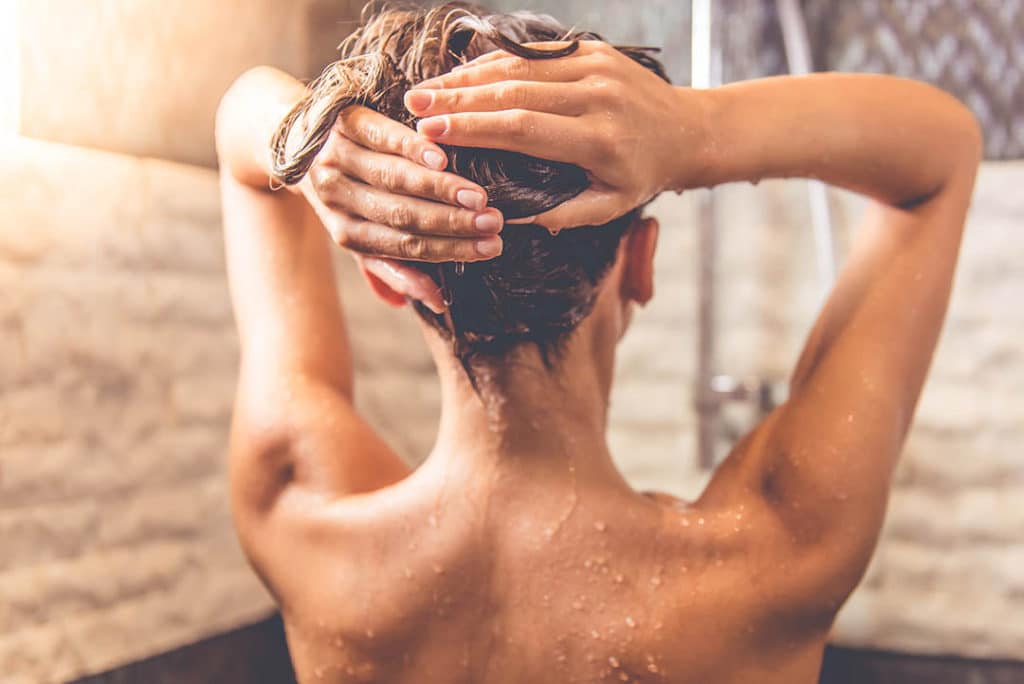 How to Listen to Music in the Shower with AirPods (the Safe Way)
Oh, but you want to sing in the shower and keep grooving to the tunes! Maybe you want motivational music before going to work. Maybe you want to get in the mood for your hot date. Whatever it is, you can listen to music in the shower in a safe way, but my advice is to take out your AirPods first and try one of these methods instead.
Simple waterproof speakers give you no worries at all. Some even have suction cups to stick to the wall and move around the house with you.
If you can't afford a souped-up sound system that can play music in every room of your home, this is a wonderful option. Plus, you can also bring them to the beach or pool.
The JBL Boombox for example is extremely rugged and has an IPX7 rating, meaning that you can submerge it in up to 9 feet of water (3 meters) for about 30 minutes, which is more than enough for your average shower.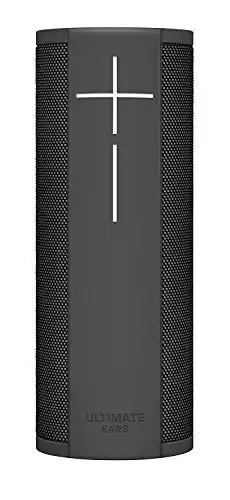 Another great option would be the Ultimate Ears Megablast which is slightly more portable while boasting an IP67 rating, while having a smaller footprint and being more affordable.
The sound quality is almost on par with the JBL Boombox, and a lot better than its younger brother the Ultimate Ears Boom 3.
Despite only weighing 1.93 pounds (870 grams) the battery can last you up to 20 hours and even has NFC built-in.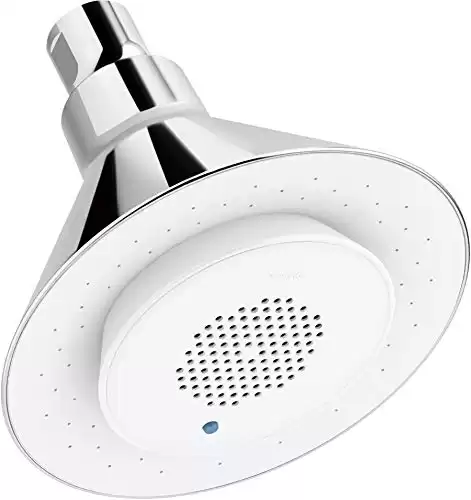 With Bluetooth, you can use a musical showerhead like the KOHLER K-9245-CP to play your music.
The showerhead becomes the Bluetooth speaker and is a 2-in-1 design that plays your music while spraying you with water.
Since it's Bluetooth, you can source your music for your shower from anything, including your smartphone, TV, or laptop, and then enjoy your shower.
If you don't want to buy an additional device, perhaps due to lack of extra funds, you can always try putting your smartphone in a glass or cup on your vanity while you shower and have it echo the sounds.
Some people have wrapped their phones in plastic, but I don't advise this. You don't want to take the chance of wrapping it wrong. Besides, there are better options coming below.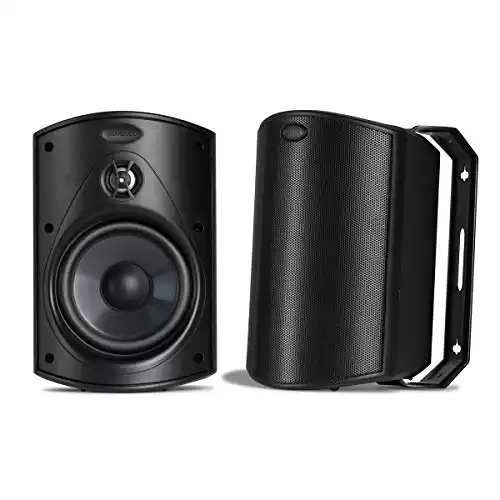 A waterproof sound system like Polk Audio's Atrium 5 are usually meant for outside use but you could mount them in your bathroom, since they can withstand virtually any weather condition you can rest assured they'll withstand your daily shower.
They also have better sound quality than small speakers, so if you love soaking in the tub or singing in the shower, this is a great choice.
Instead of just getting a plastic sandwich bag and hoping for the best, you can get a plastic waterproof case for your phone. You've likely seen people with these around their necks at the pool, beach, waterpark, or even on a cruise.
Simply add a hook in your shower area and hang your phone bag there. Use your voice assistant to help you change songs, and you'll be golden.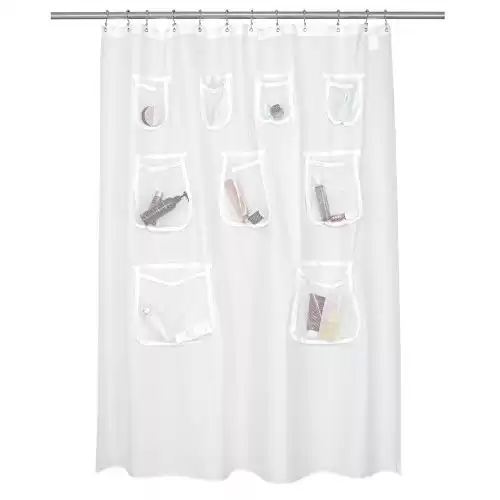 No hook? No problem! They have shower curtains that allow you to embed your gadgets into them. They have waterproof compartments that fit your phone or tablet with ease. Plus, it looks cool. So if you were getting ready to redecorate the bathroom, this takes care of both problems with ease.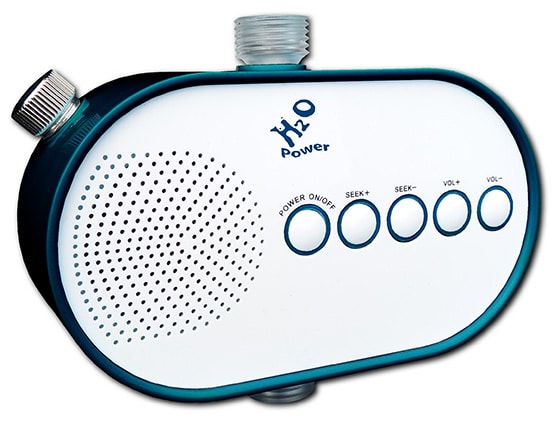 6. Use a Water-Powered Radio
A radio run by water? Yes-way! Hydro-powered devices are a fantastic option for listening to music in the shower. It runs with water running through it so you can feel free to pour more on all you like.
There's no batteries. No electricity.
A water-powered radio is completely shower-proof. The only thing you need to be concerned about is placement to ensure it gets enough water to play music.
Most of them store water even after you shut off the tap so you can keep singing along as you towel off and get grooming.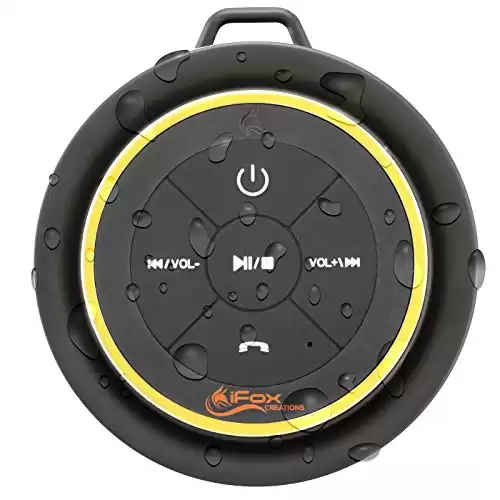 What a wonderful world we live in that you can use a musical bath bomb! It's not like the soaking kind though that dissolve away.
These musical bath bombs can bob around your tub while you soak. Relaxing music to sip your wine to while soaking in the bubbles. Sounds like heaven to me!
The speakers are waterproof, so when they go underwater, you can hear them. They won't crack, but to play it safe, you might just want them on the edge of your tub or close enough to it.
Conclusion
Apple AirPods are not designed for use in the shower. They have a water resistance rating that is considered sweat resistant too. The best thing you can do is avoid getting them wet in any way whenever possible.
If you're not a heavy sweater, you can use your headphones while running outdoors and enjoy your own soundtrack, but I advise being sure you have your case and a pack to stash them in should the weather turn against you. You don't want to get caught in a downpour that will ruin your AirPods.
For keeping the music going in your shower, I've suggested many other viable solutions so you can keep your AirPods safe from damage and sing along anywhere you like. Just don't wear your AirPods in the shower, ok?