Whether you're looking for a Bluetooth speaker to use while you're in the bathroom, out by the pool, or simply just want another speaker in your home, it's important to choose the best. And by best, I mean loudest.
After all, it does no good to buy a Bluetooth speaker to take to the beach when you can't hear a thing coming from it, right?
Following below, I've compiled the loudest portable Bluetooth speakers you'll find this year.
Each of these is a solid choice for good grooves wherever you are. No distortion and the ability to bring the party or sing all by yourself in the shower will make you glad you got one of these babies!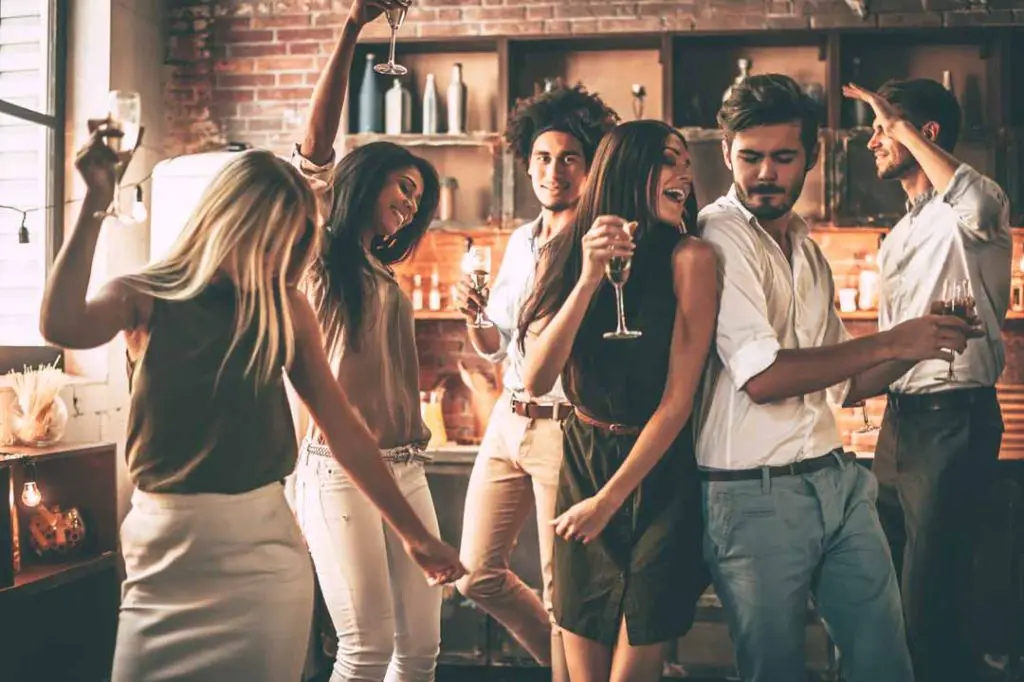 12 Loudest Portable Bluetooth Speakers in 2022
This list of the loudest portable Bluetooth speakers contains a range of popular brands and a variety of different price points. I'm confident you'll find something perfect for you, so let's get started.
One of the loudest speakers you'll find is the JBL Boombox. Just the name itself evokes images of the 80s boombox phase, but this beauty only shares a name, and none of the clunkiness or typical distortion woes.
What you get here is 40 watts of output while on battery, 60 watts when plugged in, and lots of great bass with perfectly clear sound.
The JBL Boombox features dual 4″ woofers on the sides, dual 20mm tweeters on the front, as well as 2 JBL bass radiators.
Question is… are you ready to shake the place up with this Bluetooth speaker? It's light enough for you to easily carry it around, thanks in part to the sturdy carry handle.
So, you can bring the party anywhere no matter the genre you love. It sounds awesome with all styles, from rock, to pop, and everything in between.
The rechargeable battery can last up to 24 hours of play on a single charge thanks to the insane 20,000mAh rechargeable Li-ion battery.
Plus, it has dual USB support that can keep your smartphone charged, when it runs out, and it will probably run out before the JBL Boombox.
You can find the ports behind the BOOMBOX cover on the back of the speaker, which I think is the best spot to preserve the stunning aesthetics.
In case you don't want to connect via Bluetooth, you can use the 3.5 mm AUX connector.
Another great feature is the JBL Connect+ feature that lets you connect up to 2 devices at once, be it smartphones, tablets, or laptops.
That's not all, if you or your friends have more speakers that are JBL Connect+ enabled, you can connect up to 100 of them for an even more immersive experience.
The sleek design and intuitive setup doesn't stop there, you'll also get intelligent features like voice commands and support for digital assistant software, for a more hands-free experience during your next party.
Rated with IPX7 waterproof ratings, you can bring it out by the pool without worrying about splashes.
Well, forget about splashes, a friend of mine once partially submerged it in water, and it didn't break a sweat.
The downside? It takes 6.5 hours to fully charge the battery with the included charger and get another 24 hours of playtime. That's not an issue for me personally because I just plug it in overnight. When the indicator show a single dot.
| | |
| --- | --- |
| Pros | Cons |
| IPX7 waterproof rating | 6.5 hours to charge |
| Powerful sound | |
| Easy carry handle |   |
| 24 hours of battery life on one charge |   |
| Connects to multiple devices or other speakers via JBL Connect+ |   |
Rather get loud at home? Try the Sonos Play 5, designed for your home with a whopping 120 watts.
With 2 tweeters, 2 woofers, and 30 watts with each channel, you have the full spectrum of amazing sound to party down at home.
No need to get up…control this baby with the Sonos app on your phone, Alexa, or Apple Airplay 2.
I have to say this is one amazing speaker that produces clarity and distinction in sound.
Smooth and deep bass without any distortion even at high volumes are your plus you can pair 2 of these together upright, and they will automatically adjust to mono.
Take just one of these speakers and position it horizontally to play stereo without doing anything but switching the position. Very smart!
The bass is deep enough to be a pure pleasure zone for those with turntables too, though just about anyone that wants a home theater setup will be pleased with the Sonos Play 5.
On the downside, it doesn't have Bluetooth, and it's a little on the expensive side. Check the current price on Amazon by clicking here.
| | |
| --- | --- |
| Pros | Cons |
| Super-loud | No Bluetooth |
| 120 watt sound | Not battery-powered |
| Supported by Apple Airplay 2 | A little expensive |
| Clarity and excellent bass |   |
Here's another option from JBL, the Partybox 1000. As the name suggests, there are 1,000 watts of output power to blow you away.
It is loud, it is proud, and it is crystal clear on that sound. Deep bass and full lighting make for a fun show and extreme way to kick off the party.
This one gives you Bluetooth connectivity and can support DJ Launchpad. With mic and guitar inputs, you can go live on stage too.
One word of caution though… this one needs a lot of open space before you turn it all the way up. Even if you don't have the bass boost on, it is so incredibly loud it's sick.
Electronic and rock are amazing with the Partybox 1000, and the bass is so deep without any distortion to muck it up.
There are a few drawbacks though, in that it may be too loud for what you need, so do consider how you'll be using it, especially since it's expensive and quite heavy and cumbersome to tote around. Check the current price on Amazon by clicking here.
| | |
| --- | --- |
| Pros | Cons |
| One of the loudest speakers with 1000 watts | Expensive |
| Bluetooth and DJ Launchpad support | Very heavy |
| Supported by true wireless stereo | May be too loud for some people |
| 24 hours of battery life |   |
I've said it before, and I'll say it again… Bose is an excellent brand. With the SoundLink Mini II, you get a small Bluetooth speaker that delivers loud sound.
As is customary with the brand, the sound is natural and full range with good, deep bass that will surprise you from something so small.
As much as I love Bose, I have to admit I was really taken aback when I played the SoundLink Mini II. It's so clear with detailed midranges and great bass that packs a punch with a rich and powerful feeling.
It's not that I doubted Bose whatsoever, but the speaker is so small, you sit there wondering how they got it together like that. I mean, this thing can fit in your bag!
The battery has 10 hours of life, and the speaker itself has a charging cradle so you can keep listening to music even while charging it. And the voice prompts make it easy when using Bluetooth too.
Very smart indeed, as this speaker remembers your last devices and syncs them up, so once you set it up, you're golden.
Unfortunately, it's not water-resistant in any way, so you will need to be careful with it, but it's affordable, portable, and you can't miss with this sound. Check the current price on Amazon by clicking here.
| | |
| --- | --- |
| Pros | Cons |
| 50 watts of sound | Not water resistant |
| Excellent clarity and bass |   |
| Very portable and lightweight |   |
| Great price |   |
| No-fuss Bluetooth pairing and voice prompts |   |
Sony has outdone itself with the GTKXB90. This Bluetooth speaker has the distinction of being Sony's loudest one of all time.
Each 7.9 woofer has an output of 180 watts for a total of 360 watts. It's so loud and really punches it up on the sound.
With this grand volume, you get purity in tones that allow you to detect the trebles and midranges.
Plus, extra bass functionality gives you more power and subwoofer oomph when you push a button. You could use this to power up a concert for your outdoor party; it's that good.
All kinds of genres sound good on this thing too, so invite the crew over for that backyard BBQ and party down with a mix of pop, hip-hop, rock, and EDM.
With a special lighting mode, it instantly turns any day or night into a party. It can be paired with the Fiestable app to bring in more DJ effects and lighting if you want too.
The battery is set to provide 16 hours of playtime. One thing about this though is that the battery will only go for 3.5 hours on max volume, but if you use the 'stamina' mode, it lowers the volume a bit and gives you a couple more hours of operation. Check the current price on Amazon by clicking here.
| | |
| --- | --- |
| Pros | Cons |
| Extreme 360 watts | Battery doesn't last as long when full volume engaged |
| Bass boost | Heavy and cumbersome |
| Great for all genres | A little expensive |
Like Sony, Marshall has found a way to outdo itself too with the Woburn II. It has two 1-inch tweeters plus dual 5.25-inch subwoofers and class D amps that combined, lend it 110 watts of power.
I dig the wooden cabinet construction that throws a nod back to the classic days and just looks sweet.
That wood gives it nice warmth in sound though, and paired with the built-in bass reflex system, creates rich and deep bass.
Adorned with brass knobs, it looks as good as it sounds. And sound good it does with crisp trebles and realistic mids. Crank it up, and there's no distortion. You can even fill a big room with this impeccable sound.
Another bonus, despite it looking vintage, it's fully modern with Bluetooth 5.0 plus aptX for wireless connectivity.
Use the app or engage the analog controls, whatever you prefer, to adjust the sound. You can also use RCA audio inputs or 3.5mm.
It's nicely done though it doesn't support true wireless stereo and is a bit on the pricey side, but man is it gorgeous! Check the current price on Amazon by clicking here.
| | |
| --- | --- |
| Pros | Cons |
| Gorgeous vintage design | Not supportive of TWS |
| Crisp 110 watts with deep bass sound | Pretty pricey |
| Maintains 12 hours of battery |   |
With loud sound and high definition, the LG PK7 XBOOM is amazing. Pure 40 watt sound pumps out with dual tweeters and 2 passive bass radiators.
Wireless Bluetooth makes pairing your devices a breeze, and you can play it for up to 22 hours, even with the enhanced bass and LED light effects.
Water and weather resistant at IPX5 along with TWS, you can connect 2 of these together to get even more sound.
It's very clear and very loud, and with the enhanced bass, it is spectacular with electronic and rock.
The vocals come in clean too, and it has such exceptional detail for something so small. While not quite as light as the Bose, it is definitely easy to take on the road.
Another fun bit about this speaker that I like is that there's a built-in mic with auto filters for audio so you can use it for calls too.
Meridian audio technology, along with signal processing, makes the sound extend further with high frequencies that are excellent for sonics and sound detail.
Overall, I really like this one though it's not as highly waterproof as JBL's Boombox or as loud. But it is much more affordable and is a fantastic option. Check the current price on Amazon by clicking here.
| | |
| --- | --- |
| Pros | Cons |
| Strong 40-watt sound | Could be louder |
| Long battery life at 22 hours | Just has an IPX5 water resistance |
| LED lighting |   |
| Affordable |   |
| Lightweight and easy to carry |   |
Ah, back to Bose again! The S1 Pro is a phenomenal portable speaker that gets the party going with 160 watts.
With wireless Bluetooth and inputs, you can use for a mic or musical instruments, it's a wonderful treat.
Bose has set this one up with built-in sensors that aim in different positions to give you beautiful sound virtually anywhere.
The battery is rechargeable and delivers 11 hours of playtime with one charge. The auto EQ adjusts on its own, so you always have the best sound no matter what you're playing.
The sound is wonderfully loud, exceptionally clear, and solid with the bass. Next to zero distortion, you have detailed music and tight bass.
I loved the no-fuss settings for EQ that do all the work for you, so you only have to turn it on. You can stream wirelessly or plug things in.
Since it's lightweight and has a handle, it's very easy to bring along anywhere you go.
It's not as light as the other Bose further up on my list, but it's still easy enough to move. You have a range of 33 feet wirelessly so you can enjoy this handy speaker outdoors for any occasion.
Unfortunately, it's not waterproof, is expensive, and isn't quite as loud as other options though it is a wonderful speaker. Check the current price on Amazon by clicking here.
| | |
| --- | --- |
| Pros | Cons |
| 160 watts | Not waterproof or water-resistant |
| Wonderful sound with responsive bass | Could be louder |
| 11 hours of battery | Expensive |
A loudspeaker with Alexa functionality? Check! Sonos Move is great for indoor or outdoor use and gives you plenty of deep bass.
With automatic true-play tuning for a nice balance, you can choose from Bluetooth, Wi-Fi, or Airplay 2 streaming via the Sonos app.
Alexa is built-in, so you can do more than play music. I found the alarm setting most helpful and voice commands too.
The battery can play up to 10 hours continuously from one charge, and with an IP56 rating, it's great for those hot and humid summer nights, can handle rain, and won't crap out with too much sunlight.
Place it anywhere, and you'll get the same sound quality thanks to its 360-degree sound.
High are clear, mids are good, and vocals sound divine. Bass is wonderful, too, with a hard low end for maximum enjoyment.
Plus, with 2 Class D digital amps, you get loud sound, making it about 25% louder than its Sonos One.
Durable with a hard shock-resistant case, it's a great buy for any of you looking to take it indoors or outdoors.
I have a friend that wasn't able to invest in a full home sound system to connect to indoor and outdoor and chose this instead, and he's thrilled.
Unfortunately, you will need Wi-Fi to use it, and it is pricey, though not compared to a full in-home system. Check the current price on Amazon by clicking here.
| | |
| --- | --- |
| Pros | Cons |
| Louder than Sonos One | Needs Wi-Fi network to work |
| 10 hours of continuous play via battery | On the pricey side |
| Great for indoor or outdoor with IP56 rating |   |
| Lightweight |   |
| Alexa built-in |   |
UE's most powerful speaker, MEGABLAST, lives up to its name. I was impressed by the 93dB and 360 degrees of rich sound. It's clear, it's concise, and the deep bass is incredibly responsive.
A 16-hour life on the battery means you can have a party that goes from day to night. It supports Alexa too, so you can use voice control to crank your favorite tunes from Spotify, Pandora, or others and change your music as you see fit.
Loud and crisp sounds abound from this speaker, and I was blown away by the bass. Vocals and instrumental bits are just phenomenal, and even when you use it outdoors, you still get the same perfection in sound.
Yes, let's talk about outdoors for this speaker is one tough customer. It's IP67 rated so you could put it in the water though I don't recommend actually doing that.
It simply means you can use this outside and not worry if you topple your beer on it, drop it in the pool, it rains, or someone does an epic cannonball into the pool and splashes it.
With both Wi-Fi and Bluetooth enabling, you can use it anywhere you have Wi-Fi or have a mobile hotspot.
Overall, it's a durable and wonderful speaker and at a moderate price, too, though it doesn't have TWS capability. Check the current price on Amazon by clicking here.
| | |
| --- | --- |
| Pros | Cons |
| Louder than Sonos One | Needs Wi-Fi network to work |
| 10 hours of continuous play via battery | On the pricey side |
| Great for indoor or outdoor with IP56 rating |   |
| Lightweight |   |
| Alexa built-in |   |
The ECOXGEAR EcoBoulder is one of the loudest portable Bluetooth speakers that can deliver an incredible 100 watts of sound output power.
This speaker is built to be 100% waterproof and dustproof with IP67 waterproof rating – this means that it is dust resistant, shockproof, and can even be dropped inside your swimming pool without any issues.
We liked the fact that you can even double the sound performance by pairing two EcoBoulder speakers together within 30 feet of each other with Bluetooth 4.1 that allows you to stream music from up to 100 feet away.
It even comes with a waterproof removable storage compartment that allows you to keep your phone and accessories dry. If you are looking for one of the loudest portable Bluetooth speakers that can double as a PA speaker system, go for the ECOXGEAR EcoBoulder.
The ECOXGEAR EcoBoulder delivers a really crisp and powerful audio performance. It has plenty of volume and gets very loud with a massive output power of 100 watts.
Although this speaker isn't as loud as the Aiwa Exos 9, it goes pump out very detailed sound performance with plenty of bass.
The sound quality on this speaker is crisp and very clear, with vibrant midranges and good bass response.
EDM and rock music performances sounded especially good on this speaker, and you can really push up the volume to the maximum without hearing any distortion. It also streams music directly from radio stations, which is a definite added plus.
The EcoBoulder speaker is designed like a tank, and is shock-resistant, waterproof and even floats on water.
It is essentially a 3-way speaker system with 8" full-range drivers and 8" woofers and a 3" tweeter for crystal clear highs and detailed midranges. It also comes with equalizer controls for adjustable bass and treble performance.
We liked the fact that this speaker supports long-range Bluetooth of up to 100 feet range. You can also play music directly from Bluetooth, AM, or FM radio or with wired aux-in connections.
This speaker comes with a massive built-in battery that delivers up to 10 hours of playtime at full volume, or up to 100 hours at low volume levels on a single charge.
The Verdict? The EcoBoulder is one of the loudest Bluetooth speakers we have tested that's designed like a portable PA system.
It comes equipped with a 100-watt dynamic amplifier for massive sound output with a built-in 2 band bass and treble equalizer.
It also has 5 factory preset equalizer settings and a proprietary audio DSP chip for much cleaner sound performance.
ECOXGEAR definitely got it right by designing the EcoBoulder speaker, and its one of the loudest portable speakers you can find that can double as a PA system. Check the current price on Amazon by clicking here.
| | |
| --- | --- |
| Pros | Cons |
| Powerful and loud 100 watts of sound | Can feel slightly bulky |
| 100 hours battery life | Takes a long while to fully charge |
| Fully waterproof, floats on water |   |
| Moderate price |   |
| Has retractable handle and wheels for easy portability |   |
| Cupholders and waterproof storage compartment |   |
The Anker SoundCore Motion is one of the loudest Bluetooth speakers you can find under $100 that delivers really good sound performance.
The Motion+ speaker supports Hi-Resolution audio performance, which is further enhanced by Qualcomm aptX for lossless music transmission via Bluetooth connectivity.
The tweeters, woofers, and passive bass radiators work in tandem to produce clean and high-fidelity sound with very good bass response.
It's definitely one of the loudest Bluetooth speakers under $100 with great sound and a portable and compact design.
This speaker packs a huge sound with intense bass output – it comes with two ultra-high frequency tweeters and neodymium woofers and passive radiators to fill up your room with rich 30 watt sound.
The low-frequencies and bass are enhanced in real-time by Anker's BassUp technology, which can enhance the lower-frequency end.
When we first tested the Anker SoundCore Motion+, we were blown away by how loud this speaker sounded despite its relatively small size.
It has a total power output of 30 watts, which makes it as loud as the AOMIAS GO speaker, but is much smaller and more portable in size. It also supports aptX lossless Bluetooth, which means that you can hear better details in the music with higher fidelity.
Compared with other Bluetooth speakers, the Anker SoundCore Motion provides really good depth and music clarity.
It has a wide frequency range of 50 Hz to 40 kHz and is paired with an advanced DSP to ensure that all the details in the music are accurately reproduced.
This speaker is IPX7 waterproof and can even be immersed underwater to a depth of 1m for 30 minutes without any issues. It comes with a 6700 mAh battery that provides up to 12 hours of playtime on a single charge.
The Verdict? The Anker SoundCore Motion is hands down one of the loudest Bluetooth speakers we have tested that delivers a full 30 watts of solid audio performance. It also has a unique BassUp feature, which allows you to improve the deep low-end at a touch of the button.
This speaker has a very wide frequency range of 50 Hz to 40 kHz and supports advanced DSP technology to ensure that you can hear all the details in your music.
Furthermore, it's also IPX7 waterproof, which means that you can expose this speaker to water without any issues – making them ideal for poolside or beach use. Check the current price on Amazon by clicking here.
| | |
| --- | --- |
| Pros | Cons |
| Very loud 30-watt sound performance | Slight distortion at max volume |
| 12-hour battery life | Lacks high-end details |
| BassUp technology for more bass |   |
| Low price |   |
| Lightweight |   |