Mowing the lawn without some headphones to keep you distracted can be the most infuriating job ever.
A great pair of headphones adds that much-needed fun, and sometimes speed in your lawn mowing work.
However, it's not all about fun but rather ear protection that brings in the need for lawn mowing headphones. Here are a few things to watch out when picking the best headphones for mowing the lawn.
What to look for when choosing headphones for lawn mowing?
If you're considering grabbing a pair of headphones for lawn mowing, then it's quite prudent to assume you aren't a fan of loud noise. Not to mention the fact that it can get pretty boring, so, you definitely want to add a bit of entertainment while trimming grass in your yard.
I personally like to listen to audiobooks, which can be quite problematic when you have the wrong kind of headphones, since the narration usually includes breaks and there is hardly any background noise, making noise-cancelling headphones the ideal choice.
●  Noise cancellation and hearing protection
Trimming your yard can be quite annoying, especially due to the irritating noises made by lawn mowers.
These noises not only cause discomfort but also could be a recipe for disaster in regard to ear damage.
So, anytime you're choosing a headphone for lawn mowing, always go for one that offers pretty good noise cancellation against the surrounding environment sounds.
The average lawn mower makes a noise of up to 90dbs, a rather dangerous degree, which could eventually cause hearing impairments in the future after long continuous use. A good headphone will cut up to 9db off the lawn mower's noise.
●  Comfort level
If headphones are your thing, you know of how irritating they can be if used for long periods.
Firstly, there is the heat that is usually generated, bringing in that annoying burning sensation in your ears.
Secondly, you don't want to put on a headphone that feels as if you're wearing a crown.
Though lawn mowing may not seem entirely difficult, you don't want to add neck strains to the burden of trimming grass in your yard.
Comfort level really comes in to play if you're mowing a large lawn. No one wants to keep adjusting headphones every now and then as you trim a large tract of land.
Moreover, you don't want headphones with cables that will constantly get in your way as you mow your lawn.
This can be quite irritating; and could end up eating into your lawn, mowing productivity and efficiency.
●  Durability
Even though most lawn mowing headphones are designed with features that enable them to withstand harsh temperatures and conditions, it's wise noting that some are designed for indoor use.
In any case, durability always plays a huge rule since, anyway, no wants to be purchasing a new headphone every few months.
Check on the fabric used to make the headband. Is it strong enough to withstand a casual drop? Check on the strength of the material used to connect the headband and the ear muffs too.
These simple features will determine how long your headphones will service you.
The 3M WorkTunes Connect hearing protectors/headphones are specially designed for noise cancellation work by possessing high-quality ear muffs that guarantee to cut out most of the outside.
Due to their dedicated noise cancellation feature, they're the ideal headphones for lawn mowing.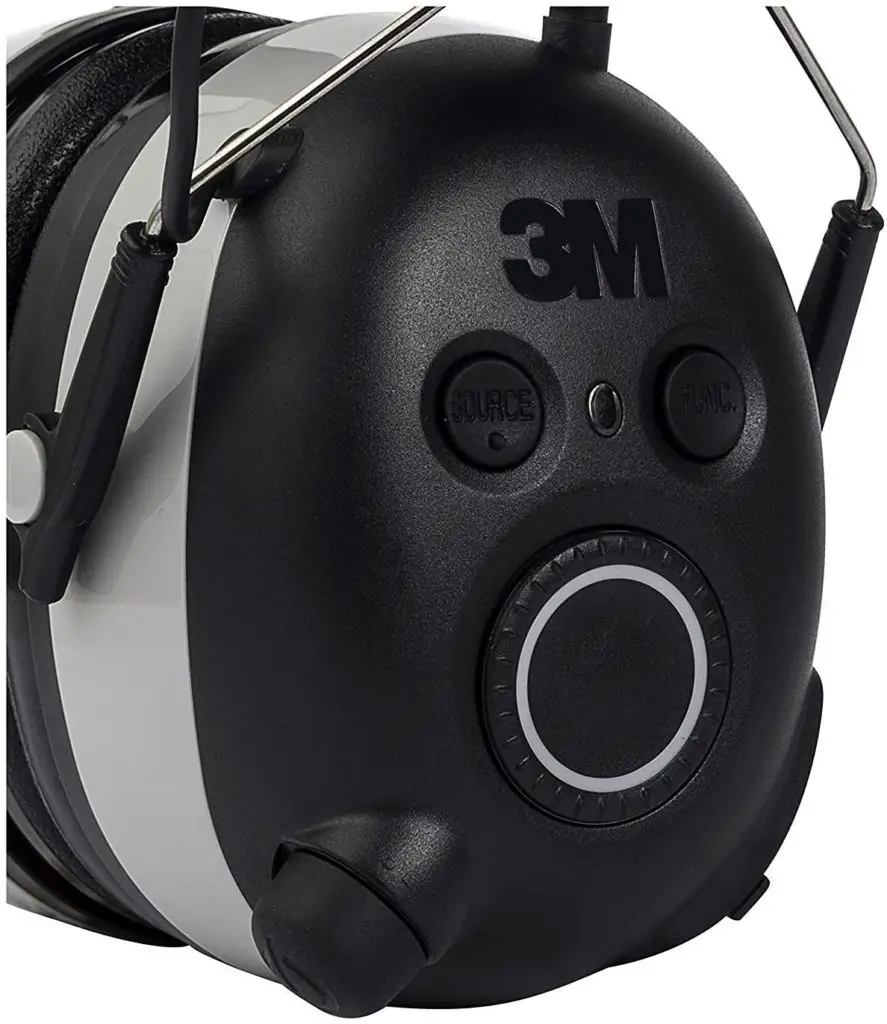 ●  3M WorkTunes Connect sound quality
If you're looking for headphones that bring out high-quality sound and proficiency, the 3M WorkTunes are the way to go.
Another feature that will surely entice you is the fact that these headphones cut out a great deal of noise, meaning you get one of the best listening experience every time you plug in these headphones.
A minor con, however, is the bass aspect. Anytime you raise the volume of a song with high bass, the in-built sound-canceling mechanism automatically lowers the strength of the sound.
This typically means your otherwise high booming tracks won't sound the same while using the 3M WorkTunes.
Even though this disadvantage can be easily discarded since the earphones are great at striking the perfect balance between noise cancellation and sound quality, the lowered bass can be a major turn off.
These are more of noise-canceling headphones or earmuffs than audio listening ones.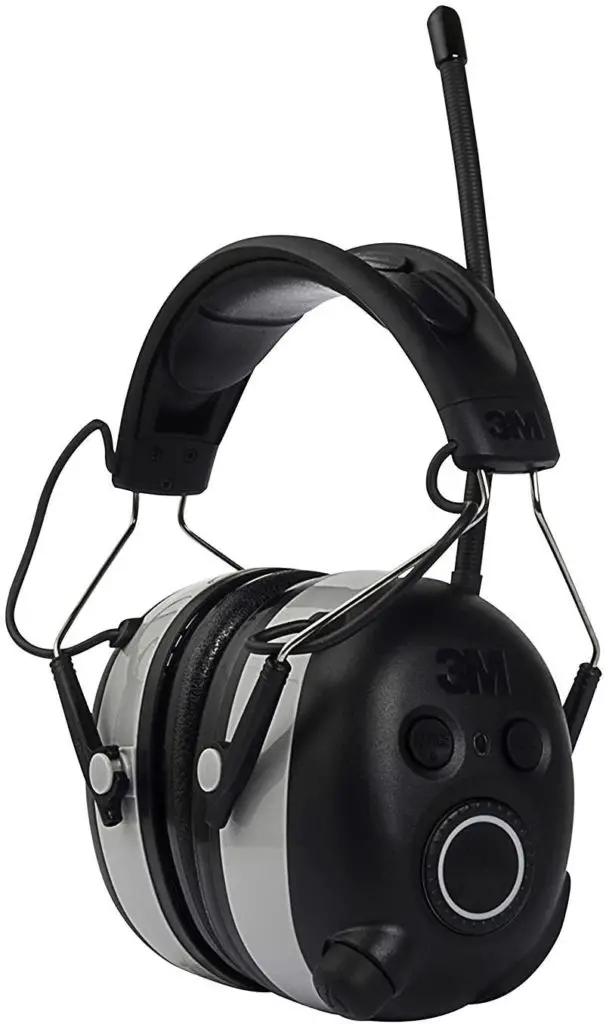 ●  How well do the 3M WorkTunes earmuffs cancel noise?
If your main aim is at canceling noise rather than a great listening experience when lawn mowing, then these earmuffs/headphones are for you. The 3M WorkTunes earmuffs have an NRR (Noise Reduction Rating) of 24 dB and will cancel out anything from cafeteria noises to loud lawn mowers, just like an easy pushover.
Even most of the low-frequency noises don't stand a chance with the 3M WorkTunes. However, this comes at a cost.
Due to their enhanced noise-canceling ability, they also eat into the listening experience, especially for audio tracks than contain high bass.
So, if you're more of a song guy, you might want to consider other headphones that bring in the best sound quality. The Boss 700, for example, is great for your playlist, more on those later.
Nevertheless, these headphones will give the best value for your money if your main purpose is canceling out the irritating rumbling of the lawnmower.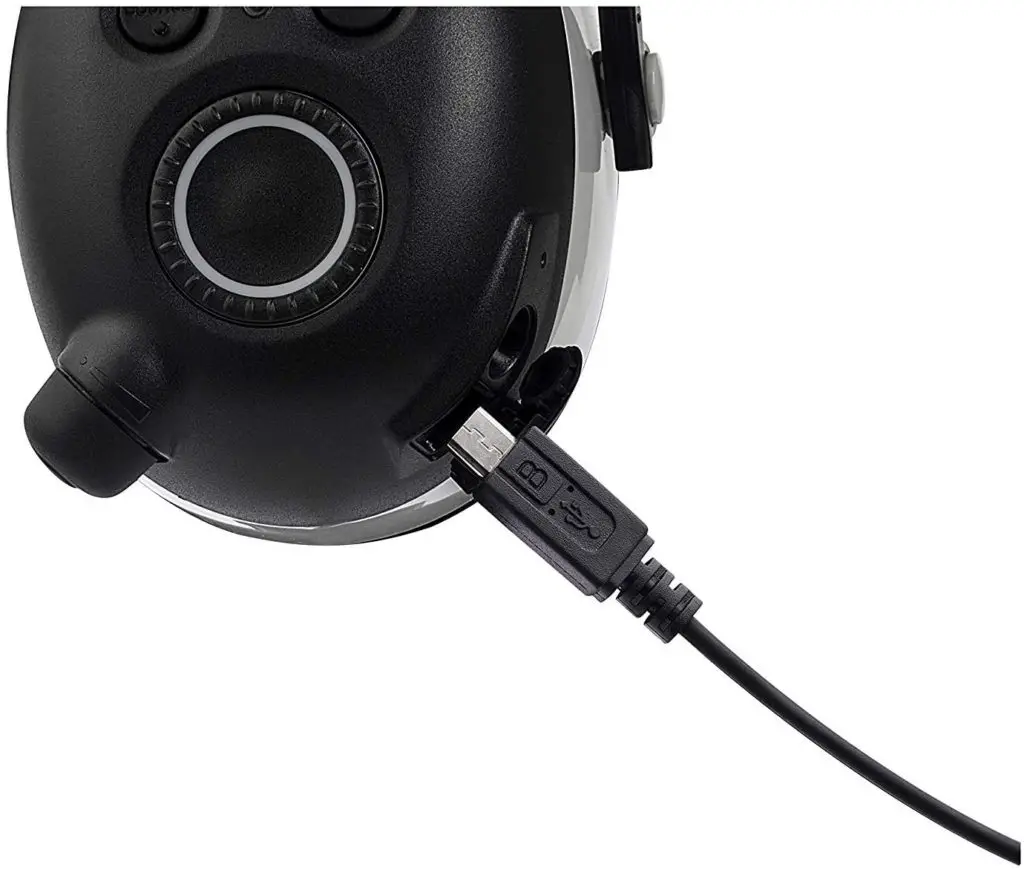 ●  3M WorkTunes Connect Battery life
With a single charge, the 3M WorkTunes connect can serve up to 38 hours of continuous listening as you trim the yard enjoying your favorite tracks and radio stations.
If you usually carry out your lawn mowing adventures on an occasional basis, these headphones will give you years of service; that is, if well taken care of.
Just as a compliment, the WorkTunes also come with a USB cable that can be combined with a phone charger or plugged into a computer's USB ports for charging.
They also notify you of the battery percentages, so that you stay on toes to ensure you're fully set before getting to the field for lawn mowing.
When the battery percentage reaches either high, medium, or low- the headphones will make sure to notify you via a female sound that sounds something like Amazon's Alexa.
The Sony WH-1000XM3 is an improvement of the previous Sony WH-1000XM2 version. It possesses essential features that are aimed at providing the most enjoyable listening experience possible by enabling easy switching of soundtracks, great sound quality production, a lightweight design for utmost comfortability, and amazing noise cancellation, which is especially needed when mowing the lawn.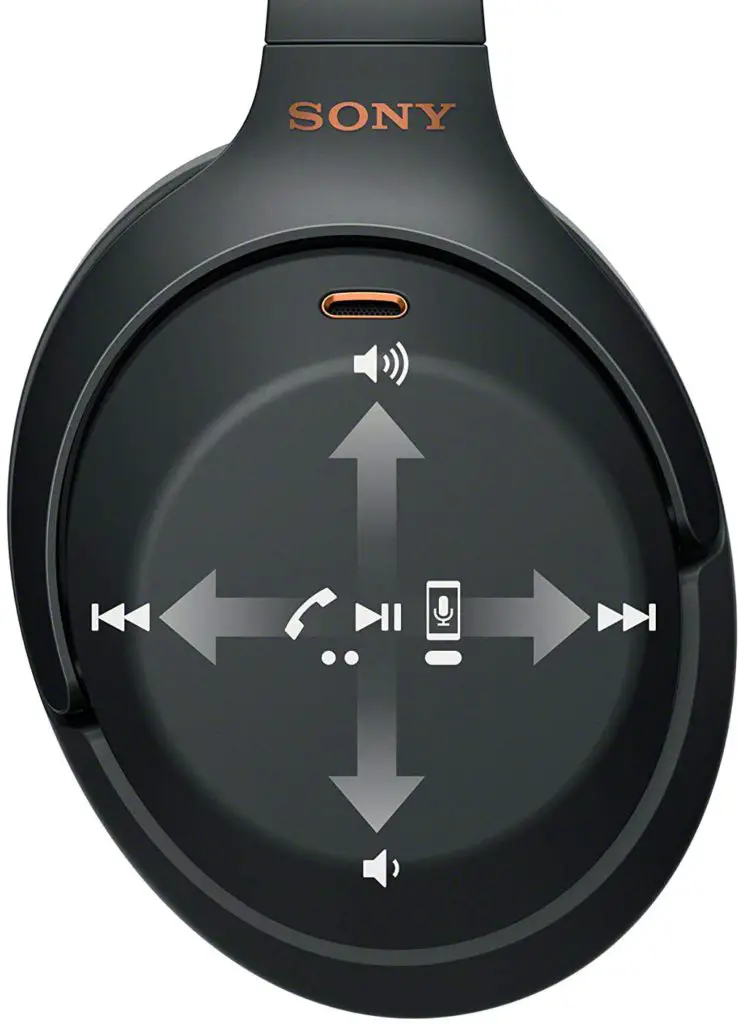 ●  Sony WH-1000XM3 sound quality
Looking for headphones that will completely revolutionize your audio track listening experience during lawn mowing? Sony's WH-1000XM3 headphones won't disappoint you.
For the complete listening experience, they use the Sony App to connect the headphones to your smartphone.
The app lets you remotely choose between the tracks to be played on the headphones, though there are a few complaints of common technical difficulties that usually occur every time you want to pair the headphones with the app for listening.
However, once you've connected your mobile gadget and the headphones, you're ready to start mowing your lawns.
The Sony WH-1000XM3 headphones also make switching between tracks easier by simply swiping your finger on the right ear cup.
This ensures that you don't need to keep fishing out your phone every time you need to skip past that annoying song that you're still yet to delete.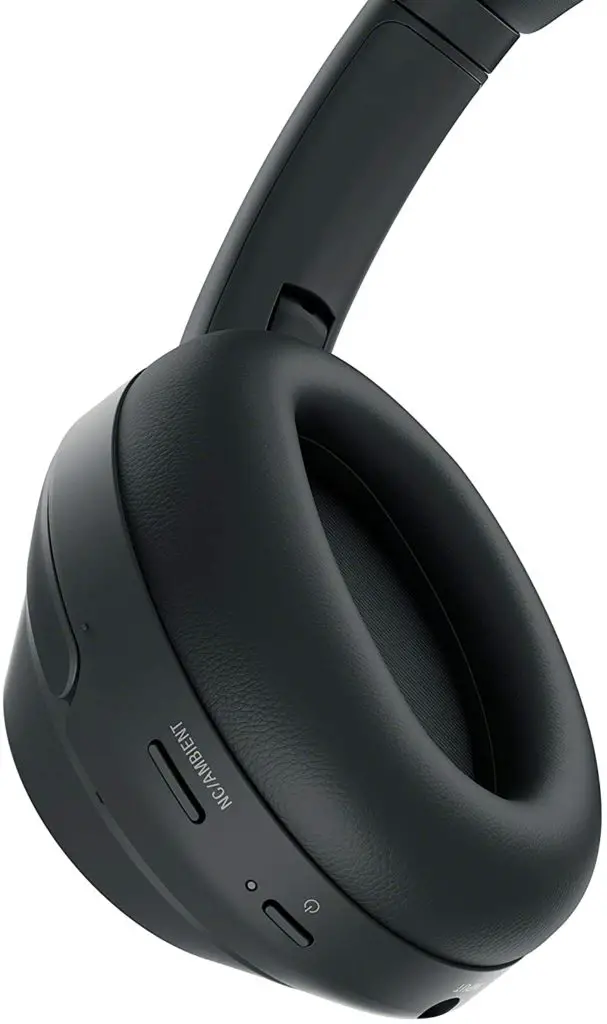 ●  How well does the Sony WH-1000XM3 cancel noise?
The Sony WH-1000XM3 headphones are active noise-canceling headphones, meaning they have microphones that pick up on external noise and negate it while you listen to your favorite tunes.
Despite the fact that headphones are usually meant for audio listening, it's quite important to note that noise-canceling headphones do not necessarily use the background music as the cushion to cut out the environment noises.
While the earcups or pads provide a great passive noise cancellation, the active one will completely blow you away, no pun intended; of course, with the audio listening aspect being a complement for a more enjoyable yard trimming experience.
So, if you're one to bop to some tracks as you trim your lawn grass, the Sony WH-1000XM3 will undoubtedly serve you accordingly.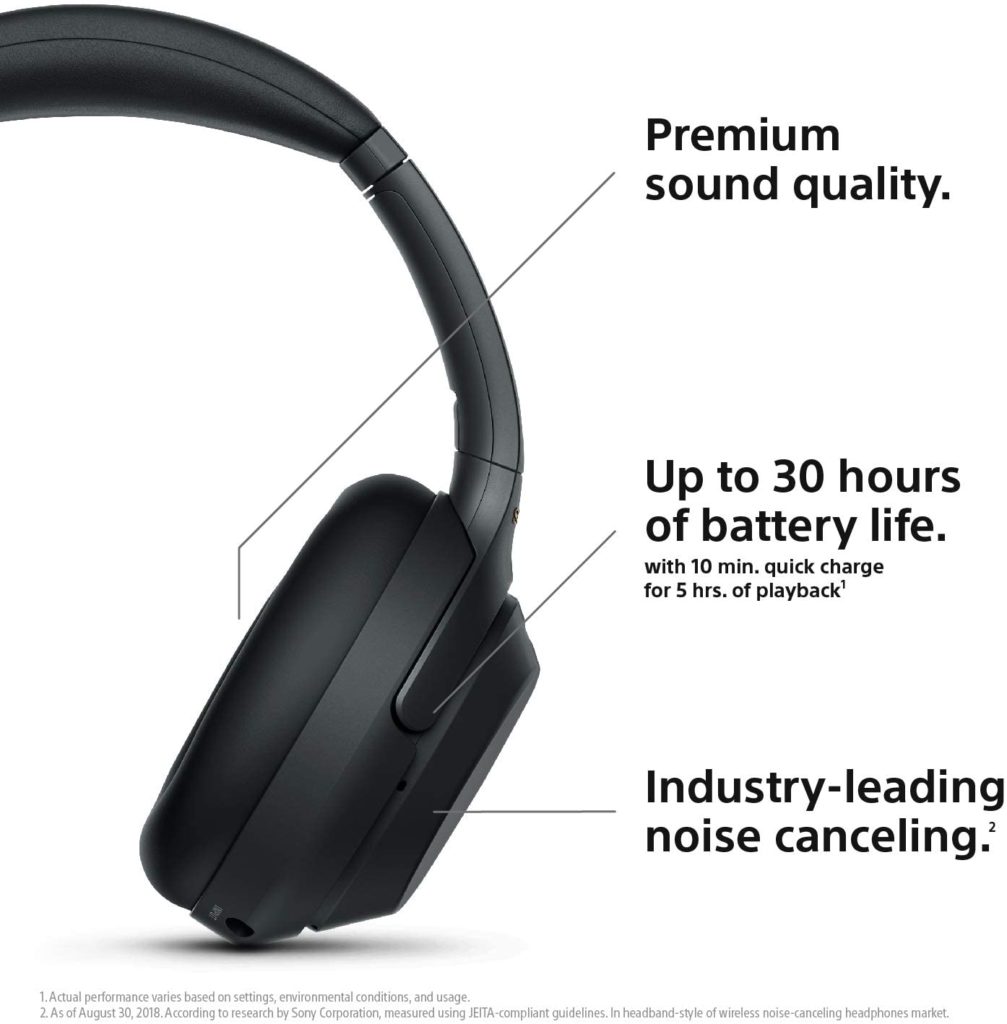 ●  Sony WH-1000XM3 battery life
The Sony WH-1000XM3 has greatly improved from the previous Sony WH-1000XM2 version with great features such as the highly revolutionized padding. The extremely ultralight weight of these headphones is something to behold.
Most importantly is the fact that the Sony WH-1000XM3 is now USB-C ready, meaning the common charging woes associated with the previous versions are now a thing of the past.
The battery of the Sonys will last up to 24 hours if left for continuous sound playback and when noise cancellation is set at maximum.
This is enough time to ensure you enjoy every bit of your lawn mowing experience.
The Bose 700 Noise Cancelling headphones use Bluetooth connections to pair with devices to enable listening of audio tracks as you mow the lawn. They're pretty good at cutting away surrounding noises and have some of the best Bluetooth drivers to enable super-fast Bluetooth device connections.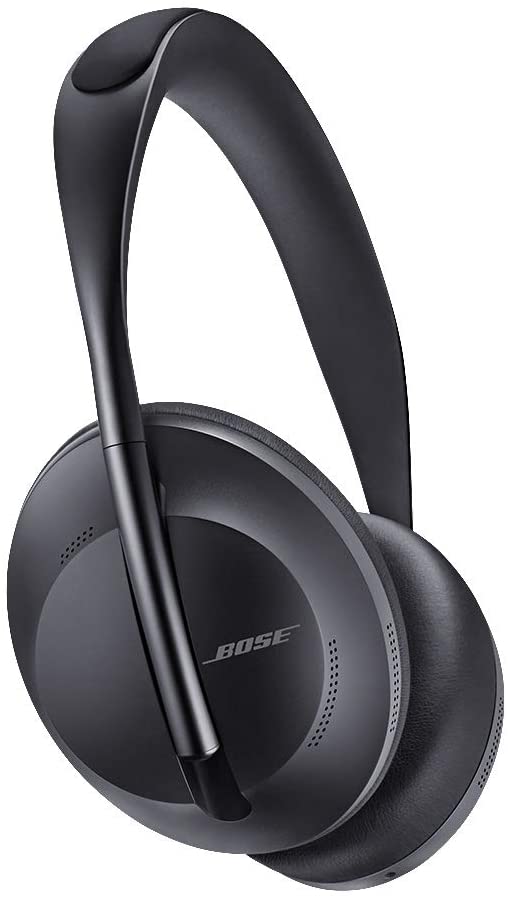 ●  Bose 700 sound quality
The Bose 700 Noise Cancelling Bluetooth Headphones are basically as good as it gets in terms of sound quality, especially thanks to their rather unusual attention to low notes.
If you listen to audios with a couple of low notes, you will be surprised at how loud they feel in comparison with other headphones.
This feature rather makes the Boss 700 great for listening since you can easily hear soft soundtracks despite the loud roaring of the lawn mowers as your trim your yard's grass.
Moreover, the mid notes sound great too. This is because the Bose 700 Noise Cancelling Bluetooth Headphones allow for the uniform stress on notes, which in turn results in a consistent sound.
Due to uniformity, the Bose 700 produces one of the best audio qualities you can ever imagine.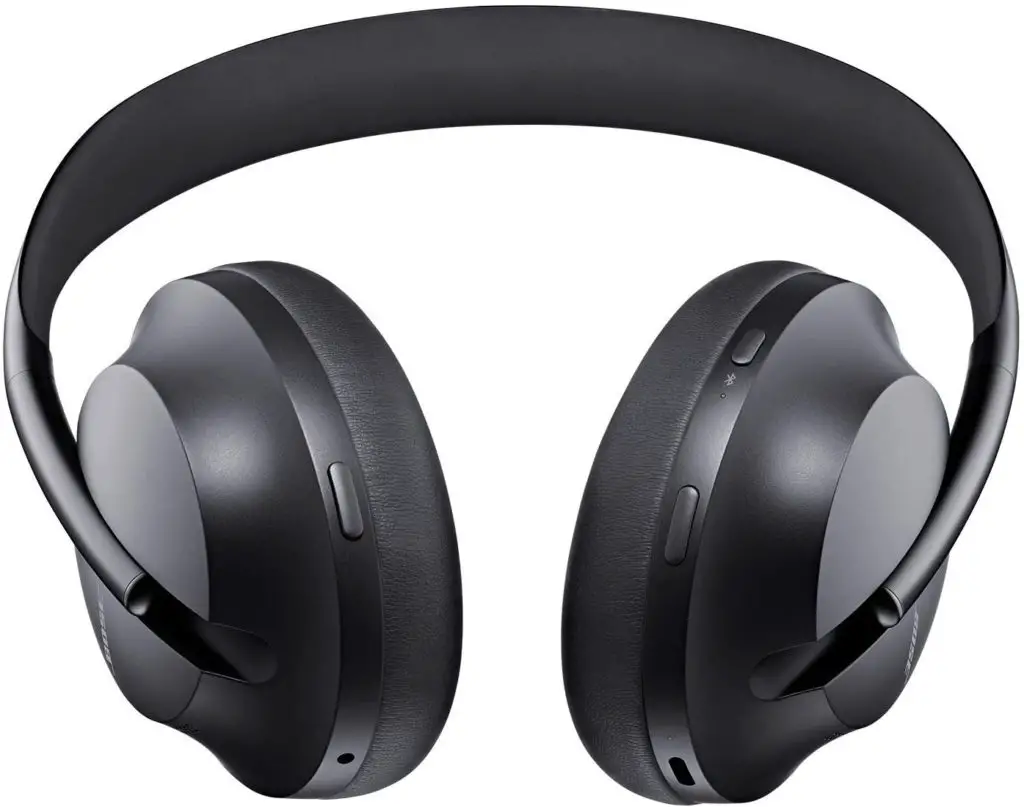 ●  How well do the Bose 700 cancel noise?
Anytime you find yourself choosing a good headphone for lawn mowing, it's important to not get carried away by the listening experience, but rather the more significant noise cancellation.
The Bose 700 Noise Cancelling Bluetooth Headphones are great for sound quality, but are they good for the noise canceling?
The Boss 700 headphones cut out quite a great deal of noise, though when compared to the Sony WH-1000XM3, they tend to be a tiny bit lacking in noise cancellation.
Sony has been improving in the noise cancellation of their headphones, and the Sony WH-1000XM3 is a great example of some of the best lawn mowing noise cancellation headphones out there.
One of the major pros of the Bose 700 headphones is that you get a quite standard control on the amount of surrounding noise you can hear.
The headphones have specialized features that enable you to switch between the amounts of noise that is allowed to reach the ears.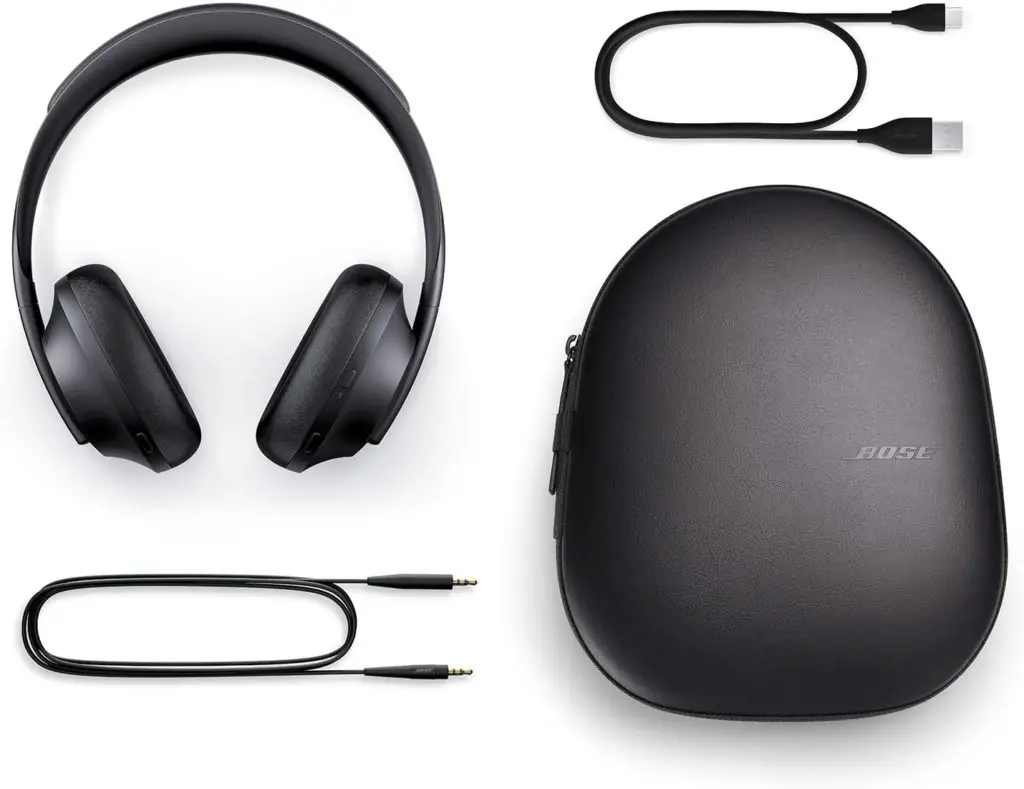 ●  How long does the Bose 700 Noise Cancelling Headphones Battery last?
The Bose 700 Noise Cancelling Headphones battery will last up to 20 hours of continuous use before having to be plugged back for recharging.
This is quite fair considering this is when the noise cancellation is set at maximum, meaning you can add an allowance of a few minutes to hours depending on the amount of noise cancellation you need.
The fact that you can adjust the level of noise cancellation makes the Bose 700 rather convenient for lawn mowing. In addition to their high-quality sound produced, you can be sure to enjoy every bit of lawn mowing.
Despite the fact that 20 hours of battery length may seem small, the headphones can be easily recharged.
The charging port is USB C, meaning they are readily rechargeable by the common USB cable types via a computer USB port or with a typical phone charger.
The Bose QuietComfort 20 earbuds are a great noise canceling headphones that contain specialized features to switch in between the amount of noise that can be canceled at a given time. They do an incredible job at noise cancellation as well as bringing in a superb sound quality.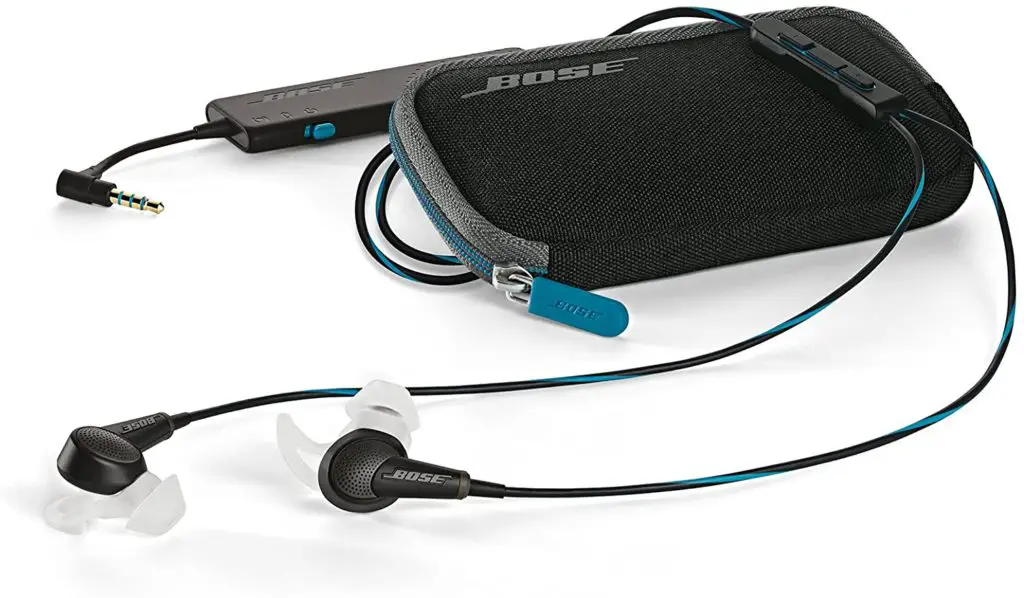 ●  Bose QuietComfort 20 sound quality
For the sound quality of the Bose QuietComfort 20, the bass and trebles are the points to look at. Though generally, sound preference differs a lot from person to person, it's fair to say that the Bose QuietComfort 20 brings a rather great sound experience. For audio tracks with high bass, Bose 20 will do a great job of balancing the strength and deepness of the sound.
Of course, some other headphones will do better regarding bass; but these earbuds leave nothing to be desired.
The bass may not sound as deep as you're used to when listening on Soundbars and sound systems back at home, though it should still keep you bumping to your favorite tracks.
As for trebles, the QC20 will give a relatively fair result since they do not fell messy or shoddily mixed up.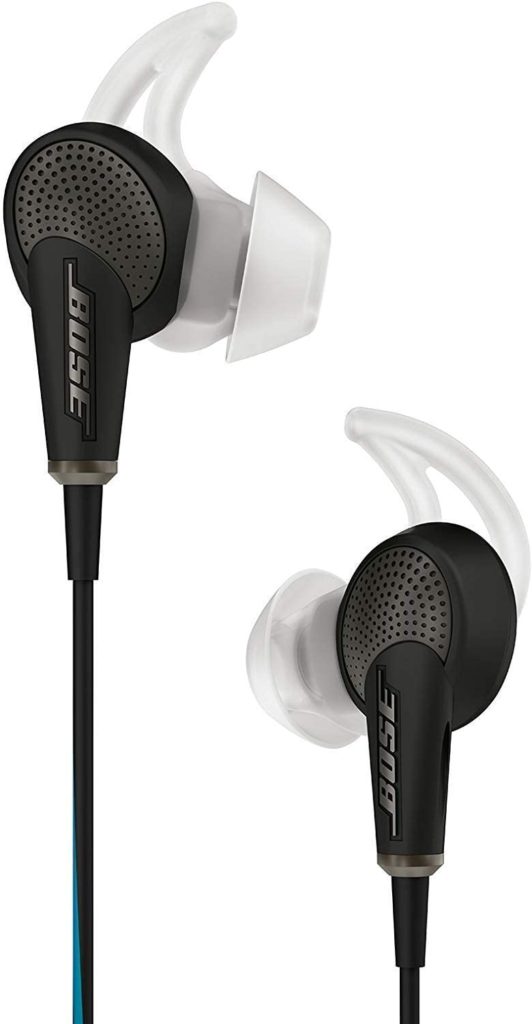 ●  How well do the Bose QuietComfort 20 cancel noise?
When using the Bose QuietComfort 20 around a noisy environment, it feels as if the shouting and yelling aren't there at all.
The Bose QuietComfort 20 headphones are so good at canceling noise, such that it creates a completely quiet void which enables the listener to experience the full vocals and sound of the audio tracks.
The Bose QuietComfort 20 ear muffs do a great job in ensuring that the noise from the outside is absolutely canceled out to bring in that empty space feeling that will undoubtedly bring about the ideal sound listening experience.
Moreover, the Bose QuietComfort 20 has some quite impressive quality speakers that do a great job in the balancing of trebles and bass.
High volumes do not seem to faze the sound quality of these noise-canceling headphones.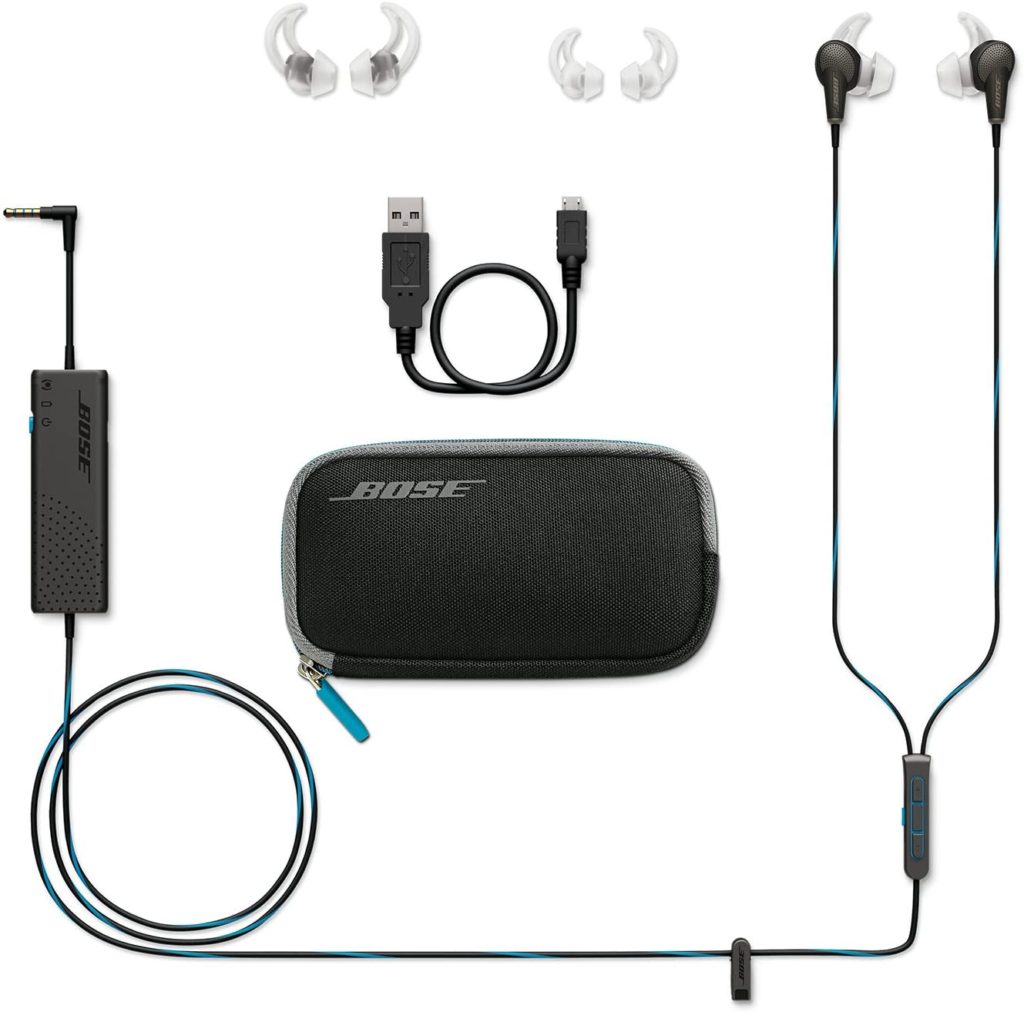 ●  Bose QuietComfort 20 battery life
Due to the highly effective noise cancellation property of these highly effective headphones, it's quite obvious to expect a lower battery life.
Noise cancellation tends to take up most of the headphone's battery charge, though this shouldn't be a problem since the battery only takes 2 hours for a full charge.
The battery will last up to 16 hours, a rather acceptable length considering the quality of service you get from the headphones.
Perhaps the stand out feature of the Bose QuietComfort 20 is the aware mode, which lets you select the amount of noise that is canceled out.
By turning on the aware mode, you get to listen to the important sounds that would have otherwise been canceled out as noise.
In an airplane, for example, you can turn it on to listen to flight notices; or maybe to order a slice of pizza from the attendants.
FAQ on using headphones while mowing the lawn
Should you go for earbuds or headphones when mowing the lawn?
Both earbuds and headphones are widely used for noise cancellation, though over the ear headphones are better since they provide for complete ear isolation from the surrounding noise. Earbuds are small, meaning they are less effective in sound isolation since they cover the ear's center section only.
What are the best headphones for mowing lawns?
Though it's quite impossible to create a headphone that strikes the perfect balance among all ideal lawn mowing requirements, some go a long way in trying to achieve this; and work just fine.
Here's a list of the best headphones for lawn mowing work: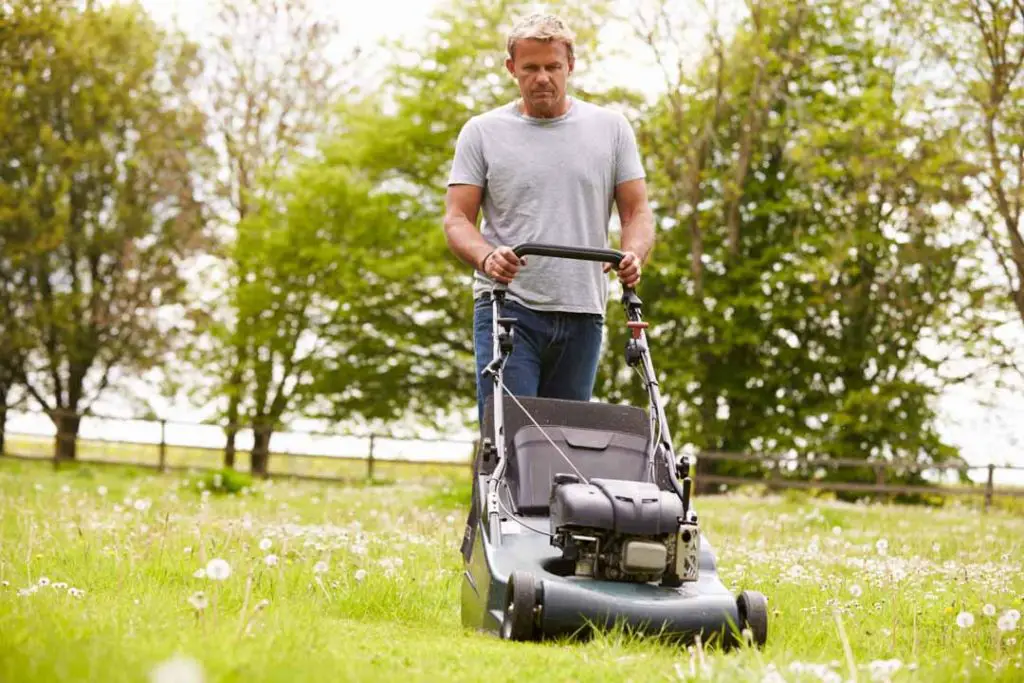 Can a lawn mower cause hearing damage?
The average lawn mower makes a noise of up to 90dbs, which is way above the maximum threshold of 85db noise threshold for the ear. This basically means exposure to the lawn mower's noise for long periods of time can cause hearing damage to your ears.
It's also important to note that some lawn mowers may even be louder than the usual 90dbs, which could mean more risk.
However, if your lawn mower is making absurdly loud roars, you might want to call a technician for a checkup since something must be wrong for such noises to be generated.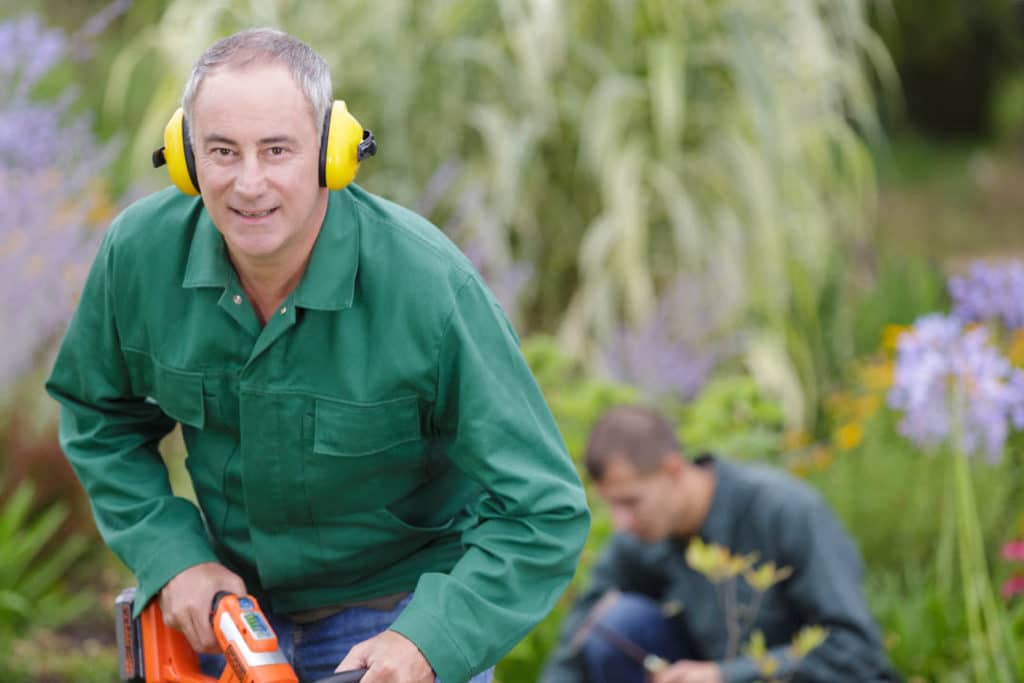 Should you wear ear protection while mowing a lawn?
Definitely, the average lawn mower makes noises of up to 90dbs, which is already way ahead of the maximum 85dbs threshold that the ear should take for a healthy listening experience. Earmuffs and noise cancellation headphones will go a long way in cutting down the extra noise.
Continuous exposure to the lawn mowers noises is a potential ear damage hazard, and it's always wise to ensure you strap safety gear such as earmuffs for protection.
With that said, even the sound itself is quite irritating such that there's no reason whatsoever to keep exposing yourself to these risks.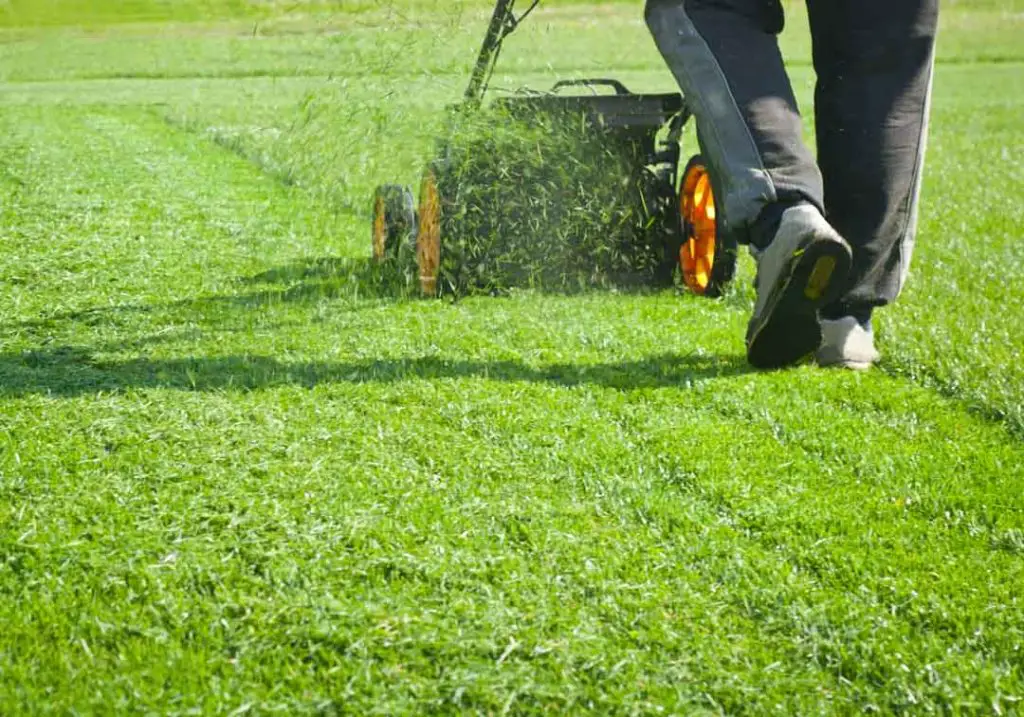 Is it safe to wear headphones while mowing the lawn?
Noise cancellation headphones are safe since they go a long way in trimming down the lawn mower's rumbles. However, if you're still worried about not really being aware of your surroundings due to the loud music, go for noise headphones that do not need background audio for effective noise cancellation.
Conclusion
When choosing the best headphones for mowing the lawn, don't get too carried away with the audio listening experience and forget about the all-important noise cancellation.
That said, factors such as comfort and durability also come in hand in ensuring you get the best lawn mowing experience as you trim your yards.