Headphones for kids are often more colorful and larger in size, making them easy to spot. But they serve a far grander purpose than being easy to find in a pile of toys, clothing, or stuffed animals on the bed…they offer ear protection for those little ears.
I initially thought it odd to make headphones for young children. After all, shouldn't they be playing outside? It wasn't until I realized that noisy places like sporting events or outdoor festivals could really take a toll on hearing later on.
Not to mention that loud noises can make some children feel uneasy, even scared. And let's not forget how nice it is to let them watch their kid-friendly show while you field a phone call in the other room.
Eardrums are delicate, but for kids and babies, they're even more fragile. Repeated exposure to sounds louder than 70 decibels can cause hearing problems. As a benchmark, most vacuum cleaners run at about 70 decibels.
Naturally, the best designs for young children are the kind that go over the ear or are earmuff designs. They're easy to put on and offer simple controls that parents can oversee.
Choosing noise-cancelling headphones is most important to look for, as is limiting the volume to less than 85 decibels as encouraged by health experts.
You can't just hand over your headphones to your kids. Not unless you're a glutton for punishment. Instead, get the best noise-cancelling headphones for kids and keep the peace, as well as promote healthy hearing, in your home.
Below, you'll find my 10 picks to choose from across a range of options, so keep reading!
Best Noise-cancelling Headphones for Kids
I've gone through, and hand-picked the best noise-canceling headphones for kids and selected 10 of them. You'll find ones for your budget and needs, so take a look and see which one is the perfect fit for your kid!
Top Choice!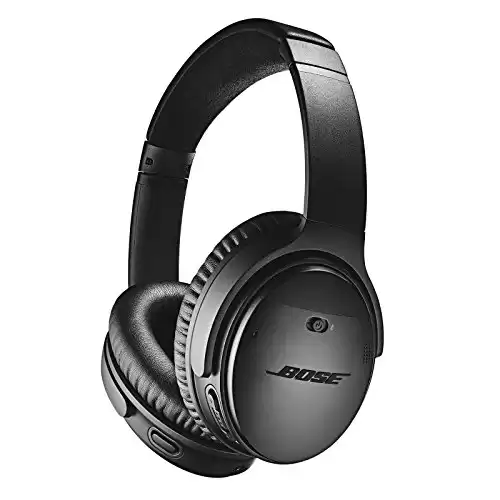 Bose QuietComfort 35 II
Active Noise Cancellation
IPX4 Water Resistance
Multi-Function Buttons
Dual-Microphone System
Alexa and Google Assistant-Enabled
Bluetooth an ANC
Up to 20 Hours on a Single Charge
Bose App
Get them on Amazon
Bose is no stranger to excellence, particularly in the noise-cancelling arena. It set the standards that everyone else follows. With the Bose QuietComfort 35 II, you get the best in noise cancellation, allowing for a perfect listening environment.
It's very easy to pair Bluetooth and personalize the settings, plus it is Bose AR-enabled, which is a unique-to-the-brand audio-only augmented reality setting.
These are magical for quieting all the sound around you, making them a great option for kids that are easily distracted. They're probably a better bet for your older kids because they can block out distractions during study time.
These Bose noise-cancelling headphones are a great investment but I wouldn't give them to a toddler despite these being extremely durable, but an older child would greatly appreciate the chance to minimize distractions to stay on task.
| | |
| --- | --- |
| Pros | Cons |
| Outstanding noise cancellation | Expensive |
| Easy Bluetooth pairing |   |
| Alexa-enabled |   |
| Bose AR technology |   |
| Comfortable |   |
Another great option for bigger kids is the Bang and Olufsen PLAY Beoplay H8i. With a built-in proximity sensor, it stops playing when the headphones are removed and then picks right back up when they're put on again.
That makes it easy for younger listeners to operate. Great sound comes through though the ANC is worthy of high praise here.
On the earpads, the memory foam keeps things comfortable as it blocks out noise and lends a cozy fit.
The build is really solid, but again, not the kind of thing I'd feel comfortable giving to a toddler.
After all, these are expensive, but if your kid is a little older, these will surely be well-tended and appreciated.
| | |
| --- | --- |
| Pros | Cons |
| Excellent ANC | Expensive |
| Soft memory foam earpads |   |
| Built-in proximity sensor |   |
| Easy to use |   |
| Solid build |   |
Beats are popular with the kids for good reason. The Beats Solo Pro Wireless is a nice option because the earpads are really soft, and the band gives a good fit without feeling constricted.
The ANC is, dare I say, almost as good as Bose, perfect for diminishing surrounding noises and allowing for prime concentration.
The sound quality is great too, and it offers some adjustable listening modes from noise-cancelling to transparency (which allows users to be aware of their surroundings) to extended power.
There's also a greater Bluetooth range of connectivity here, so your kid will be less likely to complain about losing connection—all in all, a great product though a steep investment.
| | |
| --- | --- |
| Pros | Cons |
| Top-tier ANC | Expensive |
| Soft earpads |   |
| Adjustable listening modes |   |
| Greater Bluetooth range |   |
| Comfortable band |   |
Top Choice!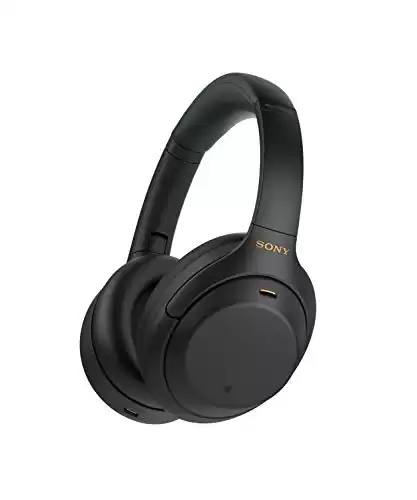 Sony WH-1000XM4
Music Playback Time: 30 Hours
Sensitivity: 105 dB / mW (1 kHz)
Frequency Response: 4 Hz-40,000 Hz.
Cord Type: Single-Sided (Detachable)
Driver Unit: 1.57 "
Range: 30 ft (10 m)
Driver: 40mm
Dome Type: CCAW Voice Coil
Diaphragm: Aluminum Coated LCP
Get them on Amazon
I couldn't make a list of the best noise-cancelling headphones for kids and leave out Sony. If you're old enough to remember Sony's initial headphones when you were a kid, it's probably time to buy your kid the modern equivalent.
Sony's WH-1000XM4 features impressive ANC along with a dual noise sensor technology unique to the brand, sensing when headphones are removed to pause promptly.
What will impress you most is the noise-cancelling on these. They're really excellent, plus you get Edge-AI, a special technology out of Sony's Tokyo Music Studios.
With up to 30 hours of battery life and a speedy way to charge, it's the perfect choice for busy kids that need to concentrate and carve out their own quiet place. Perhaps the only downside here is that these are definitely not cheap!
| | |
| --- | --- |
| Pros | Cons |
| Impressive ANC | Expensive |
| Dual noise sensor technology |   |
| Up to 30 hours of battery life |   |
| 10-minute charge powers for 5 hours |   |
A more affordable option for sure is to choose a wired set of noise-cancelling headphones for your kids. The Bose QuietComfort 25 is on par with its wireless versions.
And while it is a wired option, it's so lightweight and comfortable; I doubt your child will mind.
It features fantastic noise dampening to turn noisy places into more calm settings. It also wears very well, and by that, I mean you could wear these all day long without feeling like your ears hurt.
It's a great choice from Bose, the pioneer of noise cancellation technology, and with the wire, it does make it much cheaper.
However, if your child is hoping for wireless, they may be disappointed, at least until they hear how good these sound.
| | |
| --- | --- |
| Pros | Cons |
| Great price | Wired |
| Primo noise dampening |   |
| Comfortable wear |   |
| Fantastic sound |   |
On a budget? Have a younger kid? These noise-cancelling headphones by Puro Sound Labs, the PuroQuiet, are less than $100.
Unlike the other noise-cancelling headphones listed above on my list, these are an option that was created explicitly for kids.
You have outstanding ANC with the flip of a switch, hushing the world around them as much as 22dB more.
Speaking of decibels, these are limited to 85dB in volume, so your kid won't accidentally turn it up too loud for too long.
It has one-touch Bluetooth pairing and is so hassle-free, you won't lose your mind from your kids shouting for you to come fix them AGAIN.
Wireless is ideal for younger listeners because it is hard to keep kids from getting tangled in cords. Oh, and the battery life goes on and on for up to 22 hours when the ANC isn't on.
This will buy you loads of quiet time on road trips or let you make those work-from-home calls in relative peace without having to hear Disney movies blaring in the background.
| | |
| --- | --- |
| Pros | Cons |
| Under $100 | Band may need repeated adjustments |
| Limits listening volume to safe dB |   |
| Great ANC features |   |
| Easy one-touch Bluetooth pairing |   |
Need to go lower than the PuroQuiet in price but don't want to sacrifice on features? Choose the Silensys E7 PRO. With a professional level of ANC, these are a superb option for traveling with kids.
All the noises around will fade away, allowing for concentration on the deep bass sound, or simply to watch Elsa sing "Let It Go" for the 10-gazillionth time.
Honestly, it's not winning awards for the best sound quality. Not by a mile. But your young child won't care.
The noise-cancelling is what you're after here, allowing your kid to keep safe from loud sounds and control the dB of these headphones. The ear cushions are quite cushy for this price point too.
Bluetooth connection is fairly decent with Silensys, but if you're looking for all the bells and whistles, you're going to need to pay a lot more for one of the other models. The long 30-hour playtime per charge certainly makes up for it.
| | |
| --- | --- |
| Pros | Cons |
| Bargain price | Not the best sound, but decent |
| Professional level of ANC |   |
| Limited dB for safe listening |   |
| 30 hours of playtime on a full charge |   |
| Soft ear cushions |   |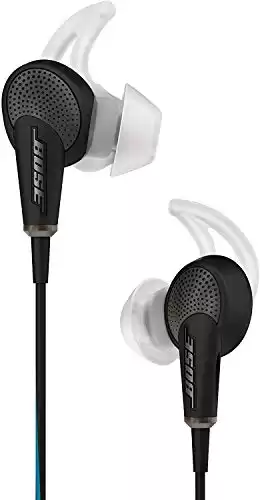 Some kids, particularly older ones, might not be a fan of the over-ear style. That's when you give them the Bose QuietComfort 20.
With phenomenal noise-cancelling, it reduces distractions while the StayHear+ tips, a brand exclusive, feel soft yet secure.
I like the 'aware' mode that pulls you back into your surroundings with a button.
The sound is really nice too, but it is a wired option—something you probably want to avoid with small children. Also, the price is quite a bit up there.
| | |
| --- | --- |
| Pros | Cons |
| Great for noise-cancelling | Expensive |
| Quality sound | Wired |
| Exclusive tips that stay comfortable in ears |   |
| Aware mode |   |
Ok, I've spent this whole list on the bigger kids. Here's what I suggest for babies and toddlers. Banz Ear Muffs are, for lack of a better word, cute.
These are absolutely designed for little listeners and are safe to use with newborns and toddlers.
With NRR 31dB, these are among the best for little kids because they block out harmful sounds and keep hearing safe. The padding is so comfortable. I have a friend whose 18-month old kid loves these things.
She takes her son with her everywhere – sporting events, outdoor concerts, firework shows – and he's happy as can be with these.
She said he's been wearing them since he's a baby, and it's allowed them to go many places together without him missing out on a nap since they let him fall asleep anywhere.
| | |
| --- | --- |
| Pros | Cons |
| NRR 31dB | Doesn't play music, only for blocking noise |
| Comfortable padding |   |
| Blocks harmful sounds |   |
| Keeps hearing safe |   |
| Great price |   |
Another option to protect your kid's hearing and minimize distractions is by Muted. Muted Ear Muffs are soft, cushy, and comfortable.
They're versatile, too, in that they work for toddlers as well as teens who just want a distraction-free study session.
Kids with sensory issues will benefit the most from these. They're very stylish as far as kids deem in a bunch of kid-friendly colors and patterns.
If your child gets feisty at outdoor events where loudness is the name of the game, these ear muffs will help them enjoy it all without being bothered by the noise. They're rated to 27dB and come at a great price too.
| | |
| --- | --- |
| Pros | Cons |
| NRR 27dB | Doesn't play music, only for blocking noise |
| Cushy and comfortable |   |
| Blocks harmful sounds |   |
| Fun colors and patterns |   |
| Great price |   |
Conclusion
Depending on the age of your child, you may want something more sophisticated for their listening needs. Or you may only want something that blocks out unwanted sounds.
With these 10 best noise-cancelling headphones and ear muffs for kids, there's bound to be something that fits your life and your budget with ease.
Think about the maturity level of your child too. The more expensive options on my list are certainly not ideal for little ones.
But older children will find they can concentrate while studying or sit still during travels when exterior noises aren't interfering with them.
And for all, preserving their hearing is something every parent should think about. Those firework shows and sporting events are fun, but they do come with a cost for all of us in the form of lost hearing over time.
Maybe your ears are starting to show signs of hearing loss, but you can use today's technology to protect your kids.