Guitar Center is a one-stop resource for everything you need for your instrument. Their services include fret repair, electronics upgrades, and structural maintenance.
When you give your guitar the love and maintenance it requires, you can significantly prolong the instrument's life. Professional repairs and regular setups are must-have investments.
If you play the ukulele instead of a guitar, you might wonder if Guitar Center can provide the same care and maintenance.
Most Guitar Center locations have this capability.
Does Guitar Center Fix Ukuleles?
If you have a physical Guitar Center location in your community, it is possible to take your ukulele in for a repair. Some stores might not offer this service if they don't sell the Cordobas, Lanikai, and Kamaka brands. Call 1 (866) 498-7882 to see what local services are offered.
Although Guitar Center brings affordable instruments to beginners and experts alike, it's not unusual to see this brand referred to as the "Walmart" of retailers in this space.
As with any repair shop, you'll want to review the staff's skills and knowledge at your local Guitar Center before trusting them with your instrument.
If they struggle to answer basic questions about playing ukuleles, it's unlikely that you'll get the services you're paying for at that location.
Even though Guitar Center managers strive to bring in the best people, there isn't always ukulele expertise in a local community.
Unless you have other local shops or the skills and tools to complete the work at home, you'll need to take it in for a Guitar Center evaluation.
You'll want to review the repair disclaimer from the store before having your instrument serviced there.
What Are the Repair Services Offered by Guitar Center?
Since every Guitar Center is unique, the repair and maintenance services you can access for your ukulele are variable.
You'll want to contact your local store directly to see what options are available. If you have amps and effects pedals, some select locations could also fix these products for you.
Guitar Center is a warranty service provider for multiple brands, including Gibson, Epiphone, Fender, Jackson, Yamaha, Cordoba, Ovation, Washburn, Takamine, EVH, and Gretsch.
Here are the various categories where technicians could help to fix your ukulele.
Stringed Instrument Maintenance:
Restring and retune your ukulele.
Provide a full 22-point setup for ongoing maintenance.
Repair instrument intonation problems.
Provide truss rod and action adjustments.
Fret Repair Services:
Alterations of ukulele fret levels.Instrument re-fretting.Crown and polish work for the instrument.
Electronics Customization and Upgrades:
Electronic modification for appropriate ukuleles.
Pickup installation for your instrument.
Wiring customization and correction.
Personalized modifications and upgrades.
Structural Repair Services:
Headstock repair for ukuleles.
Body and neck crack repairs.
Brace repairs for the instrument.
Bridge pull and replacements.
Hardware Repair Services:
Hardware customization services for ukuleles.
Cosmetic enhancements for stringed instruments.
Component repair.
Bone and Graphite Repair Services:
Nut replacement services for ukuleles.
Saddle replacement for stringed instruments.
New part fabrication from blank materials.
Every Guitar Center offers instrument repairs at their physical locations. If you're unsure where your local store is today, you can search for it right now through this link.
Can I Trust Guitar Center Repair Technicians?
When reviewing the online ukulele forums, several players have commented that it felt like the Guitar Center staff "looked down on them" when asking for a repair.
In their view, the concept of playing the ukulele felt like they were inferior players to those who focus on guitars.
Thankfully, that experience doesn't happen at every location. Every repair technician attends a certification class and receives ongoing training to maintain their credentials.
That's why the vast majority of repairs and maintenance work is successful.
Guitar Center would not be an authorized brand warranty service provider if they continuously provided inferior services to ukulele players.
How often you need to visit a Guitar Center to fix your ukulele depends on weather conditions, playing habits, and other unique factors. It's usually a good idea to have your setup done at least twice per year to ensure everything functions smoothly.
Best Ukuleles to Start Playing Today
If you'd like to learn how to play the ukulele, you'll find that the instrument is relatively easy to pick up. Most beginners can play songs on one within the first couple of weeks.
Before you can learn how to play the ukulele, you'll need to purchase one to use at home!
Although you can find plenty of them at Guitar Center, the following models are excellent choices for beginners who need an affordable setup.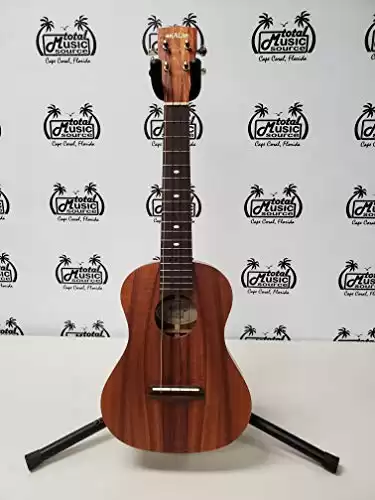 Kala 1KOA-T Elite Tenor Ukulele Satin Natural
Tenor Size
Dimensions in inches: 29.8 x 11.2 x 4.8
Dimensions in cm: 75.69 x 28.44 x 12.19
Top: Solid Hawaiian Koa
Back & Sides: Solid Hawaiian Koa
Fingerboard & Bridge: Indian Rosewood & Mahogany
Fingerboard Width: 1-1/2"
Strings: Kala
6.1 pounds/2.76 kg
Natural Color
Modern UV Finish
Hardshell Case
Get it on Amazon
When you select the Kala 1KOA-T Elite tenor ukulele, you're receiving a genuine Hawaiian product. It comes in a hardshell case for added protection.
You'll love the UV finishing process that delivers incredible clarity to the instrument, sprayed in thin coats to avoid the problems that lacquer sometimes causes for sound quality.
It offers a gorgeous sound with excellent sustain and pitch consistency.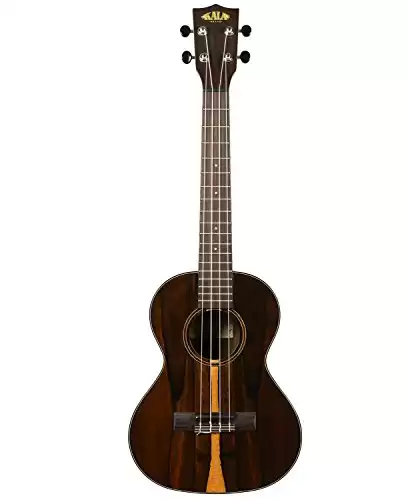 Kala Ziricote Tenor Ukulele
Tenor Size
Dimensions in inches: 27.25 x 11.25 x 4
Dimensions in cm: 69.21 x 28.57 x 10.16
Top: Ziricote
Back & Sides: Ziricote
Fingerboard & Neck: Mahogany and Rosewood
Nut & Saddle: Graphtech Nubone XB
Natural Color
High Gloss
Get it on Amazon
When you choose the Kala Ziricote tenor ukulele, you'll receive a mahogany and rosewood neck and fingerboard to support your playing.
The nut and saddle are made from Graphtech NuBone XB, ensuring consistent pitch and clarity occur with each strum.
Its body is a rich chocolate color finished with a high gloss look that demands attention on the stage.
Although it is laminate, you'll be impressed by the sound quality of this impressive instrument.
Lanikai Ukulele
Wide Neck
Nylon Strings
Nut & Saddle: NuBone XB
Dimensions in inches: 9 x 25 x 4.92
Dimensions in cm: 22.86 x 63.5 x 12.49
Weight: 2.93 Pounds / 1.32 kg
Get it on Amazon
If you prefer something more modern with your instrument, this electric ukulele delivers the look and feel of a traditional guitar.
It uses a broader neck than other models, providing accurate finger placement for most beginners. You'll appreciate the chrome strap buttons as they ensure a precise fit with better control.
The pickups are ideal for stage performances or DAW recording at home, while the lightweight body (under 3 pounds) never triggers fatigue.

The UEW13MEE acoustic-electric ukulele from Ibanez is one of the most versatile instruments of its type available today.
It offers a 14th fret joint to ensure you can reach the highest notes with ease.
You'll appreciate the purpleheart wood bridge on the instrument with the Okoume fretboard and overall tone accuracy.
The tuners offer smooth action, encouraging the strings to stretch within a couple of days for some of the most beautiful sounds you've ever heard.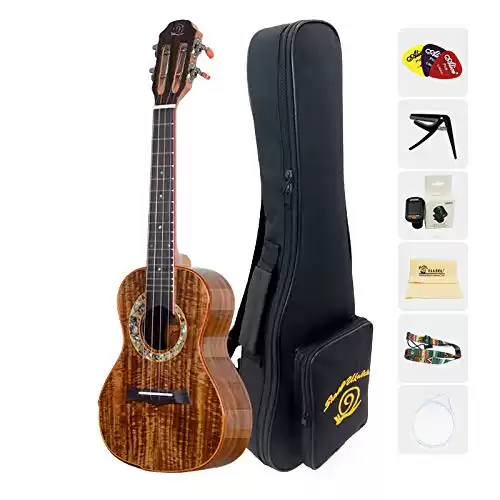 If you need a starter set for learning how to play the ukulele, this Snailukes Concert Ukulele is the best product found online today.
It comes with a beautiful copper fret, bridge stability, and a hearty resonance that you won't find with under instruments. Everything you need to play comes in the box, including a capo, tuner, picks, and strap.
What stands out the most is the gloss paint, applied using two dozen different processes to ensure you receive consistent sounds.
Does Your Ukulele Need Service?
If you use an entry-level ukulele, it might help to learn how to restring the instrument yourself to avoid the high cost of services.
Your string replacement charge on an entry-level instrument could be as much as you paid for the ukulele!
When you have a high-quality instrument to use at home, taking it to an experienced Guitar Center tech can prolong your instrument's life. Contact your local store today to see when the next appointment is available.