Looking for better sound quality or more privacy? Soundproof room dividers can help with that. They reduce the background noise and echo, plus they can be ideal in shared spaces for overcoming privacy issues. Best of all, there are tons of different options to choose from.
In this post, I'll get to all that in a short time, covering the soundproof items you need that will take very little effort on your part to place where you want when you want it for the desired effect.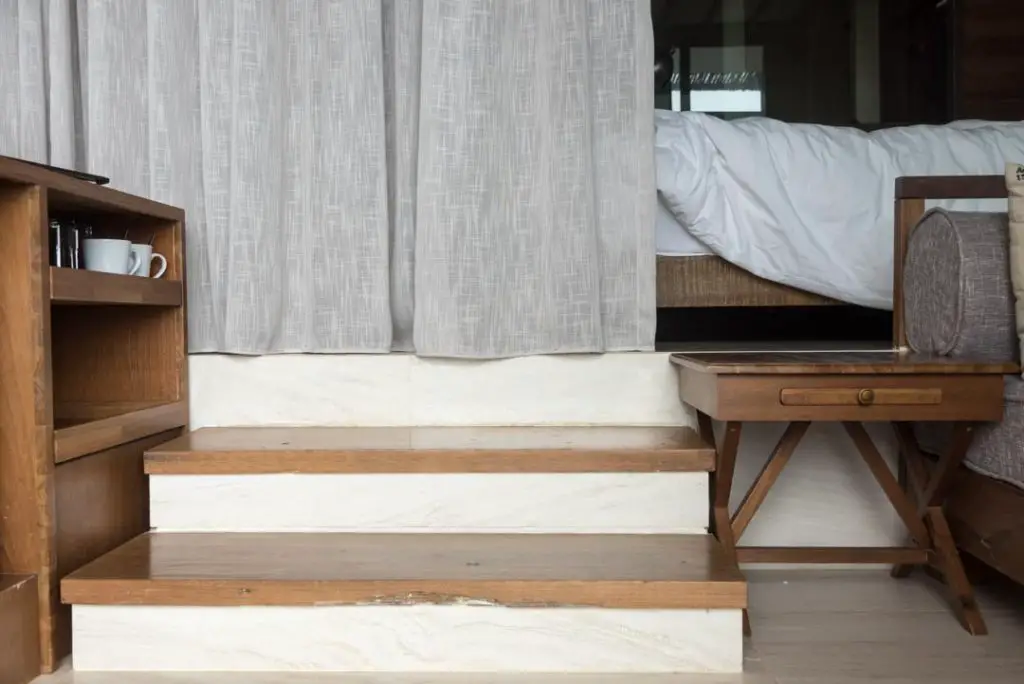 Do Room Dividers Block Sound?
Room dividers block sightlines and a fair amount of noise to create a quieter environment. Partitions exist that can reduce sound vibrations. It is also possible to build your own out of common items around the house.
Some will be better for sound while others will be better for privacy. And some can do it all. There are many different options out there that can give you the desired effect for dampening sound while recording, enjoying more peace and quiet even while your roommate is home, or keeping from disturbing a baby in the next room when you want to watch an action movie.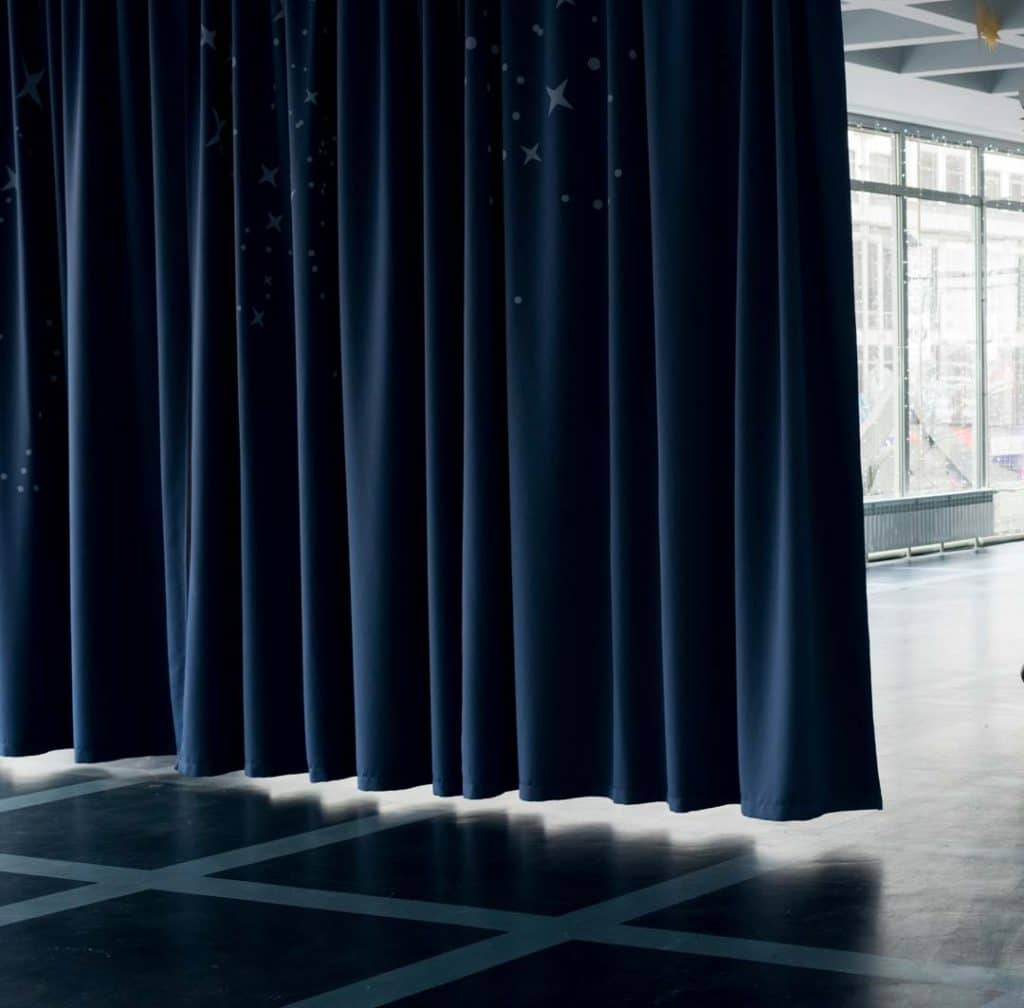 What You Need to Know When Buying Soundproof Room Divider Curtains?
While there are certainly plenty of options for soundproof room dividers, there are things you'll have to think about that I simply can't decide for you.
Further below, I'll give you a selection of the best from different kinds of options; however, you'll want to think about things like how much they weigh, the materials they're made from, the size of your room, and noise reduction capabilities, to name a few. Here are some deeper details to ponder.
1- Weight
If you go with room divider curtains, the heavier they are, the more they'll work to stopping noise. The absorb sound and keep it from bouncing around the room.
When you feel curtains that are thin and lightweight, they might look nice, but they won't do anything really more than that.
2- Material
With curtains to serve as your room divider, you need ones with more fibers. Velvet and suede are wonderful noise absorbers.
You can also look for a curtain with extra liners, which add an extra layer to help filter out sound. Most room divider curtains are typically thermally insulated, heavyweight, and have the added bonus of blocking out light, perfect for windows or for partitioning off a shared room such as that of a dorm scenario.
Regardless, you can count on these thicker materials to give you the peace, quiet, and privacy you're craving.
3- Curtain Rods
It's not just the soundproof curtains you need to consider. I recommend you think about how you're going to hang them. After all, they won't hang themselves.
When you put curtains up on your windows, you usually use a curtain rod and slide them open or closed as needed. But with a room divider, you'll need to hang them from the ceiling.
You will need to look for a ceiling curtain rod so you can slide them along to open and close it.
Another option is to mount S hooks to the ceiling. You won't be able to slide it open, but it can be done more quickly.
And here's something else… the curtain rod you choose for your room divider needs to be able to support the weight of your heavy soundproof room divider curtain.
For added noise cancellation, choose wrap-around rods to help you get the job done and enjoy the silence.
4- Pleating
Pleated curtains will give you better sound absorption. In case you're not hip with designs and styles, that's when the fabric of the curtain is bunched together.
Soundproof curtains aren't all pleated, so be sure to look for it specifically to get the best sound absorption for things that create mid and low frequencies. Deeper pleats equal better sound absorption too.
5- Noise Reduction
The purpose of this whole venture is to reduce noise, yes? If so, you need to think about the NRC rating of your curtains.
Basically, that's the noise reduction coefficient. The higher the NRC number on your curtains, the more noise it's going to block.
But alas, it's not always that easy because not all available room divider curtains list this. So you won't really know how well it will block the noise.
My advice here is to look at the other features the curtains have to get an idea. If it has thermal insulation, blackout capacities and is heavyweight, it should reduce the noise in your room.
6- The Size of the Room
Now, let's take a look at the room you're going to hush up or separate into distinct parts. A large room divided in two will require enough curtains to span the room's length from one wall to the opposite one.
They also must be long enough to go from ceiling to floor.
The last thing you want is for the curtains to be too short. They should bunch up a little on your floors.
If not, you will not solve your sound situation. The curtains you need for a large room will be quite a lot as to be sure to block or absorb all that sound.
And now that we've covered what you'll need to think about as you invest in soundproof room dividers, I've got my next section of the best options for you so read on!
12 Best Soundproof Room Dividers
I've chosen 12 of the best soundproof room dividers. Some may not be an option for your situation though I'm sure at least one of them will work for any noise instance you have on your hands.
Read through, and you should find one that can help you divide and conquer on the sound horizon.
This curtain gives you a nice spread of features. It's soundproof. It divides the room. And it adds some color, so things don't look so bleak.
There are plenty of options to choose from to match your room space. But the biggest feature is that they are certainly large enough to divide a big room and give you the kind of privacy you're looking for.
It's a heavy curtain constructed of dense noise-dampening materials, and you can't see anyone on the other side.
One thing to note though is that it does still let some sound pass through, but it is minimal and quite effective for soundproofing and splitting a room in two.
What's great about this curtain is that you can utilize it in multiple ways plus it's built to last, so if you decide to move it out of your baby's nursery and somewhere else, you can do it.
You can soundproof doors and windows, or split your office space, so you don't have to deal with a coworker.
It would work great in a dorm room too. And the price? It's quite affordable especially since it will last you for years to come. Check the current price on Amazon.
"Is that velvet?!?" That's what everyone's going to ask when they see this curtain. You get noise reduction, nice privacy protection, plus insulation, making it great for windows. While it's made from polyester, these have the lush look of velvet.
Vibrant color options like red, blue, and gold are available though you will also find plenty of neutral colors too.
With the velvety texture, it has a shiny look that makes it look nice, but that's only on the front side.
The back has a natural look, and while it doesn't look bad, it's not as extra as the front side. How can you beat shiny?
But these two materials add an extra layer of soundproofing and insulation, so it makes them wonderful for separating your room, keeping your side private, blocking out light, and dampening noise.
Because of the great lengths, you can absolutely use these in high-ceiling spaces for just about anything you can think of. These are really great!
Now, this is an excellent option for a studio apartment, loft, or shared spaces because of the thick fabric.
It's incredibly soft and triple woven, allowing for full privacy and noise-free living. I'd definitely recommend this one for city dwellers.
It looks nice too, really suave and handsome, perfect for creating your own personal space while blocking light.
I have a friend that used this in an open floorplan shared living space in the city, and when I went over, I was amazed at how well put-together his place looked.
Until he opened the curtain, and I could see the pile of clothes on his bed. Great way to cover up anything you don't want to be seen either though.
Because the front and back have the same look, it offers continuity and the same level of privacy and noise reduction on either side.
The insulating materials also lend more warmth in winter and reflect away the heat of summer temperatures to keep spaces much more comfortable while looking all the more stylish.
Technically, these are sold as drapes to blackout light and block annoying sounds from outside, but they can function as your room divider just fine.
If your goal is to block out noise, heat, and light on your side of the curtain, then this one will do the trick.
On the backside, it's lined with a very thick black lining from top to bottom. It's very dense, much more so than the other side, so it very aptly insulates both sound and heat.
The downfall is that it is asymmetrical in appearance since it is intended to be used against a wall to cover windows; however, it's a smart choice if you need less light, noise, and heat coming at you from the other side of the room and it's eco-friendly too.
Do you want to eliminate the need for having to hang curtains from your ceiling? Perhaps your space isn't well-suited for that, or you want a more artistic touch.
This room divider works well both indoors and outdoors. My friend Dennis and his wife Pam bought 2 of these.
One for separating the dining space in their home from the living area so they could enjoy dinner without their teens driving them nuts with video games on the other side.
The other they put outside to add more privacy from the neighbors who were nice but a bit on the nosy side.
It allowed them more seclusion when using the hot tub even when nothing spicy was going on in there.
It features 8 woven panels all connected and is really easy to set up. While it won't reduce noise as efficiently as a soundproof curtain, it looks really nice, helps dampen things, and can be moved around should you decide to change your setup.
Do you need something that fits into a reasonable budget? This room divider is made from polyester and a polyester blend, so it works great, looks great, and doesn't cost a fortune. And, it's machine-washable!
I have one friend who rented a one-bedroom with another guy, and they had to share the room. It was a big room, but there was a lot of commotion about privacy.
I suggested this room divider, and it was the answer to their prayers. While they didn't care about the colors – it comes in 5 different ones – because there were many size options, they were able to find something that fit the space easily.
Machine washable came in handy when the roommate accidentally punted a beer that was on the floor right into the curtain.
It is a thinner curtain than the other options I've got here, but if money is tight and you need a solution that keeps you from landing in an orange jumpsuit from murdering your roommate, this will do just fine.
Stylish? Check! Affordable? Check! Machine-washable? Check! Made from 100% polyester, this divider curtain gives you a sophisticated look while keeping things hushed.
It also reduces light and provides some insulation with its well-built but very soft construction.
In an array of soothing colors and popular height, you'll like the triple-weave composition of this privacy curtain for all the things you can use it for.
You will need bendable rods and S-hooks to get it up there, but once you do, you'll love the way it looks and how it can turn a bland space into something graceful while still reducing noise.
Believe it or not, you can have a decent quality of life even when you have to share a space with someone that has the opposite habits as you.
I learned this from some friends of mine who had been roommates since college and, once out in the real world, decided to get their first apartment together.
Lisa functioned better at night, doing her work projects by the midnight oil and also taking online classes toward an MBA. Good grief.
Meanwhile, Katie went to bed at precisely 10 pm every night and woke up at 5 am to go running.
You'd think this odd couple situation would have made them switched rooms years ago, but they were and still are the best of friends. That's because they used a room divider curtain, specifically this one.
As I was putting this list together, I thought to ask them which one they got for their new place. It was a newer version of the old one they'd had in the dorms, this one here by bluCOASTLINE.
It looks nice and is made from 100% imported polyester and muffles the sound on either side while blocking light too. It looks really nice and for the price, is a steal.
There are other more highly-rated soundproof curtains out there that would block sound better, but being considerate of each other's habits helps, I think, in the case of Lisa and Katie.
Sweet dreams are made by Moondream, which has a 3-in-1 layering insulation technology that is so good, they patented it.
The brand promises that sound energy will be drastically reduced, and noise levels will be dropped up to 7 decibels. It's simple yet elegant in style, and it has lab tests to confirm its effectiveness against noise.
Now, on the downside, this is not the most affordable option. If money is no object to you, this will be worth the investment.
And if you're on the fence, let me remind you that the quality is so intense, you'll be using this 10 more years from now.
Even if you're not going to share a room with anyone else at that time, think of a child's room or hanging it in front of a window overlooking your city digs to block out the incessant hum of traffic and street sounds below.
With a triple-weave polyester construction, this soundproof divider curtain looks great while giving you a budget price point in a range of sizes to fit your needs.
You can choose from a modest selection of colors too though the best part is that these promise between 90 and 99% light blocking while insulating and soundproofing your space.
Even in the red color, they promise to resist fading through time and stay wrinkle-free. You can wash them in the washing machine too, always a plus when dealing with curtains.
Even if you don't have a beer mishap, curtains do pick up their fair share of dust and dirt, pet hair too.
This is a great option for stellar noise reduction, light-blocking, insulation, and style, all at a low price that will help you divide any room and enjoy the pure bliss of privacy.
Looking for something a bit more modular that doesn't require hanging anything? This acoustic room divider comes in a panel set of 3, so you may need more than one depending on how big your room is.
It's a recycled option too, crafted from eco-friendly materials. The panels zip together, so it's easy to add more as needed, and it's flexible so you can rotate the panels to curve around your layout if needed.
While it does offer a measure of privacy and you certainly can't see through it, there is a gap on the bottom, and it won't be tall enough to reach your ceiling.
Still, it creates a trendy look that can divide rooms and dampen some of the sound. Just don't expect full soundproofing or light blockage with this.
To create a temporary wall, this rolling room divider is your best option. The wheels allow you to roll it into place anywhere, making it ideal for studio setups, especially if you work from home.
Photographers might find this a useful way to turn home space into office space and vice versa.
Lightweight aluminum frames make them easy to move and durable to last for years. And while it might not look it, this room divider does provide a more sound dampening option than other floor-based partitions.
You can easily use it to turn one big room into two smaller ones. While not the most attractive option, in my opinion, it could be very suitable for more industrial-style spaces, classrooms, and businesses.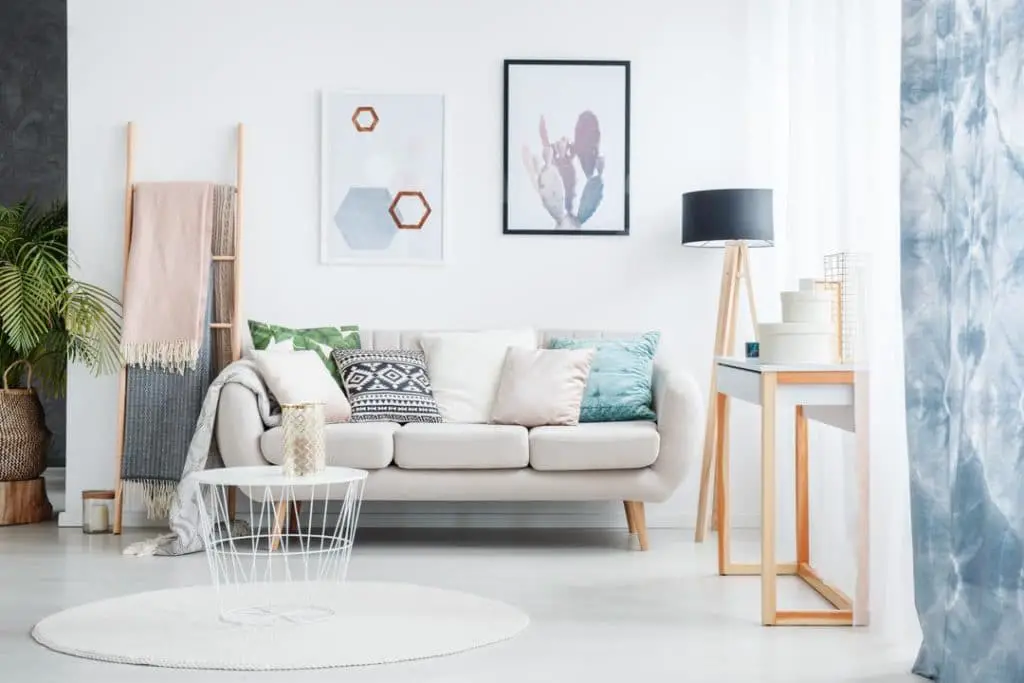 Why You Need Sound-Dampening Curtains and Room Dividers
There are a great many reasons why you might want to consider room dividers to dampen sound around you.
You might not even realize that this is the solution you've been scratching your head over trying to figure out what to do. Keep reading to see how these can benefit your life.
1- They Help Soundproof a Room
If you have a large and open floorplan, it looks nice and modern. However, that also creates more noise wafting through the space.
While it's nice for entertaining, the buzz from your fridge might be a nuisance when you're trying to watch a movie alone. With sound dampening curtains, you can contain the noise.
You can also stop noise from coming in. Those sweeping big city views sure are nice, but the traffic and city sound below can make it impossible to sleep, read, work, or really do anything else.
With something as simple as a soundproof curtain to divide a room or slide across windows, doorways, and other spaces, it can give you the peace and quiet you've been craving.
2- Eliminating Sound Reflections
Another reason you'd want soundproof room dividers is if you've got a vocal booth or recording studio.
The glass in the window can bring on sound reflections. These partitions can stop the reverberation while still using the window.
You can do this in homes too to strategically dampen sound reflections. Think in your home theater space, so your acoustics sound way better!
3- Control Reverberation in Your Home Theater
And speaking of that, I figured that's important enough to be its own point. Your home theater shouldn't have too much reverb, or you won't get that sound you're looking for.
Investing in a home theater can be costly, but in the end, it works out better since you won't have to spend $50 every time you want to go to the movies.
With these partitions, you can soak up the sound, and when you're not using it, you can open them up to enjoy more sunlight in your space.
It's an easy solution to an age-old problem, one that can instantly turn your next movie night into a fully immersive experience.
4- Creating More Privacy
Maybe you live in a large dorm room that could do with some privacy. Maybe you share a bedroom in an apartment while you're trying to make it in the real world.
Or maybe you have a family with kids that have to share a room. Whatever the case, soundproof curtains can divide an open room into separate spaces and lend some privacy for each of them.
Teenage sisters will no longer squabble when they feel like they've got their own private oasis. Plus, these curtains look nice.
Where would I use these room dividers? Any of these situations, for sure:
Apartments or dorms
Splitting up a shared bedroom
To hide storage or open closet space
In a studio apartment to separate living from sleeping space
Shared workspaces
In the basement to make it less horror-like
In your baby's nursery
5- Better Organization
If you have an open space and your desk is off to one side of the room, you might hate being asked to tidy up before guests come by.
Why do they need to see your home office corner, anyway? Use a room dividing curtain, and no one will see it.
It will add a dampening effect on the acoustics of your home, plus it looks nice too.
Conclusion
Soundproof room dividers can come in handy for all sorts of reasons. There are many options to choose from, whether you want to run a curtain down the center of the room, which will provide the most comprehensive sound dampening, or you want a partition.
Partitions do look pretty, but they won't stop all light and sound from coming through, so it's important to consider what you really need from your room divider.
If it's complete privacy, quiet, insulation, and the need to block out light, choose one of the triple-layer options and make sure it will reach from floor to ceiling to effectively dampen any sound.
If it's just to separate some space and make it more artistic, paneling will work beautifully.
Ultimately, only you know what works best for your particular situation, but with these 12 options, it's assured one of them will be a perfect match!