Looking for new headphones? If you've read my articles before, you know that buying the cheapest thing is never a good idea. But how do some of the best ones stack up?
Today, I'm going to address a question I hear an awful lot: Are Skullcandy headphones good?
That depends on a few factors which I'll get to below. Namely, there are a variety of options for Skullcandy headphones that you might find suit you better over another.
From in-ear buds to over-ear headphones, and even ANC versions, I'll talk about all of that good stuff. So, keep reading to find out more about Skullcandy headphones.
Are Skullcandy Headphones Good?
Skullcandy makes good headphones with excellent sound quality. They also feature durable designs that look cool, the battery life lasts a long time, they connect easily, and the price is affordable. Skullcandy headphones also feature special sound technology that sets them above par in comparison to other brands.
Honestly, I'm a fan. They're at an excellent price point. But it really is all dependent on which set of Skullcandy headphones you choose.
You have 50/50 in-ear buds, ideal for noise cancellation, a comfortable fit, and great overall sound and quality that last about 2 years with daily use.
Others like Hesh 2.0 over-ear headphones are pricier but don't even compare.
Plus, they don't offer noise cancellation, but there's also a Bluetooth version. For over-ear headphones, Skullcandy's Uprock is smaller than the Hesh 2.0 version and similar sound quality, all for less.
I've used quite a few different sets of headphones in my day. Skullcandy is a good, affordable brand with a lot of advantages, but is it right for you? Let me tell you more about it!
Do Skullcandy Headphones Offer Good Sound Quality?
Skullcandy headphones give great sound quality and durability. The high-end options have a bit higher price point, but for those that care about frequencies and sound, the Sony WH-1000XM4 is known for the best bass while the Audio-Technica ATH-M50X is a match for true audiophiles and the best part, it won't cost you a kidney.
Top Choice!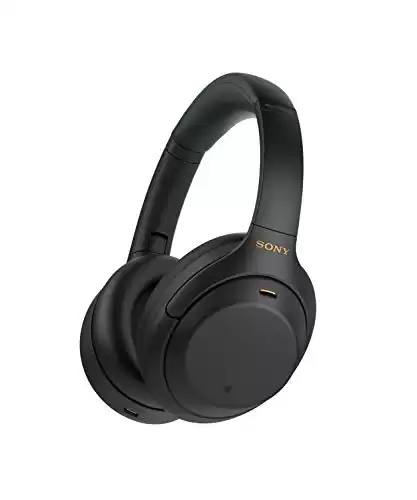 Sony WH-1000XM4
Music Playback Time: 30 Hours
Sensitivity: 105 dB / mW (1 kHz)
Frequency Response: 4 Hz-40,000 Hz.
Cord Type: Single-Sided (Detachable)
Driver Unit: 1.57 "
Range: 30 ft (10 m)
Driver: 40mm
Dome Type: CCAW Voice Coil
Diaphragm: Aluminum Coated LCP
Get them on Amazon
You won't be disappointed with Skullcandy headphones in most cases though they tend to be marketed toward the younger spectrum of the market.
They offer great sound quality and cool designs with excellent durability. This makes them better for that daily grind or city commute, something that can take a beating as it plays your personal soundtrack to life.
Some will say they're not the best, but they are better than many other brands out there as I'll explain in a moment.
Are Skullcandy Headphones Better than Beats?
When compared to Beats, Skullcandy comes out on top. They both give the same decent sound, but Beats are more expensive without sounding better than Skullcandy. Beats don't give you better quality, so it makes sense to buy Skullcandy instead.
And honestly, why pay more for a name? Skullcandy is a great choice for most people who just want to jam out, and the price point is far more reasonable.
You can get Skullcandy at a much lower price, and you're not skimping on sound quality. It's a clear win.
How Do Skullcandy Headphones Compare to Other Brands?
Oh, let me count the ways! I think Skullcandy has some top-notch features to its range of headphones.
1- Lots of Color and Design
I remember when headphones first came out, and they were big and clunky and only came in black. With Skullcandy, you won't have boring.
These are some of the most colorful headphones around. Tech should be a living accessory on us all, and you have lots of color and design options to run with here.
Also, a side bonus is that you can't just set them down on your desk or bed or wherever and miss them. The bright colors stand out and make them easy to find.
2- Great Variety
Skullcandy has a great lineup of different models. While not all of them may be your cup of tea, they have something for pretty much everyone except for audiophiles, but you'll still find the quality is really good, and the price is a gift!
3- Plastic Build
I'll say Skullcandy is pretty durable though other brands can outlast it. Of course, those are the ones made for music enthusiasts, and for this price point, it gives you great sound affordably.
That being said, they feel superior to cheap brands, but to others, they aren't quite as durable.
4- Average Sound
Look, I like Skullcandy headphones though the sound quality is best if you're casually listening to music.
You want to drown out that chatty coworker or the din of mass transit. I feel you. These are great for that. However, the bass can be a bit heavy.
If you like that, then you're golden, but there are other brands that bring a more neutral-based sound, which you may prefer like with the Audio-Technica ATH-SR9.
All in all, Skullcandy is fashionable, fun, and gives you decent options for headphones from sports to gaming styles at price points that won't make you have to sell your soul.
They don't have the best durability or sound balance, but they are a steady contender for most young and hip people just trying to enjoy music on the go.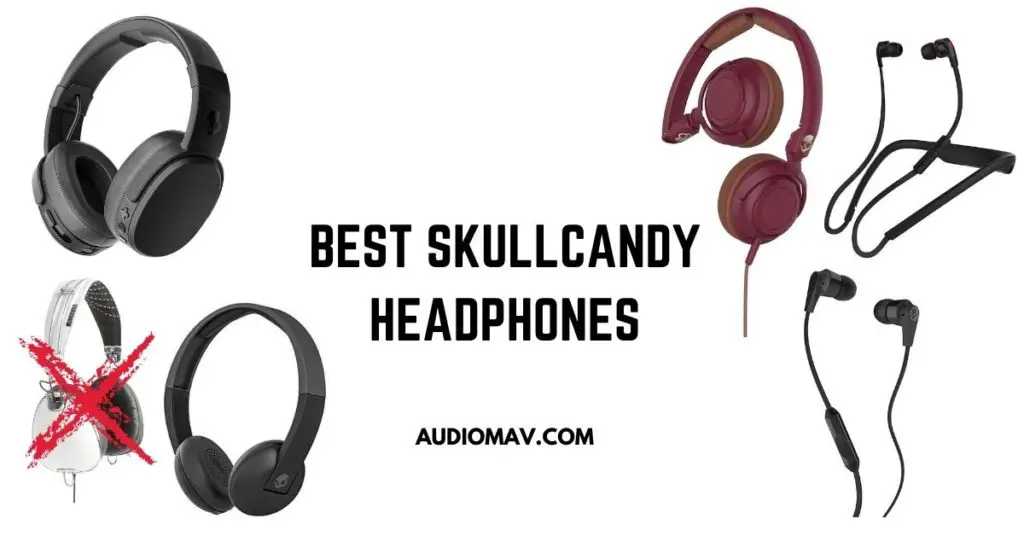 Best Skullcandy Headphones
And now, let us delve into the offerings of Skullcandy headphones so you can see which one might suit you best.
These contenders are all worthy of making you part with your dough, so check them out below!
Here are the 5 best skullcandy headphones in 2023: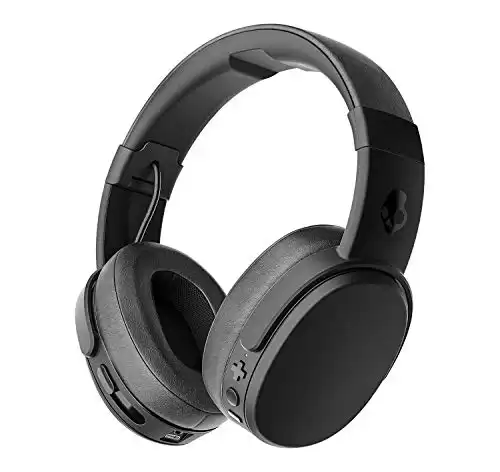 Probably the most popular Skullcandy option, the Crusher is at the top of the ranks. With a built-in mic and great sound quality, you can enjoy just about any genre of music.
I personally like to listen to a bit of everything, so these make any song sound phenomenal.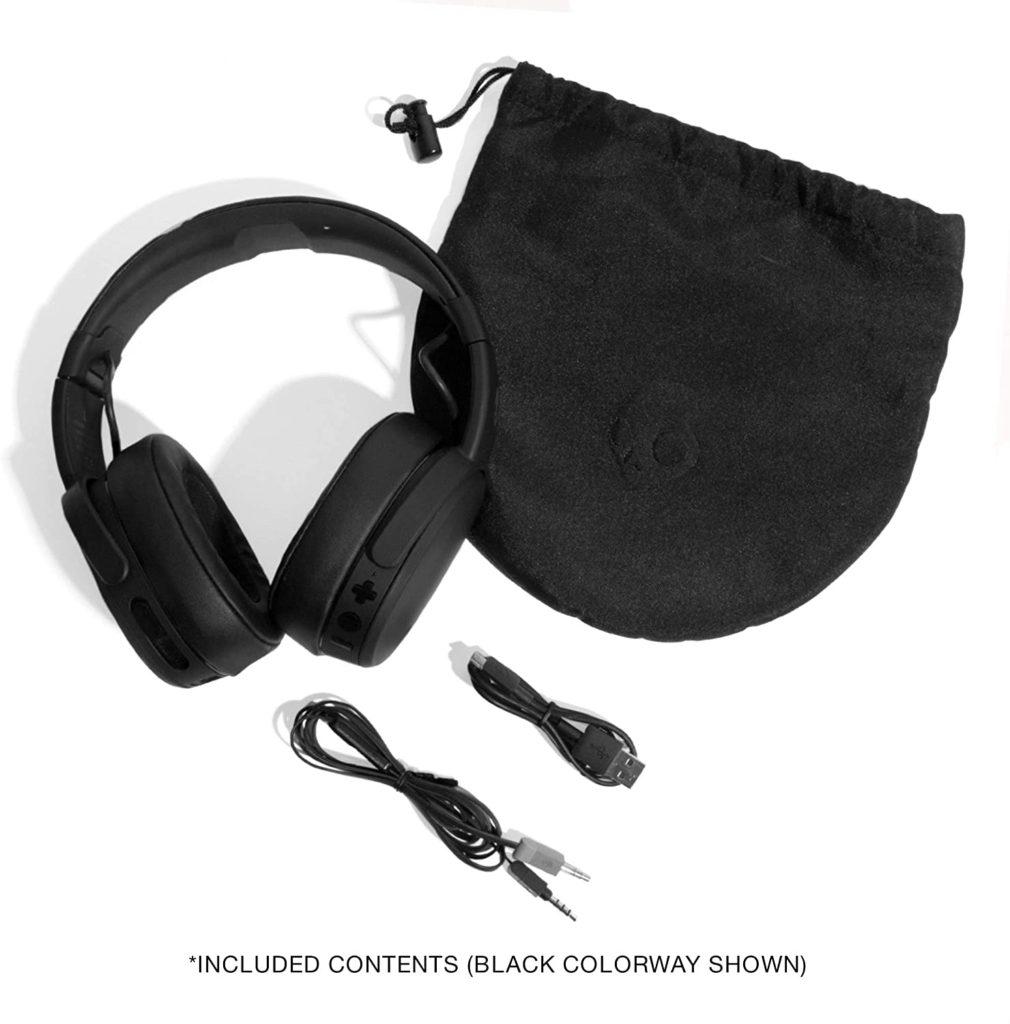 As one of the more high-end models from the brand, the Crusher is very minimalist in design and suits gamers, athletes, and audio lovers alike.
The adjustable haptic bass is really immersive and you can tweak the settings to your liking so that you get the best experience possible, without compromising on sound quality.
The headphones fit snug and the cushion material is very comfortable, to give you that passive noise isolation without clamping down on your head. In part thanks to the headband that is really solid.
Excellent battery life puts this one at the top of its game, running over 40 hours without breaking a sweat.
While long battery life is great on any headphones, having one that recharges quickly is even better.
The quick charge capability is even more impressive than I thought, because you can get 3 hours of listening from a quick 10-minute charge, which is just incredible.
So, in case you're late for your gym session, you won't have to wait hours for your headphones to recharge or worse, put up with a boring gym mix.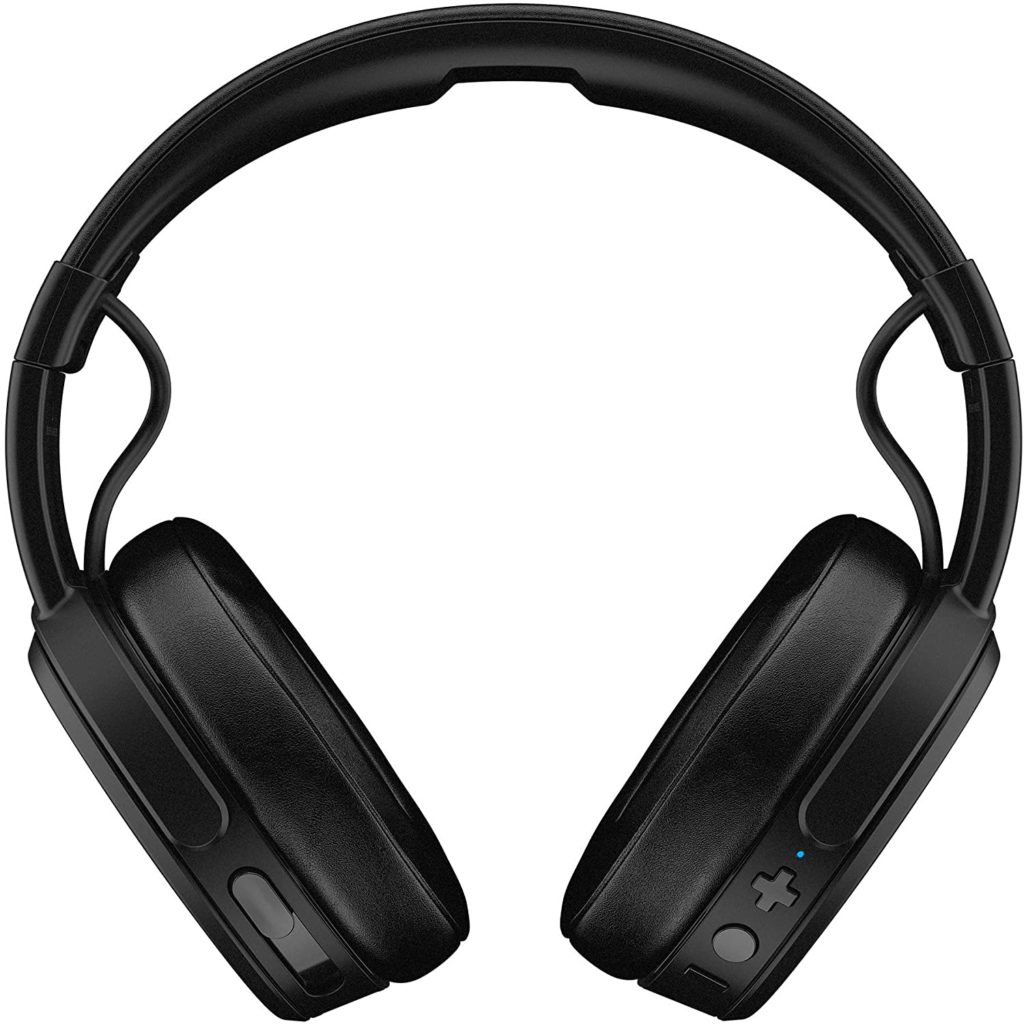 You have Bluetooth connectivity and can answer your calls thanks to the built-in microphone, which is surprisingly good. I really didn't expect that because they're so affordable.
Oh, and if you'd like active noise cancellation (ANC), you can find the Crusher ANC, which can promote an even better listening experience, especially when you're on the go.
I'd recommend sticking to the base model, because it offers all the features you need and the best value per dollar.
| | |
| --- | --- |
| Pros | Cons |
| Great sound quality for all music genres | Could be a bit sturdier |
| Long-lasting battery life | |
| Modern minimalist design |   |
| Powerful haptic bass | |
| 3 hours of music with a 10-minute charge | |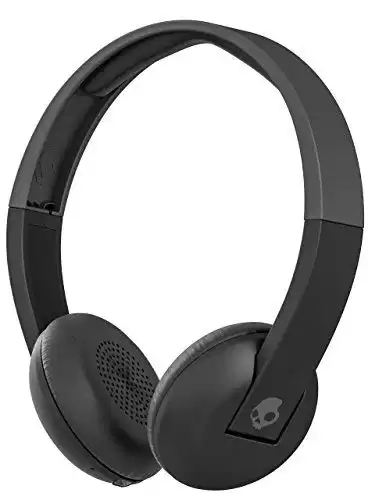 With the Uproar, it might be out of your budget since it comes in on the top end of the spectrum, but the audio is high-quality, and even at this price point, it's more affordable than some other options.
With Bluetooth, you can connect and enjoy, though there are some issues with random disconnections that can be irritating.
The Uproar headphones feature a well-balanced sound and bass, particularly at this price. You can take it a step further and adjust some of the sound settings via your computer too.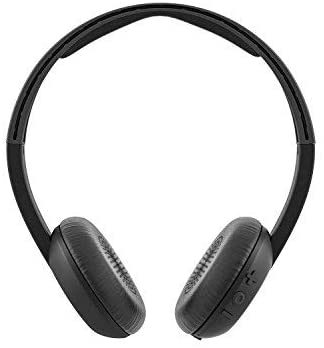 These sound good without adding amps and have better quality too. Even with high volumes, you can get uncompromised bass when listening to any genre of music.
While the design is decent, some features are in awkward places like that power button. These can also feel loose, but the raised buttons do offer some relative ease of use that makes up for the other stuff.
With a solid build that stays put on-ear, you'll have plenty of fun enjoying music through the Uproar.
Battery life is fairly decent at 10 hours though you can charge it via USB. It's easier to grab a USB-to-wall-plug so you can charge them anywhere. As for connectivity, you can only use Bluetooth.
That doesn't seem like an issue since most things are compatible with Bluetooth these days, but if you want to use them on your desktop computer, for example, you will be hard-pressed to find one that you can link up. Check the current price on Amazon.
| | |
| --- | --- |
| Pros | Cons |
| Really good for rock music thanks to quality bass | Some design features are awkward |
| Decent battery life can get you through the day | No wired connection available |
| Solid and durable build |   |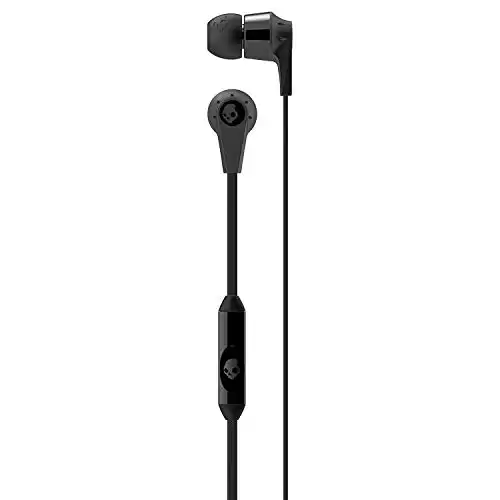 Prefer earbuds? Skullcandy Ink'd 2.0 gives you a nice balance of sound, though the quality tends to decline over time, especially the more rigorous of use you put it through.
But if you like rocking out or working out, or rocking out while working out, the Ink'd 2.0 might be your jam. These can satisfy the best of both worlds.
I really like the sound quality of these, and with this build, they're ideal for cancelling outside noise so you can truly get lost in the sound of your music.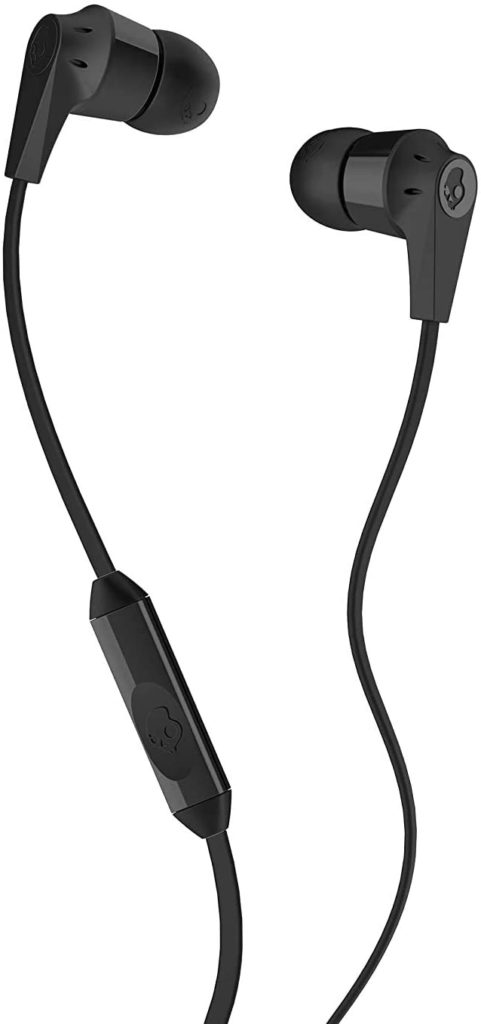 And if you've been disappointed in the past with bass in in-ear headphones, you'll be delighted to discover that Ink'd 2.0 really is among the best of the best that doesn't compromise this feature of music.
Design-wise, it's nothing that's going to bowl you over. But they are minimalistic in design and appealing enough for just about any user.
With resistant and strong construction plus immersive sound, these just might be a winner for pretty much anyone of you reading this right now if you want an in-ear option.
Some of you will view these wired in-ear headphones as a negative, but the cable is extremely durable and designed specifically so it won't tangle.
We've all been there before. If you don't mind not going wireless, you will certainly appreciate the Ink'd 2.0 headphones by Skullcandy. Check the current price on Amazon.
| | |
| --- | --- |
| Pros | Cons |
| Among the best in the category of earbuds | Not ideal for gaming |
| Great for activewear in sports and during workouts | Sometimes lends a staticky sound while moving |
| Durable tangle-free cable | Feedback is common when using with your phone |
|   | Not wireless (which may be a problem for some) |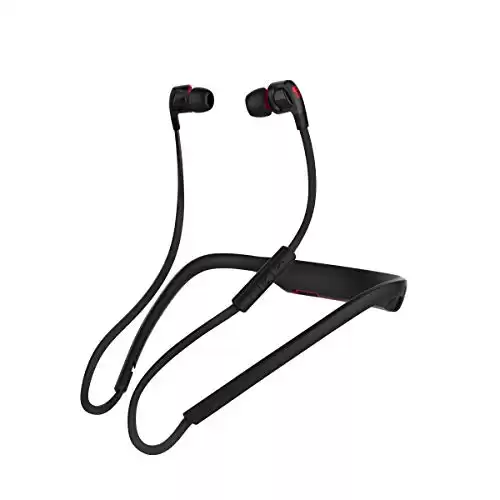 Skullcandy Smokin' Buds 2 Wireless In-Ear Earbud
Drivers: 0.4"
Frequency Range: 20 Hz to 20 kHz
SPL: 95 dB (1 mW, 500 Hz)
Impedance: 17 Ohms
THD: <0.1% (1 mW, 500 Hz) <3% at 1 kHz
Passive Noise Cancellation
Bluetooth Range: Up to 33' (10.1 m)
Cable Length: 19.7" (50 cm)
Micro-USB charging port
BatteryType: Lithium-ion polymer (LiPo) Rechargeable
Battery Life: Up to 7 hours
Weight: 1.1 oz (30 g)
Get it on Amazon
If you like to workout and listen to music, the Smokin' Buds 2 in-ear Bluetooth wireless earbuds by Skullcandy are perfect for you.
They feature a behind-the-neck headphone collar so you can kill it with those burpees (hahaha just kidding… I hate burpees too) or any exercise without a cord getting in your way.
With Bluetooth, you can connect up to anything with that compatibility, too, so you have versatility in your corner as well.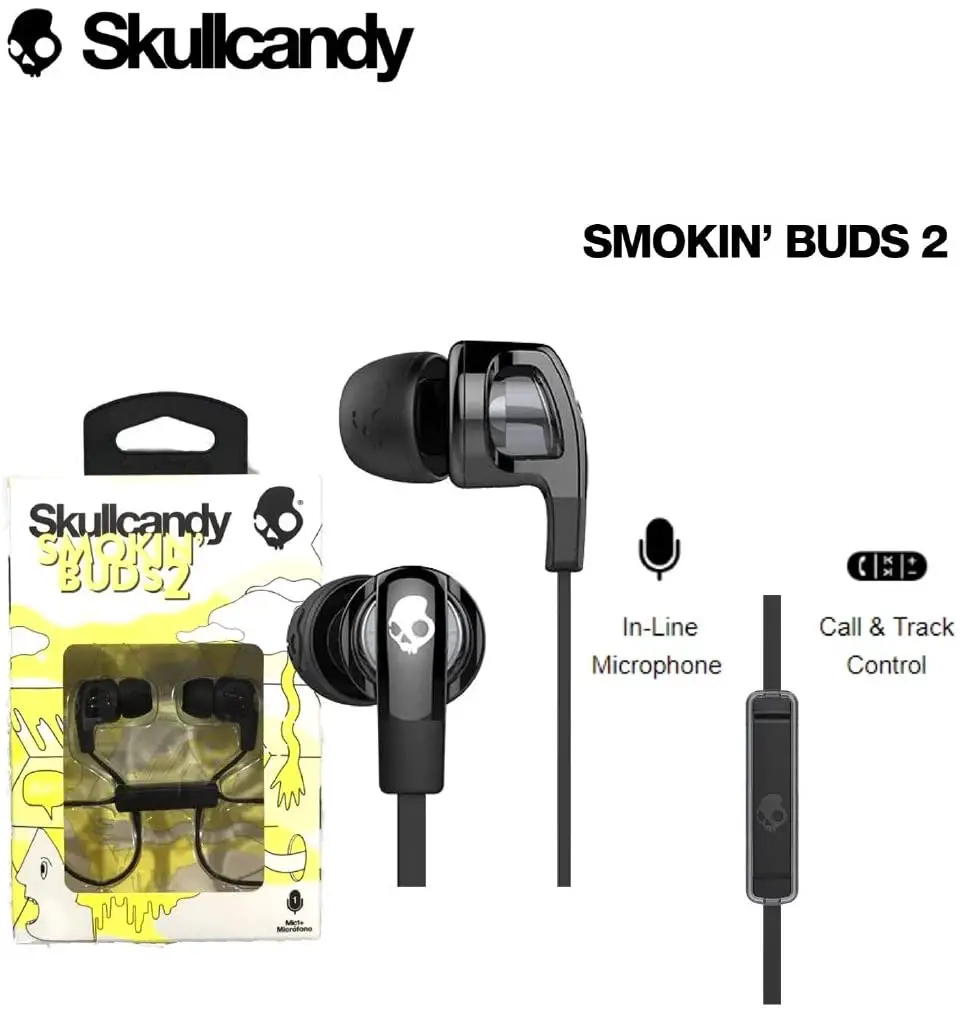 How's the sound? Well, it's not going to win any awards. I've heard better, but I've heard way worse.
The sound is good enough to cover up the noises at your gym and play your soundtrack for your workout.
They're ideal for heavy bass, so if your favorite genres have that, you'll be happy.
One downside is the battery holder is a little annoying on the back of the neck. It takes some getting used to and could have really been better thought out in the design. But the build is at least sturdy and can hang with your workouts.
Another unfortunate issue is that the battery life is just not as long as the other Skullcandy headphones I've discussed. It won't last as long, maybe about 7 hours.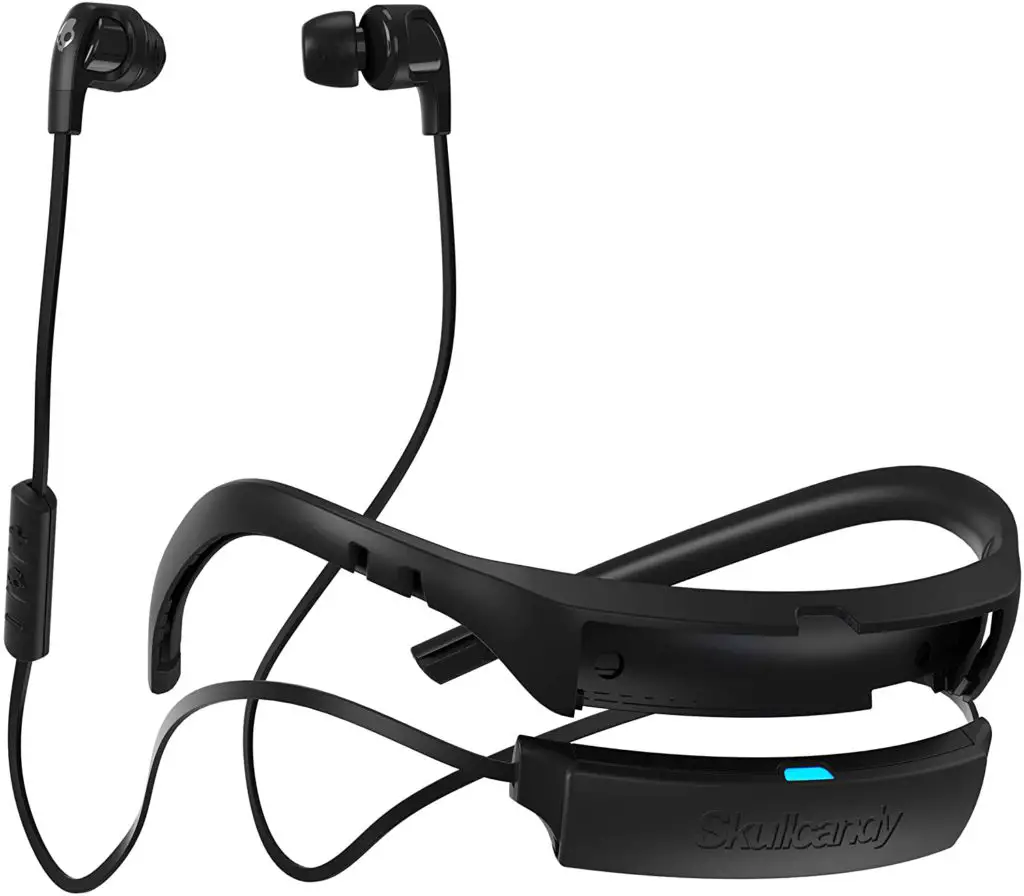 That's fine for a workout or two, but you'll have to remember to charge it up more frequently, or you'll hear that grunter huffing and puffing to attract the ladies while he benches. Ugh.
It's easy to connect Bluetooth, but it can sometimes disconnect very randomly.
Those that use Samsung and Google phones tend to report this issue more than others, though, so that's something to think about when buying these Skullcandy headphones. Check the current price on Amazon.
| | |
| --- | --- |
| Pros | Cons |
| Good sound quality for gym | Could have been better designed, especially with the battery pack |
| Excellent bass sound | Battery life is shorter |
| Wireless Bluetooth connection | Sometimes disconnects from Bluetooth with certain devices |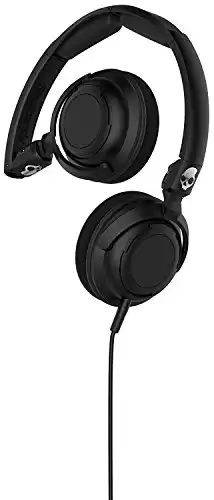 I said it earlier on that audiophiles might not be too impressed with the sound from Skullcandy over other options. However, if you choose the Lowrider model, you can get that quality sound you're looking for on a budget.
There are a number of high-end features on these that come at a lower price. For example, the sound quality is fantastic, especially when you compare it to other headphones in a similar price bracket.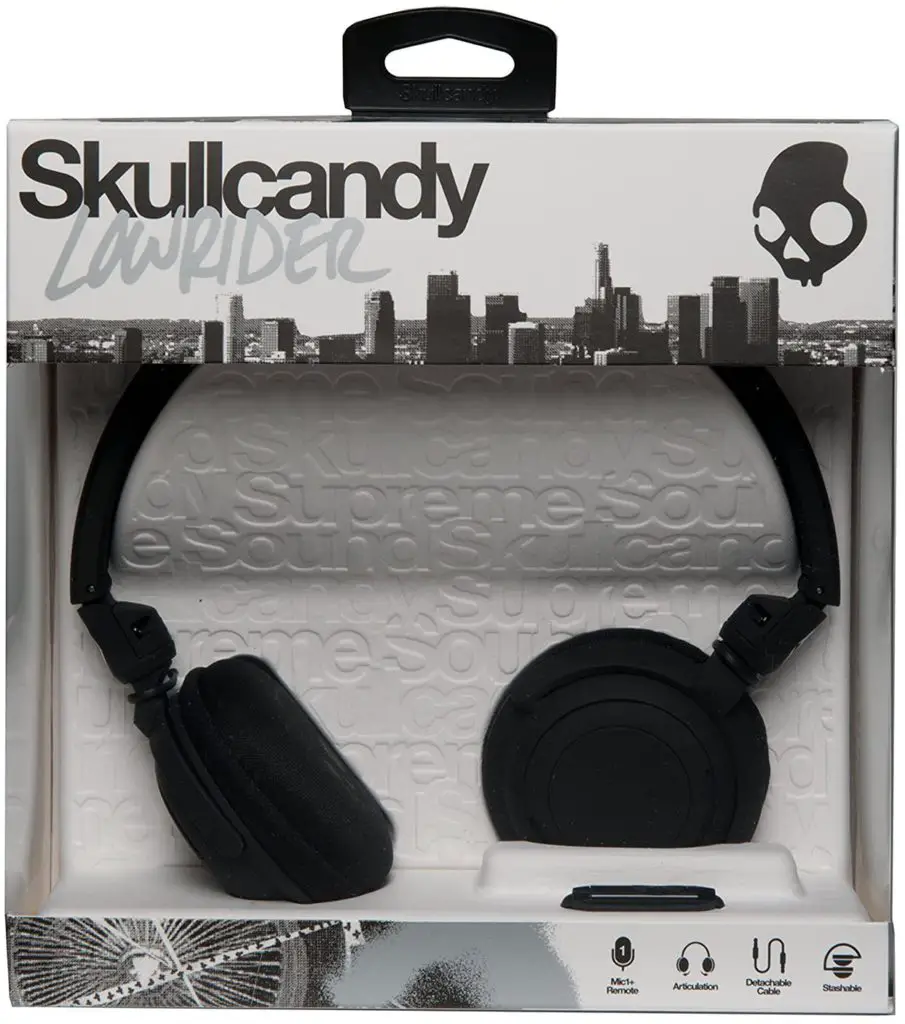 The bass isn't all that great, but you should expect that when you're on a budget. If your main deal is electronic music, you might not be happy at all though other genres will not feel the lack of bass.
As for the design, it's solid for commuting but not ideal for working out.
They can fall off more easily, and they're really made for the music listener who is simply trying to find their vibe while chugging away at work all day, on the train, flying, or relaxing at home.

With easy-fold capabilities, these are great to carry around. They're durable and last long despite the budget bracket they're in.
Unfortunately, they don't have Bluetooth, but you can easily connect them to an array of devices.
You won't get caught up in the cord either since it's not excessively long, something that will help it stay in good shape for a long time. Check the current price on Amazon.
| | |
| --- | --- |
| Pros | Cons |
| Among the best in the budget bracket | Slides off easily when you move around a lot |
| Great sound | On-ear design may be annoying for some |
| Durable build |   |
Which Skullcandy Headphones Should You Avoid?
I've listed above 5 excellent Skullcandy headphone options that should work for the majority of you. However, there is one that serves as a cautionary tale.
In fact, if someone tells you they think Skullcandy is horrible, it's likely that this set was the one they used.
Please, whatever you do, avoid at all costs…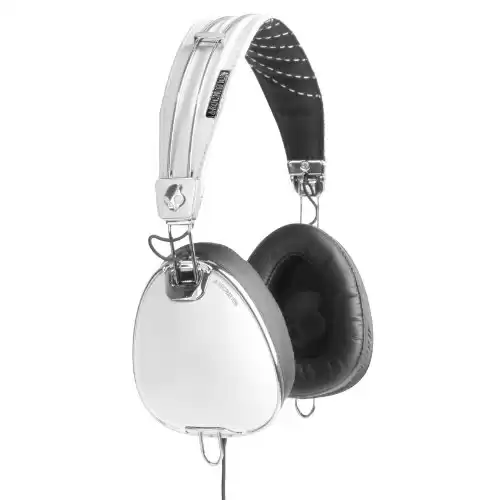 I think when they made the ROC NATION Aviator model, they just focused on the way it looked. I mean, they're really cool looking. But that's really all these have going for them.
Trust me; you will be underwhelmed by the experience. It's a steep price to pay for something that just looks good and really nothing else. And while the sound quality isn't the worst of it, you can do better.
There's seriously no bass on these, which makes everything sound flat and tinny.
That means every genre you can possibly listen too won't sound as good as it could. You really can do better for a comparable price or even less than this.
Skullcandy didn't do well with this one, but the 5 other models listed above are certainly worth exploring.
On top of lackluster sound, the design lacks durability behind it. These are easy to break and really just blah in quality.
They don't connect really well either after a few months, so it's really a disappointing product in all areas.
It checks all the wrong boxes, and honestly, if you gave them to me for free, I wouldn't want them. The other 5 models are worthy options at excellent price points that do justice to the Skullcandy name.
Skullcandy apparently just tried to make a cool design with the ROC NATION Aviator model, and while it succeeded on that, it failed miserably on everything else, which is supposed to make headphones good.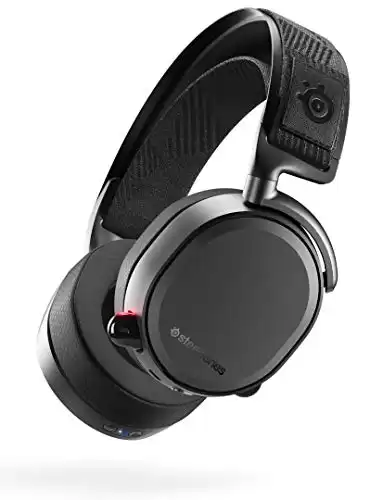 SteelSeries Arctis Pro Wireless Gaming Headset
Lossless High Fidelity
Drivers With High-Density Neodymium Magnets
Frequency Range 10 Hz – 40 kHz
2.4G Wireless Connection
Bluetooth 4.1 (a2dp, hfp, hsp)
2 Batteries
20-Hour Battery Life (10 Hours per Battery)
Base Station
Compatible With PS5, PS4, and PC
Get it on Amazon
Oh, and one more thing, to my gamer friends, reading this, I'd also advise against the Skullcandy PLYR2 model, especially when you are using console games.
Xbox, in particular, has dodgy compatibility with this one.
True gamers will be better off with the Steelseries Arctis Pro Wireless or the Razer Nari Ultimate that will keep you in this same price range, while offering a better mic, and an overall more immersive gaming experience thank to their superior sound quality.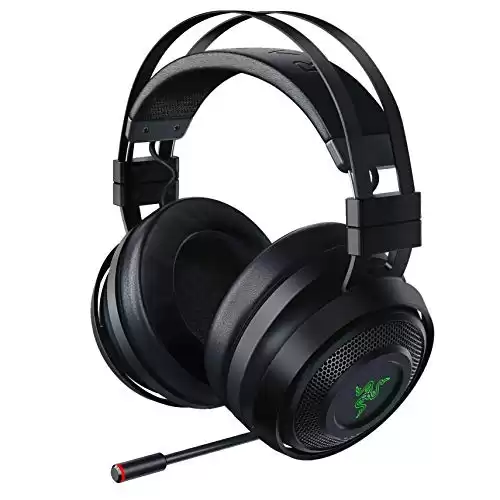 Razer Nari Ultimate Wireless Gaming Headset
Battery Life: Up to 8 Hours
Frequency Response: 20 Hz – 20 kHz
Impedance: 32 Ohms (1 kHz)
Sensitivity: 107 ± 3 dB (1 kHz)
Driver Size: 50 mm
Microphone Style: Retractable Unidirectional Microphone
Pick-up Pattern: Unidirectional ECM boom
Microphone Frequency Response: 100 Hz – 6.5 kHz
Microphone Sensitivity: -42 ± 3 dB
Get it on Amazon
Every brand has a black sheep, and Skullcandy is no exception, so stick to the good ones above, and you'll be a happier listener with your music, no matter what you're into.
Conclusion on Whether or Not Skullcandy Headphones Are a Good Option
Skullcandy headphones are good for most people. They come in vibrant and sleek designs and offer different styles that can meet your needs.
Some of you will find the in-ear options best while others of you will prefer over-ear options.
We all like to listen to music during different times too, so those of you that need it for the gym will know what to pick while others of you simply trying to drown out your coworker's droning in the next office will succeed, all at a price that fits a budget you're down with.