Demand for wireless headphones has increased dramatically since the release of Apple's AirPods. Although Bluetooth® technology delivers an impressive option for all audio types, it still suffers from some annoying problems.
The most common complaint that people have with Bluetooth headsets involves the seemingly random way they disconnect from the source.
If you have problems with your headset disconnecting, this guide takes you through the common issues and the solutions that fix them.
Why Does My Bluetooth Headset Keep Disconnecting?
The primary reason why Bluetooth headsets disconnect involves how much battery charge is available. Most products tend to disconnect when low on power. The easiest way to solve this issue is to turn the power off, followed by turning the set on again. Software, interference, and distance also create this problem.
When you want your Bluetooth headset to connect, and it won't work for some reason, four common issues could be preventing a successful result.
1. The Device Won't Find the Bluetooth Headset.
When you want to connect your headset to your computer or mobile device, there can be times that it won't appear on the Bluetooth menu. It might seem like you need a complete restart to create this option again after disconnection, but there are a few steps to follow that might get your streaming operational faster.
Check to see if the Bluetooth option is turned on for your computer or device. It's something that a stray tap or click can sometimes disable. You should see the double triangle symbol in the top or bottom right of your screen. On phones and tablets, you might need to enter the Settings menu.
Review your headset to see if it offers compatibility with your current operating system, hardware, or mobile device. Anyone using an iPhone or iPad will need to have iOS 7 installed today for the gear to work correctly. If you're on Android, it should be at least 4.3.
Your headset and smartphone (or another device) must be close enough to each other to pair. Although most Bluetooth devices have a range of 30 feet, some of the earlier models might not connect correctly unless you're three feet away.
It sometimes helps to review the manufacturer's pairing process. Some headsets connect in different ways, requiring multiple steps to engage instead of using a plug-and-play design. If you don't have the paperwork, try searching online for a PDF version.
Turn your devices off and on again to do a soft reset.
Remove any Bluetooth devices that could be interfering with the connection. Some phones and tablets only let you connect one item at a time.
Move away from your Wi-Fi router or microwave. These items can interfere with the connection.
 2. The Bluetooth Headset Keeps Disconnecting.
It can be frustrating to be listening to your favorite song when the headset suddenly says, "Bluetooth disconnected."
This issue happens for several reasons, which is why you'll need to review the circumstances that occurred immediately prior to this issue happening.
Some devices might drop the signal for a few seconds before automatically reconnecting to your computer, phone, or tablet. Other headsets might cut you off completely!
Both issues are equally irritating, but these solutions will usually solve the connection problems with your headset in this area.
Stay within the published range for your Bluetooth device. It's easy to wander around the house without realizing how far away you are from the connection. If you get too far out for too long, some headsets automatically disconnect.
Remove any unnecessary Bluetooth connections that could be active. Some devices get overwhelmed when they have a keyboard, mouse, headset, printer, and other peripherals all operating simultaneously.
Review how much battery power is left in your headset. It's not unusual for devices to disconnect when they reach a shutdown point to conserve your stored memory.
It might be necessary to unpair the headset before re-pairing it to your device. If this option doesn't work, try pairing it to another compatible computer, phone, or tablet to see if it works.
Some disconnections are due to software problems, random bugs in the system, or even ISP pings. If multiple people have the same complaint, you might need to contact the manufacturer for additional support.
 3. Pairing Attempts Keep Failing or Only Happen Momentarily.
It happens enough that we don't always think about pairing problems being an ongoing issue. We see those error messages all the time or hear the sequence through the headset.
"Pairing."
"Headset connected."
"Headset disconnected."
There are times when the pairing process seems to take forever. You might even get the buffering circle of death on your device screen or monitor because the headset won't work with your system.
The result is the same. You don't have a connection between your headset and the computer, phone, or tablet.
Here are some of the best solutions to try when this problem is the one you need to have fixed.
Delete any Bluetooth connections in the device's history that are no longer relevant. Some products have limited memory space for adding new headsets or equipment. You might need to restart both items before the pairing runs through correctly.
Remove barriers between your headset and the computer, phone, or tablet. Bluetooth signals work best when there aren't any walls in the way.
Check to see if the operating systems are updated on your equipment. This issue can cause the headset to get recognized, but have it failing to pair.
You can also use any of the other solutions offered in the different sections to correct this problem. If you turn the items off and on again, it will usually resolve the issue if the above-mentioned ideas don't apply to your situation.
4. Static Sounds Occur When I'm Listening to My Headset.
Although Bluetooth technologies have come a long way over the years, they still aren't 100% perfect. Your headset is susceptible to interference, and this warning is often published in the owner's manual.
It's sometimes even listed on the product's box!
A little static or crackling is expected, especially if you're at a reasonable distance from the paired item.
If you stick your phone in a pocket and have a Bluetooth headset on for listening, you might get some feedback when walking or running.
When the unwanted noises go beyond what you'd expect to hear with a wireless connection, here are some solutions to resolve the situation.
Disable any other Bluetooth devices that could be connected to your computer, phone, or tablet and receiving streaming audio. Anything in the home or where you work could trigger this interference.
Switch the Bluetooth audio channel to the primary one. If your device accepts two streaming headsets, having yours on Channel #2 and nothing on Channel #1 can cause sound gaps and static.
Try to reset your headset. That process starts by turning it off and on again. If that option doesn't work, try plugging it into the charger for five minutes before re-pairing. If your equipment still isn't working, you can opt for a factory reset. The instructions for that process are found in your owner's manual.
Turn on the media player, then disconnect the headset for 30 seconds. If you re-pair them after this option, it can reset the signal.
You might need to reduce the distance between your headset and the device used for the connection.
Some methods work better than others across the different brands and devices you might use. Before deciding to purchase something new, please run through each option to see if it helps you achieve the reset you need.
History of Bluetooth Technology
We often think of Bluetooth technology as a recent innovation, but the technology was developed by Ericsson in the 1990s.
Ericsson named their technology after King Harald "Bluetooth" Gormsson, who was a 10th century king who united Denmark and Norway.
The unique double triangle logo you see when there's an active connection is a combination of the two runes that represent the royal's initials.
The first Bluetooth-enabled phone was the Ericsson T36, but that model never even reached the marketplace.
It would be the T39 in 2001 that would get the technology in the consumer's hands, along with the IBM ThinkPad A30 laptop.
If you're old enough to remember this technology's introductions, then you might remember the days when everyone walked around with a Bluetooth receiver in their ear.
The early products were mono-only, but they helped drivers have a hands-free experience.
Stereo headphones would finally hit the market in 2004, which was a full year after the first compatible MP3 player became available.
In 2002, Socket unveiled the first GPS receiver that served as a stand-alone unit with Bluetooth. It could send positioning data to a mobile device.
If you wanted the Pocket PC and the GPS unit, the cost was about $900 at the time.
By 2005, everyone knew that Bluetooth's speed was one of its weak points. That's when the 2.0 version came out with an Enhanced Data Rate that tripled its performance. The feature was optional.
The real performance boost came with Bluetooth 3.0 in 2009. The high-speed feature achieved 24 Mbps, which was ten times faster than the 2.0 version.
Just a year later, Bluetooth 4.0 came out with the low energy option. It was about as slow as the original, but it used much less power.
Bluetooth 4.0 also extended the operational range to 330 feet and lowered latency.
In 2016, we reached Bluetooth 5.0. It extended the maximum range to 800 feet with line of sight and up to 130 feet indoors.
That's why it is crucial to know what Bluetooth version your device uses. Most headsets use one of the 4.0 options, which means your range and transmission speeds are relatively limited.
If you want the best, the only way to go is with Bluetooth 5.0.
My Favorite Bluetooth Headset for Daily Use
Airpods and other Bluetooth headsets keep cutting out because signal disruptions create interference problems. When the trouble exists for a prolonged time, a disconnection occurs. Most issues are resolved by resetting the power or restarting the pairing process, but complicated concerns require an owner's manual.
When I'm working around the house, I like using the Sony WH-1000XM4 Bluetooth Noise-Cancelling Headphones.
They have a microphone that lets me take calls while working, while the Alexa voice control makes life easier for the moments when I need to do some multitasking.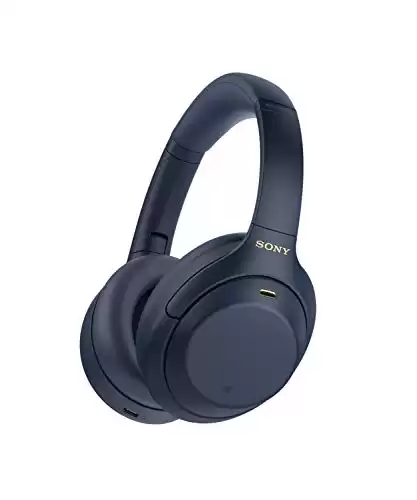 I cannot tell you how much I love these headphones! I use them for about six hours per day, and they never pinch or put too much pressure on my head.
The noise cancellation is so good that I don't even hear my phone ring when I hold the device.
If I'm sitting at the computer, I must keep my iPhone in front of me to see the screen turn on.
You get up to 30 hours of battery life with this Sony headset.
I've taken these headphones on an airplane, sat next to the engine, and had zero interference.
When you reach along the ear areas, you'll feel different buttons that let you command various functions. It controls volume, skips tracks, or activates your voice assistant.
Even if you run out of juice, it only takes about ten minutes for this headset to give you another four or five hours of use.
I even use these headphones with my PS5 when playing Destiny, FIFA, and Overwatch.
The only fault I have with the design is that the pickup microphones on the left ear only work when you're connected by Bluetooth. It would be nice to have them work at all times.
If you want an incredible Bluetooth headset that won't set your budget back by a lot, the Sony WH-1000XM4 Bluetooth Noise-Cancelling Headphones are a proven winner. You won't be disappointed by the sound quality, comfort, or connection.