The Shure SM58 is a microphone etched deep in history. In 1966 Shure incorporated manufactured their first Shure mic.
It has impressed a long list of artists for its durability and sound quality. Shure SM58 has held up the best quality of sound that is well desired.
The Shure SM58 microphone is a unidirectional dynamic vocal microphone that's excellent to be used for both vocals and singing. Its built-in spherical filter minimizes breath and wind "pop" noises.
The Shure SM58 Mic is well made. It is an excellent dynamic microphone. I have used this sturdy microphone for years, both as an instrumental mic (when proffered over condenser) and a vocal microphone.
The Shure SM58 has offered an excellent sound, the quality that I desired. The cardioid pickup pattern allows for the only primary sound source, therefore, minimizing the unwanted background noise.
This microphone is wonderfully made as it has a steel mesh head construction, and this means that it will survive occasional drops.
The SM58 additionally accentuates warmth and clarity of lead and the backup vocals, that is why it's the first choice of performers globally.

Internally, the SM58 microphone (Amazon link) has the pneumatic shock mount system; this cuts down on the handling noise.
Shure SM58 Specifications
■ Audio
| | |
| --- | --- |
| Feature | SM58 specifications.   |
| Analog or digital   | analog   |
| Frequency response   | 50 Hz – 15 kHz   |
| Max SPL   | 126dB   |
| connectivity   | XLR   |
■ Pattern Type
| | |
| --- | --- |
| Feature | SM58 Specifications.   |
| Capsule | dynamic   |
| Polar pattern   | cardioid   |
| Switches   | No   |
| Phantom power required   | No   |
■ Size and Weight
| | |
| --- | --- |
| Feature | SM58 Specifications.   |
| Diameter   | 1.1 inches   |
| Length   | 7.4 inches   |
| Weight   | 298 grams   |
■ Included Accessories
| | |
| --- | --- |
| Feature | SM58 Specifications   |
| Case   | Yes   |
| Clip   | Yes   |
| Shockmount   | No   |
| Power Supply   | Not available   |
| Cable   | No   |
| Stand   | No   |
Shure SM58 Pros and Cons
This microphone is real, tried, rugged, and reliable. The table below illustrates the pros and cons of the Shure SM58 microphone.
| | |
| --- | --- |
| Pros.   | Cons.   |
| #1. The sound quality is excellent. The outstanding sound doesn't offer the background noise any chances. It offers a comprehensive frequency response perfectly; therefore, it performs well at the low end as the high. The quality of sound can be easily described as warm and rich. | #1. Shure SM58 is meant to be sued as a handheld microphone. This can be an issue sometimes to the vocalists. However, Shure SM58 comes with the stand adapter, and you can attach it to the mic stand, if that is your preference. |
| #2. Consistency is paramount for any microphone. Particularly those microphones used to light live performance. You need to be sure whether you can rely on your microphone night after night, performance after another. | #2. It requires the external Pop filter for the studio recordings. |
| #3. Shure SM58 is a durable microphone. SM58 has undergone numerous crazy tests, and almost nothing could destroy it. Whether it is dropped from a helicopter or being shot SM58 microphone will still survive the harsh conditions to a degree… |   |
| #4. It is the microphone of choice for the most popular world vocalist. Paul McCartney, Henry Rollins, Patti Smith, and Roger Daltrey use Shure's SM58 microphone. |   |
| #5. The internal shock mount reduces the handling sound. |   |
| #6. It is ideal for live performance since it can withstand loud volumes without distortion and off-axis noise rejection. |   |
| #7. It has an excellent cardioid pickup pattern |   |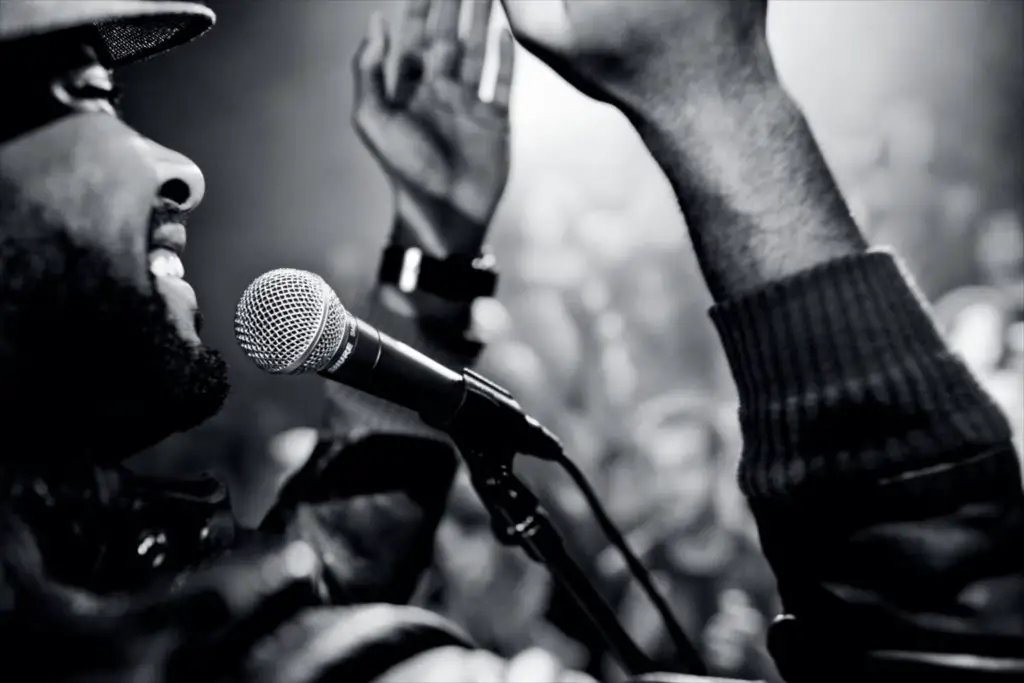 Who Should Use the Shure SM58?
Since its release, the Shure SM58 has been used by the performing musicians. The frequent artist has praised that it has a rugged construction, and the vocal emphasized frequency response.
The podcaster will also benefit from the cardioid pattern, which is effective in reducing the background noise. Furthermore, it doesn't require much effort for proper placement.
Musicians have championed the Shure SM58 microphone due to its durability and reliability. Live musicians need a dynamic microphone.
It is at this level that Shure SM58 becomes a favorite, it's a dynamic microphone and can withstand the loud noises before distortion occurs.
Can You Use the Shure SM58 Microphone for Recording Vocals?
Yes! The Shure SM58 mic can be used to record vocals, and it gives satisfactory results. It has been used in live vocals, and therefore it doesn't have any limitation in the studio.
Audio recording needs a lot of experimentation to get it right. Vocals are the most sensitive parts of the track. In the past, an artist could pick any working microphone, press record then start Voila! A nice vocal!
Unfortunately, that is not the case anymore, attention has shifted in the music industry, and listeners want high fidelity recordings. Shure SM58 microphone has been regularly used to record perfect vocals, what listeners want.
For most recording studios, Producers have stocked a variety of microphones—each with a specified use. The fact is; microphones have no one size fit approach.
Music production depends on your tools, as well as your skills; spending a fortune on microphones will not make you an overnight stay.
A simple installation of the Shure SM58 will get you started. It's durable, and therefore frequent repairs and other purchases are not necessary.
This is the best choice; however, can you afford it? I'm sure you can, because it will only set you back around $100.
■ Vocal Recording Advantages of the Shure SM58 Microphone Include:
Consistent sound quality
Eliminated low-frequency rumble
Its proximity peaks add richness and warmth to your vocals.
The cardioid pattern isolates sound source from the disturbing background noise.
The pneumatic shocks curtail handling noise.
It has an inbuilt wind and pop filter to minimize plosive and breathe sounds.
■ What People Say about Shure SM58 Microphone Recording Vocals
A: "Shure SM58 is a legendary mic. The package it has is pretty basic. Expect Shure SM58 to help you solve the basics very well.
First, the 50 Hz to 15 kHz frequency response range makes the microphone geared towards vocals. The standard cardioid pattern makes it appropriate for stage use."
B: "Even though the SM58 comes with under one hundred bucks, Shure SM58 installed many features to make life on stage performance easier.
For the beginners, there is an in-built pop filter which reduces breath sounds and the nasty plosives, Inclusion of Shure's pneumatic shock mount system and the zipper case adds to the absolute value of the microphone."
What It's like Using the Shure SM58
To use Shure SM58, you need two things:
If you are using the mic for podcast recording or YouTube, you are required to go one step further, download the recording software like Audacity. After that, you are now ready to record or jam out.
The build quality of SM58 I excellent, making it a reliable piece of hardware. The humble design communities the need for function first before form.
The removable steel grille with grille makes the cleaning and replacement process easy. Beneath it lies a spherical filter that mitigates the harshness of plosives and fricatives,-k,-t,-p, -f, or –th sounds.
Tapered metal chassis allows you to own a microphone for over a decade after its purchase. Also, the internal shock system reduces induced vibrations.
■ What People Say about Shure SM58 Microphone Usage
When you have Shure's reputations, you can release a microphone that looks normal, be guaranteed that many people will buy it.
The Shure SM58 delivers the expected performance from the American audio brand. The SM58 mic rides on this reasoning
C: "it is a standard handheld mic, although many try to replicate. Is has a rugged diecast metal, metallic mesh dome grille and enamel-painted chassis, they are tough.
Shure features a simple but effective design that inspires confidence; it has an all-black body with a flat chrome finish for the grille.
The Shure logo also gives you an indication of whom manufactured the legendary microphone."
What's the Best Placement for the Shure SM58?
Shure's SM58 microphone is a dynamic cardioid mic. It is easy to be thrown off by all syllables; however, all this means that the mic is durable. It does not require phantom power. It works best when recording what is in front of it.
A significant number of people use a cardioid microphone because it is versatile and terms of replacement forgiving.
The off-axis rejection is necessary; however, much rejection without enough placement precision can attract a disappointing recording.
The cardioid recording pattern may show some ambient noise but effectively ignores the quiet sounds behind the microphone.
To obtain the best sound from Shure microphone, speak when six inches away from the capsule. It is being locked in a studio environment, treat the room to lessen echoes or noise pollution.
How Does the Shure SM58 Impact Your Vocal Quality?
The comprehensive frequency response in Shure SM58 microphone allows it to capture more vocal details.
Your recording will be of high fidelity enrich with excellent vocals and precise instruments. An artist who has been using the SM58 to do his recordings has this common complaint, "My Music is dull."
Sweet music, which compels for a long time of listening, encompasses some mix. Whereby every single instrument has some space in the frequency spectrum.
In 'busy" mix, everything competes, even the vocals, guitar, and the bass. That is why many artists prefer the accuracy of condenser mics.
It may be that, but many legendary artists like John Lennon make their music with the Shure SM58. This microphone enables you to avoid capturing on the unwanted room noise. However, be ready to deal with the hissing sounds from your recording.
Always remember that when you get closer to the SM58, you activate proximity bass boost effects.
The vocal recording will be flatter also at the low end, that is, if the mic is too close to the oral cavity. Nass response drops off the more distance you place your mic and yourself.
Focusrite Scarlett 2i2 (3rd Gen)
USB Type-C
USB 2.0 Protocol
24-bit/192 kHz AD-DA converters
2 Preamps
Phantom Power
2 Instrument and 2 Line Inputs
2 TRS Balanced 1/4" Line Outputs
1 Headphone Output
Bus Powered
Includes Pro Tools Like a 3-Month Splice Subscription
Get it on Amazon
Does the Shure SM58 Have Any External Power Requirements?
Shure SM58 is an XLR microphone; therefore, USB connection is not an option. You need an XLR cable.
This dynamic low-impedance mic with 1500Ω does not require any phantom power.
This means that Cloudlifter is not necessary. Activating phantom power accidentally when plugging in the microphone will not damage it.
To record directly to your computer, you need an interface with XLR input. Our recommendation is the Focusrite Scarlet 2i2.
From there, you will be required to have a software-based interface to edit the audio.
Why Do so Many People Love Using the Shure SM58?
The performance of the SM58 is the big reason behind its popularity. Not how it looks or how nice it feels.
Shure's SM58 Mic has a refined response; it works well with all types of vocal profiles.
It offers excellent clarity and plenty of midrange warmth. Those recording vocals understand that midrange is everything.
Compared to other modes under this category, SM58 comes out with a swinging edge. Besides, it is consistent.
It does not matter where or when you connect it, outcomes are the same. Low feedback, low handling noise, and low plosive. Very impressive for your budget!
■ Unique Sound Signature
Producers use the Shure SM58 explicitly for guitar and vocal recordings. You just need to find the right distance between yourself and the mic.
Better distance helps in eliminating low-end waffle. Musical instruments like Piano and acoustic are made to be loud; therefore, you don't need the sensitivity of condenser mic in this case, and they might get into frequencies of other instruments.
SM58 comes in handy when you don't want too many vocals in the mix. The vocals recorded by Shure SM58 blend naturally in any mix; it doesn't nor need too much equalization. Any instrument and the vocal artist will sound great with the SM58 mic.
Scores are pointing at the excellent sounds of Shure's SM58 mic as well as the SM58 preference for its indestructibility. Low tuned frequency response lower all the low-end rumble critically.
Besides, the microphone adds some rise in mid frequencies, an aspect that makes your vocals warm and rich.
■ It Picks up Less Ambient Noise
You can record in your home using the SM58 and still sound great. The condenser mics are known to be super sensitive.
They pick up all sound details in the studio, no matter how low the frequency is. You will hear sounds that you don't need in your recordings. Therefore, you need a soundproof room to get a clear and crisp vocal recording.
You can record your vocals in your living room without worrying about the echo or the ambiance noise landing into your mix.
The audio quality is satisfactory even though the sound is not crisp or clear per se. Studio time is increasing with its cost, and it is because most of us lack soundproof walls satisfactory for any case.
■ Robustness
The Shure SM58 microphones are robust, unlike the condenser mics. Shure microphones can stand abuse in and out of the studio.
You can step on it, drop it again, tore it without care, and still have a mic to sing into the following day. The sound quality is not compromised in any way.
■ No Inconsistencies in the Binning Process
All the SM58 microphones produce the same audio quality. This improves convenience by the chance that the artist may not get the same microphone each day.
Mixing and matching recordings from different SM58 mics should not worry you about inconsistency or sound quality.
The similar cardioid pattern makes your vocals stand out over the frequency- chocking instruments.
Conclusion
Whether you are a beginner or a recording veteran, Shure SM58 mic will suit all your needs. Removable grill and the metallic construction exude durability and quality. Besides, frequency response bodes well for the podcasters and vocalists alike. What are you waiting for? Get your Shure SM58 microphone for an extremely affordable price, today (Amazon link).