The Bose 700 noise-cancelling headphones are one of today's best investments.
This product comes with 11 different levels of active cancellation to ensure your podcasts, music, calls, or audiobooks are enjoyed without distraction.
You'll hear brilliantly crisp sounds coming from the Bose 700. All of the sonic details you want to listen to in a composition are there to enjoy, from the profound mid-range to the full, deep bass.
When you slip on these headphones, you'll experience a balanced sound at every volume. It eliminates distortion better than similar designs that cost up to twice as much right now.
As a bonus, you'll have access to Google Assistant and Alexa for weather updates, navigation, and more.
How to Turn off Bose 700 Headphones
You must press and release the Power/Bluetooth button on the Bose 700 headphones to turn them off manually with a double-click. The Bose 700 also come with an automatic shutoff feature that initiates after the product doesn't move for ten minutes.
When you select the Bose 700 noise-cancelling wireless headphones for your listening enjoyment, you won't find a better (in my opinion) way to create desirable sounds.
The active approach eliminates distractions instantly in almost any setting, including on an airplane, ferry, or busy intersection.
This advantage extends to the voice pickups for your calls. Bose includes a wonderful mic system with adaptive features to counteract the effects of your current environment.
That means your voice sounds clear to the person on the call, even when it is windy outside.
All of these advantages work with a proprietary hands-free design that lets you stay in control of everything you want to hear.
If you're going to make manual adjustments, the earcups offer intuitive touch controls that let you remain connected without needing to handle your mobile device.
If you forget to turn off the Bose 700 headphones (like most of us do at some point), you won't need to worry about draining the battery.
When you forget to turn it off manually, the unit automatically shuts off after ten minutes. It's able to accomplish this outcome through a motion detector built into the product.
Why Won't My Bose 700 Headphones Turn Off?
Although the motion detection feature is useful with the Bose 700 headphones, it isn't a foolproof system.
When you take off your headphones, the motion detector senses that you've put them on a table, desk, counter, or another location to initiate the shut-down sequence.
After ten minutes elapse without movement, the unit automatically shuts off to preserve your battery.
If you're like most people who use the Bose 700 noise-cancelling headphones for commuting or travel, there won't be a place to let your product sit for the ten-minute automatic shutoff.
I've found myself putting the product into its storage bag, stuffing it into a pack, and going on with my day.
When you have that situation, the headphones could run out of their charge.
If you walk with the Bose 700 in your bag, purse, or backpack, the motion detector senses movement, keeping the auto-shutoff from engaging.
Even though you can get up to 20 hours of battery life with this product, it only takes one forgetful moment without a recharge to end up with dead headphones.
You Can Turn on the Bose 700 Headphones Accidentally
Some people experience a dead Bose 700 when traveling because of how they put them into their headphones case.
You can accidentally trip the power button with a simple tap, which you don't always recognize has happened.
Once that event happens, any motion the headphones detect will keep them on. That means your battery starts draining from the moment you put them into storage.
Since we don't usually put headphones away unless we're absolutely sure we're done using them, the battery life is already reduced from a full charge in most circumstances.
If you put them away overnight, expecting enough battery for another day, and click the power button, you'll be in for a rude surprise on your next commute.
Although the Bose 700 headphones say that they deliver up to 20 hours of nonstop music, it doesn't always reach that outcome.
If you switch between devices, change playlists, or take calls, you'll notice a severe decline.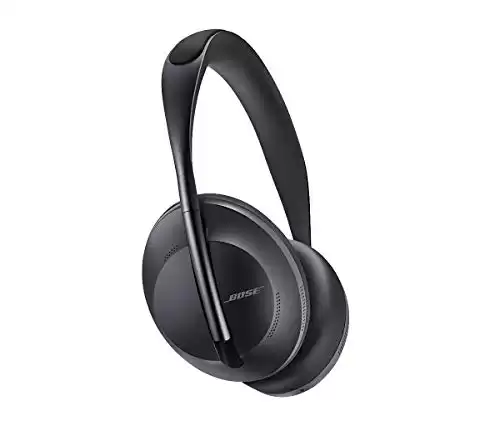 FAQ about the Bose 700 Headphones
Are the Bose 700 headphones better than the QC35?  
• From a sound perspective, I feel that the Bose 700 headphones are equal to the QC35.
• The one advantage that you'll get with the 700 involves the cancellation feature.
• It is slightly better with this option, and I've found that the multipoint Bluetooth adds more value to the investment to make it an attractive addition to my listening equipment.
Can I switch between devices as I do with the QC35?
• You don't need to switch with the Bose 700 headphones because it automatically remembers the last eight pairings you completed.
• If you're used to the QC35, you'll be disconnecting and reconnecting every time you need to manage a different device.
• That entire headache disappears when you upgrade to the 700.
Is it possible to use the Bose 700 headphones with VoIP?
• Although it is possible to connect to VoIP with these headphones, I wouldn't recommend them as a permanent solution.
• With that setup, you're essentially bridging one wireless connection to another, increasing the chances of interference.
• I've also found these headphones to have some trouble with video conferencing software for PCs and macOS.
• Although you can use it for playlists, gaming, and more, I'd avoid anything VoIP.
Can I get the Bose 700 headphones without Alexa?
• The Bose 700 headphones let you enable Alexa or Google Assistant as an optional feature.
• Although you cannot disable the assistant button, the voice commands don't need to be set up for the headphones to function correctly.
• You might want to set the Bose 700 up anyway, even if you don't plan to use Alexa or Google Assistant.
How good are the Bose 700 headphones at the gym?
• For me, I don't feel like the Bose 700 headphones handle sweat well.
• When you're dealing with a hot train, a long bus ride, or a walk to work of a couple miles, you'll be fine with this product.
• If you're spending an hour on the treadmill, lifting weights, or engaging in strenuous exercise, I'd recommend a different product.
• That experience falls in line with most noise-cancelling headphones.
• This product is more for traveling than working out.
Do I need to set up a Bose account to use the 700?
• Although you don't need to set up an account through Bose Music to use your 700, you'll lose access to most of the features you'll want to use with this product.
• You cannot use the Bose AR feature, configure voice assistant, or use any noise cancellation outside of the presets without an account.
• If you don't set up Bose Music, you'll also miss out on the firmware updates that can improve your listening experience.
Do the Bose 700 noise-cancelling headphones fold up like the QC35?
• The Bose 700 headphones don't fold up at the earcups like the QC35IIs do with their design.
• For me, I find that to be a useful feature because it creates one less weak point where the product could break.
• If I'm working at home and know that my headphones won't leave my desk, I'll use the QC35IIs because they deliver an excellent listening experience with easy storage.
• When I need to travel, my first choice is always the Bose 700.
A Final Thought about the Bose 700 Noise-Cancelling Headphones
Although the Bose 700 headphones are a bit of an investment, you won't run into the same problems with this product as you can with the cheaper alternatives.
One of the biggest annoyances I have with headphones involves the earcup cushioning.
After they start breaking down, you can get those dark flakes stuck in your ear or hair without realizing that the items are there.
When you put your headphones on a table or desk, those little flakes can be acidic enough from your sweat that they ruin the finish on natural materials.
Bose incorporated four microphones into its active noise-cancelling system that picks up your voice to isolate it from the environment around you.
It's one of the most superior features you'll ever use, especially when you need hands-free calling during a commute.
With the Bose 700, you get headphones that are comfortable enough to wear throughout the day.
They don't place pressure on your temples, deliver excellent sound qualities at multiple volume levels, and eliminate distractions from your listening experience.