The issue with keyboard noise in Discord involves input sensitivity. You can reduce problems in this area by turning off the command to "automatically determine input sensitivity" under the Voice and Video Menu. Changing the input sensitivity slider can also produce positive results.
Discord is a voice-chat service that gamers use to improve their communication. You can play console, computer, or mobile games while staying in contact with your team, raid, or guild.
Keeping your communication channel free of noise while playing is essential. Distractions can interfere with vocal comments, potentially costing a team a positive result because someone didn't hear an instruction.
Knowing how to reduce keyboard noise in Discord ensures this problem won't keep you from a win.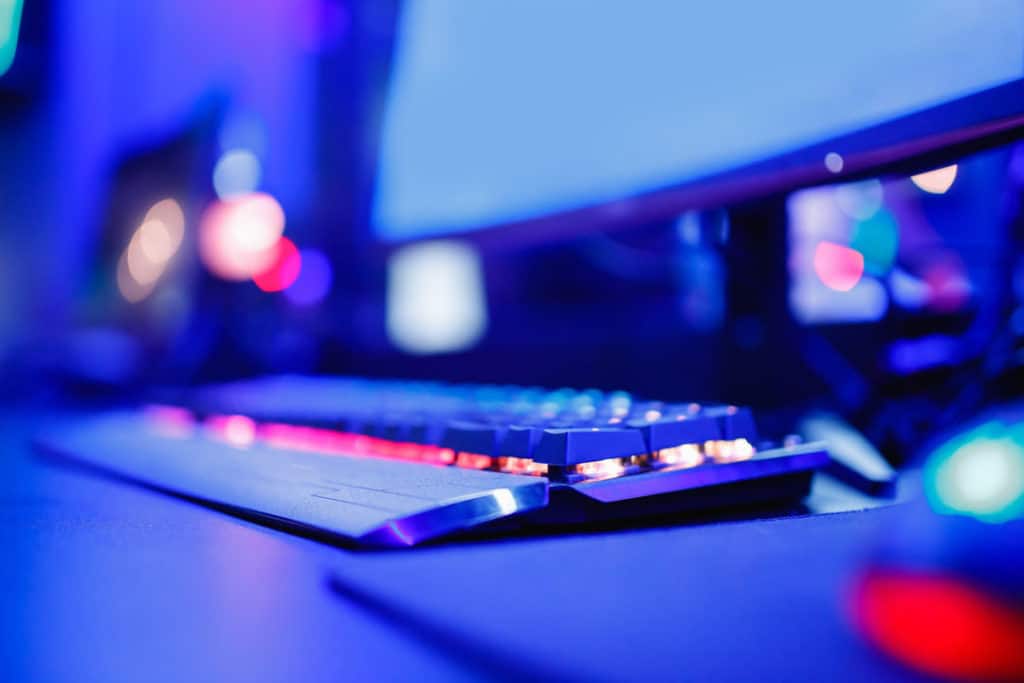 Hardware Options That Reduce Keyboard Noise on Discord
Some keyboards are louder than others when you're in a gaming environment. You may not need to take any steps at all to prevent your equipment from interfering with communications.
If you notice clacking sounds over the comm channel when you type, you'll need to take steps to reduce keyboard noise while on Discord.
These hardware options all provide a potentially successful outcome.
■ Use a Silent Mechanical Keyboard
Mechanical keyboards place the switches inside the keys instead of putting them in the product's frame. A plastic membrane protects sensitive electronics from the constant impact of your fingers when typing.
Some mechanical keyboards come with a silent design that reduces the impact of the switch with each strike.
Although no product in this category is 100% quiet, understanding what switches provide the best results can help your communications improve on Discord.
Choose a silent mechanical keyboard with red, black, or brown switches. These products tend to produce the quietest results.
If you have a mechanical keyboard with blue or green switches, your typing may still come through the comms on Discord.
■ Modify Your Current Mechanical Keyboard
The reason why mechanical keyboards get loud involves the lack of cushioning with each key. If you've already invested in a product you love, adding more support can reduce the noise you experience on Discord.
Adding small O-rings underneath each keycap can provide you with a successful experience without interfering with your work.
Use a silicone-based product to reduce the clacking without creating friction or an unnatural pressing experience for your fingers.
This step doesn't reduce the spring's noise in the mechanical keyboard as the key returns to its starting position.
Since that sound is far less intrusive than the fingers' initial impact when typing, most Discord users won't notice the noise pollution on the comms, especially if you've taken the time to adjust your settings.
A well-manufactured set of silicone O-ring switch dampeners like this one will cost about $15.
■ What Are the Best Silent Mechanical Keyboards?
Numerous manufacturers claim to offer silent mechanical keyboards that you can use for gaming, communications, and more.
When you are on Discord, it doesn't take long to see that most products fail to live up to their marketing claims.
If you want to reduce keyboard noise on Discord, these keyboards are proven to provide the best gaming experience with the lowest noise.
The Razer BlackWidow Elite mechanical keyboard provides a customizable gaming approach that makes it one of the best products in the industry today. Each keystroke is quiet, responsive, and accurate.
What stands out with this mechanical keyboard is its construction. It weighs almost four pounds because of the sturdiness put into it during the manufacturing process.
It has a thick frame, plenty of room for standard typing work, and rubber pads that prevent it from slipping while you play.
The wrist rest stays cool while playing without developing residues over time from skin contact.
Take advantage of the audio pass and cable routing features to reduce the clutter at your desk or gaming center. A USB ensures that other devices get charged, or information transfers are simplified.
You can expect a lifespan of about 80 million strokes when investing in this mechanical keyboard.
It even comes with protection against liquid spills or dust contamination. Five different configurations are programmable with the product's on-board memory.
The Logitech G513 mechanical keyboard features a low-profile design that places less fatigue on your wrists and forearm for extended gameplay sessions.
It is more compact than competitive models, ensuring a productive experience in almost any situation.
Although the manufacturer works to keep things simple, the minimalist configuration works well when trying to reduce noise on Discord.
The keyboard would benefit from the inclusion of media keys for gaming, but the positives outweigh this minor convenience.
You get to use the Romer-G switches produced by Logitech with this product, creating a tactile response without the lag that's perfect for any gaming environment.
You can create profiles to link with games, reprogram functions, and adjust the illumination as desired for a comfortable environment.
The elevated keys may take some time to get comfortable using. Still, the silence you receive over the comms is a definite blessing.
The Corsair Strafe RGB Mark II mechanical keyboard creates a silent experience on Discord because of the soft-touch materials used for the keycaps.
The textured design ensures accurate typing because it reduces finger slippage with each impact.
You receive dedicated media buttons, volume scrolling, and backlight brightness commands from the keyboard.
This design ensures that you always stay in control of the gaming environment. You can even scroll through the backlighting profiles you prefer by storing your favorite ones in the on-board memory.
It features the Cherry MX RGB key switches to encourage more silence when typing. The included texture does retain more skin oil as you play, creating grease that requires periodic cleaning.
You'll receive a textured wrist rest with the keyboard that works well enough for the average user.
It has a somewhat high hand placement compared to other designs that could create some initial discomfort for some users initially.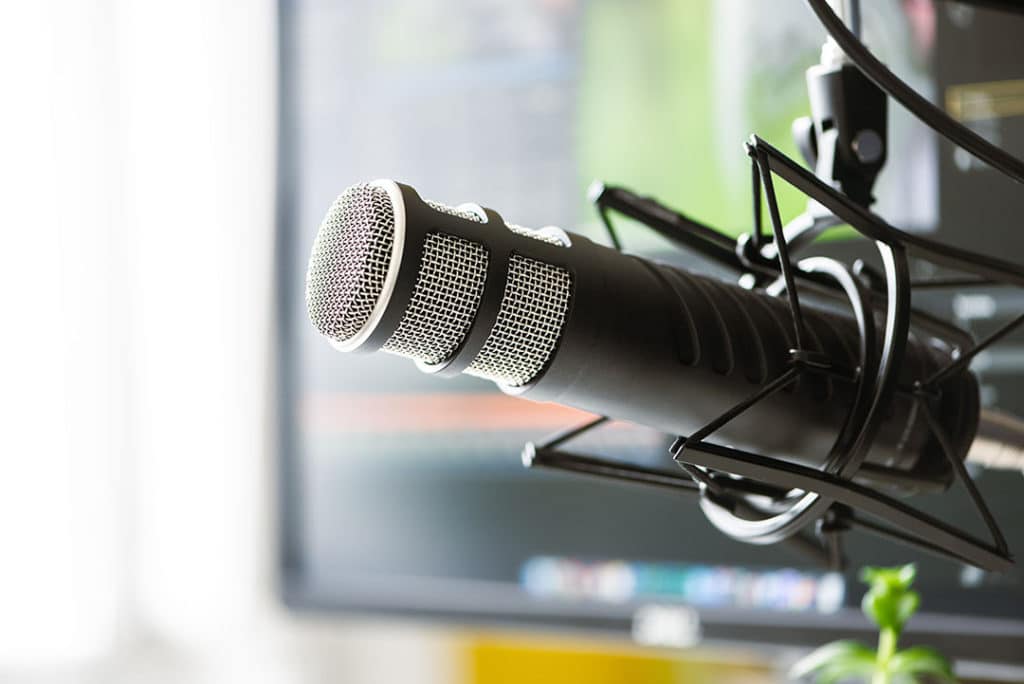 Change Your Setup to Reduce Microphone Keyboard Noise
Microphone placement could be the reason why your keyboard clacking is getting picked up on Discord.
If your pickups are too close to your keys, even a silent mechanical keyboard is going to sound loud to everyone else on the comms.
Most gamers use headphones with a wrap-around mic to create hands-free communication while playing. Understanding the positioning of your equipment ensures that your typing doesn't get picked up.
■ How to Reduce Keyboard Noise on Mic
Microphones operate using the principle of directionality. When you know the angle and direction that picks up sound the best, you can avoid the keyboard noise because the equipment is "pointed" away from your typing.
Internal microphones for gaming computers may not offer an option to change the pickup directionality.
If you use an independent mic that connects to your system, this alteration may be available. Instead of using 360-degree sound generation, add more specificity to the definition.
It helps to have the microphone's pickups pointed to where your voice is going to be the strongest. That change should reduce the impact of keyboard noise in Discord.
Each microphone has different directionality settings to consider. You must check your owner's manual to understand what the defaults are.
Once you have everything installed, shift the location based on this information or make changes to the software to create the gaming environment you want.
■ Use Your Headset to Reduce Keyboard Noise
A headset reduces keyboard noise naturally because the microphone is further away from the equipment.
The mic sits close to your mouth with limited pickups to ensure your speaking doesn't overwhelm the comms channel.
The issue that gamers face when using this option for communication involves breathing noises.
If you tend to breathe through your mouth, the sound of the wind coming in or moving out gets picked up on Discord. That noise pollution can be as bothersome as a keyboard clacking!
You can prevent that problem by placing the microphone at the corner of your mouth instead of right in front of it.
This placement reduces the explosive consonants that happen with natural speech, especially with "P" and "B" sounds over the microphone.
With distortion kept to a minimum, everyone can focus on the task they're trying to complete instead of the annoying sounds happening on the comms.
Software Changes to Reduce Keyboard Noise in Discord
Once you've improved your keyboard's structural dynamics and focused on microphone pickup and placement, ongoing Discord issues can typically get resolved through software changes.
Making different adjustments to your default settings can typically create the silent comms you want for your gaming environment.
These ideas can help you to make the final adjustments needed to eliminate the clatter of the keyboard from Discord forever.
■ Alter the Discord Input Sensitivity
Discord automatically chooses the input level to bring your microphone into service unless given alternative instructions.
This feature works well for entry-level gamers, but it also causes a loud keyboard to create comms interference.
If your mechanical keyboard continually finds its way into your communications channel, manually tweaking the input level can stop the problem.
Start by opening the settings menu on Discord. You'll need to go to the Voice tab.
Once there, find the option that authorizes Discord to determine the input sensitivity levels for your setup automatically.
After you turn this feature to manual controls, you must adjust the audio input sensitivity levels to the appropriate setting. It is a trial-and-error effort based on your keyboard and microphone combination.
The goal is to have the comms trigger when you speak instead of when your typing noise is present in the gaming environment. Be patient with this process, as it can take a few attempts to get it right.
■ Use the Push to Talk Feature
When you select the Push to Talk feature on Discord, you solve the problem of keyboard noise by creating a hotkey. Your microphone won't engage unless you manually engage the command to enter the comms.
Although this option is not preferable in most gaming environments that require ongoing chatter, it is the final solution you can use to reduce keyboard noise traffic on your communications channels.
Gamers who prefer to operate silently and only engage when necessary may find this software change useful to their experience.
You must get into Discord's settings to make this software adjustment. Go into the Voice and Video menu.
There is a checkbox that says "Push to Talk" that shouldn't have a check in it. Click in the empty box to activate the feature.
You'll need to click on the Shortcut field next to create your binding key for this feature. The Caps Lock button tends to be the default, but you can make it anything you prefer.
You can bind mouse buttons as your Push to Talk option if you prefer. This option works well if you have a gaming product with side buttons to use.
They aren't typically bound to game commands, reducing the risk of creating a conflict while playing.
Is It Time to Have a Quieter Discord?
Noise pollution on Discord can get problematic quickly. If you have a team of six with everyone continually typing, the interference could prevent accurate communications.
When you upgrade your keyboard, fine-tune your settings, and improve your microphone placement, distortion and interference over the comms typically disappears.
Take these steps today to improve your Discord experience. Your gaming results might follow the same trajectory!