The Sony Alpha 6000 (A6000) is a mirrorless digital camera. It comes with a 16-50mm lens that delivers 24.3 MP with each snapshot.
The combination of a BIONZ X image processor and CMOS sensor ensures that you can produce hi-res video and stills while still having ISO sensitivity and low-light quality images.
When you engage the Sony A600 for continuous shooting, it can take up to 11 frames per second. It uses a hybrid AF system that works with phase and contrast detection to ensure the most accurate focusing process.
Although it comes packed with features, such as Wi-Fi connectivity for NFC devices, you'll find a few restrictions for its use.
One of the biggest problems you'll encounter is the lack of an audio jack, which means you can't plug an external microphone into the unit.
Since the internal audio is a bit sketchy, you'll want to consider a compatible external microphone without an audio jack.
Best Sony A6000 Series External Mics That Don't Need an Audio Jack
The Sony A6000 does not include an audio jack for microphones. That means you must record video while using the internal mic or look for a compatible wireless option that utilizes a different mount. Your options for this need include synced audio, multi-interface designs, or Wi-Fi connectivity.
It can be challenging to get high production values from a wireless microphone. Without cables to transmit the sounds accurately, there's always a chance that something could go wrong between the two connections.
You might have a poorly coordinated frequency. There could be battery management issues to manage.
The Sony A6000 camera might not accept the connection, even though everything should work according to the specs and the owner's manual.
If you use the best external mics that don't need an audio jack, you'll want to consider these options to improve the wireless microphone's performance.
■ What Are the Best Ways to Improve Audio Quality with the Sony A6000?
Keep the microphone close to the receiver.
• Every environment gets bombarded with radio waves.
• These appear because of the other electronics that end up being in the room, such as a power supply or an amplifier.
• You'll need to purchase a product with a sufficient signal-to-noise ratio to break through the background interference.
Stop the mic from changing channels.
• If you've synced the wireless microphone to a receiver using infrared, it can sometimes switch channels.
• This issue can impact the performance.
• After you've finished the connection, block the transmission from trying to reset.
Use a power lock or block the mic's switch.
• When using a wireless microphone, it's not unusual for the power switch to get bumped.
• Some models offer a locking feature to prevent this, but you can take a low-fi approach by using some duct tape over the toggle.
Clear the signal.
• You must maintain a line of sight between the Sony A6000 and your external microphone to ensure high-quality sounds become part of your video.
• That means you'll want to avoid environments with harsh background noises.
Think about antenna type and placement.
• You can purchase a wi-fi-compatible microphone to work with your new camera, but this option requires you to consider where you'll place the equipment.
• If your home antenna doesn't transmit a strong signal, you might have limitations on where you can use your setup.
Manage your battery correctly.
• Cheap batteries never outperform the high-quality ones you can find for external microphones.
• Consider using alkaline or lithium single-use products for the stable voltage output you'll need for your video.
• If the volts aren't high enough, you can often hear distortions in the final product.
Set the gain properly.
• When you assess your wireless microphone's performance, the input gain settings reflect the audio you'll produce.
• It helps to strike a balance between low input sensitivity to stop clipping while having it high enough to preserve your ratios.
What Are the Best External Mics to Use with the Sony A6000?
The best external microphones for the Sony A6000 quickly upgrade your audio-video setup to enable improved videos and recording capabilities, here they are:
When you use one of the best mics for this camera, you won't need an advanced degree in sound engineering to set them up. In most cases, they're plug-and-play options that take a couple of minutes to manage.
Not only will this investment make you easier to hear, but it will also ensure that your videos can make the most significant impact possible when sharing them.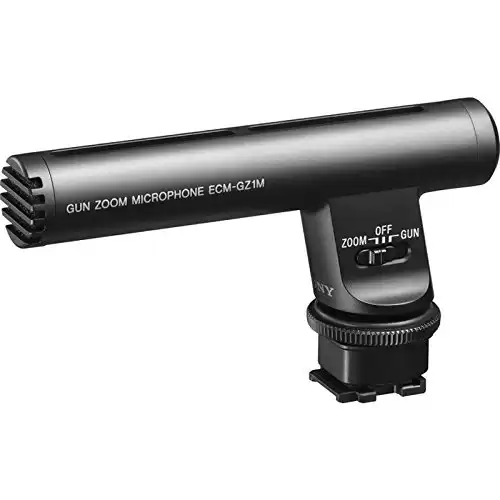 Sony ECM-GZ1M Microphone
Electret Condenser Microphone
Frequency Response: 150Hz to 15000Hz
Multi Interface Shoe
Zoom Mic and Gun Mic Recording Modes
Dimensions: 5.93 x 1.9 x 8.5 inches
Weight: 45 Grams
Comes With a Windscreen
Get it on Amazon
If you want a lightweight external microphone that far outperforms the built-in mic while working seamlessly with the Sony A6000 series cameras, you'll want to consider giving this model a try.
The structure makes it easy to manage outdoor recordings. Plus, all you have to do for the setup to get it to work is to lock it into your camera's shoe mount.
The frequency range on the Sony ECM-GZ1M microphone is 150 Hz to 15 kHz, and the sound quality is just phenomenal for such a lightweight design.
It also comes with a windscreen that does a good job at blocking out noise from the environment.
All of that makes it excellent for field recordings, but a vocalist in the bass or baritone range might feel like their voice is not as strong as usual.
This microphone is perfect for podcasters and other dialogue-based needs, whether indoors or out. The zoom mic and gun mic modes are great for zoom length and super-directional recordings respectively.
So, if you've been using the built-in microphone up until this point, this external mic will definitely exceed your expectations.
| | |
| --- | --- |
| Pros of the Sony ECM-GZ1M Microphone | Cons of the Sony ECM-GZ1M Microphone |
| The zoom function allows this mic to produce a better dialogue for your recording. | The frequency response specs won't work well for some recordings since it eliminates the low end. |
| It automatically limits the low-frequency background noises that could interrupt your video. | It can be challenging to flip the gun or zoom switch while shooting. |
| The multi-interface mount works well with the camera without needing to make modifications to the stock setup. | The shotgun-style design might not be suitable for every creative need. |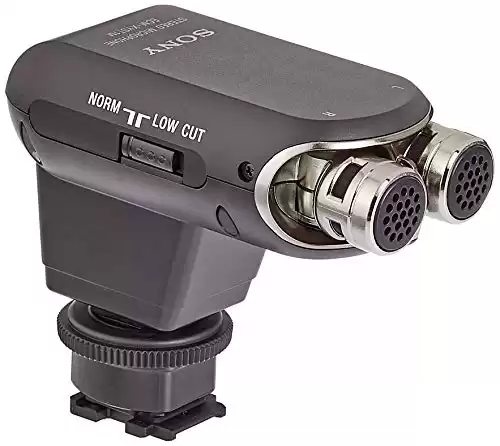 Sony ECMXYST1M Stereo Microphone
Electret Condensor Microphone
Multi Interface Shoe
Directivity: Uni-Directional
Frequency Response: 70 Hz to 20,000 Hz
Adjust recording range from 0 or 120 degrees
Comes With a Windscreen
3.6 oz (100 g)
Get it on Amazon
Sony built this stereo microphone to be the companion to the A6000 series cameras. Which means instant compatibility that will make your work so much easier.
It comes with two mics for your recordings, and there's a switch that lets you turn off the low-cut filter.
Another thing I love about the Sony ECMXYST1M stereo microphone is its stability. So, you won't hear cracking or distortion coming from the unit while moving. Plus, you can attach the windscreen that comes in the box to get crisp audio without disturbing wind noise.
Let's face it, a lot of people can put up with okay-quality video content, but the vast majority won't stand listening to sub-par audio, which is why you should consider upgrading to this mic, rather than relying on the built-in one.
Since the frequency response dips to 70 Hz, you'll get a decent bass response without ignoring the upper range.
What you should consider is that once you get the microphone, you'll need to remove a cover for the connector before attaching it to the A6000.
A lot of people forget about this simple step, which dramatically affects the sound quality.
| | |
| --- | --- |
| Pros of the Sony ECMXYST1M Stereo Mic | Cons of the Sony ECMXYST1M Stereo Mic |
| It's a lightweight microphone that attaches smoothly to the A6000. | Hissing sounds can be somewhat prevalent in some recordings. |
| You'll notice improved movement with both products working together, especially with the soundstage option. | You'll need to tweak the gain settings before recording. |
| The mic does an excellent job of capture natural and directional sounds. | The windscreen for the microphone isn't effective when you have direct movement to manage. |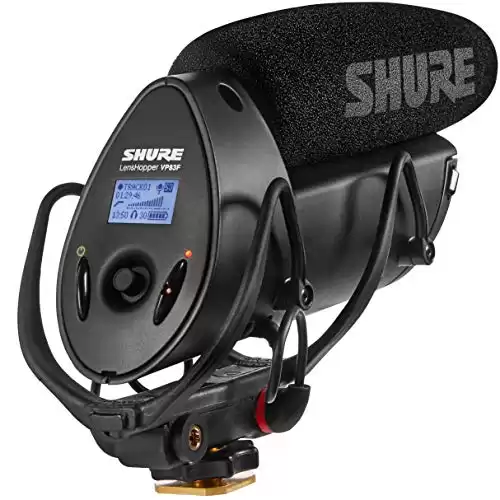 Shure VP83F LensHopper
Signal-to-Noise Ratio: 78 dB
Polar Pattern: Super-Cardiod
Audio Sensitivity: 60 dB
Uncompressed WAV file capture at 24-bit/48 kHz sampling rate
Detailed HD Audio /w Full Low-End Response
Power Source: Battery (Included)
Dimensions: 10 x 5.2 x 4.2 inches
Get it on Amazon
Although you won't get a direct audio transmission to the Sony A6000 with this microphone since it has a 3.5mm output, there is another way to ensure your voice gets added to a recording.
There's a flash recording feature with this mic, allowing you to record audio to a memory card.
Once you've transferred the audio from the Shure VP83F LensHopper, you'll need to do some syncing work to get everything to match.
Although it isn't the easiest process, the quality you receive from each take is better than almost anything you'll find on the market today.
| | |
| --- | --- |
| Pros of the Shure VP83F LensHopper | Cons of the Shure VP83F LensHopper |
| It uses a super-cardioid pickup to reject unwanted sounds from the recording. | Since the design works to eliminate background noise, it's tough to use this mic for ambiance recordings. |
| The battery for this microphone can last all day, ensuring that all of your work gets finished. | You'll need to spend time aligning the timing for your audio and video feeds to have an accurate video. |
| You'll notice a depth and richness to the audio quality that other microphones struggle to replicate. | The integrated flash memory adds an additional $100 to the retail price of this microphone. |

Zoom H1n Camera- Mountable Microphone
Onboard Stereo Microphones
Camera Mountable Perfect as a Sony a6000 Microphone
1.25" Monochrome LCD Display
Touch Button
Max SPL: 120 dB
Built-in Stereo Condenser Microphones
Records to SD Card
USB Microphone
Dictation Functionality
Get it on Amazon
Since this microphone uses a USB port to transmit audio, you'll need video editing software to mesh your recording to what got captured on the Sony A6000.
That means you'll need to consider the gain and volume independently while shooting to avoid distortion or background interference.
When you use the Zoom H1N Portable USB Microphone, you can take advantage of its embedded low-cut filter to remove unwanted noise.
It has a max SPL of 120 decibels so that virtually any recording can happen without a problem.
It might take a few extra steps to complete your work with this portable microphone, but it gets the job done for about 40% less than most of the comparable products available online or in stores today.
| | |
| --- | --- |
| Pros of the Zoom H1N Portable USB Microphone | Cons of the Zoom H1N Portable USB Microphone |
| It offers X-Y orientation so that you can incorporate stereo recordings into the videos shot with the Sony A6000 camera. | You must have video editing software through a compatible Windows PC, macOS system, Chromebook, or another device to combine the audio to your video. |
| The protective covering for the mic head ensures that you receive an authentic sound without having compression or muffling. | The different knobs on the microphone are easy to change accidentally because there aren't locking features to use. |
| There isn't any clicking that gets into your audio if you need to change the knobs in the middle of a recording. | |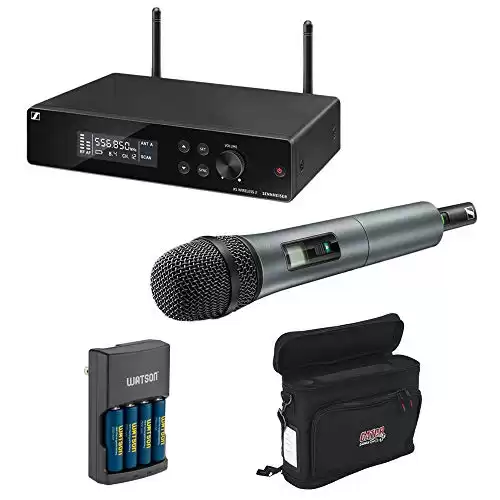 With up to a dozen compatible channels and external antennas, this mic takes a unidirectional approach to pick up sound.
It utilizes an e835 evolution microphone capsule with a true diversity receiver to create one of the clearest audio options you'll find for the Sony A6000.
To use the Sennheiser XSW 2-835-A Handheld Microphone with the A6000, you'll need to use a compatible receiver for each item so that the audio transmits as expected.
That means a complete soundboard might be necessary unless you have a compatible hub at home.
Sennheiser microphones are some of the best products you can find out there today. If you don't mind going through the setup process, the audio quality you'll receive for your videos will be second-to-none.
| | |
| --- | --- |
| Pros of the Sennheiser XSW 2-835-A Handheld Microphone | Cons of the Sennheiser XSW 2-835-A Handheld Microphone |
| It works exceptionally well for live sound applications when you have a compatible hub. | It requires a complicated setup that might not work for every user. |
| You can use rechargeable batteries to maintain signal quality. | The unidirectional design could pick up more audio than desired. |
| Everything comes in a protective bag so that you can get to work right away. | You might need to pick up additional equipment to have it work, negating potential pricing benefits. |
Verdict: What Is the Best Sony A6000 Series External Microphone?
For me, I appreciate the simplicity of the Sony ECM-GZ1M microphone for the A6000 camera. Although it has some environmental limitations to consider, I primarily use this product for podcasting, instructional content, and blogging production value.
If I needed to record ambient sounds, I'd use the LensHopper because of its intuitive ability to filter out what you don't want while keeping the recording's best stuff.
I know it can be somewhat challenging to manage a microphone with a camera design that doesn't include an audio jack.
You can always use the companion product that Sony created to have a plug-and-play experience, but even that option won't meet every need you might encounter.
The external microphones enable more of a professional audio quality for your videos, but it is still essential to use editing software whenever possible to polish up your content. That's why it makes sense to use the Sony A6000 with one of these mics.