Noise-cancelling headphones aren't just for those who want to appreciate their favorite music without distraction.
They are a great choice for anyone that needs more quiet and isolation, particularly in environments where there tend to be people around.
In addition to being great for listening to music and for those in a busy office, students from high school to college to grad school can benefit from using noise-cancelling headphones for studying.  A great pair of noise-cancelling headphones is an investment but it's also a necessity to help stay focused on studying, writing that thesis, or getting homework done without being distracted from your surroundings.
And when you're not busy memorizing whatever your professor was droning on about during class, you can use them to submerge yourself into the bliss of an audio book without being disturbed. Or watch movies on your laptop without waking your cranky roommate.
Noise-cancelling headphones in today's world really are a must-have for any student for so many reasons.
They are pricier than regular headphones, but with all their features and how they can help you tune in to what you need to, they are a smart choice for any student.
Before you buy a pair of noise-cancelling headphones, you should study a bit about what makes them noise-cancelling over ordinary headphones, how they'll benefit you in productivity and health, and even discover a few affordable options that can enhance your study time too which are mentioned below so keep reading.
What Is 'Noise-Cancelling'?
Noise-cancelling refers to the technology (created by the head of Bose) that listens to surrounding noises around you to measure and analyze them.
It creates an opposite signal to match that noise so it cancels out the things you don't want to hear.
This allows you to tune into the music you're listening to or simply block out unwanted distractions in busy places.
Noise-cancelling technology runs in two realms – that of active or passive. Active noise-cancelling involves counterbalancing with a noise of its own while passive simply uses sound-absorbing materials to keep unwanted sound from meeting your ears.
Ideally, a pair of noise-cancelling headphones that can dampen noises while cancelling them out is preferred.
With these headphones, there are many benefits that will help you in your productivity and your health.
You'll certainly want to keep reading to find out what those are, plus which headphones for noise-cancellation are recommended that are affordably priced.
Do Noise-Cancelling Headphones Increase Productivity?
If you were to peek into any number of offices anywhere in the world, keeping team members productive is crucial.
One thing most seem to think of is providing coffee or tea on a complimentary basis so workers will keep on humming along.
Some offer free gym memberships to improve health and thus, improve productivity from that angle.
But it's not the sole responsibility of a company to ensure employee productivity, is it? Just as in school, it's not the teacher or professor's responsibility to make you productive. You must take some of that responsibility for yourself.
Whether you're in an office or a student at school, your own productivity is something you must keep in check.
If you find the space you're in distracting, it's up to you to find a way to work through it. Students at home must find ways to drown out the sounds of siblings watching TV in another room.
Students in a college dorm or shared apartment must focus on studying while being conscious of their roommates.
While it's true that everyone should be considerate of each other, you can't ask everyone to be quiet or get out all the time.
At the office, productive professionals don't stomp their feet and demand everyone on the floor to be quiet so they can finish working on something. They find ways to cope with it.
In today's office settings, there are many open-plan situations where there aren't any soundproof room dividers or cubicle walls between the people you sit with.
Annoying as that might be, learning how to tune out others when you need to focus is an art form, one that will always serve you well, and one that can be achieved with the use of noise-cancelling headphones.
Music can help in some cases like classical, but certain types of it might pull from your concentration. In studies, music with lyrics proved most distracting.
That's because you're reading or studying something with your eyes and hearing something entirely different in your ears. It lowers productivity.
Interestingly though, if you use noise-cancelling headphones, you might just turn out to be the most productive in the bunch in a work setting.
When you're listening to music and working, you can complete tasks more quickly and are inspired to be more creative than your teammates.
Depending on whether you're studying or working, what you listen to could really boost your productivity.
But for both scenarios, when you use noise-cancelling headphones, you block out those surrounding distractions and become more focused.
Some people thrive on music at work or while studying because it stimulates their mind. Others find it distracting and want to tune out all sounds.
And still others have mixed moods where they can jam on with music while getting tasks done and need silence for other situations.
Which type are you?
Are Noise Cancelling Headphones Safe or Dangerous for Your Health When Studying?
Of course, silence isn't always golden with noise-cancelling headphones. They don't render everything as silent as freshly-fallen snow at night.
When you turn this feature on with your noise-cancelling headphones, you hear a very slight hissing sound. For some people, it makes them feel a bit dizzy.
Should you be one of those that find the hissing noise a bit overwhelming, you should know there is no damage caused to your hearing or overall health.
Noise-cancelling headphones have no radiation emissions, unlike cell phones so you can use them without fear of damaging the tender parts in your ear.
For some, that hissing noise is more distracting than the noises you're hoping to block out by wearing them.
Noise isolating headphones might be a better choice for you in that case. They block out the sounds around you by sealing your ears to keep them out.
They are a passive form of noise cancellation and don't create any anti-noise waves like the active noise cancellation headphones do. They employ good cushioning to keep annoying noises at bay.
In a pinch, if you're in the office and have to make a conference call in a hectic environment, there are apps that can mute the sounds in the background on both sides.
That means you and whoever is on the line won't be distracted by whatever is going on in the background.
A useful tool for anyone that runs a home office, works in an open office, or even students that want to talk to their parents back home but don't want them to hear anything unusual in the background.
Simply put, noise-cancelling headphones aren't harmful to your health and they may even benefit it in more ways than you'd expect. Keep reading to find out why that is!
How Can Noise-Cancelling Headphones Be Beneficial for Your Health?
For anyone that is subject to noisy environments on the regular, like at work or wherever you live, constant noise can be a burden to your hearing. With noise-cancelling headphones, you can protect your hearing which is always a good thing.
When you're exposed to loud noises all the time whether you're on a flight to somewhere near or far, you live near the train tracks (or must stand on the subway platform day after day to commute), work in construction with noisy equipment like a jackhammer, or the city noises from the traffic below are a constant soundtrack, your hearing and your health can be impacted.
For all these different noises, they have different frequencies or pitches and amplitudes (which is just a fancier word for loudness). And those things definitely affect your hearing.
And that's not all that loud noises can do to harm your health and hearing. They interfere with your quality of sleep, give you headaches, and elevate your stress levels.
But even if the noises swirling around you aren't loud, low-level noises can take just as much a toll on your health.
These kinds of noises are less likely to cause hearing loss, however, they can cause different damages, particularly if they are constant in nature.
For anyone that lives in a noisy location with traffic sounds wafting around regularly, they have higher levels of cortisol, the stress hormone.
When levels of cortisol are constantly high, this can raise your risk for heart disease.
In the Journal of Acoustical Society of America, a study was published that showed children living in neighborhoods with continuous exposure to low-level noise had raised levels of cortisol compared to those that resided in neighborhoods that were quieter.
So, when you wear noise-cancelling headphones, they neutralize that surrounding sound.
You can listen to music or hear the audio from the videos you're watching without cranking the volume up loud to drown it out, which saves your hearing.
Depending on your needs, you should look for headphones that are designed for your specific needs. There are many options for noise-cancelling headphones.
Some are better suited to those with noisy jobs who need to protect their hearing while others are best for those who need to concentrate on work or studies.
And yes, there are those that make music all the more enjoyable. Noise-cancelling headphones indeed have many benefits, especially when you're trying to study.
Ready to buy noise-cancelling headphones? Before you do, read through our picks for the best affordable noise-cancelling headphones ideal for studying.
The 3 Best Noise–cancelling Headphones for Studying
Here are the best noise cancelling headphones for studying in 2023:
These 3 affordable noise-cancelling headphone options will be money well-spent:
Top Choice!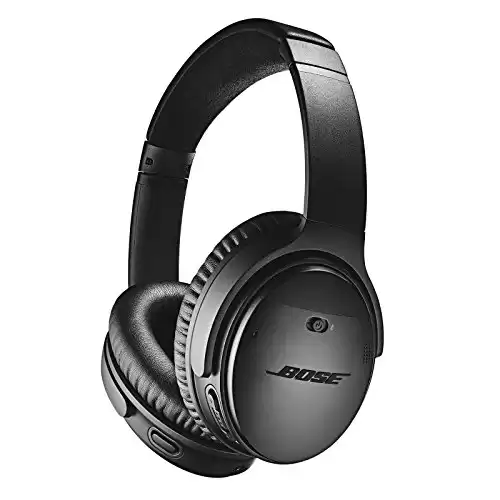 Bose QuietComfort 35 II
Active Noise Cancellation
IPX4 Water Resistance
Multi-Function Buttons
Dual-Microphone System
Alexa and Google Assistant-Enabled
Bluetooth an ANC
Up to 20 Hours on a Single Charge
Bose App
Get them on Amazon
Bose is often revered as the best for noise-cancellation simply because the founder of Bose pioneered the technology.
And while we definitely appreciate this top-tier quality, which is one of the lower-end models (with nothing low about it), other brands do a good job of competing.
Still, it's Bose, and with these, you get active noise cancellation that outshines others in its class. The audio quality is great while the design is relatively lightweight and comfortable.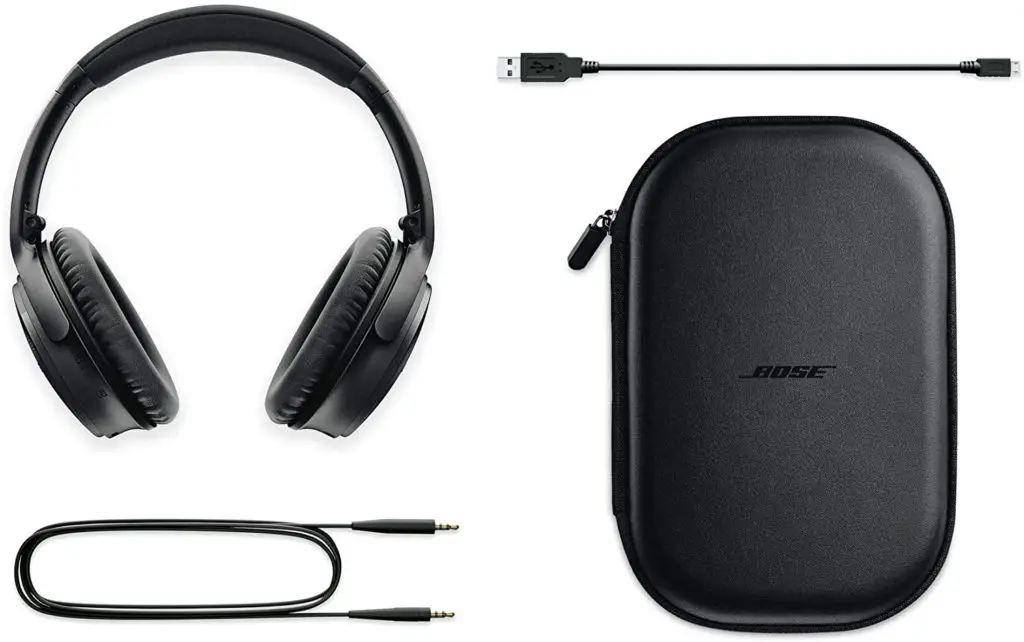 The battery life can hang for a good 20 hours plus the Google Assistant button makes it easy to take control in a smart way.
With these, you'll have a peaceful existence while studying, commuting, or just being. Of course, the downside is that they are more expensive than our other options.
Noise-cancellation headphones aren't cheap, but they're a great investment that will serve you well from studying to commuting and everywhere in between.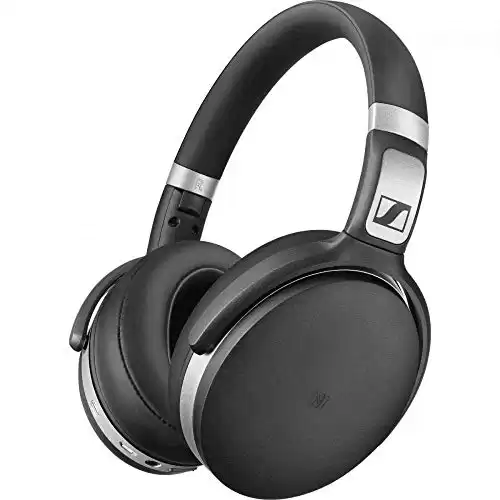 For a great contender against Bose's QuietComfort 35, you'll like the Sennheiser HD 4.50. It is relatively on-par while costing quite a bit less.
You can use it as a headset and get long battery life out of it. Plus, they fold up with ease to fit in the included canvas carrying case.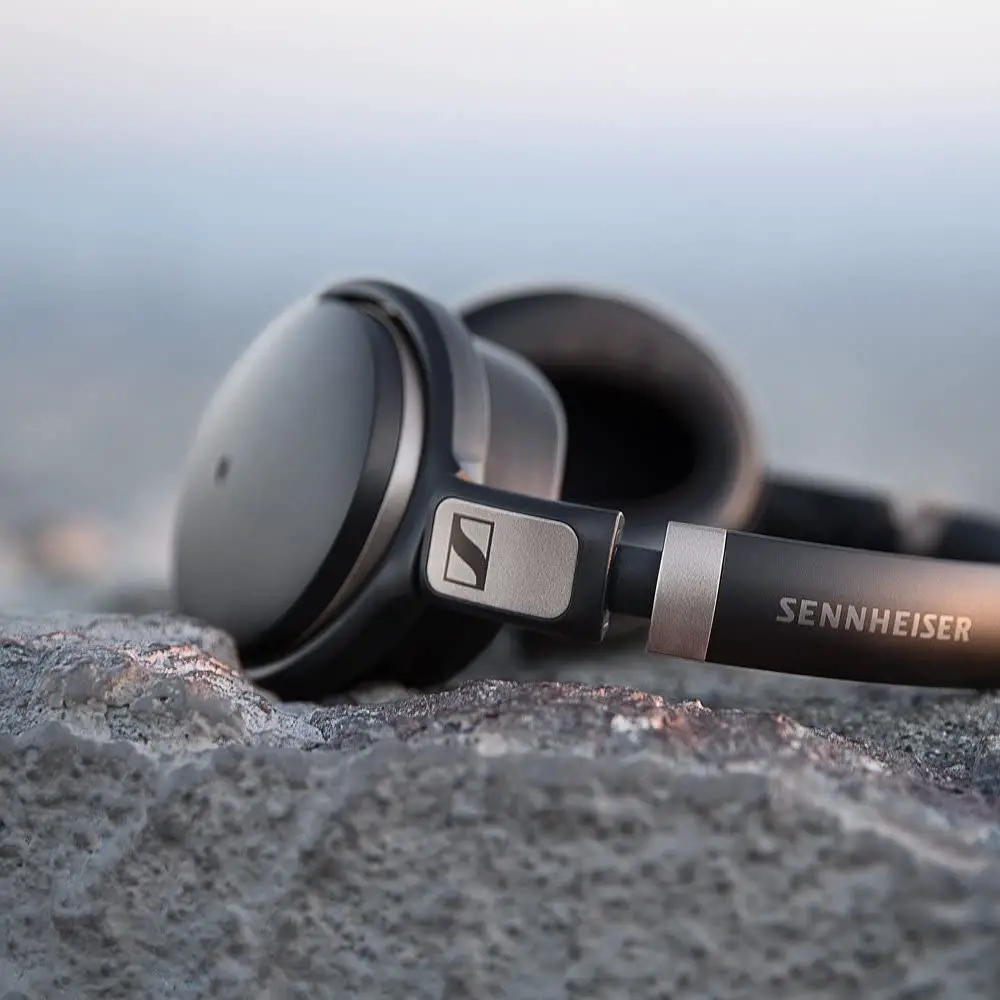 While they're not as comfortable as higher-end models from Sony or Bose, or even Sennheiser's higher-level models, they certainly will do the trick, giving you a premium wireless experience in noise-cancelling headphones while keeping costs at a price point that isn't painful.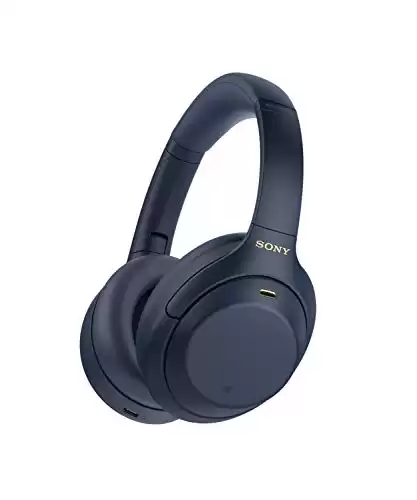 Off the bat, these were voted as the best noise-cancelling headphones anywhere in the world.
They indeed offer outstanding noise cancellation plus sound quality.
With 30 hours of battery life, they'll keep up with you on any long-haul flight or during any intensive cram-session studying for that epic exam.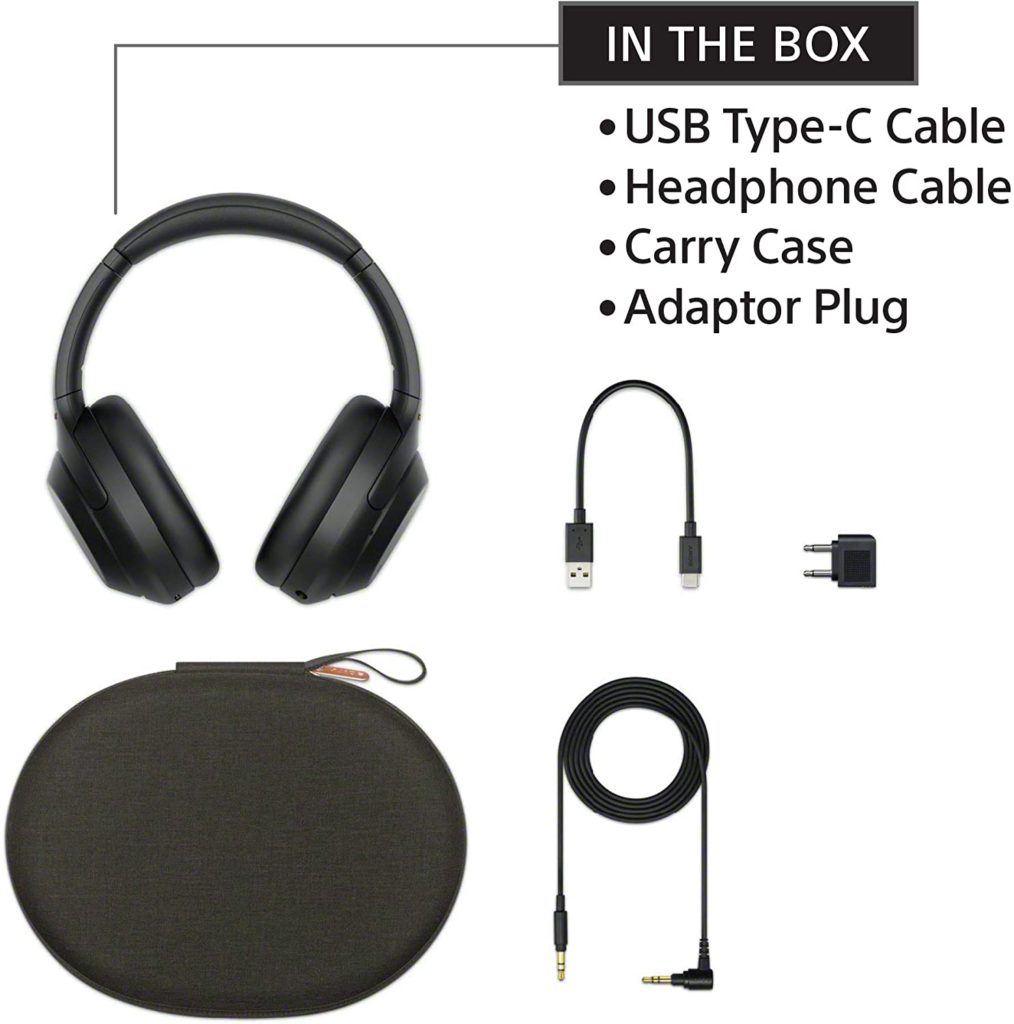 The Sony WH-1000XM4 are slightly refined from the previous model with things like USB-C instead of a micro-USB, and there's more padding on the bridge that also improves the design.
What these can do is really drown out that noise but they're also ideal for those that love music with aptX HD and Sony LDAC, both of which enhance hi-res music coming from your phone, no wires required.
With your choice of Google Assistant or Alexa support enabled, these noise-cancelling headphones rank as one of the smartest available on the market.
Conclusion
If you buy ordinary headphones, you can't expect to have the kind of noise-cancellation that comes from the models we've listed above. It won't happen.
For those of you that have to study in distracting environments, noise-cancellation headphones are absolutely worth it.
They help keep the peace, plus if you focus better with soft music on in the background, it can really improve your concentration.
Even if music tends to distract you though, using noise-cancellation headphones with ambient white noise will help you keep the surrounding sounds from interfering with your accomplishments.
Finding the right sounds to play through them will always help, though if you're stuck studying in a place where people are constantly talking, that white noise sound is going to be your best combination with your new noise-cancelling headphones.
Either way, one of these pairs listed above can be just what you need to concentrate and ace your next paper or exam with ease!