It's a fact that heavier and bigger speakers are better. It goes beyond volume and bass as they also have better sound quality.
With some things in life, bigger is definitely better. And I have to say that heavier speakers are indeed a great choice for your home sound system.
Whether you love bass, want to rock things out, or enjoy watching movies with that intense movie-theater sound, heavier and bigger speakers are what you need.
Plain and simple, they rock, and in more ways than one. They're louder, and they give you the kind of bass that goes BOOM.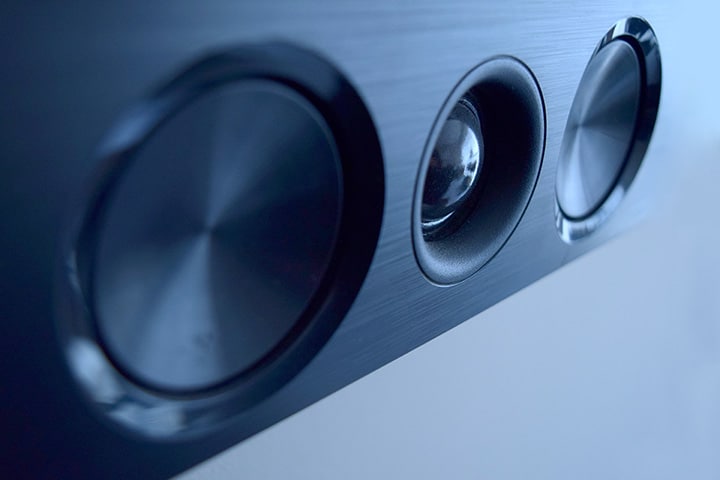 Why Do Bigger Speakers Sound Better?
Unfortunately, small speakers just don't compare. They can't make a clear enough sound because they're limited by size and the power they can output. If you have small speakers and like action movies, you're going to be disappointed. Those explosions are too low when it comes to pitch.
Small speakers need some help, which is why a subwoofer should be added to balance things out.
Subwoofers make low-frequency sounds while those small speakers do fine handling medium and high pitch sounds.
Small speakers can't make those low-frequency sounds though, and they come out all distorted. I hate that.
That saying of "go big or go home" really applies to speakers. Big speakers are intended to make big and loud sounds. And they have a subwoofer included.
Small speakers don't, which is why if you're stuck with small speakers, you'll need to add one. That large speaker subwoofer that's included gives a better frequency response.
So, the range of your mids, bass, and treble are from that frequency response and how it can handle it without ugly distortion.
Large speakers handle this quite well as they don't have to work so hard to produce the sounds.
If you want a home theater or quality stereo system at home, you need large speakers to get that full range of nature, true-to-life sound.
The difference is clear. If you turn up your favorite song on large speakers, you get that beautiful spectrum.
True that you can add that subwoofer to your smaller speakers, you will just never have pure perfection like those big, heavy speakers will give you.
Yeah, I get that budget might be on your mind here. But the thing is, if you cheap out and go for smaller speakers, you will also need to expense a subwoofer to work with them.
It's just one more connection to make, one that could fail. Once that subwoofer goes, you're back to tin-can sound.
But with a big and powerful speaker, it has everything built-in and ready to go. All you need to do is connect it and turn up the dial on your sound system.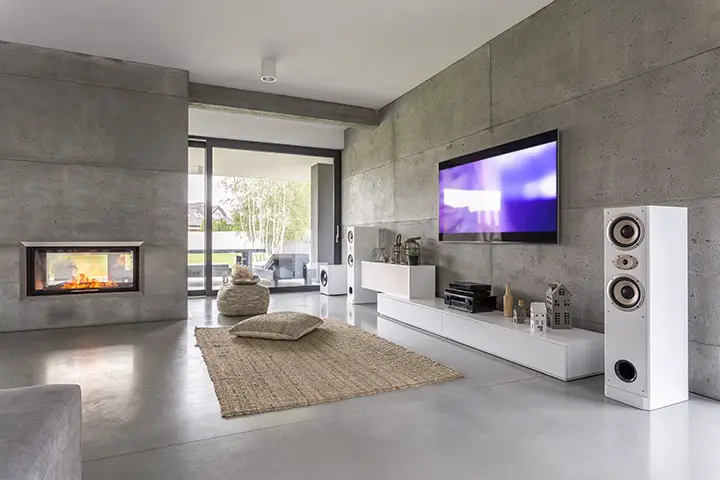 Everything You Need to Consider before Buying Big Speakers
Naturally, it's not just a matter of ordering those big, heavy speakers. You'll have to consider a few factors to make the right choice for your personal setup.
Space and placement are 2 of your biggest concerns. Read on about all that, and I'll tell you what to think about before clicking the best heavy and bigger speakers into your online cart.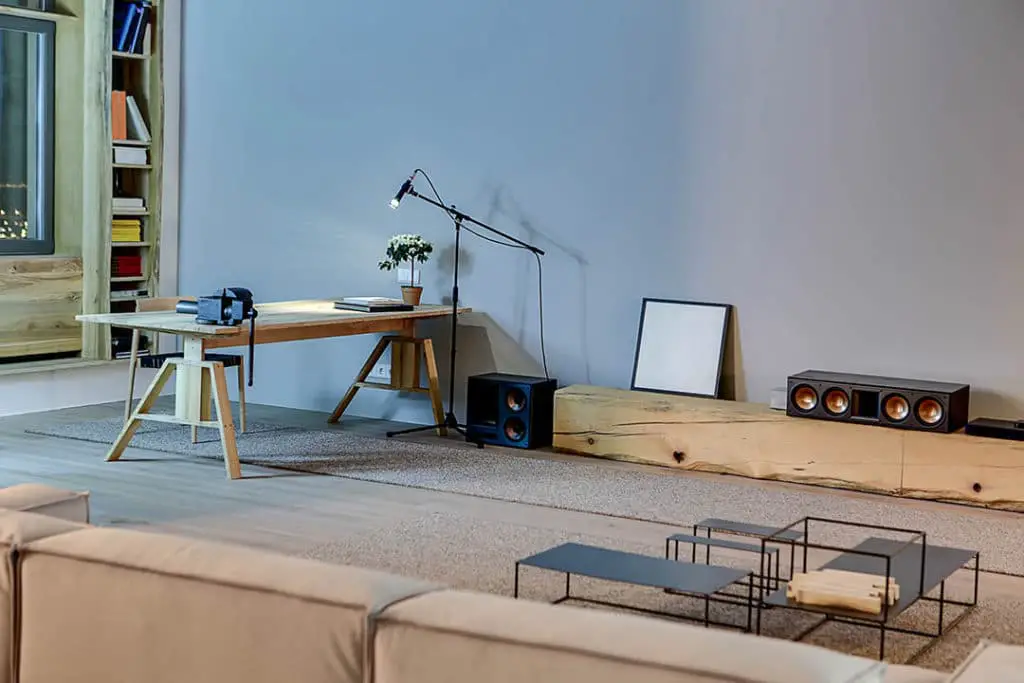 ■ Make Sure You Have Enough Space for Your Speakers
If you have a small living room with low ceilings, it's not a brilliant idea to shove 7-foot high speakers in there when the ceiling is only a foot taller than that.
There are slightly smaller versions that will accommodate that space without going into the realm of too small.
You might want to go listen to speakers in similarly-sized rooms. Knowing your measurements is key as well as finding a place that you can listen in and simulate the experience before you order an entire setup that won't fit.
Look for a local audio society or club for audiophiles. They can help you make sense of how to fit something legendary in your listening space without overcrowding and overcome any setup challenges you might face.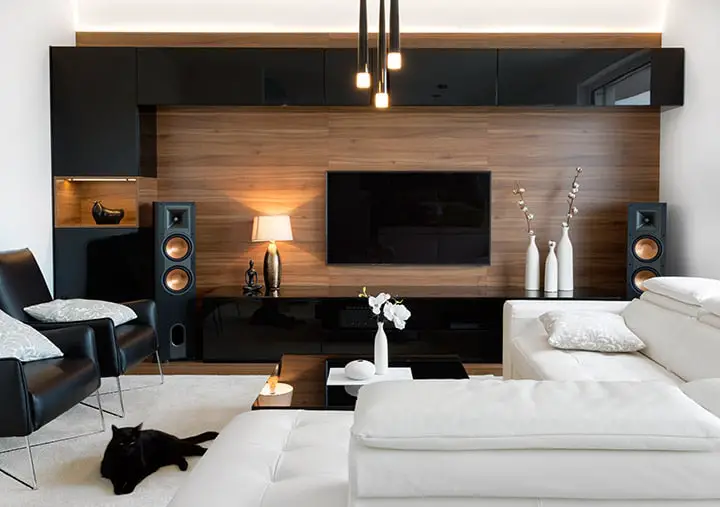 ■ The Placement of Your Speakers Is Crucial to Get the Best Sound
The ideal place to put your speakers is most important for the best sound. For most, 2.5m is the appropriate distance to set them. It also adds visual balance to your setup but, most importantly, provides premium sound.
You should place your speakers directly against your wall. They should be flat out and at minimum, 1.5m apart though 2.5m should be the max.
Another point about how the placement of your speakers will affect the sound is that they should not be set farther apart from the distance each one is to your listening position.
For this reason, 7 feet apart at a minimum should be the rule when your seating area is anywhere from 10 to 12 feet.
By following proper placement protocol, you'll get the best sound when you place your big, heavy speakers, whether you're looking to listen to your favorite albums or watch movies with the same kind of quality sound as a theater.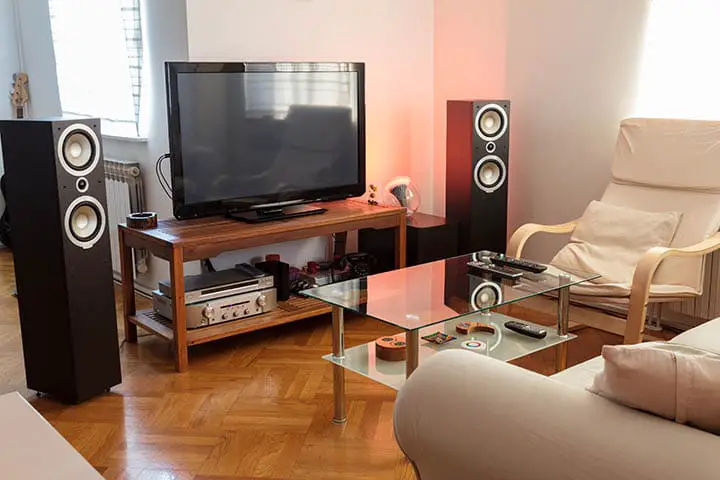 ■ Rearrange Your Room to Get the Best Sound from Your Speakers
Sometimes, you may have to rearrange your entire room to get that awesome sound you want from your speakers.
Always take measurements of the room, and don't be afraid to sketch things out before you go moving things around. That can get awfully exhausting, as I've found.
Your best sound will come if you angle your speakers in a slight direction toward the seating. Putting them right up against the wall will create a bounce of sound and cause distortion.
The same is true of chairs. You don't want your seating right against the wall, or the sound can't technically surround you. It's not that it will be horrible, but you won't get that immersion you're hoping for.
Plus, it can bounce off the wall behind you. So, keep both chairs and speakers out a bit from the wall. Create a triangle with this arrangement to get the best sound quality.
Bigger, heavier speakers are worth it if your room can accommodate it. But before you splurge, make sure your room is ready for it.
That measuring and assessing beforehand will help you to make the perfect sound in that room.
Plenty of rooms have shortcomings, and addressing those parts of the room can mean better sound quality and more happiness for you.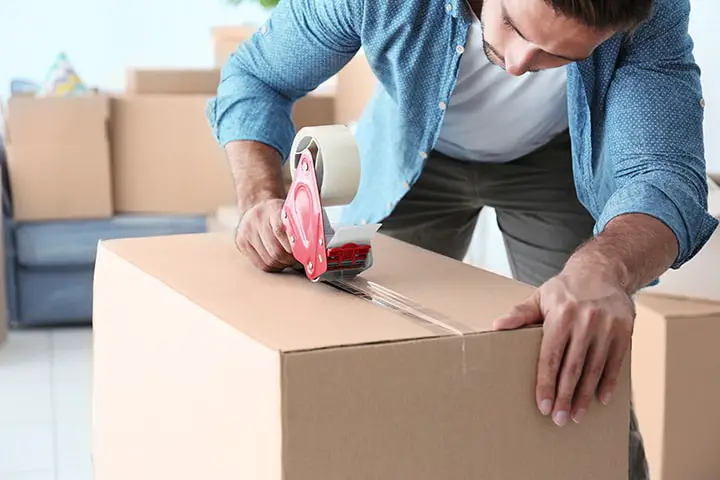 ■ Try Not to Move Your Speakers Too Often
Again, my recommendation to measure and plan before you buy your bigger speakers stands firm. You don't want to push them all over the room countless times. You stand greater chances for damage. Plus, there's really no advantage to rearranging your sound system every other week.
These big floor standing speakers need to be committed to one place. Unless you move to a new place, where you plan, their placement is where these babies should stay.
The bigger they are, the truer this statement is. You can put them on wheels, but geez, this isn't the roller derby.
Just find a place for them and keep them as is. The measurements and assessments you make before investing in these bigger, heavier speakers will be well worth it to get the setup of your dreams that will function phenomenally in your space.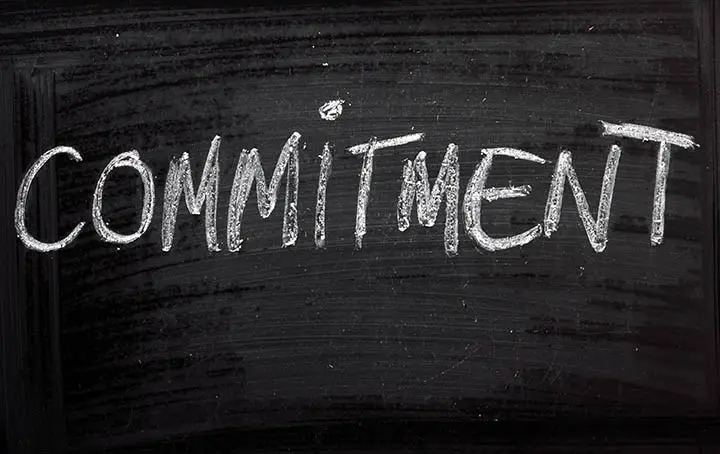 ■ Larger Speakers Are a Long-Term Commitment
Why do I recommend all this? Simple. It's pretty difficult to move a speaker that weighs 50lbs or more around on a whim.
These things are built solid, and boy are they amazing, but there's a huge commitment here. If you've just bought a big new house and are setting things up, you should definitely consider the investment.
You'll be blown away by the impeccable sound you'll get from larger speakers.
Think of it like getting married, but there's no cake and no fighting over the comforter in the middle of the night. You have to be married to your decision here, for better or worse, so make it a better one.
I don't recommend buying used either while we're on this subject. When you buy from a brand, you're getting support from that company in ensuring it is delivered properly without damage.
Used larger speakers also have that logistics problem, and the shipping will about kill your budget.
On the other end of this, you won't want to buy a larger speaker and then try to sell it. You'll have to slash your price so low that you won't even make the depreciated value of it.
There's a lot to think about here, so please, keep all these points in mind as you're planning your larger speaker setup.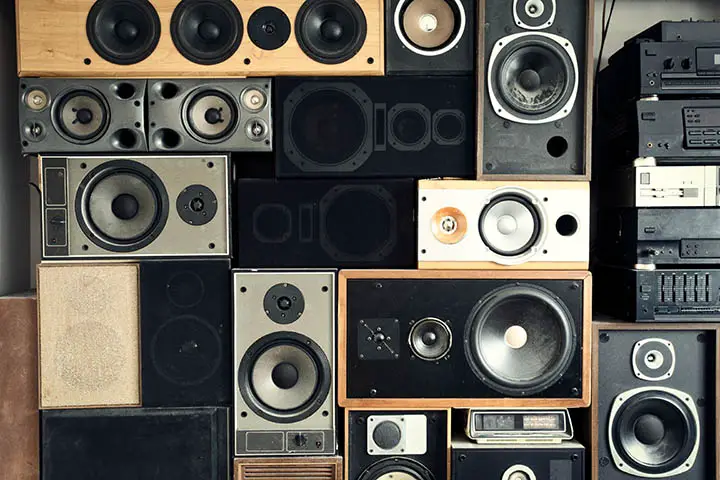 ■ Can You Mix and Match Speaker Brands?
It is not advised to mix and match the brands of speakers to pair with your surround system. This can cause problems with compatibility. The same is true with mixing different lines even in the same brand. When it comes to the subwoofer, though, it can be a different brand as the main speakers. The only difference here is how it will look with different logos though that is minimal.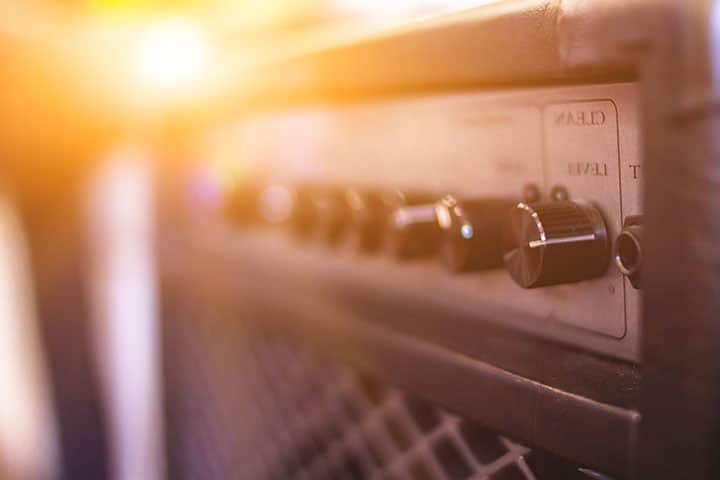 ■ Consider Getting a Power AMP for Bigger Speakers
You need a speaker and an amplifier to play nice together in your system. Let's say you take the best 10-watt SET amp you can find and connect it to a set of 84-watt sensitivity speakers. That's going to get your horrible results since the speakers will need more power than the amp can provide.
So, look at the power amp and speakers as one when planning your final results. This will give you a closer performance to perfection that you're trying to get.
Compatibility is everything, and finding what is recommended to pair up is a smart idea.
Forums are a great way to find out what works best along with asking manufacturers the reasons why they would pair a certain amp with the speakers you're looking at.
It all boils down to research. Don't just choose based on low price or aesthetics. It needs to have prime pairing to give you the sound quality you're looking for, or you're just wasting time and money.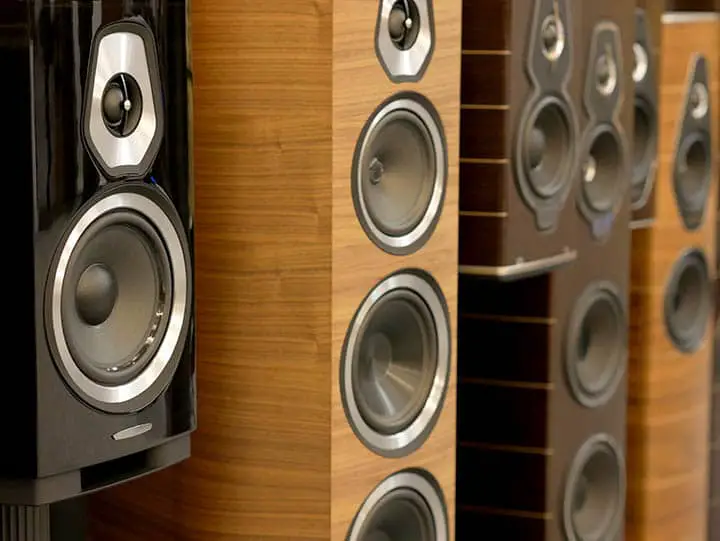 ■ Can You Mix Different Ohm Speakers?
You can connect speakers that have different ohm ratings. The best sound quality though is going to come from speakers that are equally rated and joined in pairs. For example, using two 8-ohm speakers connected with your speaker on the amp is ideal. Another option is to join it to the receiver or use two 4-ohm speakers that you hook up together.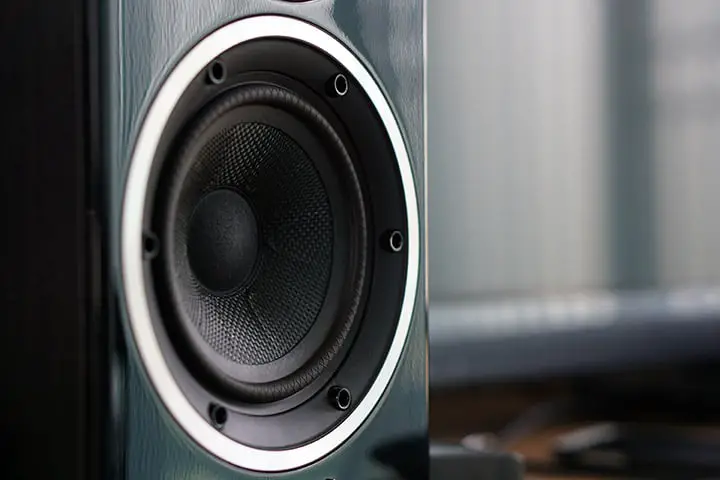 ■ Are Higher Ohm Speakers Better?
When you are mixing speakers, a higher ohm is better. If you choose a lower one, there will be more strain, but a higher one causes less of one on the output of your amplifier. This affects the peak sound output as it won't be as ideal as a lower impedance speaker, but it is still a good choice. At the very minimum, they should be the same ohm as your amp or higher than that.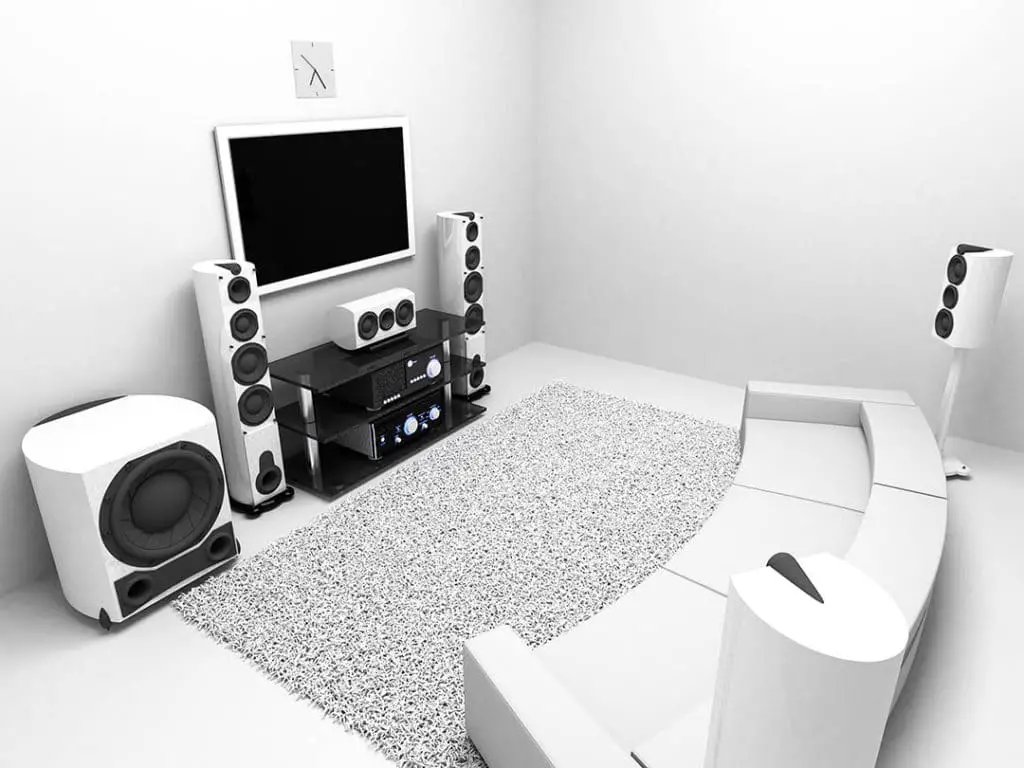 ■ Should Rear Speakers Be Louder than Front?
Rear speakers should never be louder. They serve a purpose to fill. The front speakers need to be checked and bolted down to ensure they are the main drive in your sound function.
Best Floor Standing Speakers
Now let's get to the meat and potatoes of this post. If you're looking for bigger and heavier speakers that are worth your time, money, and effort, look no further than these 3 quality floor standing speakers.
Focal Chora 816 Floor Standing Speaker
3-Way Bass-Reflex Floorstanding Speaker
Drivers: Slatefiber Woofer 2 x 61/2" (16.5cm)
Slatefiber Midrange 61/2" (16.5cm)
Inverted Dome Tweeter 1" (25mm) TNF Al/Mg
Sensitivity: 91dB
Frequency Response: 48Hz-28kHz
Low Frequency Point: (-6 dB) 39Hz
Nominal Impedance: 8 Ohms
Minimum Impedance: 2.9 Ohms
Recommanded Amp: 40/250W
Crossover Frequency: 270Hz - 2.700Hz
Dimensions (HxWxD): 411/2x117/8 x151/4" (1053x303x388 mm)
Net Weight (/w grille): 46.6lbs (21.15kg)
Get it on Amazon
Focal Chora 826 speakers (Amazon link) definitely look suave in your setup. For a reasonable price, they outperformed other pricier options.
They're made with Slatefiber, something new to the scene which uses carbon fibers and a thermoplastic polymer.
You get a cabinet that's light yet tiff for extraordinary high-end sound. So, it looks good. It sounds fantastic.
And Focal's speakers typically go for extravagant prices, but this release is much more affordable without sacrificing on quality.
The one complaint I've got about them though is that you have to position them right. This takes a bit of work and configuration, even with the specially angled stands that they come with.
So, your listening room really needs to be on par for these babies to work.
The Good: Excellent transparency in the details, particularly with the treble.
The Bad: Positioning can be way fussy.
Focal Chora 826 Specifications:
| | |
| --- | --- |
| Power Amp recommendation | 40-250 W/8Ω |
| Sensitivity | 91dB |
| Drivers | 2 x 6.5" Woofer – 1 x 6.5" Midrange – 1 x 1" Tweeter |
| Frequency response (± 3dB) | 48Hz – 28kHz |
| Low frequency point (-6dB) | 39kHz |
| Nominal impedance | 8 ohms |
| Minimal impedance | 2.9 ohms |
| Net weight including grill | 46.62 pounds (21.15 kg) |
| Net weight including packaging | 52.91 pounds (24 kg) |
| Speaker dimensions (WxDxH) | 11.9 x 15.2 x 41.4 inches (30.3 x 38.8 x 105.3cm) |
| Packaging dimensions (WxDxH) | 13.3 x 18.9 x 44.4 inches (34 x 48 x 113 cm) |
With 'pinnacle' in the name, the SVS Prime Pinnacle (Amazon link) indeed lives up to the name. Dare I say these might be the best floor standing speakers around? Yeah, I dare.
When you consider the quality of the sound, the design, and the value, there's nothing that comes close.
It's loud, powerful, and you can hear all those little nuances that make for prime perfection in sound.
These are ideal for whatever you're into whether you want to pretend you're in your own private dance club or put on classic folk music from bygone eras.
These are a step up from their former Ultra Towers. SVS improved on that design by making the same better and easier for positioning.
These are by far among the best there are for floor standing speakers, but there is one caveat and that's which amp you connect to it.
If you're investing in a proper system, don't cheap out on the amp or you will compromise the sound quality.
The Good: These are just phenomenal in sound quality with a solid design.
The Bad: They really require your amp to be top-tier for your best enjoyment.
SVS Prime Pinnacle Specifications:
Power Amp recommendation
20-300 W/8Ω
Sensitivity
88dB
Drivers
1 x 1″ / 2.5 cm Tweeter
1 x 5.25″ / 13.34 cm Midrange
3 x 6.5″ / 16.51 cm Woofer
Frequency response
29Hz – 25kHz
Nominal impedance
8 ohms
Net weight
57.1 pounds (25.9 kg)
Net weight including packaging
61.55 pounds (27.9 kg)
Speaker dimensions without Feet and without Grille (WxDxH)
8 x 13.4 x 40.5 inches (20.3 x 34 x 102.9 cm)
Speaker dimensions with Feet and with Grille (WxDxH)
8 x 13.9 x 41.1 inches (20.3 x 35.3 x 104.4 cm)
Packaging dimensions (WxDxH)
13 x 19.5 x 46.5 inches (33 x 49.5 x 118 cm)
If you have a smaller room, Q Acoustics has thought of you with the 3050i (Amazon link).
Inside, it features a Helmholtz Pressure Equalizer, a unique dampening tube that helps with resonance.
It is braced for clarity, and while I wouldn't call these the best speakers around since they do have some flaws, if you have a small room under 150 square feet, these could be your solution.
It lacks the bass bump though, anemic when in music situations. But if you pair it with a subwoofer and surround speakers to create a cozy home theater space, you will be in pure bliss.
This floor-standing speaker looks good and has driver on the top half, so they are mostly forgiving in theater-like capacities in smaller settings.
The Good: It's got sublime sound for smaller spaces.
The Bad: The bass is a bit weak, making it less than ideal for those wanting to listen to music in its prime.
Q Acoustics 3050i Specifications:
Power Amp recommendation
25-100 W/6Ω
Sensitivity
91 dB
Drivers
1 x 1″ / 2.5 cm Tweeter
2 x 6.5″ / 16.5 cm Woofer
Frequency response (+3 dB, -6 dB)
44 Hz – 30 kHz
Nominal impedance
6 Ohm
Minimal impedance
4 Ohm
Net weight including grille, terminals, and feet
39.2 pounds (17.8 Kg)
Speaker dimensions (WxDxH)
12.2 x 12.2 x 40.1 inches (30.9 x 30.9 x 101.8 cm)
Conclusion
Some decisions are made on a whim. The other day, I was researching something online and saw a t-shirt that I wanted. I don't even think I thought about it more than just tapping and ordering it. But with larger, heavier speakers like these, it requires a lot more effort in the thought department.
Again, take into account your room and your setup. Measure it and draw your layouts first. Think about what your primary function will be. And know what speakers would be too big for your space.
They're difficult to move and are a huge commitment, so take the time to evaluate what you're really in this for and then get your grand setup ready to rock!