The 5-string bass provides a lot of versatility for guitar players. You can drive the beat, provide high-quality lower tones, and hit all of the frequencies that a composition needs.
As with any guitar, you have several tuning options to use with a 5-string bass. It is remarkably versatile with the extra string, providing more key variations that adapt to most playing styles.
Although most guitars with this design have low action, this design is fun and rewarding!
When you know how to get it in tune and keep it there, you'll appreciate everything this instrument contributes to your music.
5-String Bass Tuning Options
When you tune a standard 4-string bass guitar, the typical format uses the E-A-D-G note combination. Many instructors like to teach new players to say "Eat a Dead Grasshopper" to remember that sequence. With a 5-string bass, you can add a low B or a high C to the grouping.
That means the standard 5-string tuning format is either B-E-A-D-G or E-A-D-G-C.
If you play heavier music with your 5-string bass guitar, it might be better to use Drop D tuning for your instrument.
This option became popular with Seattle's grunge movement in the 1990s, and it has carried on in most forms of metal and rock today.
With a drop tuning option, you're lowering the pitch of your lowest string two semitones, which is one full note below standard.
That means you'd use a C-D-A-D-G sequence for your 5-string bass guitar. You could also use the high note alternative by going with a D-A-D-G-C combination if that works better for your playing style.
Some metal bands prefer an even lower tuning style. It's called Drop C tuning, and you'd use a C-G-C-F-A-D sequence for your music.
You even have the option to go lower with what is called a Drop B tuning. When you play this choice on a 5-string bass guitar, you'll need to use an F#-B-F#-B-E sequence.
Although you can achieve these tuning choices by listening to each note when making adjustments, it helps to have a reliable tuner available to use.
How to Keep Your 5-String Guitar in Tune
All guitars go out of tune eventually. As the strings age and stretch, the tone quality shifts a semitone in one direction or the other.
It is up to you to ensure that the instrument receives the care it needs to consistently stay in tune.
Although bumping the tuning pegs is a sure-fire recipe for needing to make adjustments, you can avoid the issue by using standard care and maintenance.
You'll want to keep your guitar in its case when not in use and avoid contact with hard objects while playing.
Instead of leaning your guitar against the wall when you're not playing, please put it back in its case.
If you have a vertical stand that can hold the 5-string bass, you could keep it in there for a short-term break.
Here are the other steps you can take to ensure your bass guitar stays in tune longer.
■ Change the Strings Often
When the strings on your bass guitar start sounding dead or struggle to remain in tune, it's time to change them. You'll want to stretch them by playing or pulling up on them to ensure the right tone is available.
Don't pull on your strings hard because they could break! Some instruments need about 24 hours to adjust to the new tension, so you'll need to keep your schedule in mind before finalizing your swap.
If you want bright sounds from your bass, a monthly string change is considered a best practice.
When you want them to sound well-loved, you might consider swapping them out every six months.
■ Keep Your Instrument Clean
If you want your 5-string bass to continue sounding fresh, you'll need to keep the instrument clean. That process starts by washing your hands before every playing session.
When you're finished playing, using a string cloth to wipe them down to maintain their integrity.
About once per month, you'll want to use a little guitar polish and an old rag to let your finish shine like it did when you first purchased the instrument.
■ Keep the Guitar in a Case
If you don't have a case for your 5-string bass guitar, you should consider investing in one. When you have a protective hardshell for this instrument, you'll help it avoid damaging events.
A well-constructed bass guitar case can also control temperature and humidity levels that could adversely impact how the instrument plays.
You'll want to avoid storing it near the kitchen and bathroom to maximize this benefit.
What Are the Best 5-String Bass Guitars to Use Today?
If you're ready to explore the benefits of a 5-string bass and its numerous tuning options, these guitars are the best choices found in the industry today.
With a slim maple neck that encourages fast chord or note changes, you'll discover that the Ibanez GSR 205SM is one of the most responsive 5-string bass guitars available today.
It comes with an Active Phat II EQ and dynamic pickups to ensure that you get the low-end power needed for any composition.
| | |
| --- | --- |
| Pros of the Ibanez GSR 205SM | Cons of the Ibanez GSR 205SM |
| The Jacobi fingerboard delivers excellent inlay visuals for references to make playing easy. | It comes with passive pickups and an active electronics system inside the guitar. That means you need a battery to operate it. |
| Its pickups deliver a comprehensive, full sound that offers clarity that punches well above its price point. | You'll need to purchase a gig bag or a hard case separately with this bass guitar. |
| The bass guitar uses poplar wood for the main body to keep it a lightweight playing experience. | It uses a salted maple top, which creates a cosmetic change that some players might not appreciate. |
You may need to swap out the stock strings with your own set after receiving the guitar. Please remember to let them stretch for about 24 hours before playing if you take that step.

If you love the traditional look of a bass guitar, you'll appreciate the stunning darkness of the Shecter 2523 Stiletto Stealth.
This incredible design features gray Pearloid dots and a one-tone construction that delivers an impressive visual stage aesthetic. You'll have lots of fun playing it with the 24 X-Jumbo frets.
| | |
| --- | --- |
| Pros of the Shecter 2523 Stiletto | Cons of the Shecter 2523 Stiletto |
| The bass guitar comes shipped in a hardshell case to ensure you receive a high-quality result. | The pickups on this bass guitar are passive, which means you'll need a 9v battery installed to make them work. |
| It uses a slightly softer finish than gloss that is remarkably scratch-resistant. | Although the guitar is scratch-resistant, it is somewhat susceptible to dings and nicks. |
| You'll find the action stays a little lower than other models, delivering a fantastic sound for heavy metal and rock compositions. | You'll need to consider having the bass guitar's electronics professionally secured if you plan to use it for gigs. |
If you're ready to take your guitar playing experience up from a beginner's level, this 5-string bass guitar delivers the goods to have a successful venture.

Everything about this 5-string bass guitar from Ibanez makes people pay attention to your playing style.
It delivers excellent low-end power while offering the dynamic P and J pickups that make this manufacturer one of the best producers in this category.
It only takes one playing session to fall in love with the GSR 205ROM.
| | |
| --- | --- |
| Pros of the Ibanez GSR 205ROM | Cons of the Ibanez GSR 205ROM |
| This bass guitar provides an affordable way to practice the 5-string style without giving up your unique playing approach. | You'll need to use a battery with this guitar, and the panel that holds it in place can sometimes get cross-threaded. |
| It uses the traditional Ibanez approach to guitar design for a sleek, lightweight user experience. | It needs a few adjustments out of the box, which means you'll need some familiarity with a 5-string bass. |
| The manufacturer incorporates a maple neck with the B15 bridge for a rock-solid, long-term investment. | Although it is a lightweight model, it still weighs 8 pounds. That makes it unsuitable for some younger players. |
Even if you're thinking about buying this bass guitar for your teen or adolescent, Ibanez has built something that will last. This model is the pound-for-pound best value that you'll find today.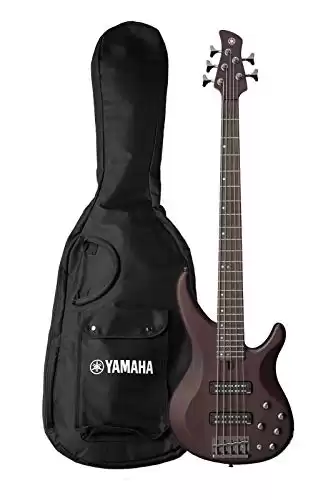 When your music could benefit from a bass guitar that offers a better tone, the only choice to make is the Yamaha TRBX505 5-string bass guitar.
It uses an active-passive preamp design to deliver the most flexibility possible for players of all ages.
This approach ensures that your sounds have the most customization possible.
| | |
| --- | --- |
| Pros of the Yamaha TRBX505 | Cons of the Yamaha TRBX505 |
| Yamaha uses black nickel hardware that promotes a beautiful aesthetic without compromising the quality of the playing experience. | The bass guitar comes in a soft gig bag instead of a hardshell case. |
| The guitar uses a mahogany neck with a five-piece maple construction to deliver a substantial user experience. | It uses a translucent brown finish that shows off scratches and dings more than other colors. |
| You receive an LED notification that the battery for the guitar is running low. | You'll need to switch between the active and passive modes with a toggle switch, which is a connection that could theoretically wear out with repetitive use. |
When you're ready to start playing live at shows, this Yamaha 5-string bass guitar is the instrument you'll want at your side.
It has the right adjustability features while maintaining its overall sensitivity.
Is It Time to Convert to a 5-String Bass?
I know that a 5-string bass isn't always the most comfortable instrument to tune, but it is a guitar with numerous advantages. You'll find that this design works with almost any playing style.
Although the best 5-string bass guitars might be a little heavy for the youngest players out there, most people will find that the action is right where it needs to be.
All of the instruments I've included here have a lovely mellow sound that delivers the right combination of harmony and beat progression.
If you're looking for your first or next bass guitar, I highly recommend these 5-string models to meet your needs