A multi-monitor setup is a fantastic way to create gaming immersion or improve productivity. When you daisy chain your screens, the environment makes a singular focal point for you to use.
Although every monitor offers a daisy-chaining potential, some graphics cards and laptops don't support the cables needed to create this result.
As the distance increases to the final screen in your links, the host system can develop problems that introduce errors in your display.
The daisy chain methodology uses monitor-to-monitor connections to eliminate display options instead of using a singular video out port from your computer.
How to Daisy Chain Monitors
You must have USB-C cables and 2+ monitors that support DisplayPort 1.2 at a minimum to daisy chain your setup. The first display connects to your computer, while the second (and each additional one) has the "in" connected to the "out" of the previous screen.
When you create a successful daisy chain with two or more monitors, you'll eliminate a lot of the cable clutter that exists at the desk.
This option also improves the range your screens have from the source to help you have more flexibility.
Some limitations do exist. The maximum bandwidth of the first cable from the host to the initial screen must handle all of the streams to the remainder of the displays.
That's why you'll need to purchase a high-end cable to maximize your refresh rates and resolution.
The process is relatively simple. If you have a compatible monitor, you'll connect its "in" port to the "out" port of your host system.
After you have that connection secure, you'll repeat that process to each additional monitor. You'll need a second cable to run from the first monitor's "out" port to the second one's "in" port.
If you have a third monitor to use, you'll repeat that step again. Continue adding more until you've created the daisy chain that links everything to the host system.
■ What Is DisplayPort Technology?
DisplayPort technology is technically known as Multi-stream Transportation, or MST.
If your monitor offers DisplayPort 1.2 ports, you can use this technology to connect several monitors to the single output port on a docking station or computer port.
The result is the same as it would be for other connection options. You gain the benefit of having fewer cords and less clutter to manage at your station.
Before you get started on the daisy-chaining process, you'll want to make sure your setup has the following elements.
The latest graphics card (GPU) and video drivers for your system.
A compatible GPU or video card on the computer with a DisplayPort 1.2 port equipped.
Monitors rated as being DisplayPort 1.2 MST compatible.
Although you'll find different generations of DisplayPort technology available, all of them are interchangeable. As a best practice, it is often useful to use the same version whenever possible.
It is also possible to have a monitor with DisplayPort 1.2 technology that isn't MST compatible. You'll want to review the specs or user manual of your equipment before starting the daisy-chaining process.
■ What Is the Best Cable to Use for Daisy Chaining?
Although you can theoretically use almost any USB-C compatible cable, the best option for daisy chaining is a DisplayPort product.
Each system has different requirements to consider, ranging from the refresh rate to each monitor's graphics quality hooked up to the host.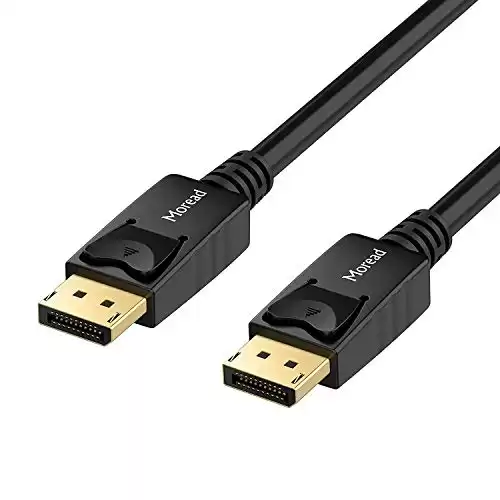 That's why the Moread DisplayPort to DisplayPort cable is one of the best to choose.
It uses a gold-plated display port cable that handles 4K at 60 Hz or 1440p at 144 Hz to work with desktops, laptops, and projectors.
Since you'll need a cable for each monitor in your setup, you'll need to purchase them in pairs to get the best results. If you have three monitors to daisy chain, you'll want to have six cords available.
It helps to have a backup cable for each connection because you never know when one might fail. When that happens, you won't get to maintain your setup because you'll need to unlink one of the monitors.
■ How Many Monitors Can You Daisy Chain?
Your GPU or video card has a maximum capability you must consider when looking at the benefits of daisy-chaining your screens. The pixels the equipment outputs dictate the numbers you can display simultaneously.
The limits depend upon your refresh rate, timing, and resolution for each connected monitor.
| | |
| --- | --- |
| Monitor Display Resolution | Max # to Daisy Chain |
| 4096 x 2160 (4K by 2K) | 1 |
| 3840 x 2160 (UHD by 2K) | 1 |
| 2560 x 1600 | 2 |
| 1920 x 1080 | 4 |
| 1680 x 1050 | 5 |
If you use other setup methodologies with your computer monitors, it is possible to increase or decrease what is possible with your daisy chain technique.
The table above references what is achievable through DisplayPort 1.2 MST outputs.
You don't need to chain monitors of the same resolution together to create a positive outcome.
If you were to use a 2560 x 1600 product for the initial sequence, you could attach two 1920 x 1080 monitors to have a three-station result.
If you have an older monitor that offers DisplayPort 1.1 technology, it can be the last screen in the sequence with its input-only design.
■ How to Configure Monitors in Extended Desktop Mode
You must enable DisplayPort 1.2 MST capabilities to have Extended Desktop Mode available for your setup.
This feature is not enabled on all monitors. If you're using a Dell product, it's automatically disabled as a default.
If you've connected your monitors using the daisy chain technique and the setup isn't working, you can follow these steps to enable Extended Desktop Mode on Intel® systems.
Go to the Windows start menu.
Search for the Intel Graphics Command Center.
Double click on the icon that appears.
Click on Display. This action creates the Connected Display window to access.
Click on the More Options icon on the primary display.
Choose Extend.
You'll need to select the displays which you'd like to use for your setup.
You can rearrange the monitors to match your configuration with a click-and-hold command to create the preferred structure.
If needed, you can switch the primary display by choosing More Options, then Make Display Primary. You'll see a star icon by the signified screen.
You can also activate the extended desktop feature by going through your Intel Graphics Control Panel. If you prefer that option, you'll want to follow these steps.
Go to the Windows start menu.
Search for the Intel Graphics Control Panel.
Double click on the icon that appears.
Click on Display, followed by Multiple Displays.
Choose Extended Desktop Mode.
Click Apply.
If you have a third-gen or newer processor, three-display support is available for your system.
Once you complete the six steps through the Intel Graphics Control Panel, you'll need to use the Arrange Displays window.
Use your mouse to move the displays into the arrangement that meets your setup's needs. Once you are satisfied with the results, you must click Apply to save the changes.
If the monitors aren't all connected to the host, you won't see the dropdown menus to create the display's daisy chain extension.
■ Does the Final Monitor Need to Be MST?
When you have older monitors as part of your desktop, some of them might have an early version of DisplayPort.
The older 1.1 ports didn't support an output. That meant you could link the monitor to a host system (such as a laptop), but you couldn't extend it to another monitor.
With DisplayPort 1.2 MST's introduction, you have an output option with each compatible monitor to link the screens.
Since DisplayPort 1.1 technologies accept input, you can have that monitor become the final station in your setup.
If you were to make it the first one, you'd be unable to complete the daisy chain because there'd be no available port to use.
What If I Want to Use USB-C Cables for Daisy Chaining?
USB-C connections provide a similar result for daisy-chaining compared to DisplayPort technology.
You have options to duplicate or extend displays, which is useful for several different scenarios.
This alternative is possible because of the alternate mode functions found in USB-C cables.
It allows video signals to get sent across the connection, which isn't possible for older USB cords that were reserved for data only.
If you decide to use a high-quality USB-C cable for your daisy chaining, you'll also need a converter to complete the process.
You can use an adapter, multi-port hub, or a USB-C cable with a DisplayPort connector on one end. The right solution for you depends on the distance and display requirements you must meet to create a usable setup.
DisplayPort doesn't provide power to your displays. That means you'll need separate power cables for each one to create a functional system.
When you connect the host system to a powered monitor with USB-C, it does offer the option to charge an internal battery.
USB-C cables don't have the same maximum resolution as DisplayPort tech. You'll also have fewer screens supported for your system when using this technology.
That means you might need a lower refresh rate or resolution to maintain the system.
Best Daisy Chain Monitors
If you want to link 3+ screens together, you'll need at least 1920 x 1080 monitors to accomplish your dream setup. The best monitor for that outcome is the Samsung CF30 Series 27-inch FHD curved desktop monitor.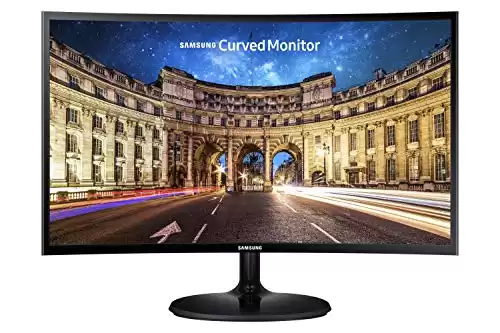 With the Samsung CF30, you'll receive a 16:9 aspect ratio, stunning colors, and a wide viewing angle.
It delivers a VGA input for legacy applications while using a mountable panel design for multi-screen workstations.
The Samsung CF30 comes with a 36-month business warranty.
If your preference is for the best gaming monitor possible without significant chaining, you'll want the LG 34GP83A-B gaming monitor.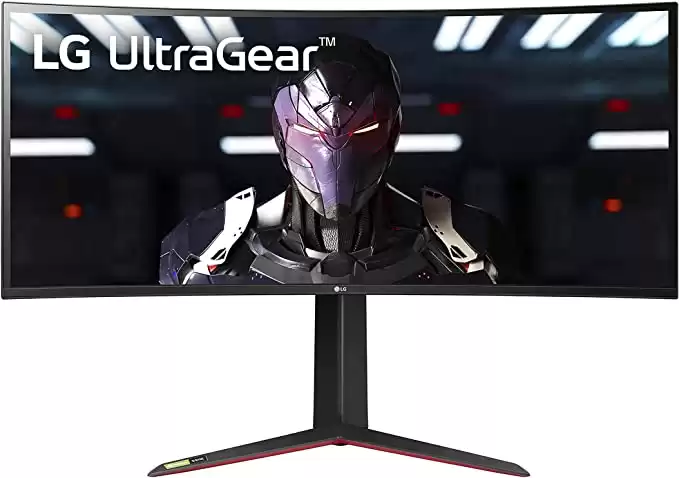 It delivers a curved 34-inch screen with QHD resolution and a 144 Hz refresh rate.
It is G-SYNC compatible, providing a virtually tear-free design that works hard to create an immersive environment.
You'll receive a tilt-height adjustable stand in the box to create the perfect viewing angle for your setup.
Whether your goal is to daisy chain two monitors or 5+ to create the perfect workstation, you'll find that the process works better when you start with the right cables.
Once you have those items available for each screen, you can create the perfect place to work or have fun!