A high-quality monitor increases the enjoyment that comes with modern gaming. Whether you use a console or a PC for your favorite titles, it is possible to run into the issue that the equipment won't have proper built-in speakers to use.
There might be other reasons why you want to get sound from a monitor without speakers, ranging from streaming music to watching movies online.
The following guide takes you through the necessary steps and best methods to implement to get the sound you want without needing an in-built setup.
Best Ways to Get Sound from a Monitor Without Speakers
A wireless connection is the fastest and easiest way to get sound when you want to get audio from your computer or console. Once you take a portable Bluetooth speaker, pair it with the system, and start playing or streaming, you'll see instant results.
It isn't possible to get sound output from an electronics device that doesn't offer an audio output channel, such as a speaker. You must use a workaround to achieve the results you want for gaming, browsing, and more.
If your monitor doesn't have an audio output jack, there isn't a wired way to achieve a sound profile. That's why you'll want to implement one of the following strategies.
Best Method: Use a Wireless Connection
When you want to get audio from your computer or console, a wireless connection is the fastest and easiest way to get sound. Once you take a portable Bluetooth speaker, pair it with the system, and start playing or streaming, you'll see instant results.
If the console doesn't have a Bluetooth feature, you can bypass the problem by investing in a USB-to-Bluetooth cable.
You can also purchase a wireless hub that connects by USB to your device to use multiple speaker or audio output options.
Since most home theater systems use Bluetooth connections, you can get an impressive audio profile for your monitor without speakers. It provides placement flexibility, multiple chains, and a lifelike experience.
Here are the following Bluetooth speakers that are worth considering for your monitor today.
Bluetooth Speaker
Bluetooth Speaker Specifications
Logitech Wireless Sound System
With 5.1 Dolby Digital surround sound and DTS tracks, you'll get a fantastic experience for gaming, streaming, and more with these speakers.
They deliver up to a 1,000W peak power under certain conditions, leaving you with a thunderous response.
You can connect up to six devices simultaneously to the system, ensuring that your monitor, consoles, and other electronics deliver the sound you want.
JBL Waterproof Speaker
The JBL FLIP 5 is a portable and waterproof Bluetooth speaker that comes in 14 different color options.
You receive up to 12 hours of playtime per charge, along with an option to pair multiple units to generate a sound boost.
It also comes with a 3.5 mm stereo connector for added flexibility.
With its unique design, you can set this product anywhere within the range of a compatible monitor to have a great experience.
VIZIO Wall-Mount Sound Bar
If you're ready to step up to the audio benefits of Dolby Atmos, this M-Series sound bar with a woofer and extended speakers can give you an affordable and wireless way to enjoy great audio from your monitor.
It uses a low-profile design to seamlessly blend into any environment while having excellent clarity and EQ in virtually any setting.
Bose SoundLink II
This innovative wireless speaker produces bold sounds in a compact unit that delivers excellent water resistance.
It provides a built-in microphone for speakerphone calls while offering a rugged exterior that doesn't interfere with pickups or broadcasts.
You'll receive up to eight hours of playtime per charge with USB support.
You can even pair two of them together or connect them to the brand's smart home speaker systems.
Method #2: Use an Audio Connection Jack
Several monitors provide a dedicated audio connection for headphones, connected speakers, and other sound options.
This method of getting sound from a monitor without speakers is sometimes referred to as a "headphone jack."
Depending on your equipment, there could be an option for multiple outputs, such as one for your speakers and another for your headphones.
The ports are popular with many of today's top brands, including Lenovo, HP, Apple, and Dell.
If you have an audio connection jack on your monitor, you don't need to worry about a speaker audio connection. You can plug in a compatible unit to have instant sound.
The benefit of using the audio connection jack is that it is a lossless format. You'll receive an excellent sound coming through the speakers because distortion and minimization are kept at low or nonexistent levels.
It's even possible to connect a home theater system or other speakers to your monitor with minimal effort using this method.
Steps to Follow When Using the Audio Output Jack
You'll need to have a stereo audio AUX cable available that maximizes the lossless benefits of this method of getting sound from a monitor without speakers. The Ruaeoda Shield AUX cable extension is a great product to have available for this need because it extends your connection by up to 30 feet.
Connect the first point of your AUX cable to the headphone jack of your computer or monitor. The second one goes to your speakers.
Follow the settings or instructions offered by the manufacturers of each product to ensure the external speakers serve as your primary audio output while using the computer.
Start playing your preferred audio in the system to enjoy high-quality sounds from your preferred speaker make and model.
Bookshelf speakers are an excellent option in this category. Some models, such as the Klipsch R-51PM, provide the additional benefit of a wireless connection.
When choosing bookshelf speakers, you want to select products that play well with multiple devices.
You could have a TV, computer, turntable, smartphone, monitor, and projector all connected to maximize the versatility your home entertainment provides.
What makes the Klipsch R-51PM stand out is its integrated phono pre-amp. You'll receive a dynamic bass EQ that matches your ability to pick up the lower frequencies to maximize the sonic enjoyment of any audio source.
Method #3: Use the Audio Connector for Your Device
If you have a gaming console and a monitor without speakers, you can get the output directly from the Xbox or PlayStation instead of routing it elsewhere first. That means the only signal going to the screen is the video output.
Most gaming consoles, along with other similar technologies, provide an optical audio connection port. By including this option, it's possible to achieve a surround sound outcome. The owner's manual will tell you what equipment is necessary to finalize the setup.
The latest version of today's gaming consoles provides a speaker in the handheld controls of some designs.
You might not need to connect anything at all to receive a basic audio output. There is even the option in some designs to plug headphones into a 3.5 mm jack that receives wireless audio from the console.
If you're looking for a fantastic set of headphones that work with gaming consoles, you'll want to ensure compatibility first. Sony and Microsoft offer unique options that work well for players with clear console preferences.
Best Sony Headphones: The Sony PS Platinum Wireless Headset offers 7.1 Surround Sound to deliver a rich audio environment.
It's powered with 3-D audio technology and positional awareness to create a realistic learning experience.
It connects wireless to the console, but it can also work with a monitor and PC through Bluetooth technology.
You have the option of connecting the headphones to a PSVR headset or using the 3.5 mm audio cable to work with a smartphone or a compatible screen.
Best Microsoft Headphones: The SteelSeries Arctis 9X Wireless Headphones connect directly to the Xbox Series XS or One like a wireless controller.
That means players can start gaming immediately without needing a dongle or cable to achieve the sound they want.
This unit pairs simultaneously to a Bluetooth source and the console to take calls or listen to music without interfering with the game audio.
That also means you can take them with you for wireless support with your smartphone. It uses a bidirectional design for the microphone with excellent noise cancellation support.
Top Choice!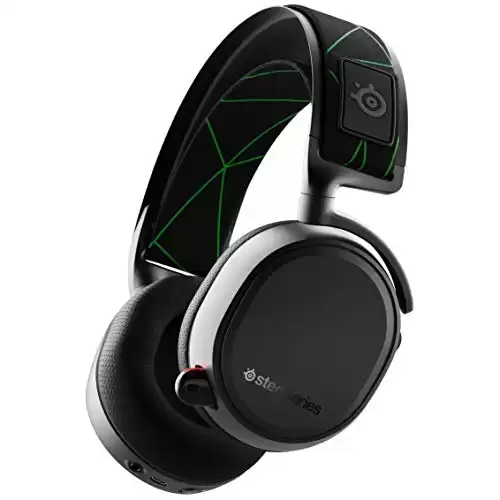 SteelSeries Arctis 9X Wireless Gaming Headset
It lets you connect to your Bluetooth device and Xbox at the same time
The bidirectional microphone offers incredible military-grade noise cancellation
Excellent soundscape
More than 20 hours of battery life
Compatibility: Xbox Series X, Xbox One, PC, smartphones via Bluetooth
Get it on Amazon
Method #4: Use an HDMI Audio Extractor
An HDMI audio extract goes between the audio source and the output to ensure you get the sound you want. The only way this option is a possibility is if you have speakers with 3.5 mm support.
HDMI ports support audio and video signals. When you have an HDMI audio extractor that splits the pathway into separate components, you can route the sound to a separate main device.
That makes it possible to get sound from a monitor without speakers while maintaining a Hi-Fi listening experience.
The OREI Ultra HD 4k HDMI splitter provides an 18 Gbps powered experience with EDID management. It supports multiple resolutions, including VGA to WUXGA.
That means it works with monitors from the 1990s to the most current release. It's compact and easy to use, offering a plug-and-play installation that stays HDCP 2.2 compliant.
With the OREI splitter, you'll also enjoy multiple forms of supported audio, including DTS-HD, DTS 7.1, and Dolby-AC3.
How to Enable Audio Outputs with an HDMI Audio Extractor
Before the HDMI audio splitter can work properly, you'll need to see if your PC has the sound drivers updated or installed. Use the volume bar, go through the settings, and authorize external speakers if they haven't already been selected.
It might be necessary to perform a right-click command on your output devices to choose the external speakers.
They're connected with the HDMI, but you'll need the splitter or extractor available for this step. Then ensure that you've connected to all the ports and have the sound enabled from the computer.
Once the setup is complete, it is usually necessary to restart the computer. You should hear the startup sounds from your operating system as it loads.
If you don't have any sound, check your connections to ensure they're connected correctly. You might need to re-check each system setting in case an auto-restore altered them.
Method #5: Use a USB Multiport Adapter
Some monitors without speakers don't come with a 3.5 mm jack. If you've looked at the back of your equipment and discovered this problem, you can still get audio! You'll need to invest in a USB multiport adapter that includes a spot for your headphones or speakers.
Most monitors provide at least one USB port for communication purposes. You'll want to verify if it is a standard USB connection or a USB-C (the sizes are different).
If you don't have any ports, you'll need to choose one of the other methods to route sound to speakers in this guide.
The DockTeck USB-C Multiport Adapter is an excellent choice for anyone who needs multiple splits and readers for their computer.
This unit provides a 1 Gbps ethernet option, 100W power delivery, TF and SD slots, along with a USB 3.0 data port. It's compatible with 4K, 60 Hz HDMI.
It's a great investment because the USB-C design makes it compatible with multiple equipment options. You can use it with a projector, scanner, printer, keyboard, or digital camera to enhance the flexibility offered with each option.
Some USB multiport adapters are PC or Apple-only products, so you'll want to verify each option carefully before proceeding with a purchase.
 A Final Thought on Getting Sound from a Monitor Without Speakers
Inbuilt speakers are a convenient option for computers and monitors, but the sound quality is inferior to even below-average external speakers. By knowing how to route audio streams to these assets, it's possible to increase the enjoyment of any game, show, movie, or streaming event because the sound is more realistic.
I bought an Apple iMac a few months ago to replace what I normally use for work. It is my first all-in-one computer design in over a decade, and only the second one I've ever purchased that doesn't come with a separate tower.
It was a great deal as an open-box return. I figured that the discount was worth the risk, and I could always get AppleCare to help cover a problem.
After getting every set up and working, I discovered the reason why it was returned. There was no audio coming from the iMac.
I went through the entire setup process twice, verifying that all my settings were correct. When I got Apple customer care on the line, they helped me go through some deeper tech settings to see what the problem was with my system.
Their help got the iMac to chime on the startup, but it was extra loud and distorted. The rep sighed when she heard it on the phone. I was instructed to bring the computer in for an in-person inspection.
After having it for about two weeks, I got a call. They said that for whatever reason, the software was interfering with the hardware in ways they hadn't seen before. Would I like to have a refund?
I opted to keep the iMac with some extras instead. Then I invested in Bluetooth speakers for my system instead.
There's always a workaround to consider if your monitor doesn't have speakers. By choosing one of the options in this guide, you'll create a system that meets your needs effectively.