Do your kids show interest in playing music? Pianos are a fun way for toddlers to build up their coordination skills while keeping entertained. And that may continue to fascinate them as they get bigger.
Of course, a piano for a toddler between the ages of 1 and 3 won't really interest a child between the ages of 3 and 6. And beyond 6, if your child still wants to play piano, you will need to keep up with the right piano for them.
No big kid wants a piano made for babies. Knowing kids, you'll have to hear that one over and over and over (and over!).
Here, I'll break down the best pianos for toddlers and kids. These are all fantastic options though it all comes down to your needs, budget, and the age of your child.
You'll see what features each has and be able to compare and contrast what would work out best in your situation.
I've broken them down into age categories too, so if your kid is a toddler, start here while if you have a bigger kid, scroll down!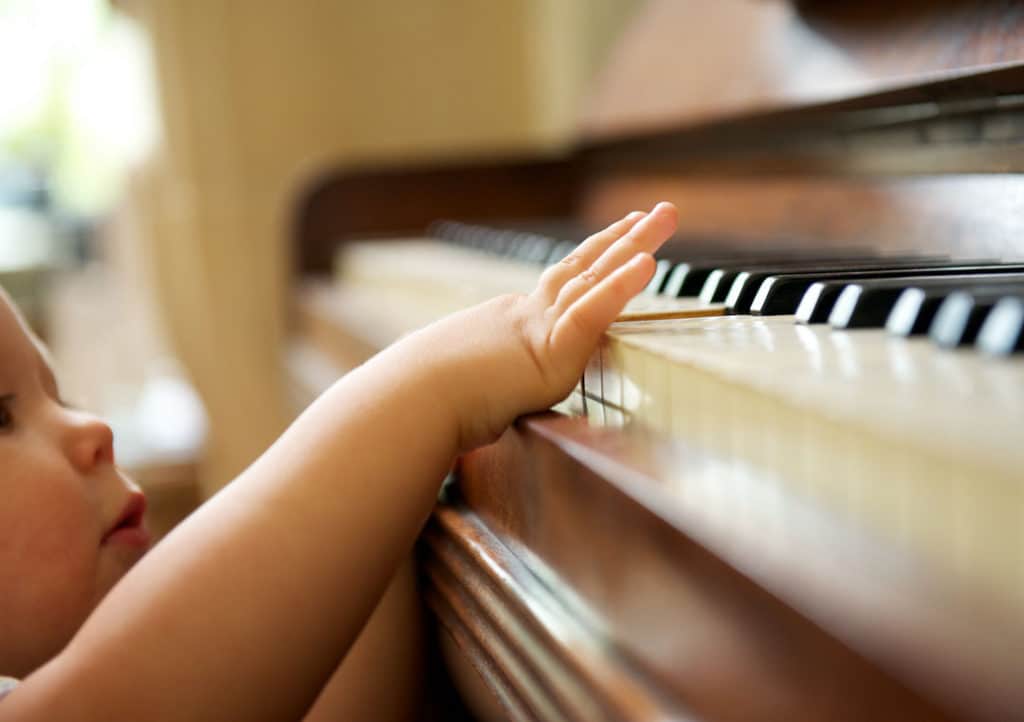 The best pianos for toddlers between 1 and 3 years
Toddlers between the ages of 1 and 3 years old have very different needs. For starters, they might not even know what a piano is or really care until they start pushing on the keys.
That intrigue will keep them playing, though, help them with motor skills and build a love for music that lasts a lifetime.
Will your baby grow up to be the next Mozart? I think it's too soon to tell, but if you want a toy that engages your little one and inspires them to make music, your toddler will love the Fisher-Price Laugh & Learn Silly Sounds Light-up Piano.
It has that iconic Fisher-Price dog on it, which ties it into the other FP products your kid probably has. That breeds familiarity even in such young learners.
Kids have a choice of 4 different ways to play this cute little piano. There are real piano notes, cow sounds, duck sounds, plus a selection to learn songs and phrases.
While there are only 8 keys, this is a true piano for toddlers, not something a professional musician would play on, so give it a break.
It lights up and is very engaging, plus it's lightweight and comes with a handle, so when it's time to head to Grandma's, you can grab it and go.
It's really cute, though I have just one complaint… the notes do not play the correct pitches. But honestly, your toddler won't notice that. He or she will just have a groovy time, and that's what counts.
| | |
| --- | --- |
| Pros | Cons |
| Plays in 4 ways | Notes aren't the right pitches |
| Includes cow and duck sounds |   |
| Lights up and is fun |   |
| Carry handle and lightweight |   |
| Includes 3 AA batteries |   |
Looks can be deceiving, and this VTECH Zoo Jamz Piano will take you by surprise because it's larger than it looks in the photos.
It has a 4-in-1 instrument choice so your kid can choose piano sounds, xylophone, violin, or saxophone with over 20 songs and melodies to play.
There's a lot going on here too. It looks like a zebra, lights up in an almost hypnotic way, and there are other interesting things to tinker with like a scratch disc and whammy bar.
And yes, there's a microphone too, though with a short cord to keep from strangulation (which you should still always supervise your child when using this toy).
The mic amplifies their voice, which can get REALLY annoying after a while though initially, it's rather cute to hear them holler into.
With all these buttons, it's a bit overwhelming but fascinating for kids. There aren't many keys on this one either, but again, if your child is a toddler, it's not about making them play like Beethoven right now.
It's a fun way for kids to get into music and explore cause and effect with the buttons. You may find the animal friends annoying since they laugh after each song.
Also, it only has demo batteries in it, so be ready with 2 AA batteries, or else you'll have some tears.
| | |
| --- | --- |
| Pros | Cons |
| Plays 4 instrument sounds | Really short microphone cord |
| Over 20 songs and melodies | Can get annoying for adults |
| Lots of lights and buttons | Included batteries are demo only |
| Includes mic |   |
| Scratch disc and whammy bar |   |
Now, if you really want your child to lean more toward actually playing a real piano someday, this Baby Einstein option is for you.
It's a handsome little wooden piano that holds up really well and is put together nicely. There are 3 sheets of included music, and it can play 6 different songs.
Big deal, you might think, but because it is color-coded, it actually teaches toddlers the concept of playing the piano in a way that makes sense for their little developing minds.
The sheet music color-codes with the keys so your child will soon learn which keys to press. Pretty smart, I'd say. It definitely paves the way for learning the real deal later on.
I do have one minor complaint though. It's a little difficult to discern between the red on the music sheets and the orange because they look so similar.
It took me a moment to figure it out. But aside from that small thing, it's a great way to build love for playing the piano and set the stage for piano-playing skills.
| | |
| --- | --- |
| Pros | Cons |
| Durable wooden design | Colors appear a little off on the sheet music in regards to key colors |
| Helps toddlers master piano playing skills |   |
| Comes with color-coded music sheets |   |
| Plays 6 songs |   |
| Includes 3 AA batteries |   |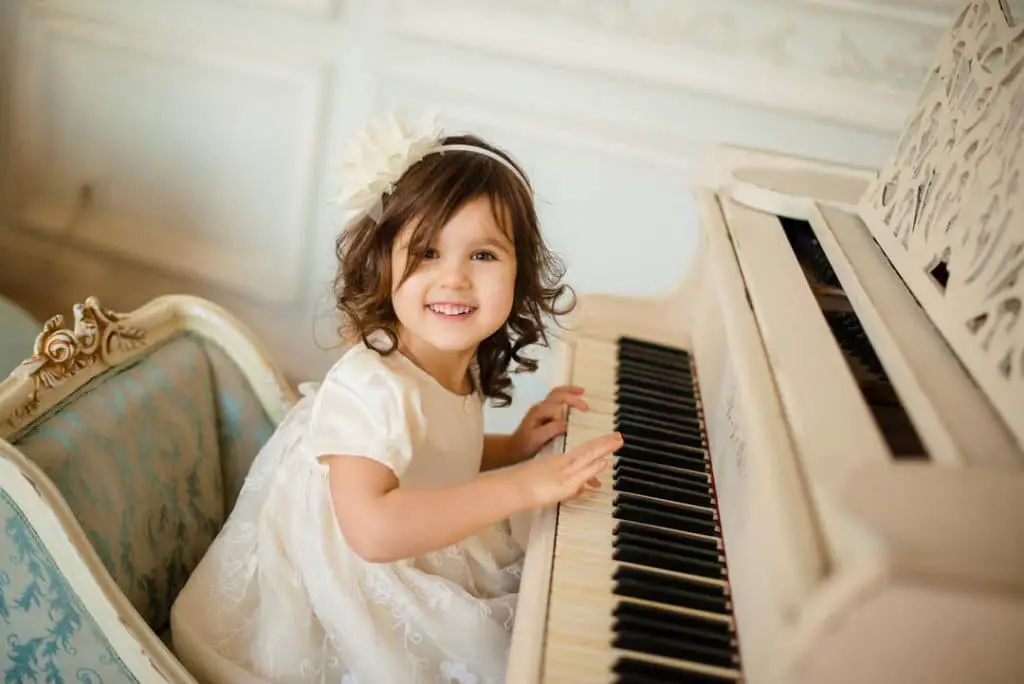 The best pianos for kids between 3 and 6 years
Now, if your kids are between the ages of 3 and 6 years old, they're not going to be amused with my previous suggestions.
Perhaps they've showed a fondness for banging on the keys of Grandma's grand piano, or they seem fascinated by music.
Whatever the case, I'd take a look at the following best pianos for this age bracket.
KORG is a fantastic brand, so it's nice to see an entry for younger children. It's not cheap, but if your kid seems into music or at least treats their other toys kindly, it's worth it. You get 25 built-in sounds plus 50 demo songs.
Built-in speakers play out tones that sound surprisingly nice. Sensitive keys respond aptly though they're not hammer-like as in a real piano. Still, it's great quality you're getting here.
The downside is that while it does include batteries, you need 6 AA batteries, and they will wear down rather quickly with all that playing, so be prepared with plenty of rechargeable backups. It's really beautiful though, like a real miniature piano.
| | |
| --- | --- |
| Pros | Cons |
| Handsome design | Batteries need to be replaced often |
| 25 built-in sounds and 50 demo songs | A little pricey |
| Built-in speakers |   |
| Great tones |   |
| Includes 6 AA batteries |   |
If you want your young child to really play the piano, you'd better opt for this one by Schoenhut.
It has a 25-key setup with adult-sized keys, which might seem too much, but it gets your kid started on that proper finger-stretching technique needed to navigate a full-size piano.
It's tuned chromatically with little hammers that strike upon German steel music rods, so this is as close to a real piano as you're going to get in miniature form. And for this handsome and authentic styling, it's quite affordable.
It also comes with a bench and removable color strips you can stick behind the keys to help color-code for beginners.
Unlike other pianos for kids, it doesn't have that cheap toy piano sound. This is one I'd recommend if you have a child that expresses interest in your piano or the piano at their grandparents' without intimidating them.
The small stature makes it easier for kids to reach and enjoy playing.
| | |
| --- | --- |
| Pros | Cons |
| Handsome wooden miniature piano | Might not be for children that are more interested in banging on keys and making noise |
| 25 adult-sized keys |   |
| Removable color-coding bar |   |
| Sounds great |   |
| Traditional hammer and wire setup |   |
| Great price |   |
| Includes bench |   |
While this is in my ages 3 to 6 range, I think this is the best toy piano for kids that are on the younger side of it.
For one, it's really bright and full of flashing lights and fun stuff. It has 37 keys and makes 8 different sounds to really engage kids in music.
You have organ, guitar, trumpet, violin, harp, flute, music box, rock (and slow rock too), disco, waltz, swing, tango, disco, and more. It's really loads of fun.
The songs light up with buttons, and your kid can practice 22 of them and even record their own song.
Prepare to be tortured with cuteness and make videos to embarrass your child with later on during their dating years.
The fun animals engage your child too with a drumming duck, singing rabbit, and a violin-playing turtle that dance and clap along. There's also a tiny little seat for your child to sit on.
Unfortunately, the microphone has no volume control like the rest of the piano, so it can be loud. Your little one will likely scream into it until you tear out your hair.
You can always hide the microphone though. Just a suggestion. The rest of it is great and it plugs into the wall, which is a good thing since something like this would use up batteries instantly.
| | |
| --- | --- |
| Pros | Cons |
| Fun light-up piano for kids | Microphone has no volume control and can lead to lots of shouting and noise from your child |
| Plays 8 different sounds and a variety of genres |   |
| 37 keys |   |
| Entertaining light-up animal friends |   |
| Includes small stool |   |
| Includes microphone |   |
The best pianos for kids between 6 and 12 years
Now let's move on to bigger kids that are between the ages of 6 and 12. By this point, their interest in playing the piano will likely be more obvious, and you can invest properly in something that will enrich their lives and help them practice the instrument well.
Here's what I've found that you'll love for your child.
So your child wants to play the keyboards? Try the Alesis Melody 61 MKII. It's a great price and offers 61 piano-like keys, a built-in speakers, plus a headphone jack you can easily connect to so your kid can practice without driving the rest of you nuts.
With a one-touch song option that has 300 built-in rhythms and play along for 40 demo songs, kids can record their own. It's easy to assemble and has a bench you can adjust to 3 heights.
Also, it comes with a lot of extras at an extremely easy price. You get headphones, a music rest, power adaptor, and microphone.
This definitely is a great beginner option, one that won't make you go broke, though it lacks the best sound quality.
The headphones and mic aren't all that awesome either as they tend to distort a bit, but for a child trying to get a feel for everything and learn how to play, this will certainly fit your needs.
| | |
| --- | --- |
| Pros | Cons |
| 61 keys | Not the best sound quality |
| One-touch option with 300 built-in rhythms | Cheap headphones and microphone |
| 40 demo songs | Prone to distortion |
| Includes headphones, mic, and bench |   |
| Great price |   |
Take it to the next level with RockJam, which is a sweet superkit for a digital keyboard. There are 61 full-size keys that make it feel like a real piano, yet it's portable and easy to move.
You can use batteries or the included power supply and jam on with 200 rhythms, 200 tones, a teaching function, and 30 demos.
Record and playback to build songs and use the midi output to enhance. It's a bit more advanced, and while the price is great, it might not be for your basic learner, especially if they're on the younger side of this age bracket.
It also has nice padded headphones and a sustain pedal as well as a stool.
There's even an app for that which can help your child improve and advance with playing the piano. However, be careful as it is not free.
There's a free trial that is very brief, and then you'll want to either cancel it or proceed with the signup if that's what you want.
With that package, the cost of this item goes up significantly, but it could be very worth it to you depending on your child's needs.
| | |
| --- | --- |
| Pros | Cons |
| 61 keys | Watch out for hidden expenses with the app which only offers a short free trial |
| 200 rhythms and 200 tones |   |
| Record and playback with midi output |   |
| Includes sustain pedal, padded headphones, and stool |   |
| Great price |   |
This little portable keyboard from Yamaha might be best for kids as they put out their feelers into the musical world.
Even professionals enthuse about it, and I have to admit it's got a great sound. You can choose from pianos to drums for different sound effects, plus it has a phrase recorder to loop and playback.
Interestingly, the arpeggiator function is one of the most impressive points. It creates nice melodies and rhythms based on the notes played so it can inspire your budding musician to keep composing.
Filter, pitch, and modulation effects can also be selected to make changes. It's a pretty cool keyboard with big features and a small price.
It's small and only battery-powered, but those are my only complaints.
| | |
| --- | --- |
| Pros | Cons |
| Great portable keyboard with great sound | Small size |
| Arpeggiator function | Requires 4 AA batteries (not included) |
| Awesome effects |   |
| Great price |   |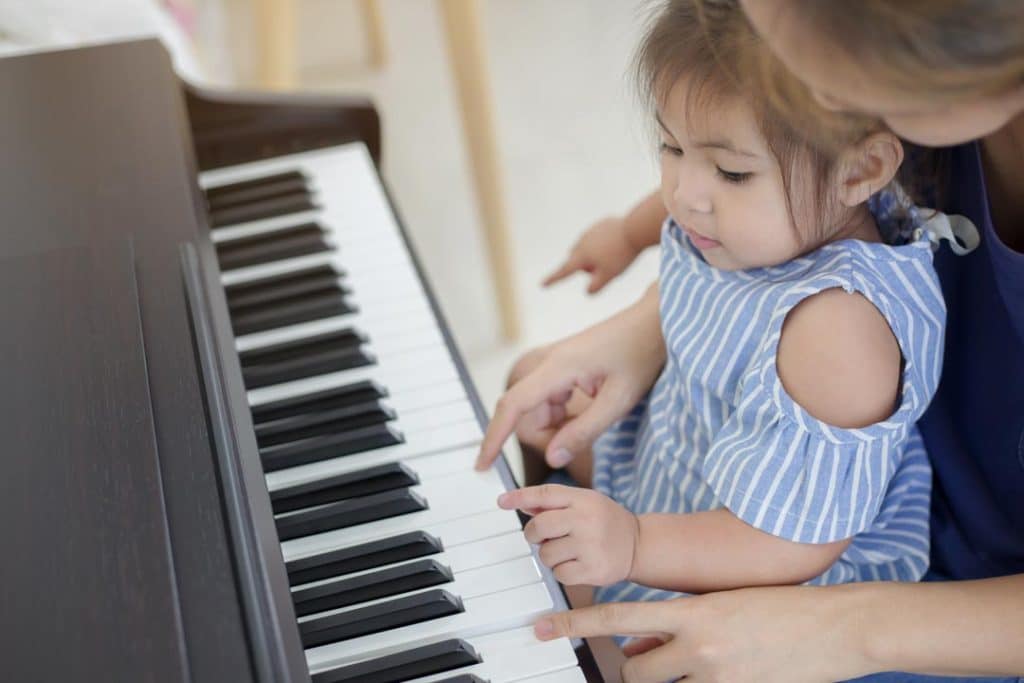 Best tips for teaching your kids to play piano
I had a friend whose parents made him practice the piano. He hated it. He wanted to play the guitar. His parents wouldn't listen, though, not until years later.
So if you want your kids to play the piano, here are a few quick tips:
Let it be fun – Music IS fun, so make sure they're excited to learn it. If not the piano, find something else, but if they seem interested, show them how fun it is.
Practice makes perfect – Kids can't learn to play piano when they don't practice. While I think making a toddler practice is a bit cruel, if they're older, practice needs to happen to ensure progress.
Take it slow – Your kid is not going to become a world-class musician in one day, one week, one month, or even a year.
Think about hiring a teacher – Older kids will benefit from a teacher if they are truly interested in playing.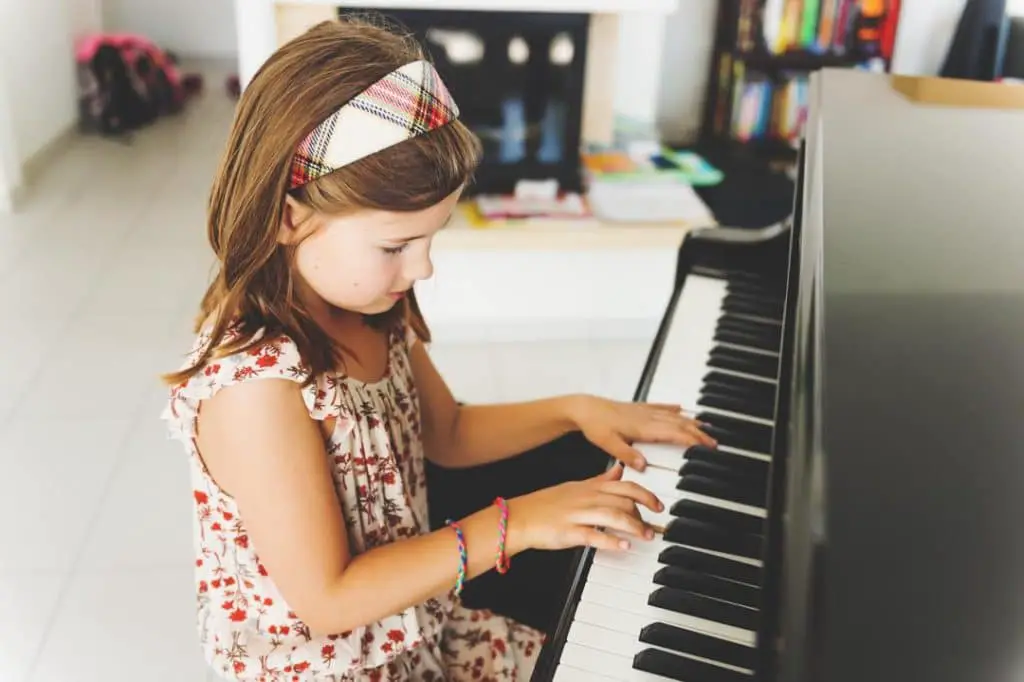 FAQs on choosing the best piano for your kid
I know I've given you a lot of options and in age groups too, but you're probably still wondering how to best choose the right piano for your child. Keep reading, and you'll find your answer.
– Does my kid need a real piano?
You don't need to go all out and get a big piano in your home. Some of you might not even have the space for that. And those things cost big money. If your child is young, a small piano gives them an affordable introduction and can help them become familiar with it. Plus, they're already tuned and ready to go, so it might be easier for you.
– What are the benefits of pianos for kids?
Kids learn cognitive abilities at an early age by playing with a piano. Even little children will tune into those fine motor skills, learn patterns, engage in logical thinking, and find ways to be creative.
Playing the piano can relax your child too. Music opens new pathways in our brains and is a great escape at any age.
Some of the best musicians started out playing around from their early years. I'm not saying your child will definitely become famous, but your child will learn valuable skills and discipline when learning an instrument like the piano.
– What's different with kid's pianos vs. full-size ones?
Pianos that are made for kids are obviously smaller than traditional pianos. Digital pianos are a good option for some, but they have weighted keys, which makes it harder for younger ones to play on. There are also many buttons that may get confusing for your little kids.
These are cheaper, though, and are a better investment when your children are too little to really know what they want. The way the keys are set up helps them master the five-finger position with their smaller hands too.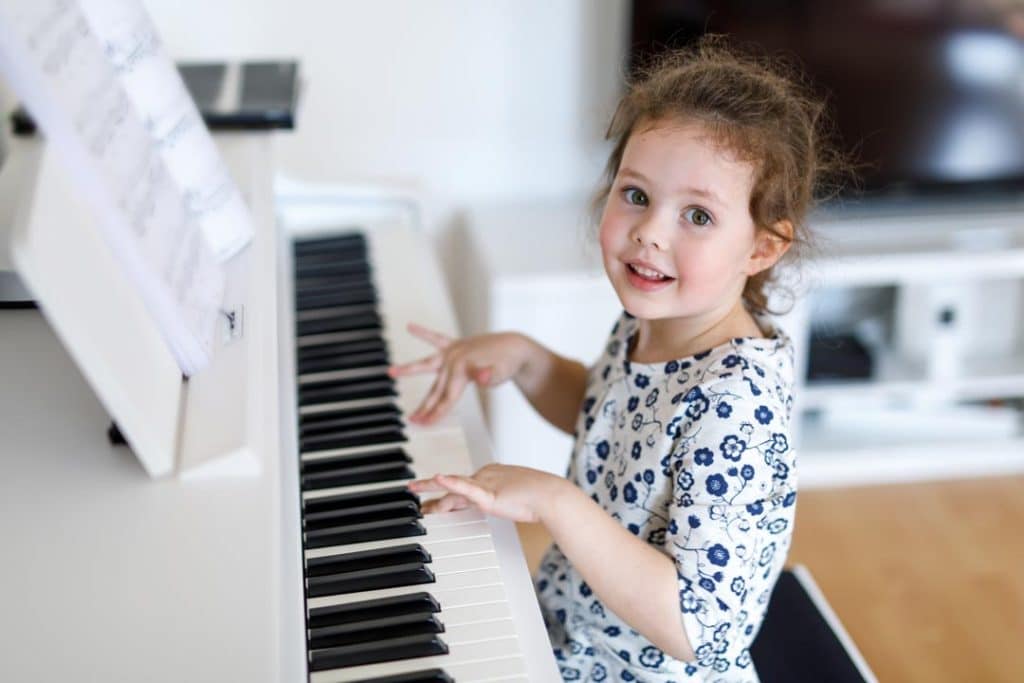 Tips on Choosing the Right Piano for Your Kid
Now you want to pick the right piano for your toddler or older child. Here's what you need to consider before you click it into your shopping cart!
– Buy the right size
Acoustic pianos, once properly tuned, have the same universal notes. But kids pianos don't always sound like perfection.
Different dimensions and sizes can impact it. When you have a 2-year-old child, it doesn't need to be pitch-perfect, but rather, you need something they can reach or that you can set up for them to play comfortably. Consider stools or setups that make it easy for your child to play.
– Match developmental stages
You might fondly recall your piano lessons as a child (my friend did NOT). But your child might not really care about your big piano in the formal sitting room and would much rather take his stuffed lion and bash it into the keys.
Now your older child might behave and sit properly, reading music and playing the right notes. It's all about mentality.
Little ones don't think in the same way, and they have different requirements for creative stimulation.
Something with color-coded keys or removable coded charts can really help young children learn how to play.
– Think about the keys
Your toddler doesn't need 88 keys. Something with 4 notes might be best for those baby years. But if your child is older, 61 keys would be a good option.
Obviously, the more keys, the better, but you don't want to overwhelm a small child.
– Consider the other features
Do you need extra sounds and instrument options, demos, backtrack, and other things? A microphone?
Some of these extras are great, but they will get lost on the youngest child. Little kids love light-up pianos, while older children will have more fun recording their own songs. Think age-appropriate when making your purchase.
You may even choose something that has an app that allows teaching, but they're not always free and can get as pricey as a real instructor.
It might be better to just hire a piano teacher for your child to teach them in person.
– How it's powered
Having the option to use batteries or A/C power is ideal when getting a piano for toddlers and kids. This means it can always delight your budding musician.
– Consider the cost
Grand pianos cost a lot of money. Your toddler doesn't need one, not yet anyway. Stick with what's in your budget and what makes sense for your child's age and mentality.
– Think of safety
The best pianos for toddlers and younger children will have safety built in to prevent choking hazards.
Don't buy your kid a piano that's older than their age bracket. Choose one that is recommended for children.
You can always get them something more grown-up if they show interest as they get older.
Conclusion on choosing the best piano for kids and toddlers
There are many best pianos for toddlers and kids to choose from on my list. Keeping them interested is up to you, but my main advice is don't push. Let them gravitate toward it.
Little ones with light-up toy pianos might just like banging on the keys and seeing the funny characters and grow out of it. Other times, kids that are older become fascinated with a musician and want to learn to play.
Always encourage your child with kindness when they're interested and make sure they take the time to practice.
When they feel frustrated, a good piano teacher can help them get through challenging musical pieces and gain a sense of accomplishment again.