MIDI keyboards are useful for at-home music composition. Instead of managing an audio signal that requires a recording device, this instrument sends a code to your DAW that registers as music.
That code transfers to the software to indicate where specific notes get played. When you play back the recording, you'll hear the music that wasn't available from the instrument.
Headphones connected to your hardware (computers, laptops, tablets, etc.) can let you hear the music from your MIDI keyboard in real-time.
Finding the best free MIDI keyboard software for your platform ensures that you can have fun playing and composing music daily.
How Does a MIDI Keyboard Work?
A Musical Instrument Digital Interface (MIDI) keyboard uses digital protocols to communicate with computers, hardware, or other instruments. It was invented to make multiple musical products compatible with those from other brands. Ikytaro Kakehashi proposed the first MIDI solution in 1981.
MIDI is a universal language that works through a digital signal. It uses binary code to help instruments from different manufacturers communicate with each other and other hardware to let artists make music.
This outcome is different than the traditional keyboard that products an audio signal you hear immediately.
You must plug a MIDI keyboard into a device that can convert the played notes into audio. Some instruments act as stand-alone products with MIDI connectivity to offer an extra level of diversity for artists to enjoy. The best items include an amplifier connection as a third performance option.
Older instruments use pin-based connections to transfer the instrument language to another device. Manufacturers now use USB technologies and compatible software to create audio.
If you are missing one of these elements, your MIDI keyboard will not work.
Can a MIDI Keyboard Play Sound without a Computer?
MIDI keyboards require a device that can read its code to produce audio. Although it doesn't need to be a computer, you must still use something else if the instrument doesn't generate internal sounds. Tone generators, MIDI controllers, and synthesizers are possibilities.
When you choose something other than a computer for a MIDI keyboard, you lose the advantages of this technology. The goal is for the instrument to transmit code to DAW software to produce recording information.
If you use an alternative connection for your MIDI keyboard, the instrument becomes a standard product. It plays sounds when you contact the keys.
That's why the best solution for a new keyboard is to have one with multiple connectivity features.
It can play when you turn the instrument on, send code to software for recording, or direct the output to an amplifier to produce the desired music.
Some models allow you to connect all three functions simultaneously. You choose the one to use from the control menu based on the current need.
Best Free MIDI Keyboard Software for Every Platform
If you need free software for your MIDI keyboard, these are the best options to consider downloading right now.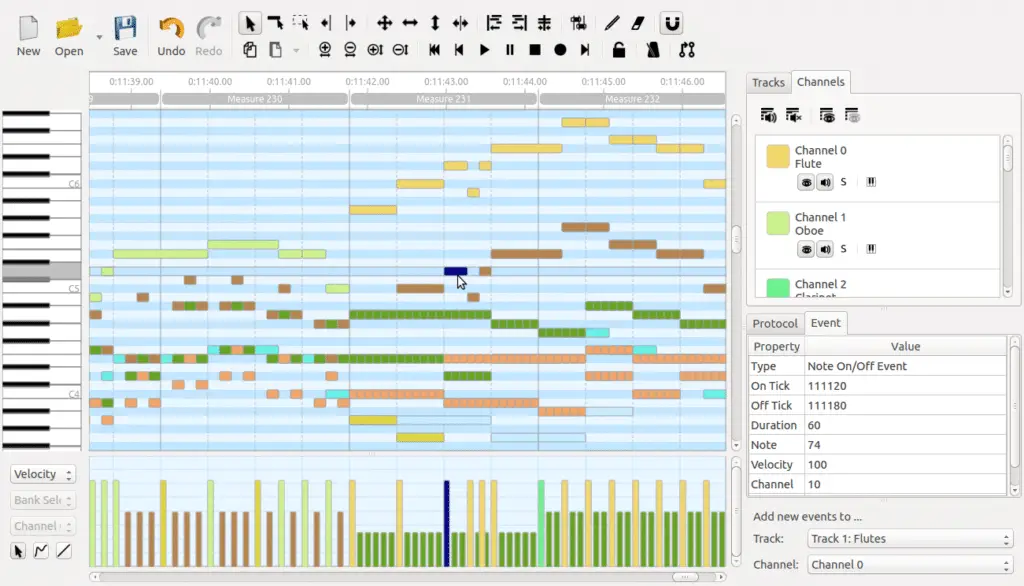 Choose this free MIDI keyboard software if you want opportunities to record, edit, and play your output.
This product opens existing files to modify the content if you've tried other platforms without success. It also creates new compositions from direct input or software instruments within the program.
The one issue with this software is that it isn't very intuitive. You'll see lines appear in DAW format as you play.
This information represents the digital code for the notes, creating the foundation for authentic playback. You must wait until after the recording is over to see the results of your work.
Once you have the recording edited, you can change instrument tones to create unique sounds.
The software lets you automatically move incorrect notes to the correct beat and correct other errors to minimize your editing time.
Although there isn't a way to import sounds directly into this free software, it does serve as a learning tool for MIDI editing. You'll be ready to step up to a paid platform with a little practice.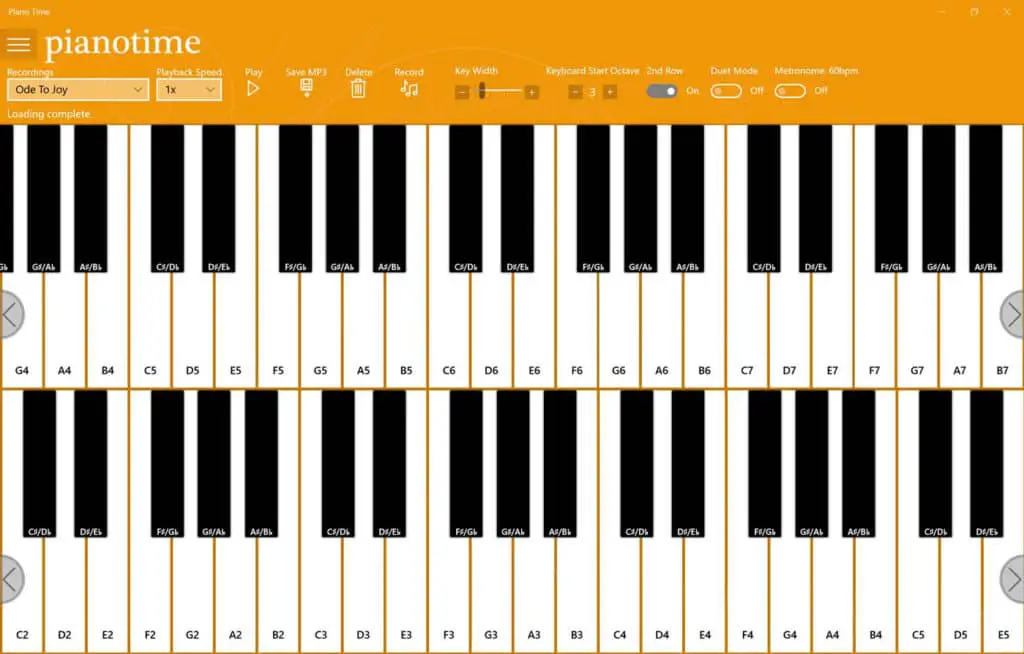 If your goal is to create a plug-and-play experience for your MIDI keyboard, this software solution is the perfect download. It gives you 36 keys and four octaves to choose with several additional configurable features.
Unless you have an older keyboard, the app recognizes your equipment immediately. The goal of the software is to mimic the sound of a traditional piano, so there aren't many ways to adjust the tone or instrument.
It doesn't include delay or reverb, although the sustain is available if you have a pedal with your device.
It does provide the option to record and save clips of your favorite compositions.
If you have a DAW to use, this app gives you layering options that may not be available with other techniques.
The free version doesn't maintain the file, which means it must stay open to remain usable.
You have the option to use a computer keyboard if you don't have a MIDI instrument. The key-mapping feature is the same as what you'd find in Cakewalk, GarageBand, and similar DAW options.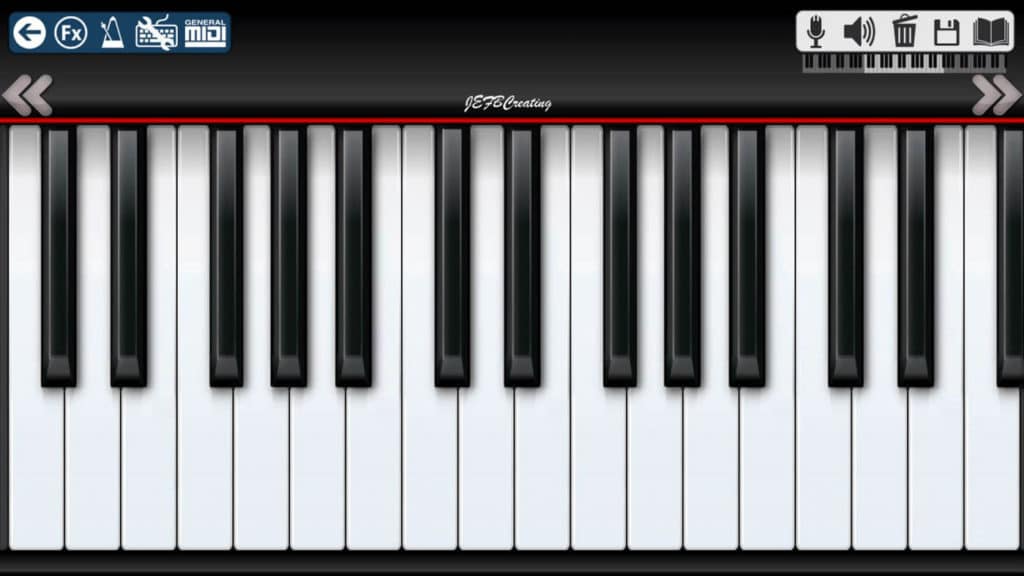 You have over 100 different sounds from which to choose if you download this free MIDI keyboard software.
One of the best options is the auto-chord feature, helping you learn the different types that can go into your music. You can add echo, sustain, or reverb, but they must get used individually.
The sound representation is surprisingly good. Although it doesn't give you volume variations like other free downloads, what you do hear is authentic.
You'll discover that many of the sounds are fun to play with when using your MIDI keyboard.
Still, they aren't usable from a performance standpoint. Think of it as a way to experiment without risk before starting a gig or trying your hand at some songwriting.
Piano 10 doesn't offer the option to change your key size or to get more of them on the display. The entire instrument plays (not all software allows that feature), but you don't get to see the keys illuminate on your screen.
If you prefer a visual representation of your music, this download may leave you feeling disappointed.
The banner ads at the top of the screen don't interfere with the software's usability, which does get a little annoying when you're trying to work out a melody.
Each recording is savable as a proprietary file on this platform. The clips are only playable from this software, but you could layer a composition to play with other recordings.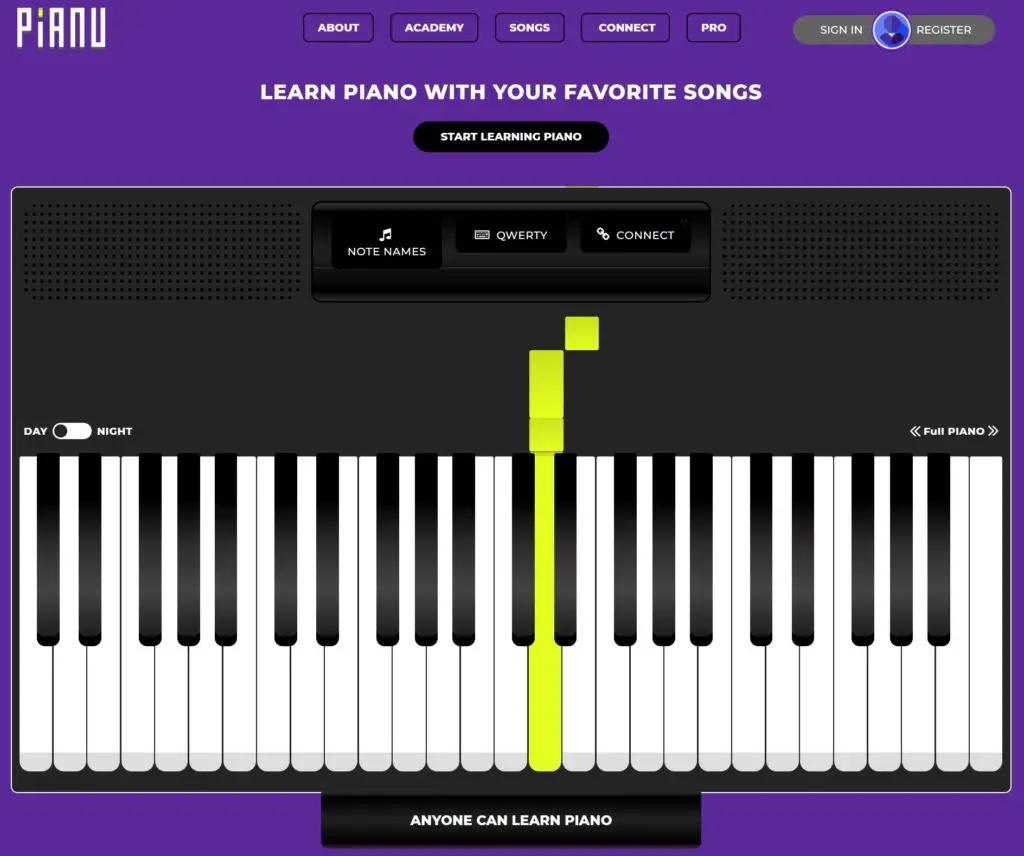 The issue with this free MIDI keyboard software is that you must use the web-based product to avoid malware.
If you don't like the idea of downloading something to your computer or mobile device, it's a suitable option for playing your instrument immediately.
It provides a user-friendly experience from the start. Pianu detects your keyboard, which allows you to begin playing.
The software isn't overly complicated. It allows you to learn how to play the piano with its built-in lessons.
You can discover the basics of each note, how to build chords, and play along with contemporary songs.
It's a lot better than the days of repeating "Mary Had a Little Lamb" or "Row, Row, Row Your Boat" when learning how to play the piano.
This free web-based product is not suitable for a live performance or general recording.
It works well for learning, although it would be better if the sustain were authentic. The one benefit you will notice right away is that there is virtually no latency at all.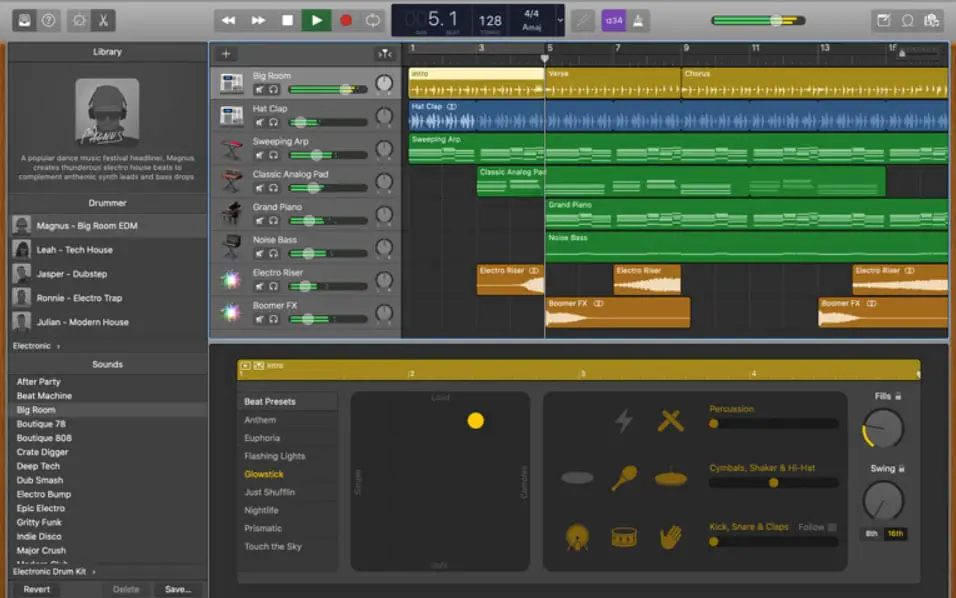 This iOS app is the best option for anyone who wants to learn how to use a DAW. It provides a full recording suite for free that includes percussion tracks, synthetic instruments, and direct recording capabilities.
Garageband is compatible with downloadable loops from third-party providers to enhance your compositions. Your MIDI keyboard can create unique ones if you want something more custom.
You have a limit of 255 tracks when creating music, but that is more than enough for most compositions. It is arguably more potent than Logic without the added cost.
Digital representations of your audio are infinitely adjustable. You can change sine waves, alter notes, or change instruments with a single mouse click.
When the composition is ready for publication, several file options are available to create a shareable experience.
This free MIDI keyboard software only runs on Apple laptops or the iMac. A mobile version provides fewer features, although it still helps you to create music with its functionality.
It is typically pre-installed on new devices today or downloaded from the App Store.
This free MIDI keyboard software was one of the first DAW solutions for recording artists. Gibson had control over the programming for more than a decade until the instrument maker decided to move in another direction. Once BandLab took over, the fees went away.
This download is a complete music production package. If you prefer to work on Windows PC, it is a viable alternative to platforms like Garageband.
You receive several advanced mastering tools, mixing filters, and unlimited MIDI tracks to finalize your composition.
The DAW includes numerous editing tools to help you create the perfect sound from your keyboard, vocals, or recorded instruments.
You can change the tone, add compression, and make all of the expected tweaks you'd see in any other DAW package.
When you are satisfied with the work you've done, the music can publish on several platforms directly. YouTube, Facebook, and SoundCloud are all compatible.
You must have Windows 10 on your computer to use the free BandLab Cakewalk MIDI keyboard software.
The unique business model for this DAW is that the older versions get released for free when something new gets released.
They hope that you'll want to upgrade after seeing how useful the software is with your MIDI keyboard.
Each section of this DAW is scalable. It adapts to your preferred workflow with a couple of clicks, displaying whatever parameters you prefer.
Create an unlimited set of MIDI and audio tracks, host multiple plugin formats, and record live if you have the equipment.
The only limitations on your creativity are the performance statistics of your hardware.
This free MIDI keyboard software is one of the few no-cost solutions that allows you to use Audio Units and VST.
You must create an account to access the DAW. After you load the software for the first time, you'll get prompted to unlock the free features.
This free app automatically detects your connected MIDI keyboard. It lets you choose several sounds for when you play, with more even downloadable choices available and free to use.
The standout feature for this software is the sustain. If you have a pedal with your keyboard, you'll receive an authentic sound with fade when playing.
It provides the capability of recording in audio or MIDI format to transition to a more formal DAW.
There's a "learn to play" feature with Perfect Piano that lets you hit notes as they descend on your smartphone or tablet screen. It feels a lot like a game, except that it teaches you how to play your instrument.
Latency is minimal with this software. It isn't available for iOS devices, but you'll find it works well with most Android operating systems – including older ones. The sounds are authentic, fun to use, and easy to manage.
It even lets you adjust the number of keys on the screen when playing to ensure an accurate result.
A Final Thought on Free MIDI Keyboard Software
The best free MIDI keyboard software solutions allow you to play whenever the mood strikes.
It will enable you to bypass the computer if desired or start your recording career. You stay in control of the experience from the start.
If you already have a MIDI keyboard at home, these no-cost solutions expand your instrument's capabilities.
When you're shopping for something to play, keep these downloads in mind to accomplish your goals.